Why Get Organized?
Why should teachers care about being organized? Whether you are naturally organized or not, using simple tips to be organized can make or break your teaching day!
Many years ago our staff participated in a district professional development presentation where we all had to take a personality test. The purpose was to demonstrate that we all had very different strengths and learning styles, and so would our students!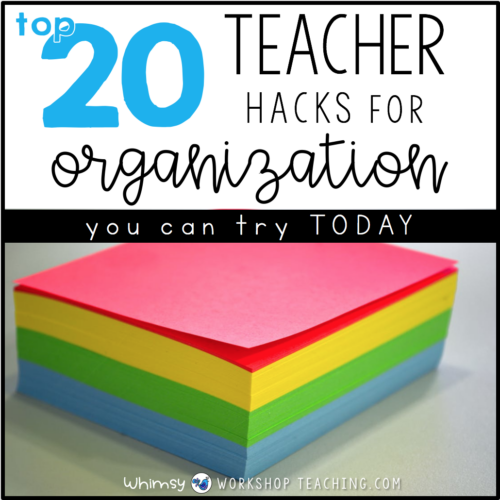 The one thing almost all of the teachers had in common was a strong sense of organization. And it's no wonder – being organized can make or break your teaching success! The trouble was, much of the time I was so overwhelmed with things to do, we didn't really FEEL very organized!
As we all discussed this, conversation turned to sharing our best organizational ideas. This information was like GOLD and I still use many of the tips I learned that day. Here are 20 of the best ideas:
1. ACCORDIAN FOLDERS
These cardboard folders are helpful with so many different ways!
For example:
*one section for each student in the class to keep their finished work
*one section to keep students unfinished work
*a collection of different activities for EARLY FINISHERS
*student samples chosen through the term to show parents during reporting interviews
*sorting colored paper so you can grab a few colors at a time
*keeping extra copies of work handed out so that absent students can independently grab their own copies by date of absence
*student assignments that you have photocopied already but not ready to use
*sample artwork organized by month, so you don't have to make them again each year
*answer keys for math or literacy work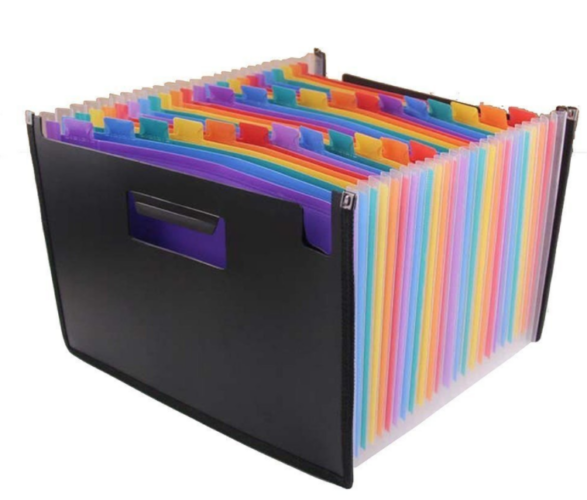 2. STUDENT CLIP BOARDS
Each student in my class has their own labeled clip board, and we line them all up along the bottom of the board. If we are doing an important task, I ask students to hand in the work on their clip boards. This way, it is easy for me to see whose paper is missing. I can also ask a student to walk down the line and let me know if any names are missing before collecting them. Similarly, when students have completed art work, they can clip the work on their clip board for an instant art display, and I always know whose work is whose. (see picture below) Incidentally, we also use these clip boards for other activities, such as write the room or taking notes in science when we are up and moving around.
3. REMINDER BRACELETS
I started these while teaching early primary because we didn't use planners, and there were always messages I had to send home. I was often a bit skeptical that notes were actually making it all the way home, so I needed something more visual. For example, if I wanted to send a note about a field trip the next day, I quickly type up a quick sentence, copy it 25 times on one paper, and print it out. I chose a student to cut the strips apart and distribute to students, who then glued them around their wrists like a bracelet. This is truly the most effective way I've found for reminder notes (even more effective than email!). In some cases, parents used the same idea to send notes back to school, such as to notify me of early pick up during the day. Once I see the note, I can cut the bracelet off and keep it on my desk to remind me.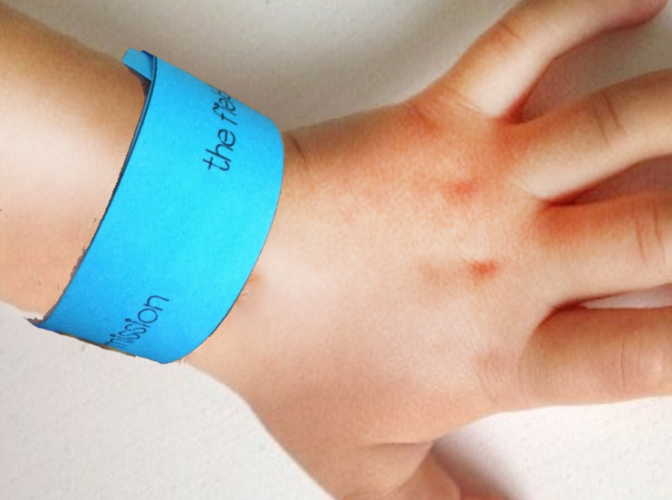 4. TEACHER HELPERS for MARKING
We do this sometimes for math worksheets that use an answer key, and students love it. The first few students who are finished a math sheet are given the answer key to mark their own work. They are then allowed to mark other students' work as they finish. Those students can then use their own marked papers to mark the next wave of student finishers. Soon everyone's work is complete and marked. If there are no papers left to mark, those students walk around to see if they can assist students still having trouble with finishing. Students are completely independent for the whole math period, and the conversations I hear about the math questions are on task and meaningful. This procedure isn't appropriate for all tasks, but for simple practice worksheets it's a great way to keep everyone busy, focused and helping others. Plus no marking for the teacher that day!
5. STUDENT NUMBERS
If you have not assigned a number to your students yet, you might want to give it a try! There are so many ways to use this! You can use student numbers to:
*ask students to line up in order
*line up in backwards order
*choose students with even or odd numbers only
*pair students to add their numbers together
*dismiss odd numbers first from the carpet
*Our classroom library is made of numbered baskets, and all books inside have that number on them. Assign students to make sure the basket with their number is organized – doing this daily will ensure the whole library is always organized well.
6. ZIPLOCK BAGS
Tape a large ziplock bag on the side of students' desks or table. When students have to clean up, they can slip any unfinished work into the bag for later. This is especially helpful when there are small pieces used for interactive notebooks or artwork. I can see at a glance if there is work for any particular student to finish, and I'll remind them to empty their bag of unfinished work before choosing another activity.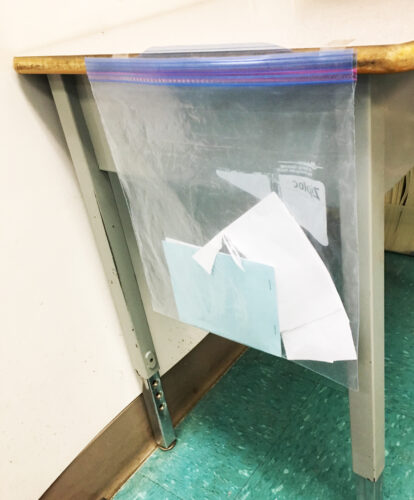 7. CRAFT STICKS
Write student names on a set of craft sticks to use when calling on students. For example, if you are playing a game, choose a stick and hold it up so students can see the name. This ensures that nobody gets forgotten, especially if you have to pause the game for a day or two. These can also be used to randomly pair students up. It's also good for calling on students to answer questions – if they don't wish to answer they can just say "pass".

8. TABLE COLORS
Naming tables or small groups by color is a big organizational helper. This way you can dismiss students from the carpet by table color, or choose which table color is dismissed first to line up. If you pool supplies in a table basket, you can label the supplies with that color so that if they are found on the floor, everyone knows where they go.
9.VIDEOS
Consider starting group lessons with a video! For example, I have collected math videos that practice doubles or skip counting, and students chant along. I play these at the carpet when most students have already cleaned up and are making their way over to join us. Slow cleaners are more likely to speed up so they can join in because the videos are so fun and engaging. It also gives me a few minutes to assist any students who may need help or guidance. It's also great practice for math skills and a good warm up!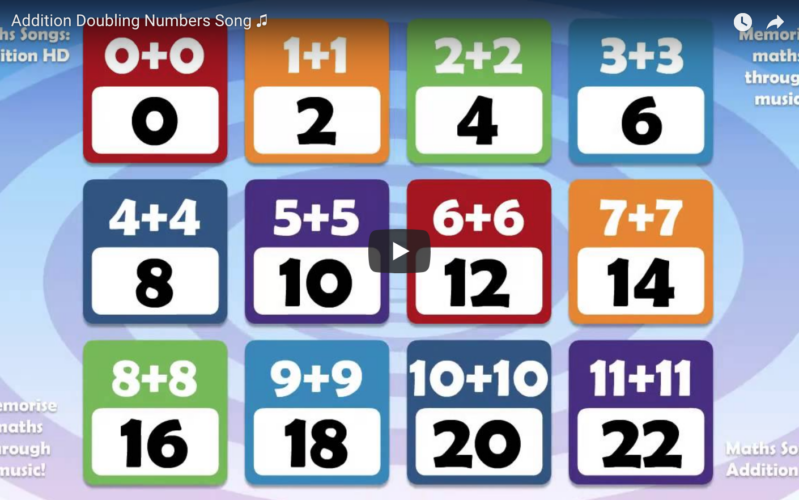 10. STUDENT MAILBOXES
Student mailboxes have been such a time saver over the years. I fill them with notices for absent students, returning student work that needs correcting, student reward coupons, notes that go home, signed planners, or anything I want to hand out. Students also write notes or letters to each other, or hand out birthday invitations this way. They can do this independently, saving me a lot of time.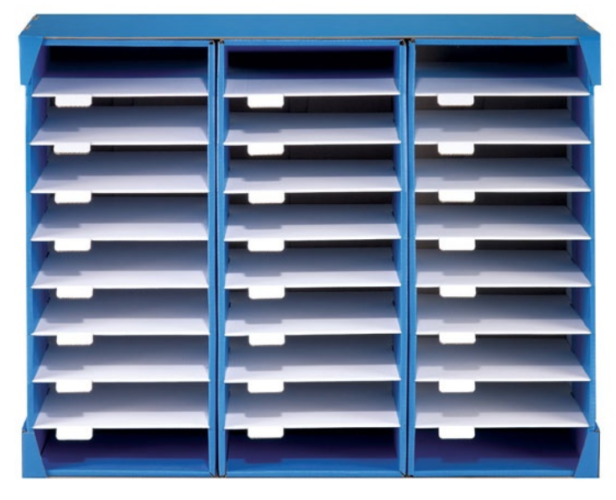 11. NO-NAME SYSTEMS
If you have a method of dealing with papers handed in without names, this can be a big time saver. We all know the feeling of holding up a paper that nobody claims! You can be preventative by asking students to highlight their name as they hand papers in, or to attach a named paperclip to their paper. If this fails, you can dedicate a spot on your wall to hang papers with no name. A no-fail method is to use class clip boards as a spot for students to hang their work (more about this in the next tip below!)
12. ATTENTION GRABBERS
One of the most important procedures in your classroom is the ability to have all students FREEZE and listen to your instructions, no matter what they are doing. First, you'll need a consistent attention grabber that you are sure all students can hear. It has to be loud enough so students can't claim to not hear it! This could be a bell, an electric doorbell, a chime, or a call-back that students respond to (ie. teacher:"1-2-3-Eyes on me" students answer: "1-2-Eyes on you!"). Second, you also need to make sure students STAY frozen until you are done talking. This can be done by choosing a few "Best Listeners" to compliment or reward after you're done talking. I also use a special word to let students know I am done talking – they learn to stay frozen until they hear that special word! Choose a word or phrase that is very uncommon, such as "thanks for freezing – back to work!" or "jellyfish".
13. CLEAN UP TIPS
Like most teachers, I assign a clean up job to each student. I also assign a few students to be inspectors, so their job is to walk around afterwards and make sure each job is done well. I also ask students to put their coats and backpacks near their desk when they clean up, so that we can inspect the cloakroom area properly. Are inside shoes neat? Is there paper on the ground? Extra boots with no name? We can deal with all of these problems if the backpacks and coats are gone. Another clean up idea is in the next tip below!
14. EARLY CLEAN UP!
At the end of each day, during clean up time, a few parents would pop in and talk to me about something or take a student home early. This was always slightly awkward because clean up time can be so noisy and chaotic, and I often need to have me attention on students to keep them on track. I decided to change the timing so that clean up was done about 20 minutes BEFORE the end of the day! This turned out to have many advantages. We stack chairs, clean up, and then meet at the carpet for a story, discussion, or game. When parents peek in, they see us engaged in quiet conversation at the carpet and wait outside. It also ensures that we have enough time to do a proper clean up job, and students are faster at cleaning because they love having the extra time at the end of the day for a story or game. Some of our best class conversations happen at this time, and students leave the room relaxed and happy.
15. SYMBALOO
As I mentioned earlier, I like to use a lot of online videos for math practice. I also use online stories, brain breaks and phonics videos. It can be a lot of online keep organized, so I use an online bookmarking system called Symbaloo (www.symbaloo.com). The format is similar to an ipad, with icons you can click to go to any website. I have a different page for each subject, all displayed along the top as different tabs. To make a new bookmark, just click a blank square and enter the web address and title. That's it! After that, any time I click on it, the webpage will open instantly. This is a big time saver when I have students sitting in front of me. Another great feature is that it's web-based, so I can add icons at home and they will show up within my account at school, or on any computer. It's completely free to use.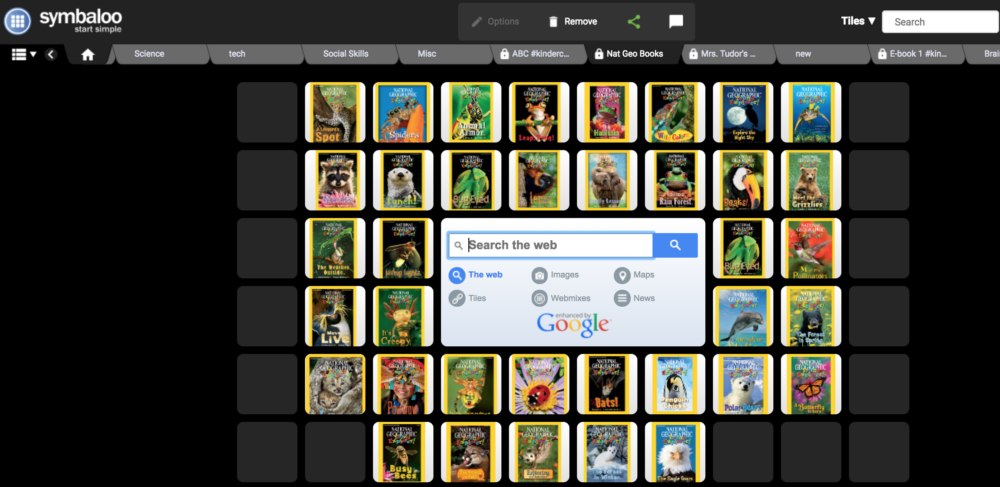 16. GARBAGE BINS
Each table has a bin for students to put all their scraps of paper after cutting. This is a life saver during art lessons or when doing interactive notebooks. The first student to finish the activity is in charge of making sure all scraps are in the bin, and they can dump the contents into the class recycling bin. They are also in charge of sweeping any scraps under the table as well.
17. WHITE BOARDS
Using personal white boards at the carpet has really increased student engagement during my lessons! At first I avoided doing this because I thought it would be distracting and annoying to keep materials organized. However, I simply ask students to grab a board and a marker as they come to sit down, and it goes very smoothly! When I ask a question, students respond on their white board and hold up their boards when I ask them to, so I can see what they are thinking. I have two tips for this: first, I assign a student to check ALL the markers after the lesson to ensure the caps are on tight. Next, I cut the fingers off a few small black gloves (see picture below) so that each student has one "finger glove" to erase their board with. These are small enough to toss into the same bin as the markers. Best of all, since each glove has five fingers, I only need a few sets of gloves to make enough for the whole class and they last for years.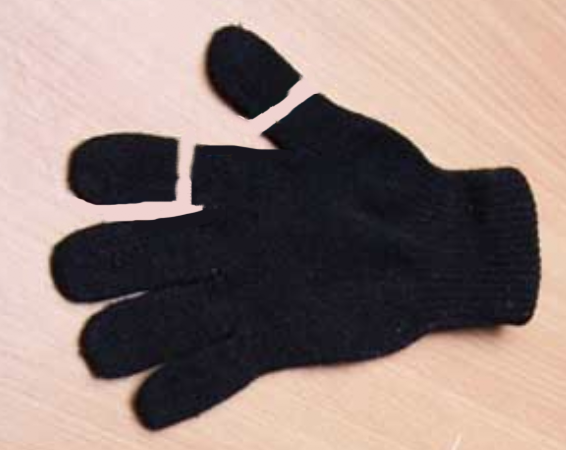 18. BRAIN BREAKS
Brain breaks are really popular to get students moving, and for good reason. I will admit that I avoided them at first because I was skeptical that students would be able to calm down again afterwards – but they did just fine as long as each student has an assigned spot in the classroom. We used the brain breaks to build stamina. At first, we worked silently for just 10 minutes, sometimes with quiet music on, and then we'd get a fun brain break (using Go Noodle or Just Dance videos on youtube). Soon we built our stamina to 15 minutes, then eventually up to 40 minutes. Another tip: if students seem too revved up to focus, choose a quiet stretching, breathing, or yoga break (from go noodle) so that you can all calm down together.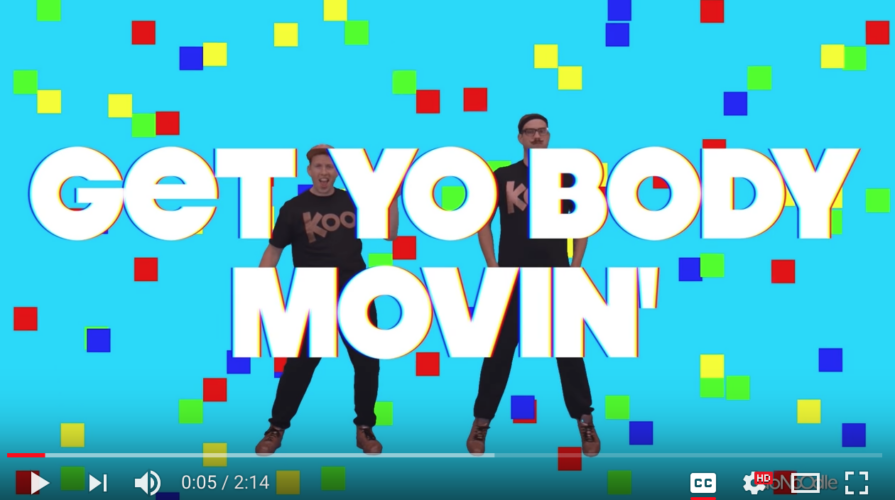 19. ALTERNATIVES TO FLEXIBLE SEATING
I don't have the budget to get rid of desks and buy new wiggle stools and other furniture for flexible seating, but I did manage to give my students some great options. A tall shelf by the window became a perfect standing desk. An old bedside table in the corner became a private working space. Bath mats and clip boards became floor working spots. Laundry baskets with pillows inside became "private working boats". These could all be tucked under tables when not in use, so they didn't cause extra clutter. Some students really loved these options!
20. SIMPLIFY THE CLASSROOM
I recently removed a lot of things from my classroom walls. I felt that too much visual clutter and bright colors all over the walls may be overwhelming to the senses. I chose the most important information to fill a focus wall, designated another area for art work, and left many areas as blank space so my students' eyes can "rest". I also had shelves full of games, books and clutter, and I had nowhere else to put it. So, I made some "curtains" by hanging a big piece of plain material over it. This way I can still access everything on the shelf easily, but it's covered up and out of sight. A parent came in and said "Your classroom is so clean!", and I said "Thank you – but don't look behind the curtain!"
---
I hope these tips will be helpful to you and your classroom! If you have any to add, please leave them in the comments below.
Related Articles:
Teaching Social Skills for a Peaceful Classroom
Why I ALWAYS teach Growth Mindset with S.T.E.M.
Step By Step Seasonal ART Cards for an Independent Art Center
Directed Drawing VIDEOS – Just Play and Draw Along!
Save this pin for later!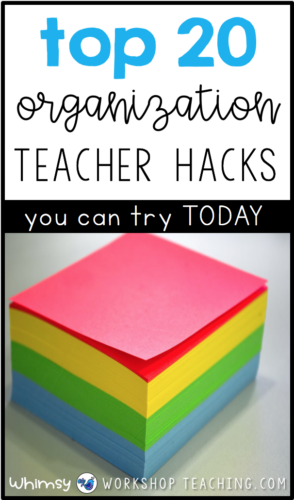 Thanks for taking a look!
Continue exploring with any of the links below: