Students love animals! Whenever they are the subject of lessons, engagement naturally soars! So, this means that teaching life cycles is such an enjoyable topic for teachers and students. Thankfully, the Colorful Math Life Cycles keep this excitement going while incorporating multiple standards. This is a fantastic way to focus on interdisciplinary lessons while keeping students invested in learning. After the first life cycle, students will beg for more lessons in this format!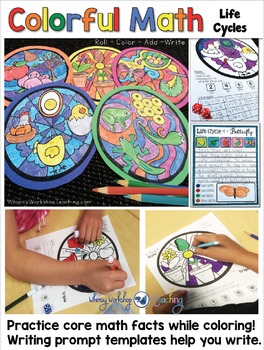 Teachers could focus on one aspect during a science lesson when teaching life cycles. After teaching one life cycle, they could move on to the next due to limited time. However, this fantastic resource changes everything! 
Students will learn about the life cycles of a butterfly, chicken, frog, apple, and plant. This blend is a great way to show students how life cycles do not just pertain to humans or animals. As an added element, students will learn information through math skills!
Math Incorporation
Sadly, math often creates a ton of anxiety in students. Thankfully, the Colorful Math Life Cycles help show students how the subject does not have to be scary! Specifically, students will practice doubles, near doubles, doubles + 2, double -1, doubles -2, and triples.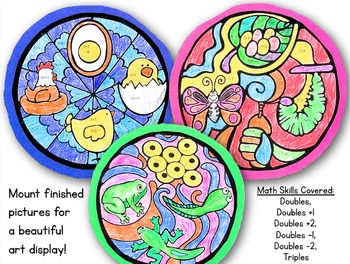 There are two formats for students to practice these skills while learning about life cycles. First, there are templates with the equations written on the life cycle pictures. Second, there are templates where students roll the dice to create, write, and solve their own equations based on an assigned rule. This variety of practice keeps interest high while practicing core math skills! 
Writing Templates
It is so important to work on writing throughout multiple subject areas. Honestly, this helps show students how writing skills relate to many aspects of life. So, there are 5 writing templates to reinforce concepts and self-editing.
Students love looking at clip art during activities! Truthfully, clip art helps make worksheets and lesson components extra exciting. So, I have tons of clip art to incorporate when teaching life cycles. For instance, this includes apples, ladybugs, salmon, chicken, and bees. Teachers can use clip art to have excellent visual aids when teaching life cycles.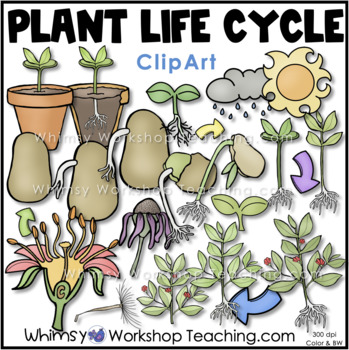 Additional Activities
While teaching life cycles is often a favorite topic, they can be tricky for students to understand! For instance, it can be confusing to realize how everything from apples to chickens has a life cycle. So, there are hands-on Life Cycle Activities to help ensure students understand this concept. This includes spinners and printables to incorporate fine motor skills with essential concepts.
Honestly, teaching life cycles is such a fascinating topic! Between the wide range of options and the student interest, teachers look forward to life cycles each year. Thankfully, the Colorful Math Life Cycles integrate art, math, writing, and science! So, teachers can focus on so much information in ways that have high student interest. Thankfully, this helps show students how learning is fun- not scary!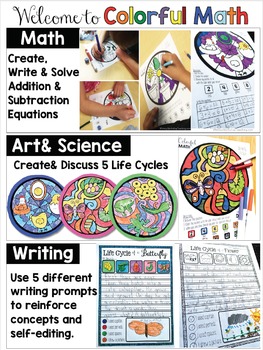 If you do not want to miss any of the upcoming lessons, join my email list to be notified of all the interactive lessons coming up! By joining the email list, you will also receive a life cycle FREEBIE for blog exclusive subscribers!