Honestly, math is stressful for students to learn. There are often multiple steps to remember and specific terms to use. Since students will use what they learn in the math classroom throughout their lives, they must see the fun in math. There is something so special about seeing how numbers and shapes work. Thankfully, there are incredible math craft activities to bring enjoyment and excitement to learning math. For instance, the Crafty Math Bundle incorporates so much learning with hands-on activities! Students will build so many skills while gaining much confidence in their math knowledge.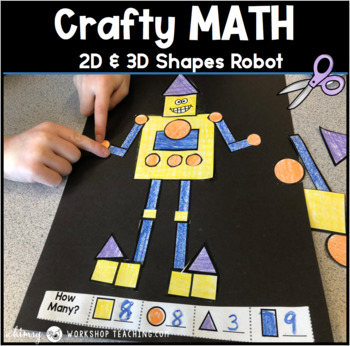 Students love robots! So, incorporating robots when learning 2D and 3D shapes is the perfect way to make learning fun.
Specifically, students will create a super cute robot out of 2D or 3D shapes. They will color, cut out their shapes, and then organize them to make a robot. After this, they will glue the pieces to colored paper. At the bottom, students will count and record how many of each shape helped form their robot.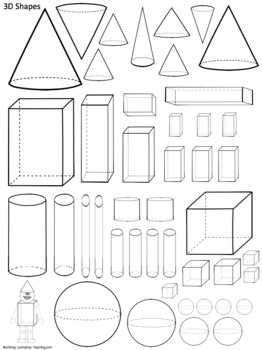 All the needed templates are within this resource to make it quick to prepare!
Since students all learn differently, there are easy modifications to differentiate the activity. For instance, teachers can print each shape on a single color. This is a great way to help students sort shapes! 
Students will love working on shapes while building their robots! Teachers can even hang up the finished products in the classroom or hallway.
This crafty math project is a fantastic way to reinforce subitizing and formation!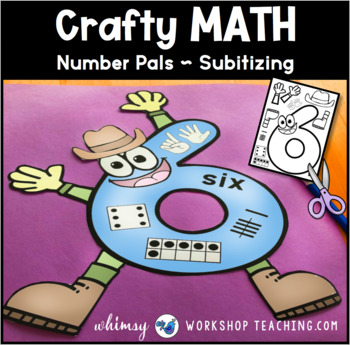 Students will work on simple projects integrating math and art while building knowledge of 1 to 10. Specifically, each Number Pal comes with several pieces for students to color, cut, and assemble on the specific number. So, students will see the focus number with tallies, fingers, dice, ten frames, and more! Additionally, the Number Pals include arms, legs, and a hat to add in fun aspects.
Students will love seeing their Crafty Math Number Pals hung in the classroom or hallway! 
Crafty Math is about building math skills through fun and engaging math craft activities!
Students will work on multiple skills, such as time, subitizing, symmetry, place value, and shapes. There are even Crafty Math activities for counting, skip counting, and doubles. Students will love working on math skills with these fun math crafts!
Best of all, the math craft activities are no prep! Everything teachers need is just a click away from being at the printer and ready for the class! Students will get started on coloring, cutting, and gluing to create beautiful classroom and hallway decorations!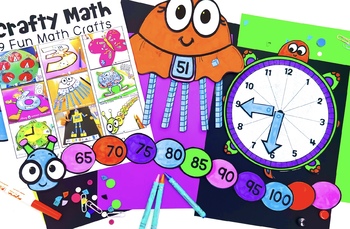 Honestly, students must have strong math knowledge. They will use these skills throughout their entire lives. Thankfully, the Crafty Math Bundle ensures students have math craft activities they love! 
Want to try out some math crafts for free? Grab the Crafty Math: Ladybug Doubles FREEBIE below! Your students will love this simple craft to reinforce addition doubles to 20. Your classroom will be bright and colorful as you display their artwork around the room.