What is STEM?
STEM challenges are not just about building things.
STEM involves:
★ presenting students with an authentic problem
★ challenging students to collaborate for possible solutions
★ making specific plans for the solution
★ testing the model to see if it solves the problem
★ reflecting, revising, and re-testing
★ reflecting on success and recognizing mistakes as part of the process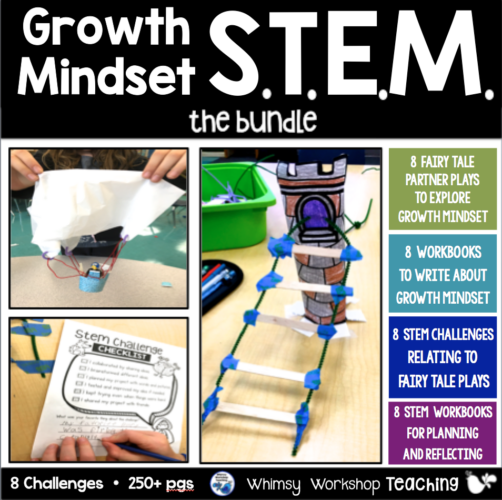 This is super popular bundle that integrates hands-on STEM challenges with GROWTH MINDSET concepts!
Each fairy tale uses a funny partner play script to explore characters that have either growth mindsets or very fixed mindsets! There are printable response pages to further solidify the concepts.
Each story script ends with a STEM challenge. Students are prompted to help the characters solve their problem by building with the materials you provide for them. There is a workbook to record ideas, brainstorming, steps and improvements made, and reflection on the collaboration process.
There are 8 complete sets included (250+ pages) and this set uses WORKBOOKS.
Take a look at some pictures from the classroom!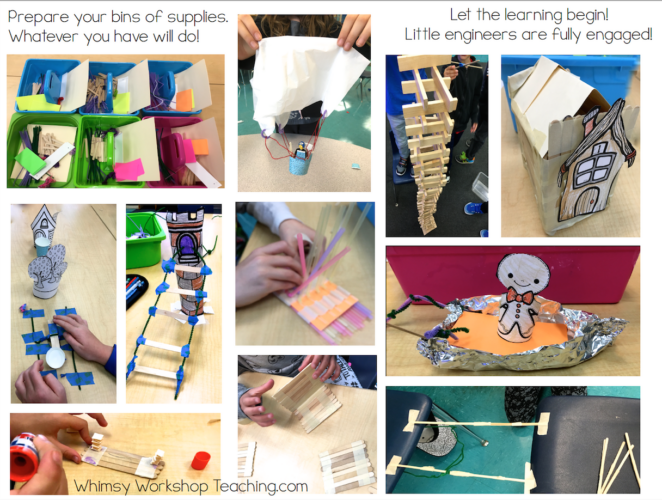 ---
FAIRY TALE STEM: BUNDLE 2
8 fairy tales, 8 partner plays, and 8 STEM challenges and 8 Flip Books.
This second bundle has 8 more fairy tale partner plays, 8 STEM challenges, 8 Growth Mindset Flip Books, and 8 STEM Flip Books. This time, students create flip books rather than workbooks to keep engagement high. You can see the flip books in the picture below: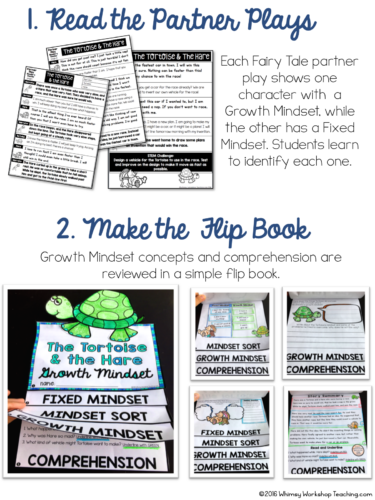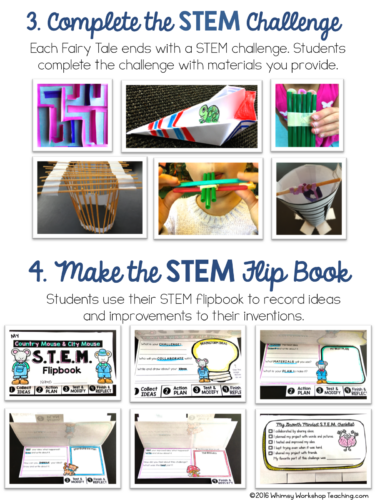 ---
Both sets are now available together at a reduced bundle price! This covers 16 Fairy Tales and lots of literacy opportunities to help students become experts in Growth Mindset and STEM challenges! This bundle has 8 workbooks and 8 flipbooks (plus another 8 flipbooks for the STEM process in set 2).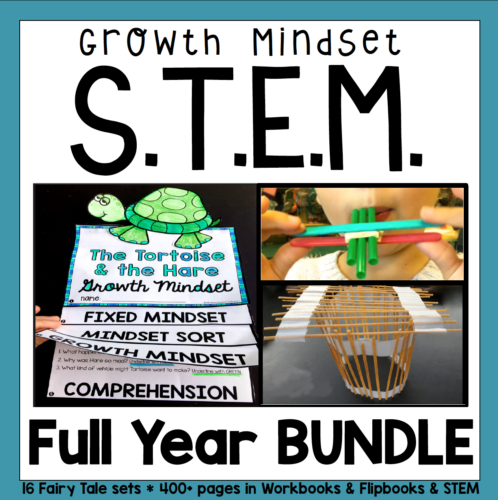 ---
Looking for engaging SEASONAL STEM challenges? Similar to the previous STEM bundles described above, these challenges begin with a simple partner play to set up the "reason" for the challenge – a practice problem that students can relate to and invest in as motivation for their challenge. This approach integrates literacy into STEM lessons, and makes the challenges more purposeful and authentic.
Would you like to try a lesson first to see if it's right for your students? You can download a free sample lesson by clicking the image below, and then downloading the lesson in the PREVIEW for this bundle.
Click HERE to take a quick look!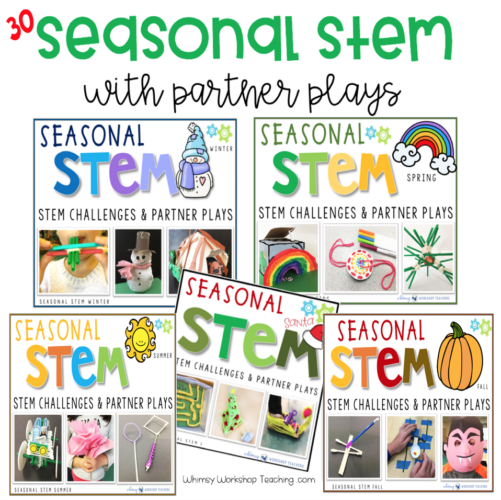 ---
GROWTH MINDSET LESSONS
Teach core aspects of a Growth Mindset with this collection of lessons and activities. It includes visual lessons plans, partner plays, writing journals and lots of other projects to help teachers explicitly teach Growth Mindset concepts. All the work is done for you!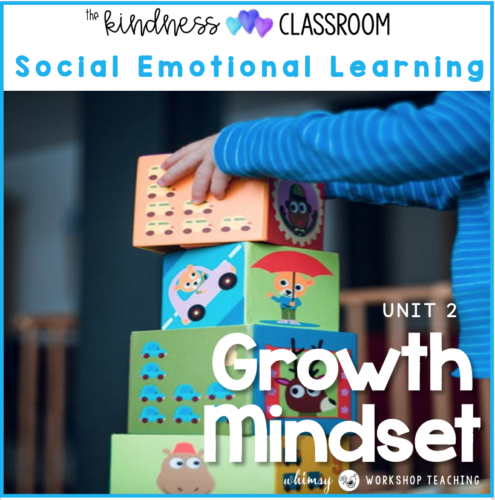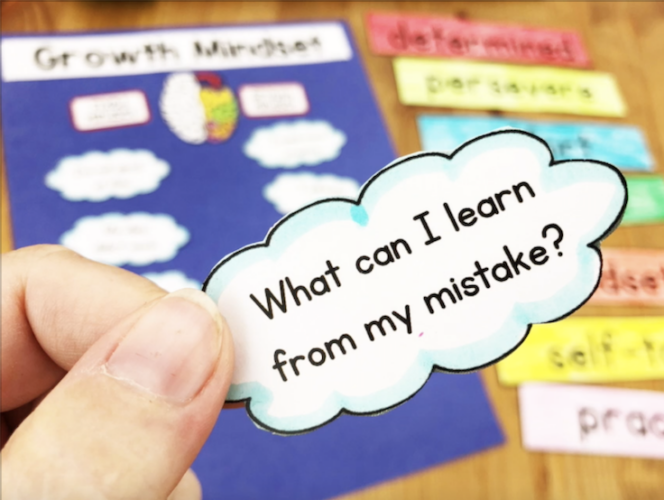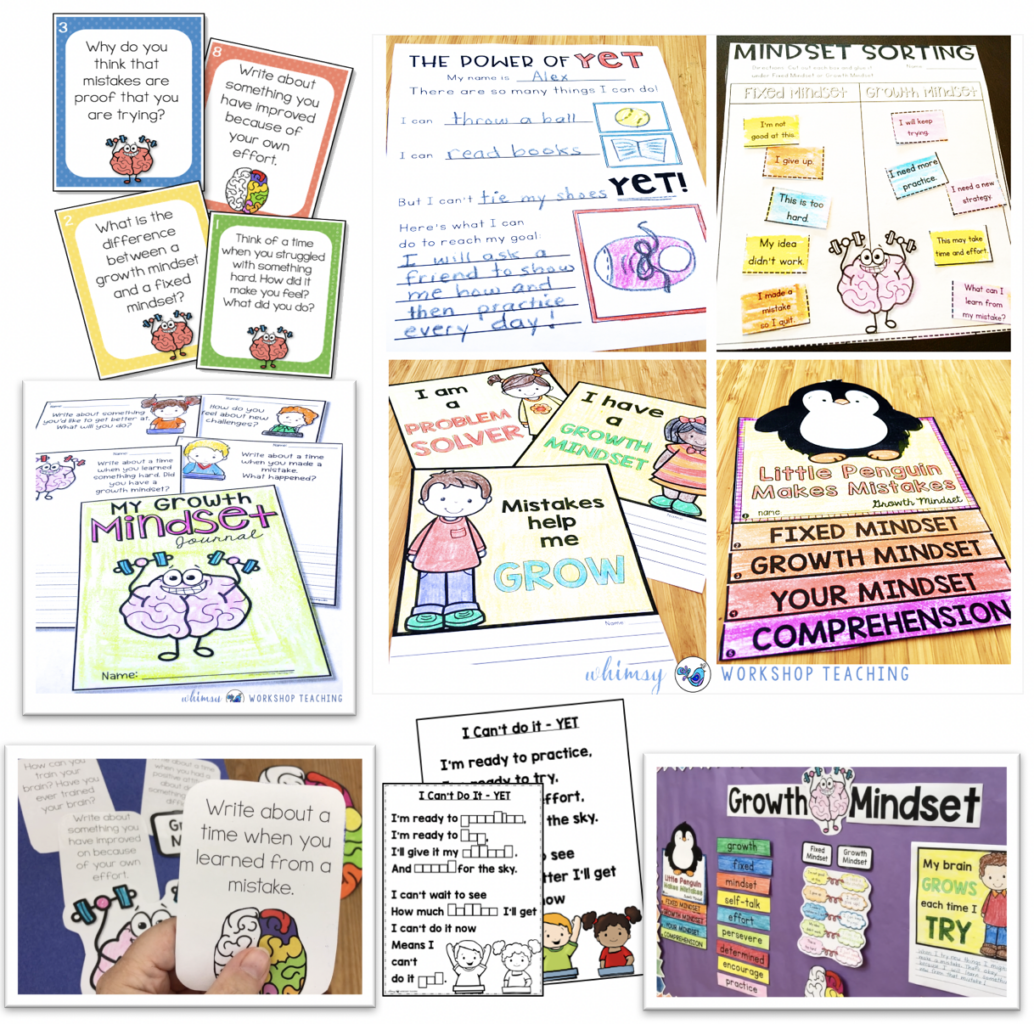 NOTE: This unit is part of The Kindness Classroom curriculum that includes hundreds of lessons through the year with teacher scripts. Click HERE to see it, and download the FREE Emotions Cards in the preview for this product.
---
MORE GROWTH MINDSET ACTIVITIES
Looking for more GROWTH MINDSET ideas for your classroom? This big collection of coloring posters and writing/math activities might be just what you need!
You can download some free posters, writing and math with a growth mindset focus in the PREVIEW of this bundle: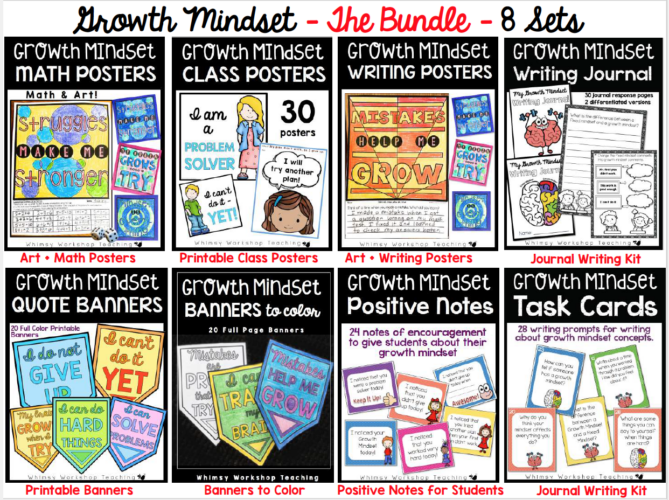 GROWTH MINDSET CERTIFICATES
These cute certificates can be used any time of year to encourage and recognize students showing their Growth Mindset skill! This big pack also includes other kinds of certificates based on subject areas to provide maximum flexibility! Editable versions are included. Click the image to see more details.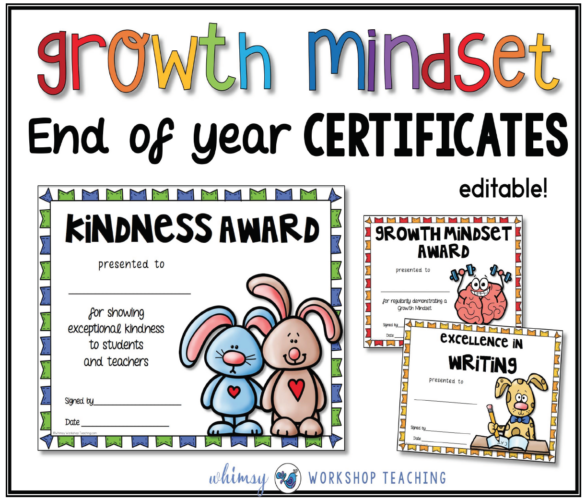 NOTE: This Growth Mindset Certificates are also available bundled with an End of Year Memory Book for more savings! Click the image below to see it!