Students love animals and insects! So, they are a great item to add to lessons to build engagement. For instance, teachers can use animals and insects when learning how to count. Additionally, they can use the first letter of specific animal and insect names when working on letters and sounds. Students can even work on reading skills while reading passages about animals. Honestly, there are so many ways to incorporate this student interest into lessons. Thankfully, this list provides an incredible way to use ladybugs in the classroom! Since students love this insect and are excited to see it as the weather warms up, focus and engagement will soar! 
Learning how to count is hard! There are so many numbers to remember. Additionally, there are multiple ways to write many numbers, making it easy to confuse them. This is exactly why students need a strong foundation of numbers. Thankfully, there are fun activities to work on with kindergarteners and first-grade students. 
This no-prep set of digital activities focuses on counting to 20 with one-to-one correspondence! Specifically, there are 40 Slides to ensure students have plenty of practice. They will read instructions for how many ladybugs or bees to move. Then, they will drag the correct number of insects onto the ten frames. This provides excellent number practice and practice at using a ten frame correctly. 
While teachers do not have to decorate assignments or the classroom, they know it makes the learning environment look welcoming. When students are excited, they are more eager to learn and focus. So, this clip art resource includes the perfect images to use when learning about ladybugs! There are even images to illustrate the life cycle! Students will love seeing all this cute clipart when incorporating ladybugs into the classroom.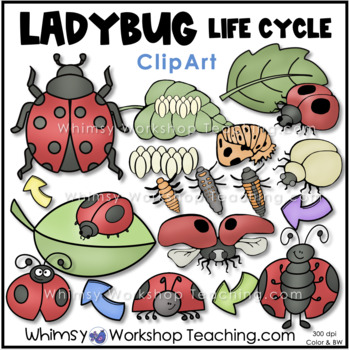 Since students will love the ladybug focus, teachers can keep the interest going with butterflies! Students will continue focusing on math as they work on symmetry.
Specifically, students will create two kinds of butterflies to illustrate symmetry. All templates are within this resource to make it easy to implement. 
For one project, students will color and cut out whimsical design elements to glue to their butterfly template. This will allow them to realize they need two of each shape, and they need to place them in the same spot on each wing. For the second project, students will use paint to decorate one side of the butterfly. Then, they will fold the butterfly to create a mirror design.
Students will love integrating math and art as they show their knowledge of symmetry!
Additional Ladybug Lessons
Honestly, elementary teachers have the challenging task of incorporating all subjects into the day. So, they have to get creative by designing interdisciplinary projects. A great way to do this involves learning about life cycles! Thankfully, this resource provides multiple options, such as animals, insects, and fruit. Students will learn this fun information through math and art activities. They will love working on so many hands-on lessons! 
Bringing in student interest is a fantastic way to engage students. Luckily, incorporating ladybugs in the classroom allows students to focus on something they love while practicing essential math skills. Learning will soar in your classroom with these resources!
If you do not want to miss any of the upcoming lessons, join my email list to be notified of all the interactive lessons coming up! By joining the email list, you will also receive a ladybug math FREEBIE for blog exclusive subscribers!