Learning how to write sentences can be stressful and frustrating for students. Honestly, there are so many different components to work on. For instance, students must look at correct punctuation, capitalization, and spacing between words. Likewise, they need to look at spelling and sounding out unknown words. On top of all this, the sentence has to make sense. While teachers never want to cause students to feel overwhelmed, learning how to write sentences is crucial. Thankfully, the Sentence Building Worksheets provide a hands-on approach to sentence building.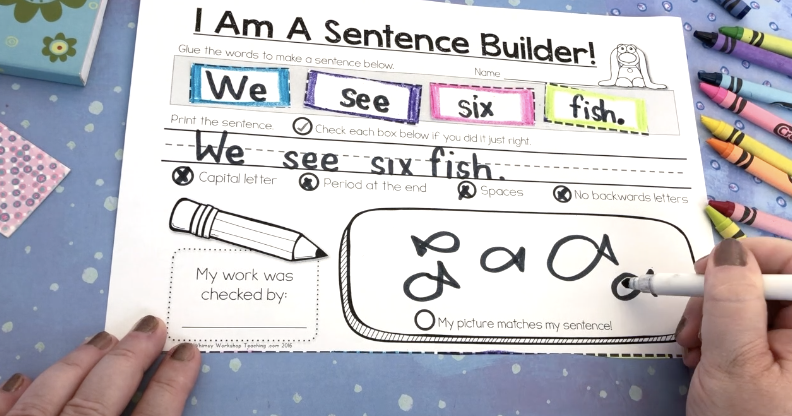 Sentence building will not just happen overnight for students. They need practice and patience while working on this challenging skill. Therefore, there are over 80 worksheets with hands-on activities to practice writing simple sentences.
Each worksheet includes so many different skills for students to work on. For instance, they will read several sight words. Teachers know how important it is for students to remember their sight words throughout the year! Additionally, students cut and arrange words to build each simple sentence. Then, they will write, illustrate, self-edit, and peer-edit the sentence. Thankfully, students will look forward to sentence building with all of these fun activities.
Sentence Building Focus Skills
While building sentences, students are not just copying down a sentence. This resource ensures students focus on essential skills. For instance, this includes practicing 50 sight words. Thankfully, this means this resource will help students work on reading at the same time. Students will also work on capitalization. This even includes random capitals that occur in the middle of a sentence. Likewise, students will learn about the importance of punctuation. On top of all this, students will work on letter formation and how to space out their letters.
Since fine motor skills are crucial to elementary school development, this resource allows students to work on several. Specifically, this includes pencil grasp, tracing, cutting, gluing, and coloring. Since these worksheets are a hands-on approach to sentence building, students will have much fun working on all these skills!
Working Together and Sentence Building
Students love to be social! Honestly, allowing them to work together is essential as they learn how to provide feedback. Therefore, there is a peer-editing component after building sentences. Students will love becoming the teacher's "expert" by helping classmates fix each other's sentences. Importantly, this is an excellent way for students to hold themselves accountable for finishing their worksheets! It will be fantastic to look out at your students working together on building sentences.
Confident Writers
It can be frustrating to buy a resource only for it not to provide the right support for your students. Thankfully, the Sentence Building Worksheets keep students at the heart of the activities. This means that the sentences begin very simple and become more complex over time. Thus, the worksheets build in difficulty as the students become more confident in their skills.
Personalization
Students love when they can be creative during lessons. Since teachers have so much content to teach, they also get creative in adding ways for students to personalize their work. Luckily, this resource allows teachers to do that! There are personalized sentence prompts that allow students to fill in their details. Likewise, teachers can even create sentences based on class interests! Honestly, there are endless possibilities for creative sentences with this resource!
Learning how to build sentences is absolutely essential. Students will write so much throughout their entire lives. Hence, they need a lot of practice from a young age. Luckily, the Sentence Building Worksheets provide a hands-on approach to sentence building. Students will love working on so many skills with the support of their teachers and classmates.
If you do not want to miss any of the upcoming lessons, join my email list to be notified of all the interactive lessons coming up! By joining the email list, you will receive a sentence-building FREEBIE worksheet for blog-exclusive subscribers!