It can be tricky to support your emergent writers who are tackling spelling. Early writers may have a delicate confidence when it comes to spelling, and they often don't realize that guessing and making mistakes is an important part of learning. 
It's our job as teachers to explain that they are not expected to know how to spell every word! Always take time to let your students know that you're looking for the effort and the attempt. Our mantra is "Make your best guess and move on!"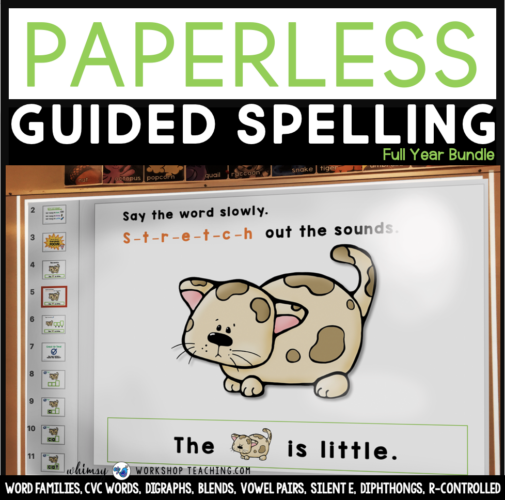 Even if we have only 10 minutes to spare, we try to fit in some low-stress spelling practice. Just a few minutes each day can drastically improve students' understanding of spelling strategies and confidence in making guesses while they write.
The trick is to make it fun and stress-free! We use paperless lessons to make spelling practice more fun and engaging. Students just need a white board to write on, and they try to spell the word for each picture that is projected for the class. Afterwards they can check their letters against the answer.
STEP 1: GET READY TO SPELL
Students will need a white board to write on.
Since they might be a bit excited about having a white board and marker, make sure you have a signal before each new word. We use the picture shown below, but you could use a bell or any signal.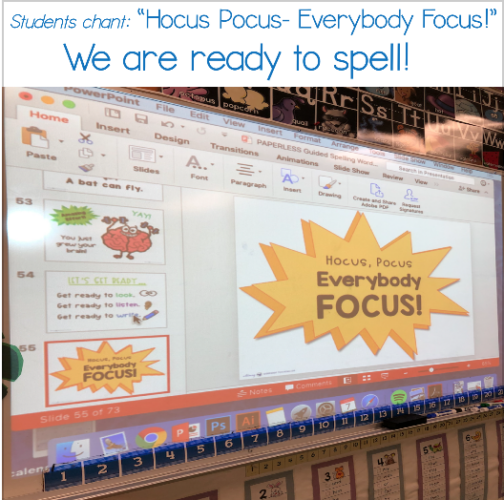 STEP 2: SPELL THE WORDS
Show students a simple picture (ie. bus, cat, etc.), say the word SLOWLY to identify the sounds, and make their best GUESS at spelling the word.
It's important to model for students by "thinking aloud" as you spell:
"The word is cat. Lets say it slowly…/c/ /a/ /t/.
Let's isolate and write down the first sound we hear.
We hear /c/ at the beginning. Let's write down the letter for that sound.
If you're not sure, just make a guess and move on."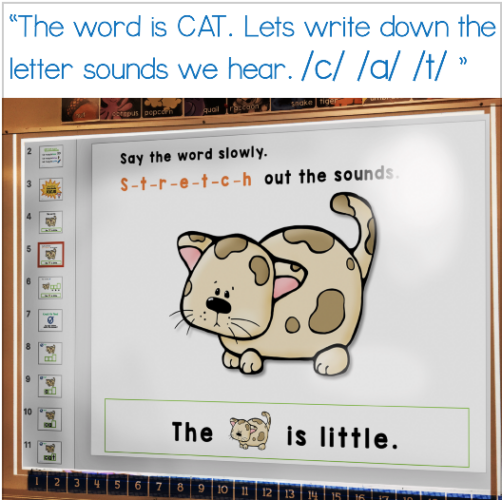 STEP 3: SPELLING CHECK
Reveal the correct letters to students, one letter at a time, so students can SELF-EDIT their work. In our slideshows, the letters are revealed each time we skip to a new slide, but you can do it on the white board instead. Remind them again that it's alright to guess the wrong letter! I like to tell students that I am happy with as long as they made their best guess.
STEP 4: PRACTICE AND REVIEW
I try to choose words that have the same spelling patterns. This way, we can reinforce the pattern with many examples and then discuss it afterwards. Finally, we do a quick "match up" game that reinforces the spelling words in a different way. Our slideshows use the "drag and drop spelling" activities shown below, but you can simply match a group of pictures to the words on index cards and ask students to sort them.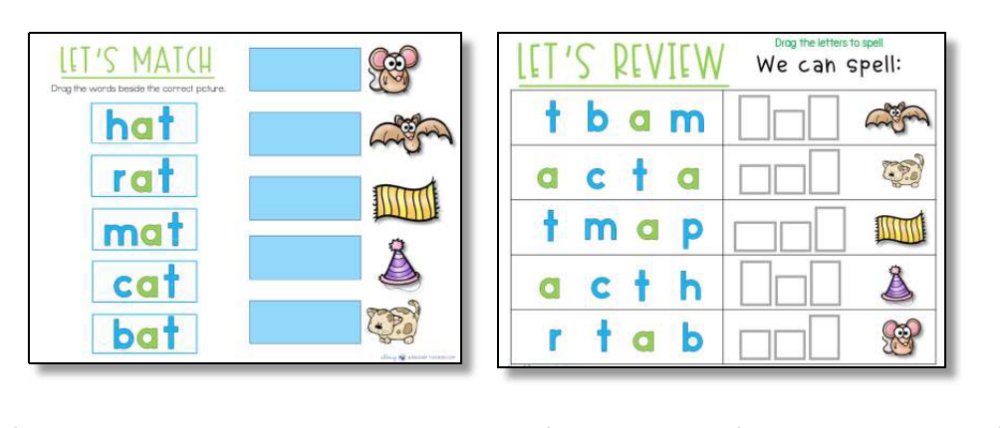 DIFFERENTIATION
I always use each word in a sentence so students can use context clues and comprehension skills. For more advanced students, I ask them to also write the sentence when they spell each focus word. This way we can reinforce periods and capitals, and make sure everyone is challenged and engaged. My class is multi-age, so differentiation in everything is a must!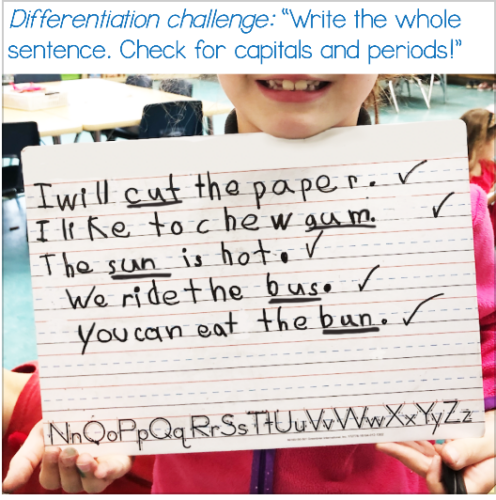 WHOLE CLASS LESSONS
My students love having white boards at the carpet! I always review expectations for the board, markers and erasers, and I assign students to collect and check that all caps are on the markers. This is an important detail! After a few times students get really efficient at managing all the supplies, and this saves me a LOT of paper. I only use paper for final assessments now.
SPELLING INTERVENTION LESSONS
This kind of simple guided spelling lesson is also perfect for individual or small group intervention. Using a laptop at your table, call students over for a quick spelling intervention lesson using white boards or paper. No prepping or copies to make – it's all there on your computer at a moment's notice.
These skills are essential for emergent writers, and will help build confidence during writing tasks throughout the year.
COVERING SPELLING PATTERNS
If you want to use a digital spelling program, but don't want to make your own Guided Spelling slides in Power Point, you can view the yearlong set that I use in my classroom. It contains over 60 different slideshows, each with five words each and a mixed review. Click HERE to see the preview pictures!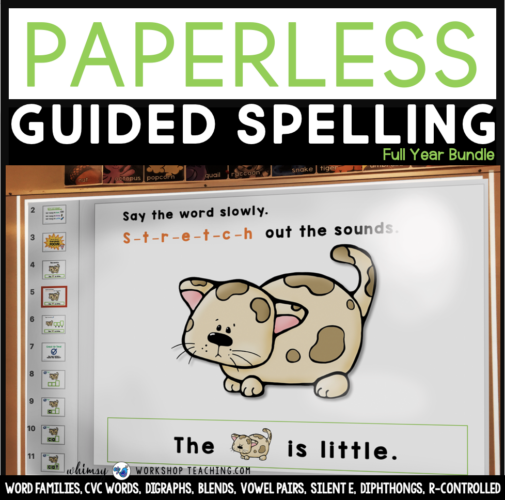 The following skills packs are included in the full bundle of 60 slideshow movies:
 – 10 slideshows : AG, AT, EN, ET, IN, IT, OP, OT, UB, UG
 – 7 slideshows : CVC words, organized by medial vowel
 – 7 slideshows : CH, SH, TH, WH, PH and mixed review
 – 8 slideshows : R Blends, L Blends and S Blends
 – 9 slideshows : AI, AY, EA, EE, IE, OA, OE, UE, and UI
 –25 words (a_e, u_e, i_e, o_e)
 – 50 words : AU, AW, EW, OI, OO, OU, OW, OW, OY
 – 30 words : AR, ER, IR, OR, UR
Click HERE to see the preview pictures!
Pin this post for later!