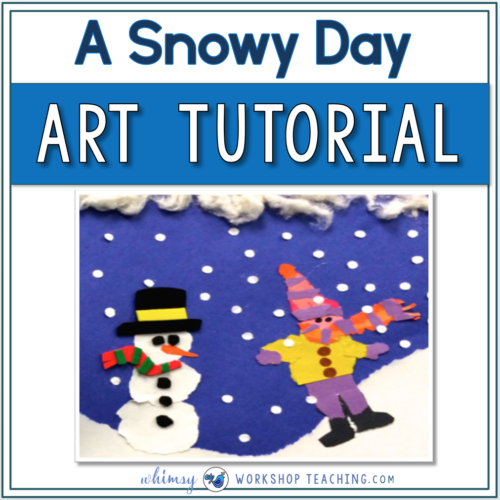 Here's another fun and easy art project for those long winter days!
It's all done with ripped paper, which gives the finished piece a unique look.
You will need:
1 sheet per student of colored blue and white paper (of the same size)
assorted colors of scrap paper
white hole punched paper
glue
cotton balls
First make the snow bank. Rip the white paper sheets roughly in half slowly, making a wavy line. Both sides of the white paper can then be used to create a snowbank. Just glue it onto the bottom of the blue paper as shown, with the corners lined up. You can even add several layers of this for a cool effect.
Add cotton balls along the top, pulled apart to make snowy clouds.                                                *Tip: Remind students to apply the glue to the

paper

, not the cotton balls!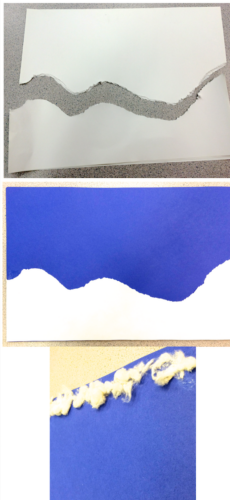 3. Use pieces of scrap paper from the recycling bin to create a little person. Build the body first with large ripped shapes, then add the details. Remind students that each piece of clothing can be made by gluing different pieces together – body, then arms, etc. This is great fine motor practice.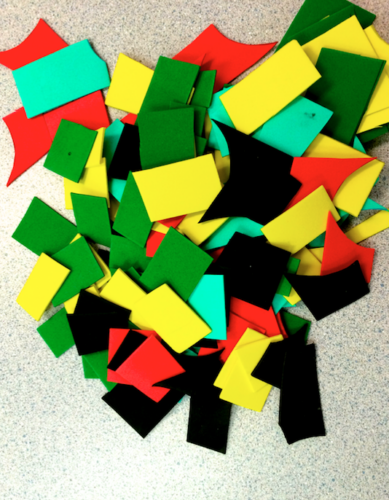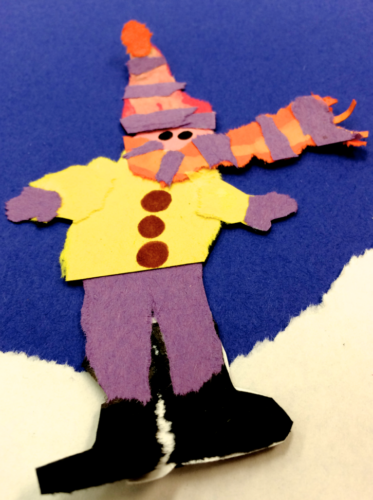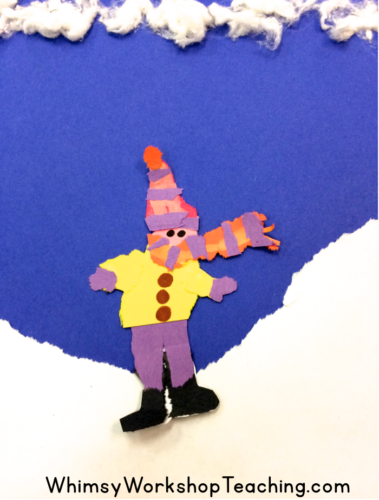 4. The left over white circles from a hole-punch can be used to add snowflakes falling from the sky.
Rip round-ish white paper circles to build a snowman, and colored paper to add any more details.
*Tip: Adding snowflakes over top of the person makes the scene look more realistic.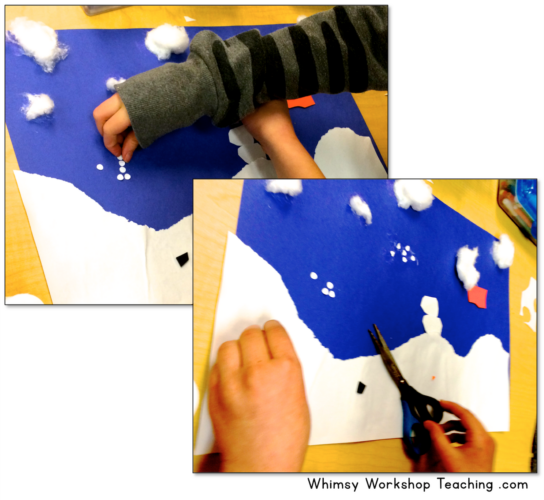 When I do this project, I give a list of criteria, and then leave the rest open ended to allow for creativity.
For example, I wrote on the board that students' picture must have:
*1 snowbank
*1 person
*1 snowman
*clouds of some kind
*at least 25 snowflakes
Any other details were completely up to them!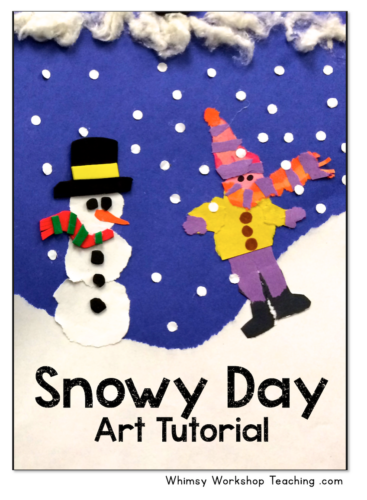 I hope you enjoy trying this cute activity with your students!
If you'd like to see more step-by-step photo tutorials, you can choose from these huge collections of art lessons for elementary classrooms. Each has lots of photos, a teacher script to read aloud to students, and literacy components to deepen thinking and expression through writing.   CLICK HERE  to take a peek!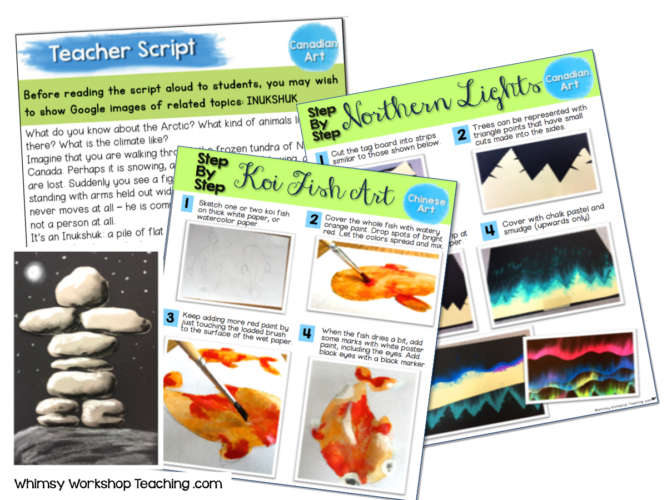 More art ideas? Try these fun MATH DOODLES!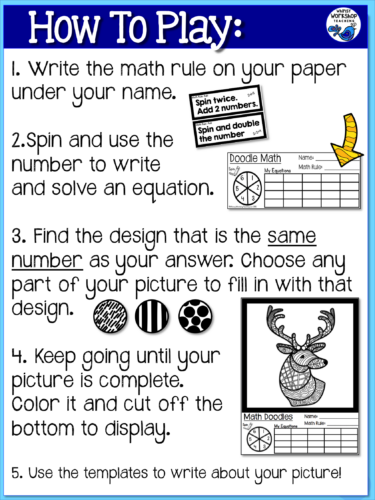 Here's how it works:
The teacher chooses the math focus for the day, and students use a spinner to build and record equations relating to your focus (ie. doubles, times tables, etc).
This equation answers will direct them as to which design to use for each part of the image, until it's all filled in.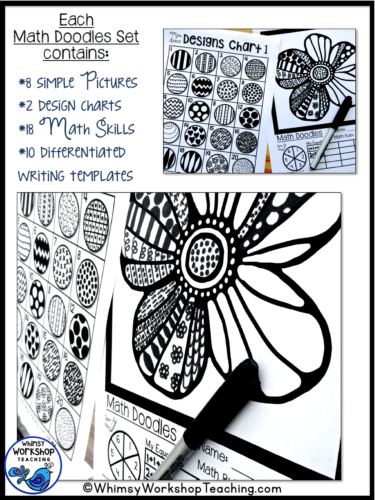 Then they can color and use writing templates to make fantastic projects! So easy and completely independent.
They are available for lots of different seasonal topics, including Winter, Polar Animals, Spring, and many more to come! Your students will LOVE math time! Click HERE to see more.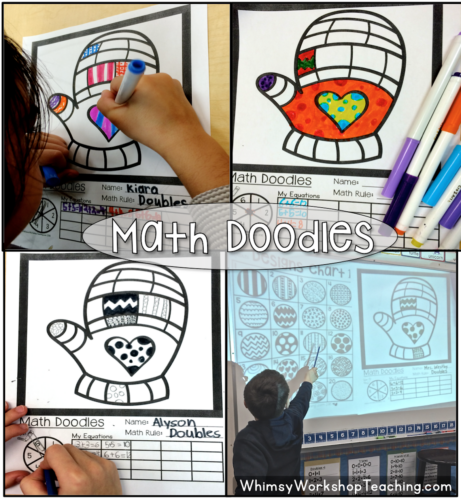 If you'd like to try Math Doodles in your classroom, you can download your own copy below for free!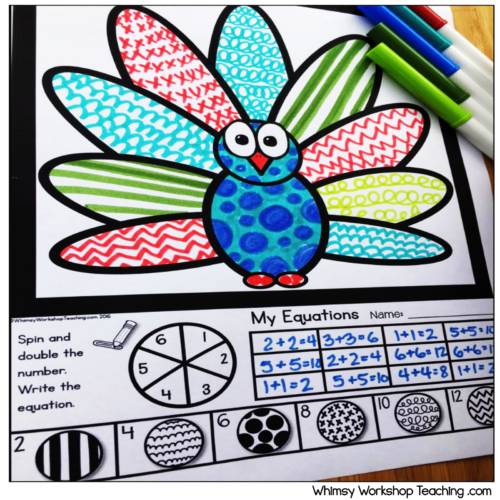 Pin this post for later!