Students often ask the reason behind the material they learn. So, they ask why they need to know how to write multiple sentences and learn animal life cycles. However, they are more engaged and eager to learn when they know the why. One topic students instantly know why they are learning is money. Students love learning all about money since this is something everyone loves! Thankfully, teaching money will be fun, exciting, and hands-on with these lessons and activities!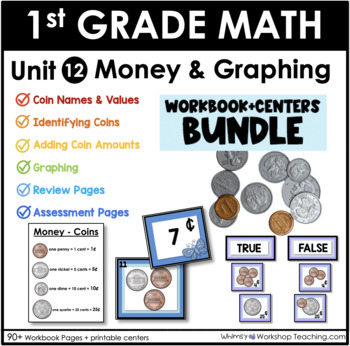 There is so much to focus on when teaching money! Thankfully, deciding what to include will be easier with the comprehensive workbook! There are over 110 printable activity pages, lessons, assessments, posters, and centers! Students will have so much fun while learning all about money.
To help students get started, the workbook begins by isolating counting coins using generic amounts. So, the coins will only show the amount, such as 1 cent or 5 cents. This will help establish the concept of counting multiples of the same coin. When students are ready, there are lessons with mixed coins! They will even work on matching coins to the numerical amount. On top of this, students will learn about graphing with tally marks and bar graphs. Honestly, students will have so much fun learning so much essential information!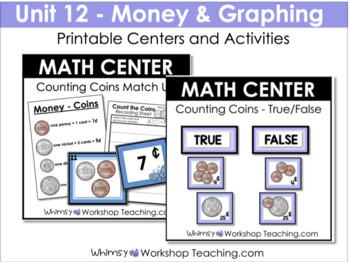 On top of the workbook, there are 4 lessons for each topic to help guide teaching money. This includes math journal activity cards, partner work, thinking questions, whole group instruction, and assessments. Honestly, there is so much to fit the needs of every class! So, teachers can pick what they use to personalize lessons.
Since students all learn at different speeds, there are multiple levels of activity pages. This will help ensure differentiation is quick, easy, and meaningful! There are even student check-ins and assessments to guide the differentiated activities students need.
If you are looking for just the workbook, here it is! This helps students learn coin names and values. Additionally, they will learn to identify coins and add coin amounts. There are even pages for graphing, review, and assessments!
Just like the bundle, there are tons of differentiated options. So, teachers can pick which pages students complete.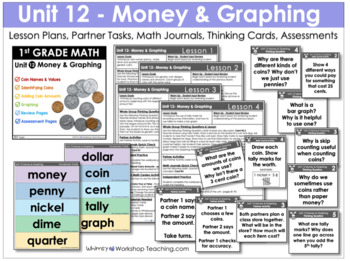 Teaching money will be so much fun with this workbook!
Students love playing games with classmates! So, they are the perfect addition to math centers when teaching money.
Students will have cards with coins and cards with an amount of money. Then, they will match up the cards with the amount of money and a picture of the coins. As an added twist, students can even play a Memory Game with the cards.
Teachers can just print, laminate, and toss into a bin! Students will have so much while gaining so much confidence in counting money!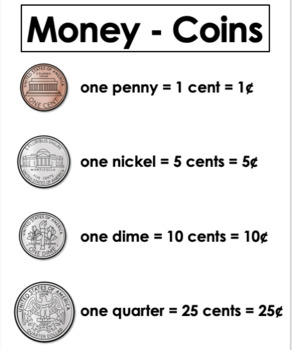 This is such a fun and easy first or second-grade printable math center!
Specifically, there are 60 cards included. Half are true and half are false. Students will sort the cards as true or false. They can put them on a table, in a pocket chart, or into baskets! Students will love working on counting coins with this low prep center! 
There are even American and Canadian coins included and a BONUS of 36 clock/time cards!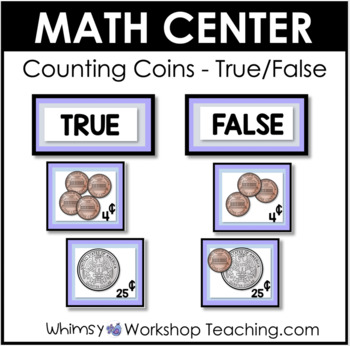 Students will use money throughout their entire lives. So, they need fun and exciting lessons to ensure they gain confidence in counting money. Thankfully, these activities will do exactly that! Students will have so much fun during money lesson plans.
If you do not want to miss any of the upcoming lessons, join my email list to be notified of all the interactive lessons coming up! By joining the email list, you will receive freebies for blog exclusive subscribers!