How do you celebrate Thanksgiving in your classroom?
Do you celebrate "Friendsgiving" too?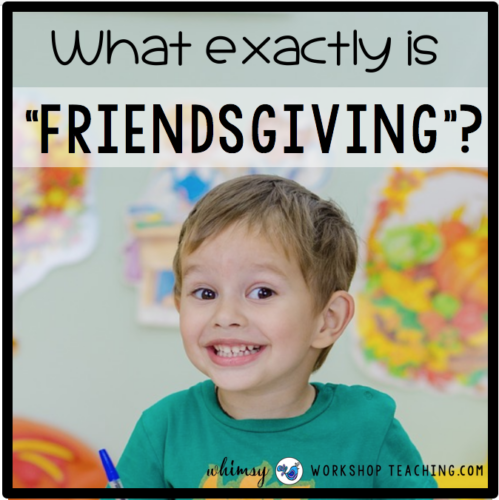 WHAT EXACTLY IS "FRIENDSGIVING"?
Have you heard of "Friendsgiving"?
I was hearing this phrase everywhere and wondered what it was all about. Was I missing some new trend? NOPE. Turns out, it's just like Thanksgiving, only you're with your friends!
This is perfect for a group of friends who can't afford to fly home to see relatives. But it's also perfect for celebrating in the classroom. We're all friends, and we're all thankful!
I used to work with a teacher who did a full-on turkey lunch with her class for Thanksgiving celebrations but, with various allergies and food issues, it became too much of a hassle. Instead, she did a "potluck" of donated food from the class "safe list" and filled their plates!
I thought this was a great idea and decided to do something similar with my class! Here's what else we did:
We made our own placemats before eating. These were decorated with pictures and writing about things we were thankful for.
We paired up to talk with friends about things we were thankful to have learned so far in class. We added one thing that we'd like to learn about in the future. These were so cute to read!
Each student made a card for a partner (that I chose) that described all the great qualities that person had. We brainstormed a list of ideas earlier so there was something for them to refer to. These were a big hit!
This Thanksgiving, you may want to give "Friendsgiving" a try in your classroom!
Pin this post for later!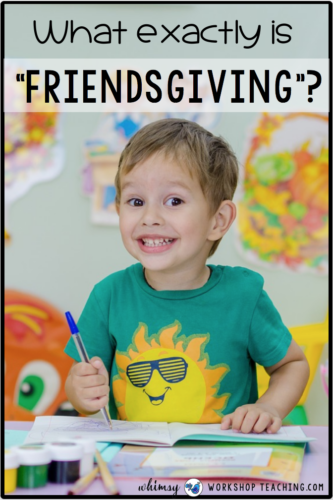 ---
THANKSGIVING PROJECTS
As part of our celebrations, we do a lot of talking, writing and drawing about things we are thankful for. Here's a no prep template that students can use to express their gratitude after your class discussions. They can also color the funky turkey and make a stunning bulletin display.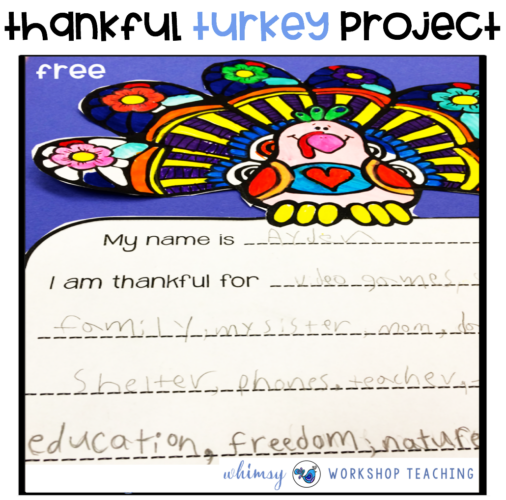 You can download this freebie by clicking below!
---
GRATITUDE ACTIVITIES & RESOURCES
Our SEL curriculum also has an ENTIRE UNIT dedicated to gratitude and ways to show more appreciation in daily life! We discuss appreciation for our things, our friends and our family. We also explore different ways to express that gratitude, and how to develop a positive, optimistic attitude, even when things go wrong.
There are 30+ fun activities, including a read-aloud story, a partner play, and interactive projects.
Our SEL Curriculum also includes lessons on making good choices, self-management, growth mindset and a number of other essential social skills to create a peaceful classroom!
You can see the entire year collection, and some free samples, by clicking HERE.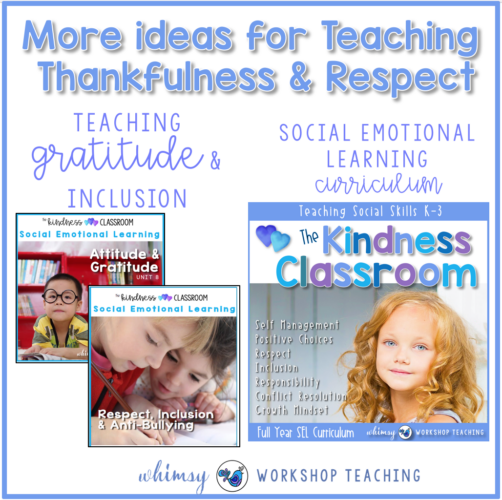 You may also be interested in:
STEM activities for the classroom
Christmas Around The World Literacy and Crafts