Increasingly, integrated learning is becoming fundamental to teaching. Many schools are moving away from the traditional "single subject blocks" model to a multi-subject, project-based model.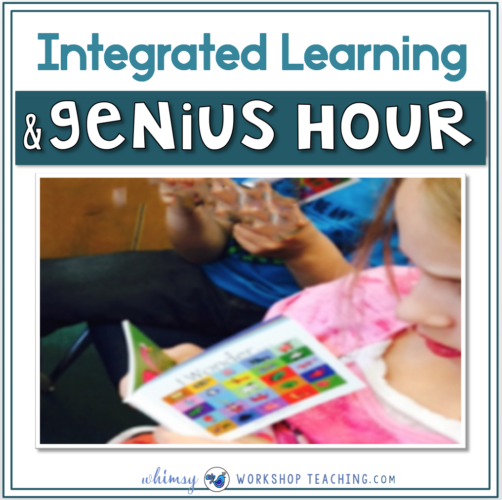 Here's a quick video from Edutopia to explain the benefits of this approach.
Project-based learning is perfect for this kind of approach. Why? Within each project there are multiple problems to solve. Each problem is drawing from knowledge of various subject areas.
Our school adopted Genius Hour as another way to facilitate project-based integrated learning. With this model, students spend 20% of their school time working on a project based on their own interests.
However, you don't have to adopt a whole new program or join an educational movement. You can simply ask students to choose something they are interested in, and explore how they might investigate that topic and share their learning with the class.

Integrating Subject Areas
There are many ways to integrate more than one subject areas, and in my experience, this is a great way to make learning both more efficient and more meaningful. Here are a few examples from my classroom:
Integrate Math and Literacy
Any form of literature can be used as a springboard to math.
I tell students "Did you know there are math problems hiding within every story? They are there – and it's our job to find them!"
For example, after reading the story of the Three Little Pigs, generate math questions for the class to solve.  Invite students to do the same once they get the idea. 
Adapt the questions to your students' level. 
*If each little pig had one cookie, how many cookies would they have altogether? 1+1+1=3
*If each little pig had 3 cookies, how many cookies would they have altogether? 3+3+3=9 or 3×2=9.
*Why didn't the brick house fall down? 
Advantages of inviting this sort of thinking: 
-It reinforces the idea that math is meaningful and useful in daily life.
– It creates a habit of looking for math outside of math time, which means more practice outside of the classroom.
– It's a wonderful way to challenge those higher-level thinkers, since they are learning to generate their own questions.
-It involves questions that are student-generated, which leads to more overall engagement, especially in small group challenges.
I've made this free template to use with younger students to create and solve story problems:
Use drawing as an integrated writing prompt!
Traditionally, students write journal entries or stories and then illustrate later. But have you ever tried things the other way around? Flip that idea and draw first, then use that drawing as a writing prompt!
This writing could be a story about an animal they drew, or it could be a summary of the steps they took to create the drawing.
We like to use step-by-step directed drawing templates such as the ones pictured below.
Click the
blue button

below to download them!
 
Integrate Math and Writing 
We use editable color-by-number templates to integrate math, writing, art and even science! First, the math questions are answered and the picture is colored. Then, we use the matching writing prompt templates to write about a science theme.
You can click HERE to download some free sample pages – it is located in the PREVIEW for this set on TPT, so be sure to click the preview button to see it.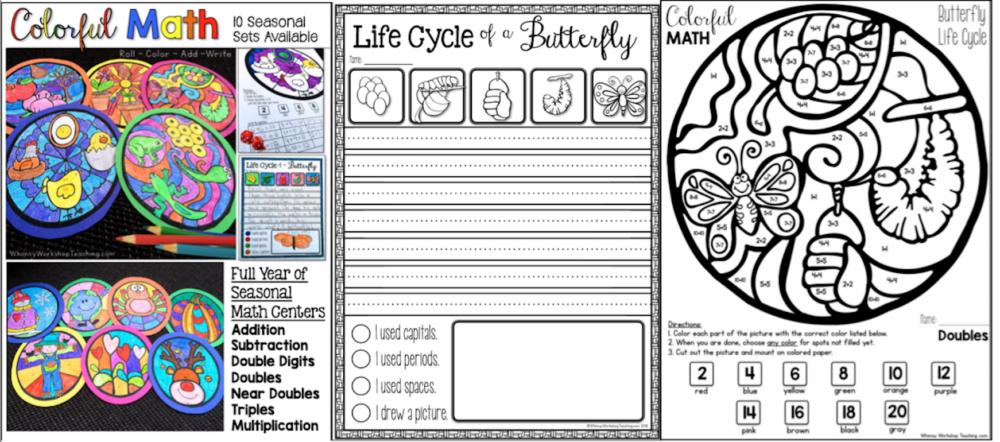 Integrate reading and technology
One more tip that has been a game-changer in terms of integrating technology into my daily Shared Reading time: EPIC's children's' online literature collection.
This is a favorite resource in my class because of the many popular choices available, and students are learning computer skills while they read.  You can make a free teacher account and let students explore the fantastic collection. Click here to take a look!
Pin this post for later!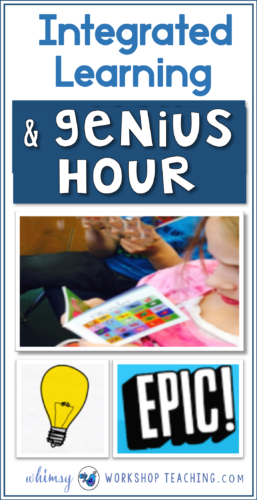 ---