Teachers work hard to add special elements to lessons during any holiday or event. Honestly, this means so much to students! They love having a teacher who cares about their excitement and allows them to share it through fun activities. For example, incorporating fun holiday activities like Valentine's directed drawings is a great way to combine student excitement with academics. Thankfully, my Valentine's Day directed drawing video is here to help every student create a fancy heart!
This is the perfect activity for students to make as they celebrate Valentine's Day in the classroom. It begins with a heart in the middle of the page and becomes a beautiful full-page art project!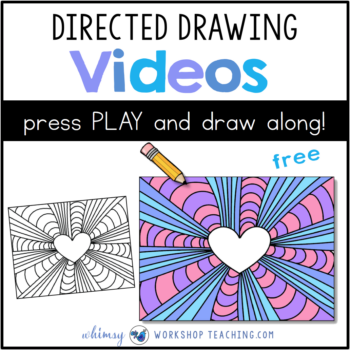 Teachers just need to click "Play." The video will guide students step-by-step with a visual guide and tutorial. There are even prompts to pause between the simple steps to help anyone who needs assistance. Additionally, this is a great way to let their little hands rest for a second or sharpen broken pencils. Teachers can even replay the video, as needed.
One of the best parts of this Valentine's directed drawing is how every student can add their own twist. For example, it can be easy enough for younger students to design and color. However, it also allows older students to add unique touches and details to let their creativity shine.
Students will fall in love with the Valentine's Day directed drawing! Luckily, this bundle includes drawing themes and topics for the entire year.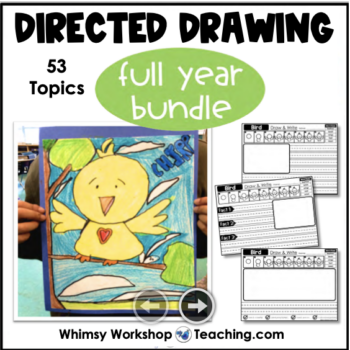 Specifically, there are over 60 directed drawing topics. This includes learning to draw scarecrows and sunflowers in autumn and polar bears and penguins in winter. Students will even learn to draw various animals, such as butterflies, frogs, and zebras! Additionally, 25 free drawing videos help guide and support students.
The new topics in the bundle also include 15 writing templates to choose from. Since every student is at a different level, there are multiple options to support differentiation. This includes everything from writing a comic to writing a whole page of lines! Teachers can even add sentence starters to provide additional help.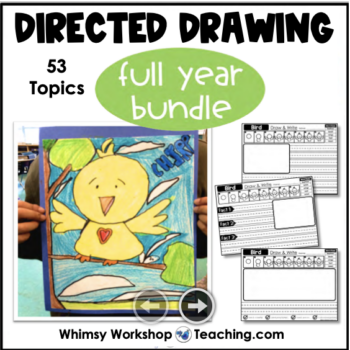 Honestly, this bundle has many options and topics to interest every student! Best of all, the differentiation will allow ALL students to work on the same drawing lesson while writing at different levels. These fun no-prep activities will be ones students are always so excited about.
Teachers are always looking for ways to inspire students in their writing. Thankfully, directed drawings do this!
Teachers begin by choosing a topic, such as sea creatures or bugs and insects. Students work one step at a time as they create their drawings. There are full-color posters of the finished picture to display as students follow along step-by-step to create their own.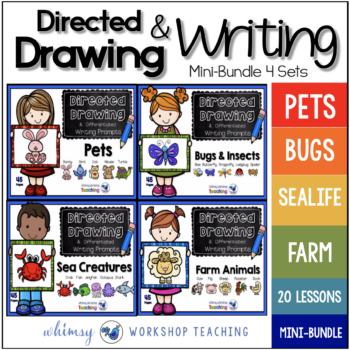 Then, teachers choose between 10 differentiated writing templates, so students have a "just right" writing job. The writing templates support all writers in the classroom. For example, there are templates for emergent writers and ones for more advanced writers. This includes a template for simple sentences about the animal to ones with room for 10-12 sentences.
Since students are so proud of their pictures, they are excited to write about the little animals they created!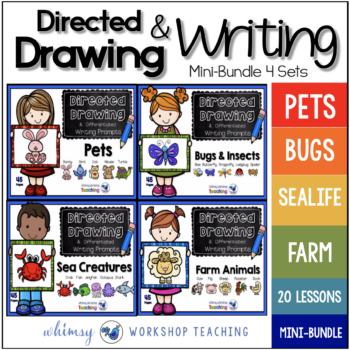 All of the above directed drawings are the perfect no-prep activity to combine academics with engagement! Whether using the Valentine's Day directed drawing video or the bundle, students will love bringing their drawings to life! Seeing all the focused faces as students draw and write will be amazing. 
If you do not want to miss any of the upcoming lessons, join my email list to be notified of all the interactive lessons coming up! By joining the email list, you will also receive freebies for blog exclusive subscribers!