Do you do writing workshop with your students?
My program has evolved over the last 23 years, and now it runs smoothly – although I can't help but add new ideas each year!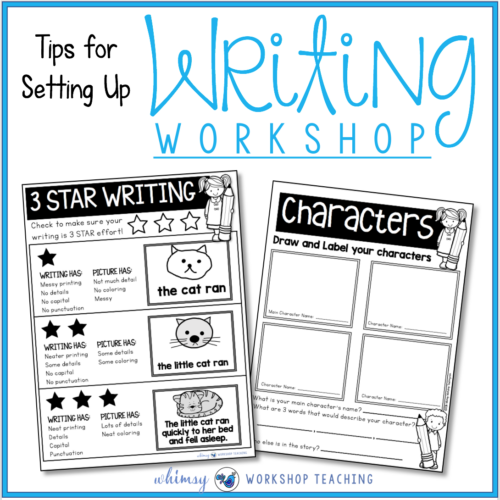 Long before I expect students to write stories, we spend a lot of time discussing stories.
For example, every time we read a story, we …
*name the author and illustrator
*find words to describe the characters and talk about who they might remind us of
*talk about the plot and if we've ever had similar experiences
*talk about what the problems were, and how they were solved
*talk about how we felt while reading: what made us feel sad, excited or worried. Which words or phrases made us feel this way?
Sometimes we put this template under the document camera and students help me fill it out: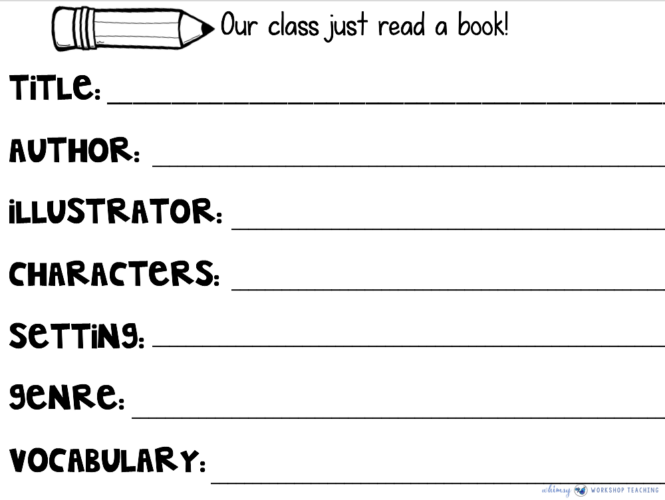 Starting to write together…
When it's time to write, we begin with simple sentences.
How can we use descriptive words to help our reader paint a picture in their heads?
We use supportive templates to focus on making sentences that are longer and more interesting.
Each sentences has blanks that prompt students to add detail.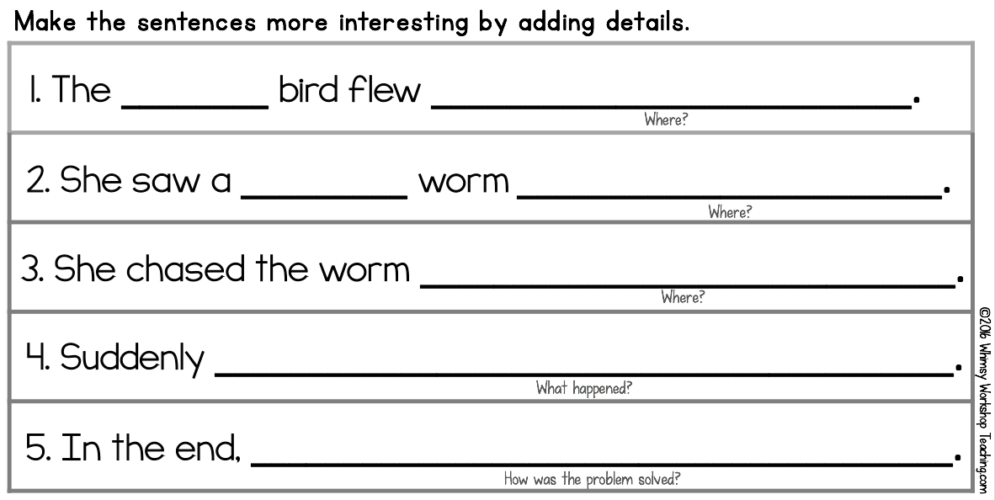 Each of the sentences form the basic structure of a story. Students have written a simple story already! They love sharing the stories with each other, and this gives them confidence that they are authors!
They can copy the story onto a new paper and illustrate. The end results are so cute!
CLICK HERE to see more about these differentiated templates.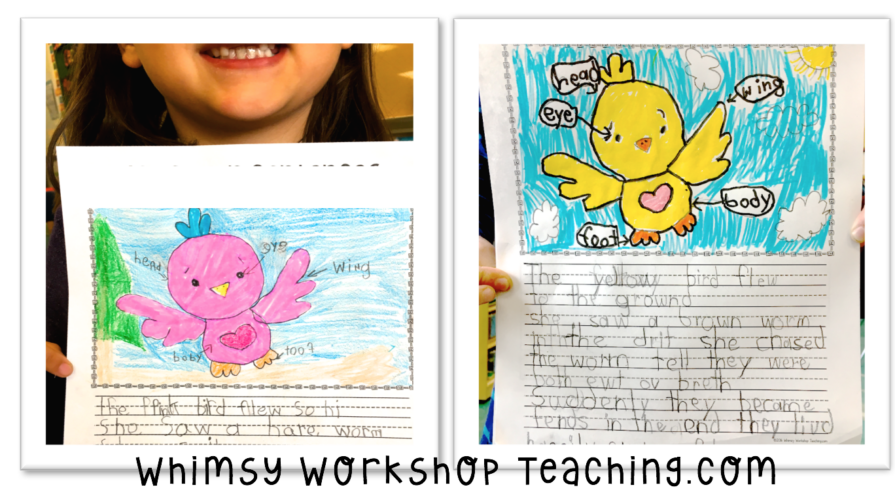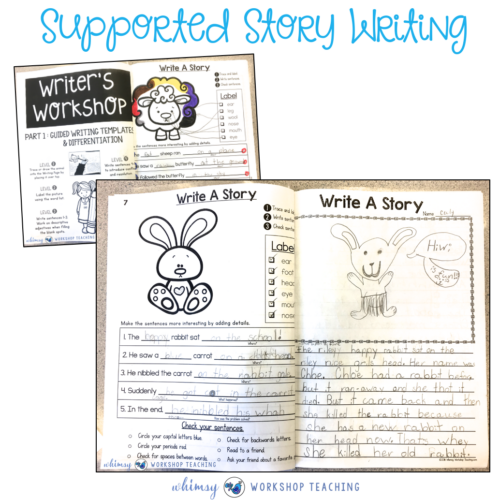 MORE WRITING TIPS
I should add that there are a few things that make writing these stories more successful.
Here are three big ones in my class:
First, we discuss spelling. These are emergent writers for the most part, and I am mostly interested in encouraging invented spelling. So we have a lot of discussion over the question: What if I can't spell a word?
As you can see in the Strategies For Writing poster below, I give them a few options. However, most of the time I want them to "make a guess and move on". I tell them that even grown ups don't know how to spell EVERY word in the world, and sometimes we make a guess and move on. We can always go back and fix it later during the editing process. Some students find this idea quite shocking (and relieving).
Growth mindset – discussions about making mistakes, fixing mistakes, and not giving up when it feels hard – are so helpful before writing!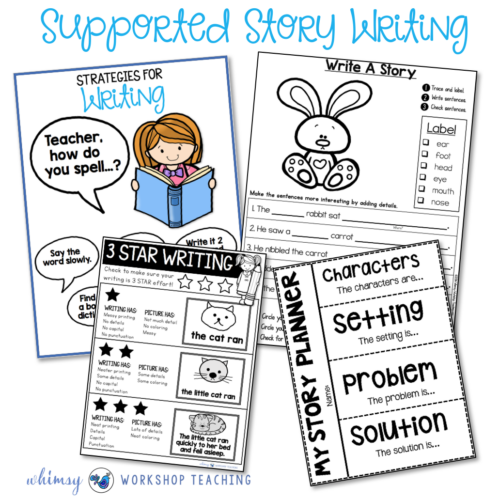 At the same time, we want our work to be legible to our readers. We call it "Three Star Writing" in our classroom.
How can we make sure our writing is "3 Star Writing"? There is punctuation. There are capitals. There are describing words. The picture is neat and detailed. (See poster in the picture above.)

WRITING TO ENGAGE OUT AUDIENCE
By the time we start creating our own stories, we have a very good understanding of story elements.
Now it's time to break it down into parts: brainstorming ideas, deciding on main characters, and outlining the plot of the story.
We also talk about how to make our stories exciting!
For example, the first thing we do is use the word "suddenly".
I tell students that this is my favorite word to read in a story, because when I see it, I know something exciting is about to happen!
During our writing time, students will often call out to me, saying "I just used your favorite word in my story!" and I say, "Oh good! I can't wait to read it!"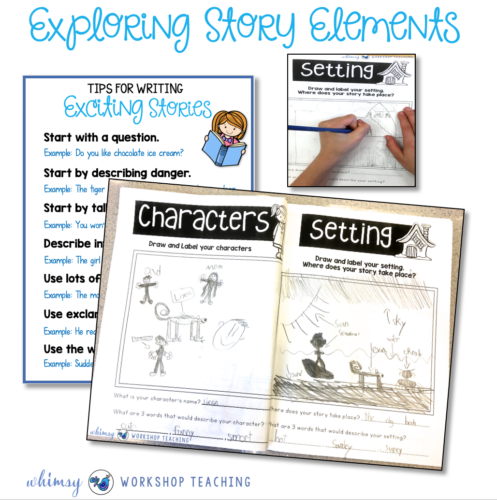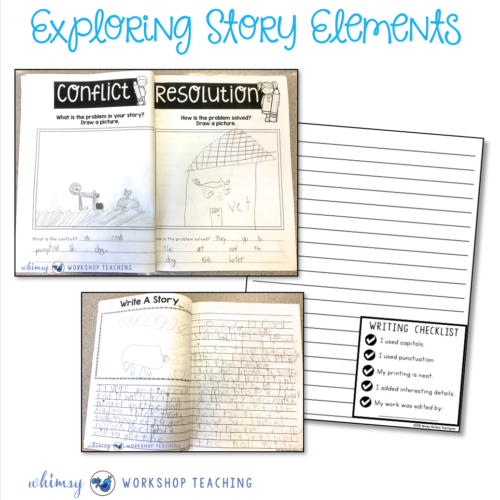 Once our stories reach the drafting stage, we are ready to edit!
For basic editing, we have writing pages with a rubric built in (see picture above).
Or, for editing the flow of the story ensure it makes sense, we pair up and read stories to each other.
This is a great way for students to see how their writing affects others, and what kinds of details get a good reaction.
If there are confusing parts of the story (and there usually are!) a partner will kindly explain that they don't quite understand one part and suggest how to clarify.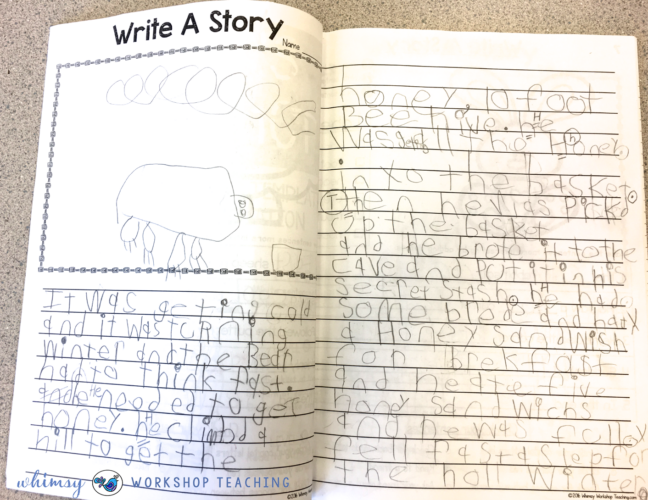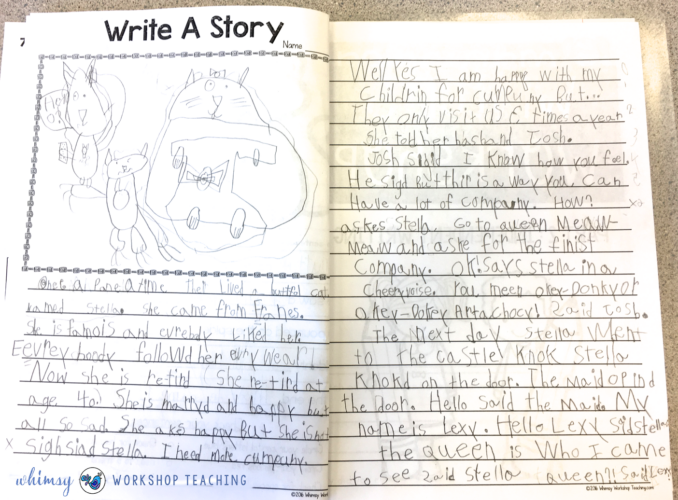 PUBLISHING IDEAS
When students feel satisfied with their story, and they've completed a "good copy", I give them thicker paper to make a cover. It goes into our class library for everyone to enjoy. Another idea is to put them into clear folders, as shown below.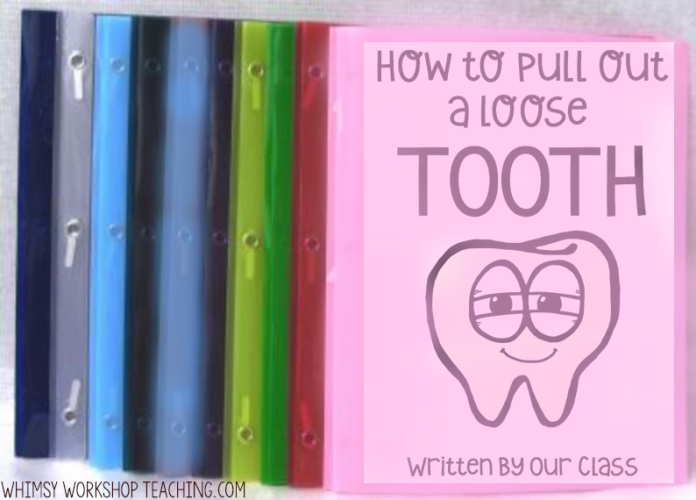 Speaking of class books, we also love to make whole-class books through the year. These are made when each student completes a page with their own idea, and it's put all together to create a funny story.
We use seasonal topics, but we also do funny situations that really inspire students to be creative!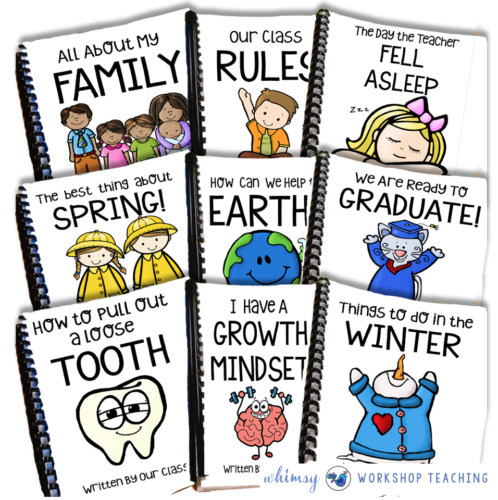 For example, we made one where students thought of funny ways to pull out a loose tooth.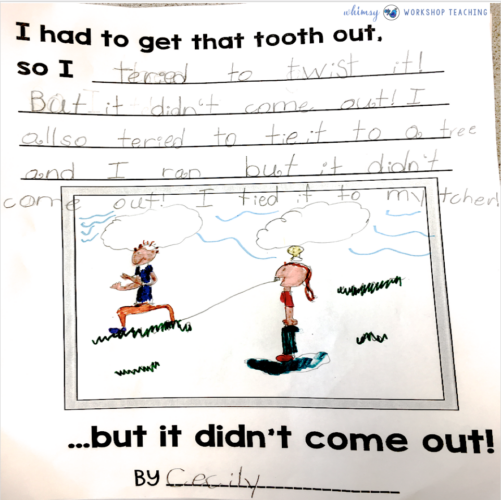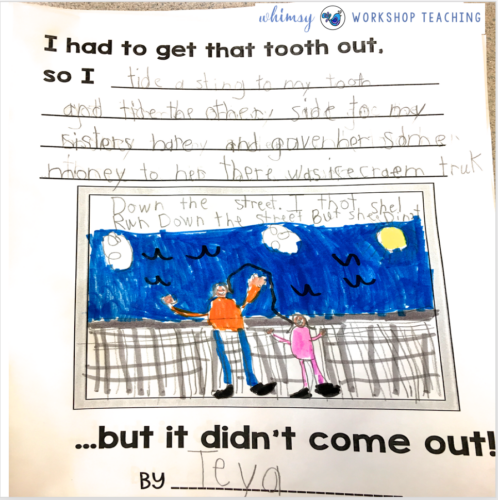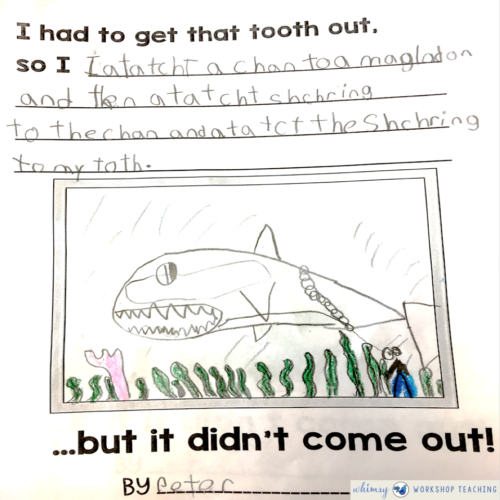 For another class book, students had to imagine what they would do if there were locked in the school over night! (By the way, Mr. Tim who is mentioned, is our school custodian!)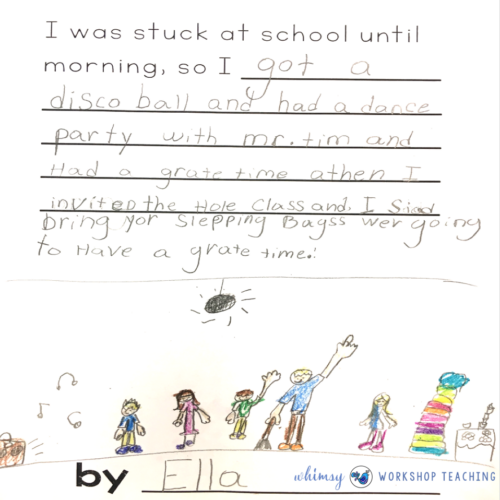 PROFESSIONAL PRINTING
Once a year we write a class story and get it printed in the local print shop!
Everyone contributes a page, and everyone gets a copy.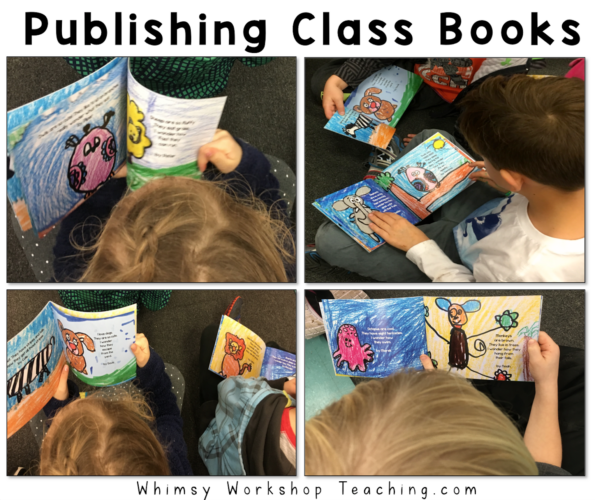 These cost about $10 each, and we used our bake sale earnings. Students feel like real authors, and they are so proud to bring them home to share with family!
We keep a few for our class library, and since I've been doing this for about 10 years, I have quite a collection now!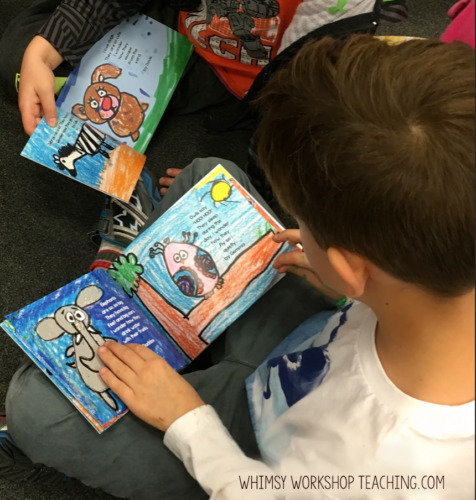 Other ways to get students excited about writing…
WRITE ABOUT BOOKS – We take time every day for silent reading (with soft music playing) or paired reading (I assign partners that rotate each week). Both are a great opportunity for writing! For my emergent writers, it's a simple generic book review template. They are responsible for writing the title, author and their favorite part of the story.
SEE THINK WONDER – Another fun idea is writing about a particular object or picture. For example, one day I brought in a huge model of a monarch butterfly. We talked about what kind of words we could use to describe it. Then we talk about what it reminds us of or makes us think about. Finally, we talk about what it makes us wonder. Some amazing writing has come out of this simple format!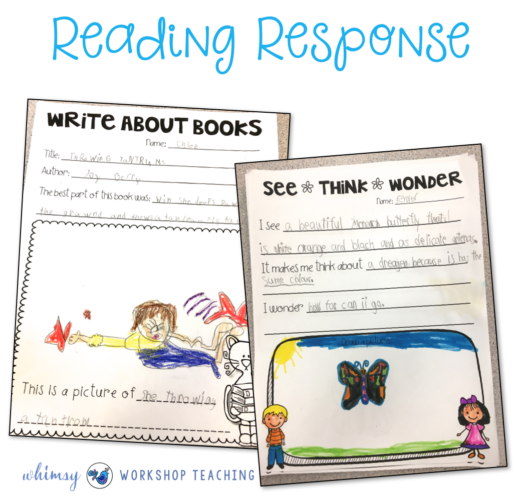 My more advanced readers may use a more complex version of a book review (see below) or even a novel review if they are reading short novels such as The Magic Treehouse.
Some of my students prefer opinion writing / persuasive writing activities. In the pages called "Which Would You Choose?" pictured below, student use a collection of animal cards to place on the template. They write about which animal they would choose. I've noticed over the years that students often interpret this as "Which animal would win if these two had a fight?" I don't mind this interpretation as long as they can convince me!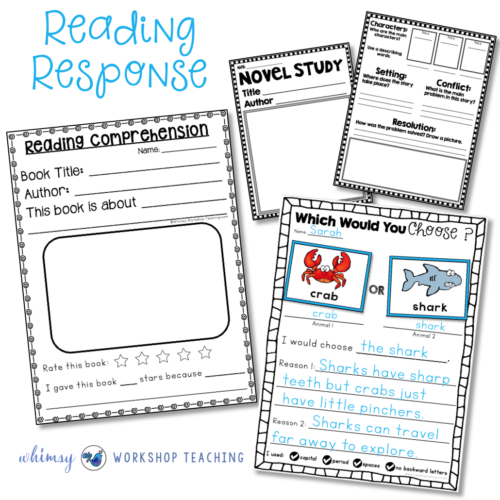 OPEN ENDED WRITING CENTERS
Most of the last 23 years I have taught multi-age students in split grade classes. I've learned over the years that an open-ended writing activity is a teacher's best friend. With this in mind, I have a lot of open-ended choices at the writing center through the year. For example, themed covers on blank booklets, or even shaped books, are always available so students can create their own little books. This honestly NEVER gets old – especially when I keep adding new covers.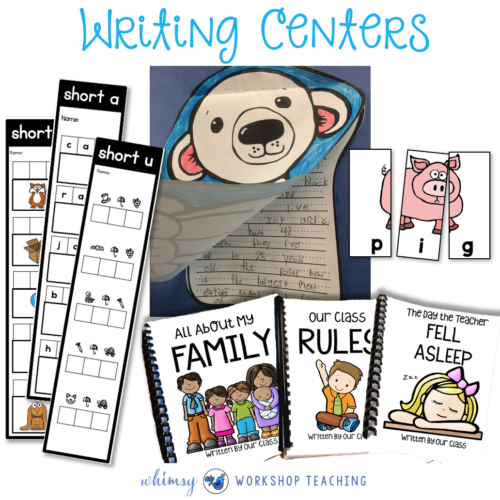 Adding writing prompts that are funny is always a hit with students, as is any kind of "secret code" or hidden answers writing activity. In the pictures above and below, you can see:
*Shaped booklets with blank lined papers inside
*Blank booklets with themed covers such as "I Like…" or "My Family"
*Writing prompts made with funny pictures to write about
*CVC activities and word building centers
*Seasonal or silly class books
*Secret Code Journal Prompts (a huge hit!)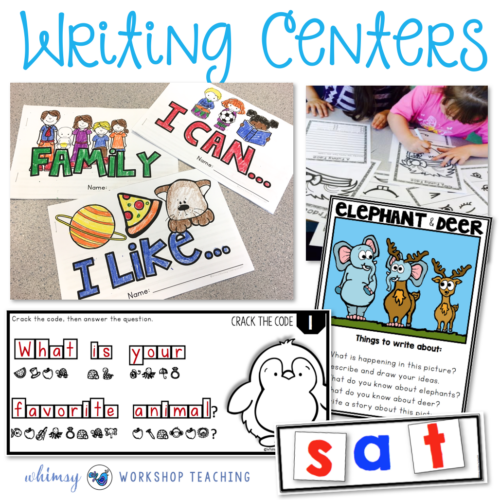 I hope you've grabbed a few writing ideas to try in your class! Most of these can be created in just a few minutes, and with your student's input. Ask them what they'd like to write about and create a class story together!
If you'd like to use any of the activities I've mentioned above, you can see them all in year long writing bundle, or pick and choose the activities that will work best for your students. They have all been tested for many years in my own classroom with much success.
Click HERE to see the bundle.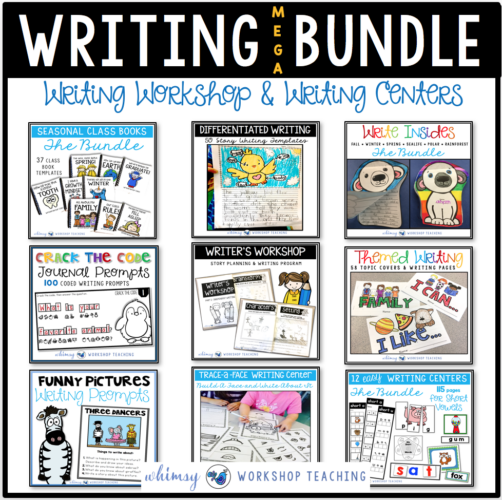 Would you like to try one of our class books?
You can download the free template by clicking below. You'll also gain access to our VIP secret resource page with a ton of similar resources. I send out a new password in each email (about 3 each month).
Just click below to download: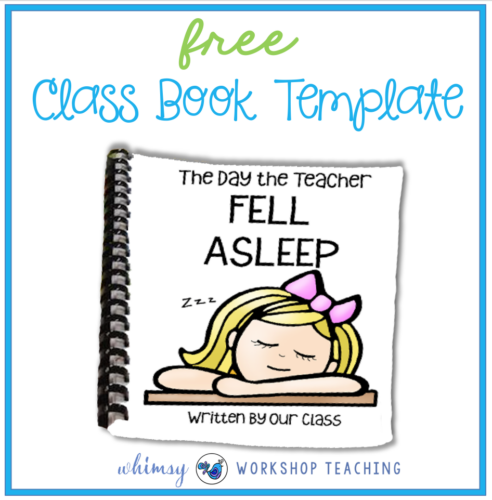 Pin this post for later!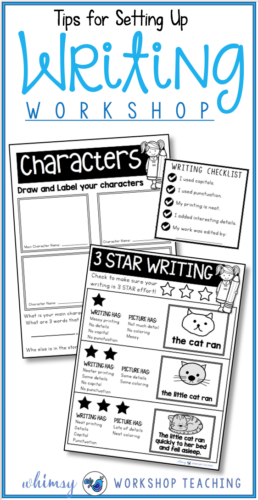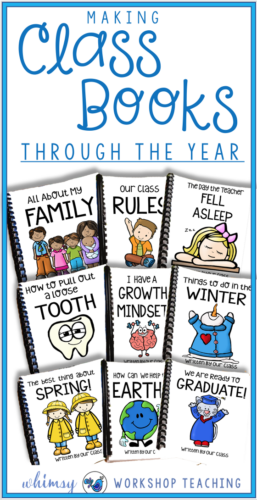 Save the free book template for later!