CHOOSING A PROGRAM
There are several programs to choose from. Take a look at the details for each program below to ensure you have the right materials for your students. Programs outlined below include:
Social Skills Monsters: Includes 16 printable monster books, each with five lessons or activities to reinforce social skills. All materials included!
Kindness Classroom Curriculum: A full year curriculum with 100's of lessons and templates. Includes 8 units, 8 printable storybooks, partner plays, journals, art, and more!
Social Stories Collection: 33 simple social story books, with a week of activities to use with each story. These are simple and direct stories for use with younger children.
200 SEL Paperless Morning Meetings: These lessons are meant to guide your morning meetings and start the day off right! 5 prompts for each week, with printable options!
SEL Poems and Songs: A big collection of poems, chants and songs to reinforce social skills and daily routines for little ones. Lots of printable activities.
DETAILS FOR EACH PROGRAM
Below you will find each of the five SEL programs listed in more depth so you can compare and decide which works the best for your needs. Click on any of the links to see the full length previews and purchase information.
1. Social Skills Monsters SEL Program
This fun program is perfect for primary grades! Students fall in love with the silly monsters and their struggles to choose appropriate social behaviour.
As you can see in the picture below, each of the 16 books focuses on an essential social skill with a full color printable book (approx 12 pages) for your class library.
Each book is supported by five lessons or activities to reinforce concepts through the week. Everything is included and planned out for you!
Click HERE to see a more extensive preview and information on how to download a free story!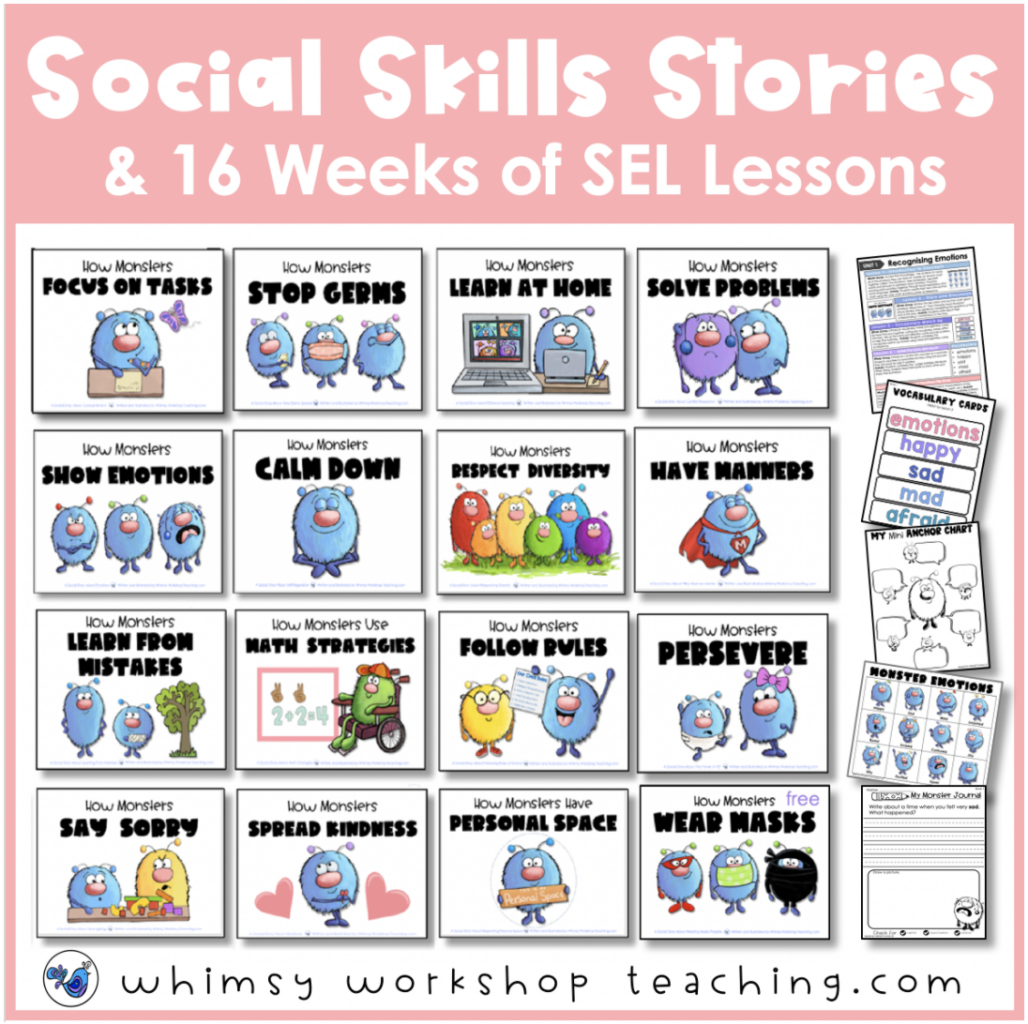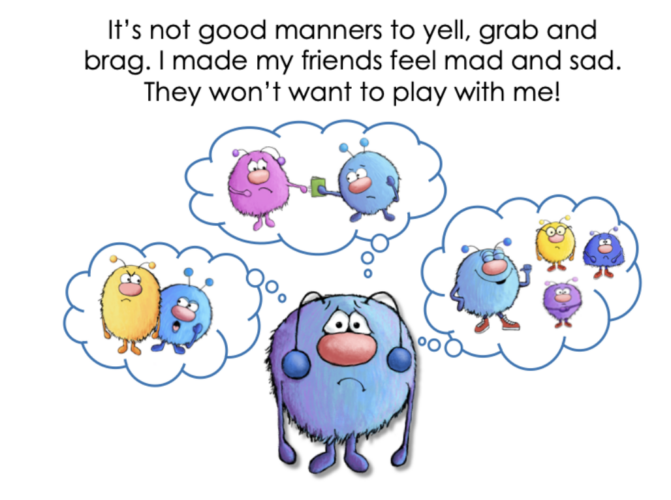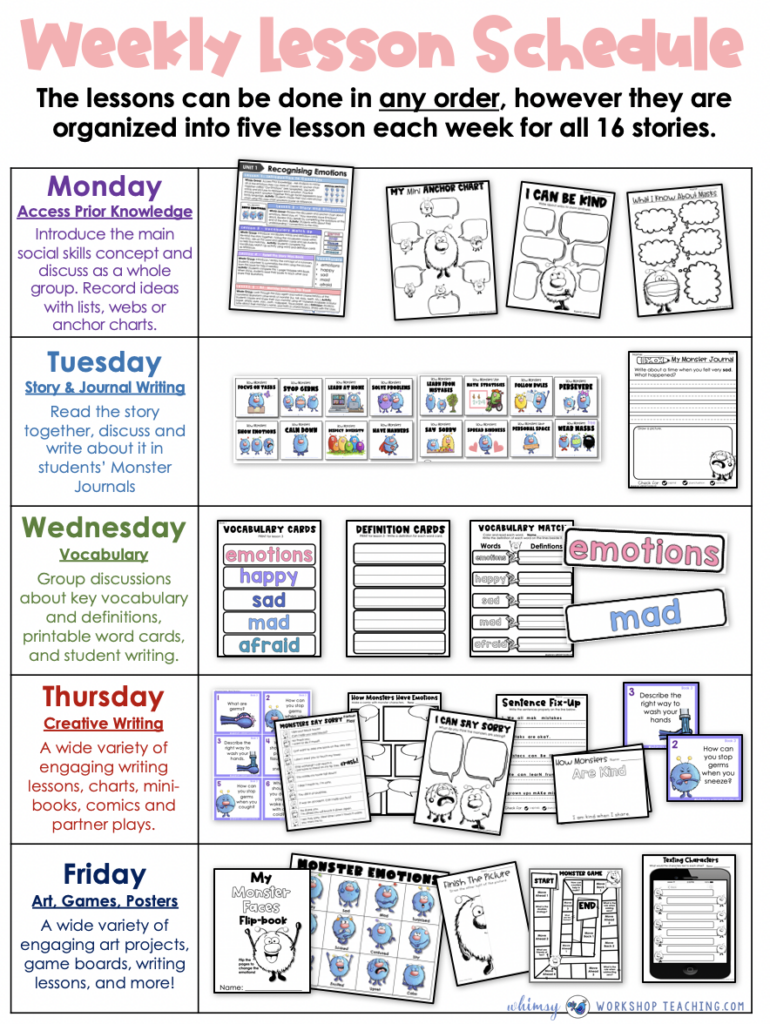 2. Kindness Classroom SEL Curriculum
Giving your students a strong foundation in social skills, coping skills, and character development is a gift that lasts far into the future! It also creates a classroom atmosphere of calm and peace that makes it much easier to teach and learn. That's what the Kindness Classroom is all about!
KINDNESS CLASSROOM Social Skills CURRICULUM
The Kindness Classroom is a comprehensive Social/Emotional Learning curriculum for the ENTIRE YEAR (40 lessons – 200+ activities).
♦ The easy to follow, organized VISUAL lesson plans layout will walk you through each lesson topic making it very easy to implement.
♦ This collection of 200+ engaging, community-building activities give students the exposure and practice ESSENTIAL social skills needed to create a successful classroom environment.
♦ These are in-depth, detailed lessons with TEACHER SCRIPTS included to guide your teaching if needed, and save teacher time. All materials are printable and have black and white options to save ink.
♦ The goal of this program is to assist teachers in teaching children to learn to manage themselves and their emotions, create positive and empathetic peer relationships, and become responsible citizens.
The Kindness Classroom teaches children to:
→ Make responsible and ethical decisions by analyzing and reflecting on problems or situation the encounter daily.
→ Build healthy relationships with peers by learning to communicate clearly and resolve conflicts. This also involves understanding social cues and cooperating with other.
→ Self-regulate their impulses, emotions and reactions to daily events and interactions.
→ Be self-aware in in identifying their own emotions, talents, and mindset. This includes learning about Growth Mindset concepts.
→ Be socially aware and empathetic towards others and appreciate diversity and differing opinions.
The activities are research based and classroom-tested to explore the SEL concepts for primary aged children.
It includes HUNDREDS of activities that are ready to print with many options to choose from.
Take a look at some examples below, or click on any image to see a more extensive preview.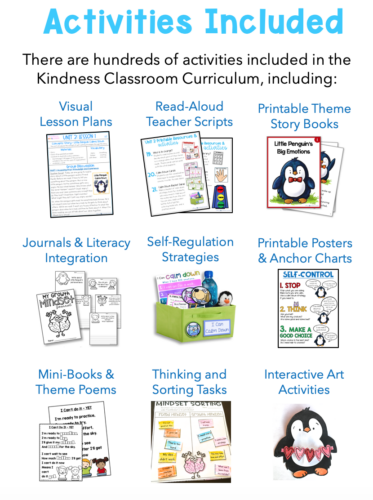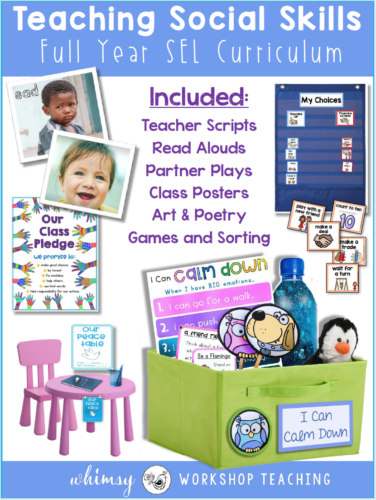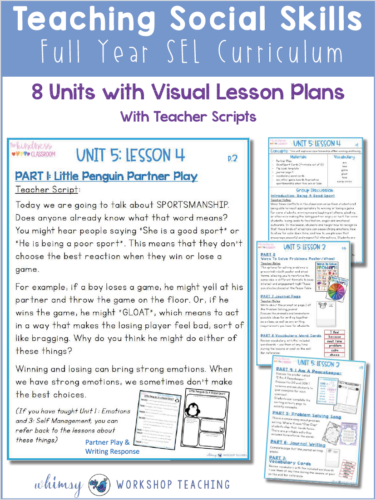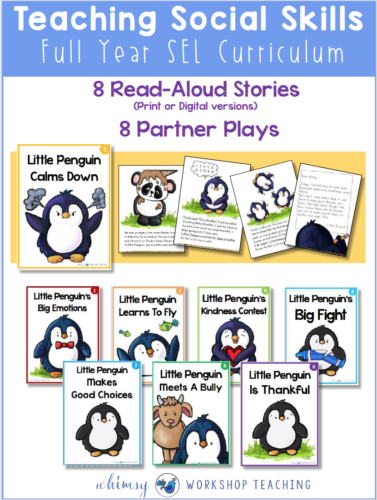 3. SOCIAL STORIES CURRICULUM
This collection of 33 units includes simple, direct teaching of the most essential social skills and behaviour expectations for the primary classroom. Each of the units focuses on one topic, reinforced by a full week of lessons: a 6-page printable social story, posters, mini-books, writing tasks, reminder watches, partner plays, printing and tracing tasks, journal writing, and more!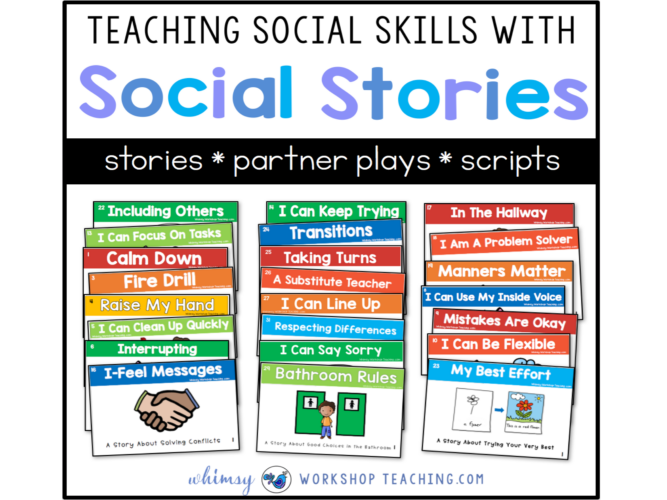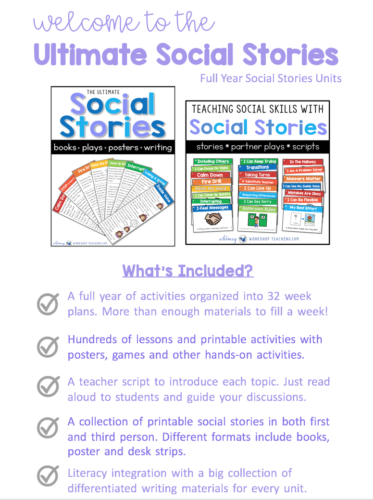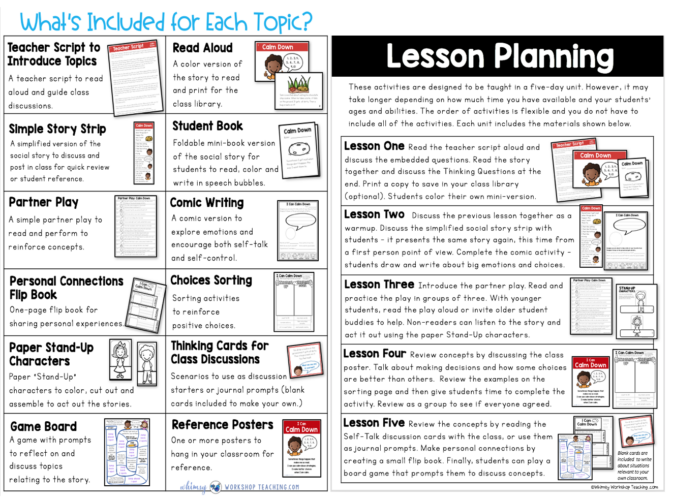 Click any picture to see more about the program!
4. SOCIAL SKILLS PAPERLESS DAILY MEETINGS
This is a collection of prompts to discuss over 200 different topics with your class. A new question each day for a morning meeting, or even as a journal prompt.
All of the pages can be projected for students to write and share ideas on the white board, or they can be printed for students to write on.
The lessons are arranged into ten units, with one lesson for each day of the week. All of the work is done for you!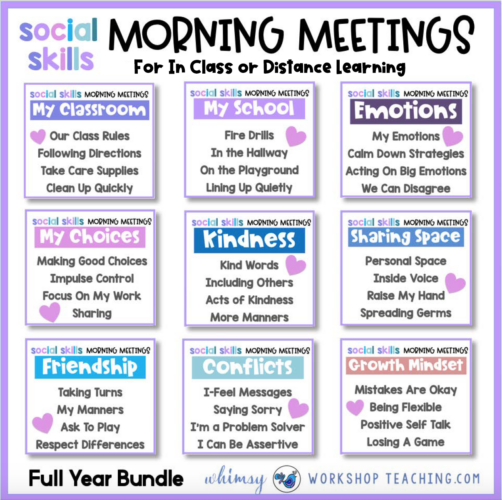 Click HERE to see more information about Social Skills Morning Meetings!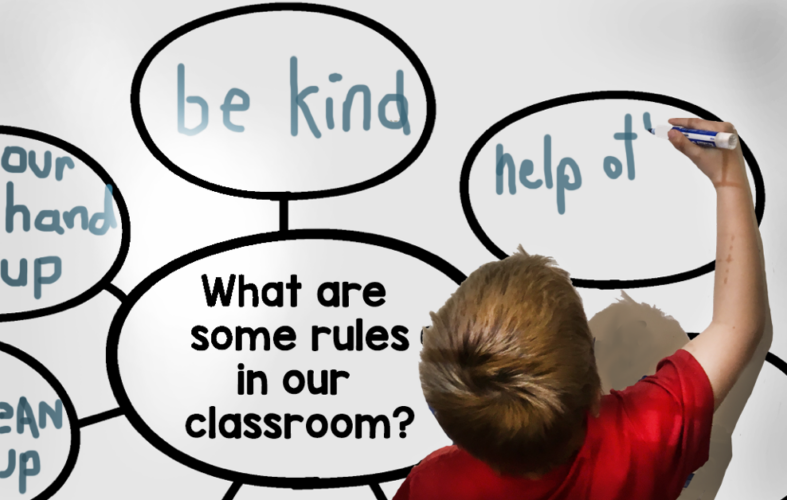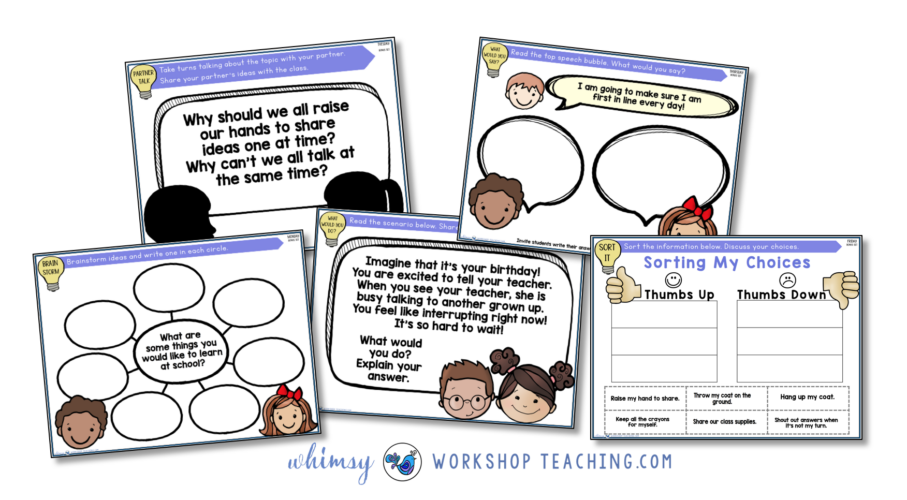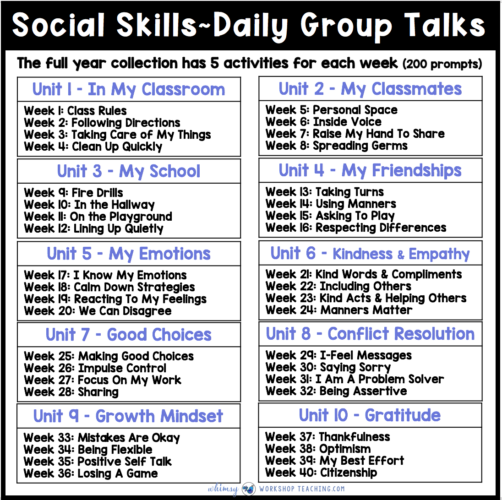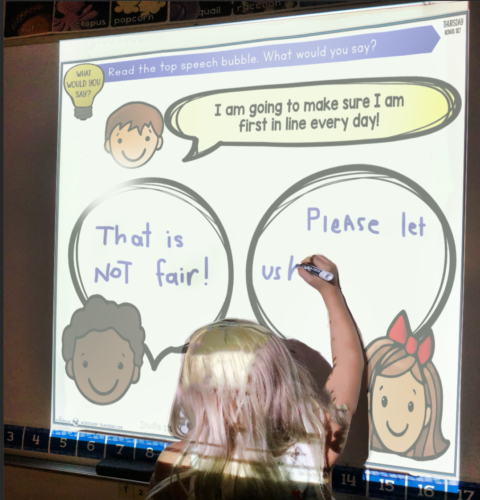 You can read more about this program and ideas for classroom use – and grab a free week of sample pages – by clicking here!
5. Teach Social Skills With Poetry
Poems and songs are the perfect way to teach social skills! This collection features 20+ different songs and chants to reinforce expectations in the primary classroom.
There are full color posters for each song that you can display, plus a whole pack of early literacy resources to reinforce the concepts. Just pick and choose your favorite activities for at least a week's worth of reading and writing for each poem! See the pictures below for an idea of the activities for each poem.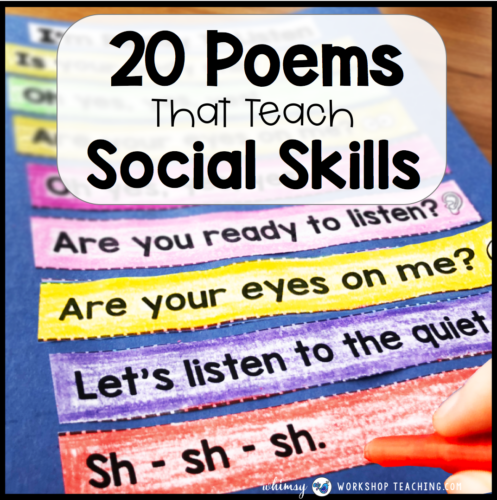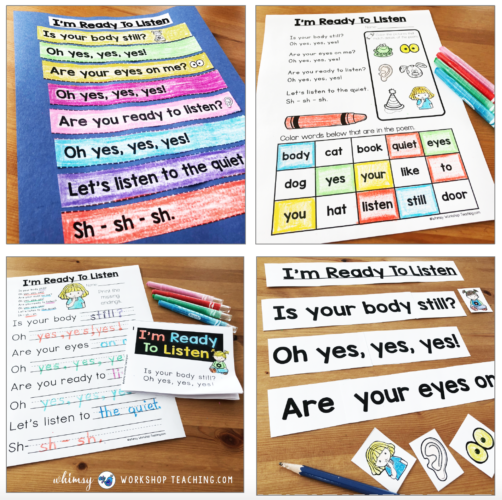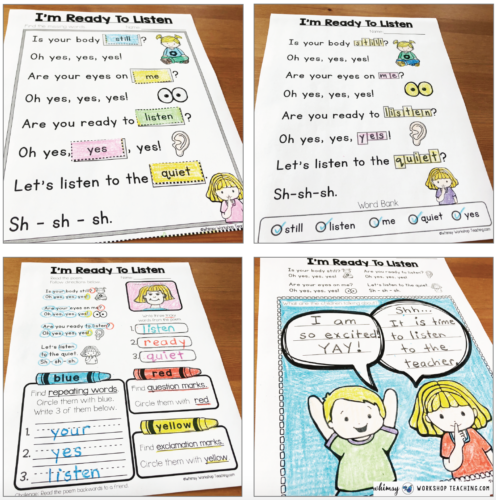 You can see all the picture previews and grab a free bonus pack by clicking HERE or HERE.
New!
SOCIAL SKILLS PICTURE PROMPTS
Use these paperless picture prompts to discuss social skills, emotions in facial expressions and body language, and common emotions relating to familiar situations in the classroom. These templates are editable and can also be printed out! Questions are embedded to guide your class discussion, and the templates are differentiated and editable. Click HERE to see the preview pictures.