I'm always looking for new ways to integrate social skills into my teaching.
Poetry is a fun new way to teach social skills!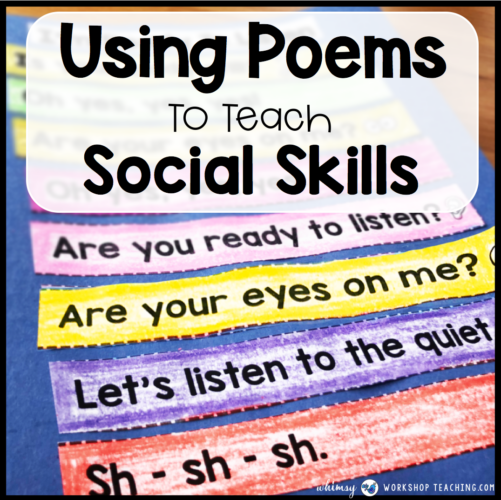 This year, we decided to integrate social skills in our teaching with our Poem of the Week! Each week we focus on a different social skill and use it to read, write, discuss, sort, and so much more!
Here are some of our poetry topics:
Hands In My Lap, I Can Raise My Hand,  Meet At The Carpet, Ready To Listen, Personal Space,
Ready For The Hall, Hallway Walkers, Marshmallow Toes, Stop-Freeze-Listen, Lining Up
Fire Drills, Taking Turns, Manners Matter, Being Rude,
I Can Calm Down, Quiet Counting, Inside Voice
STOP – I Don't Like It, I'm Sorry
I'm Busy Working, I Can Focus On My Work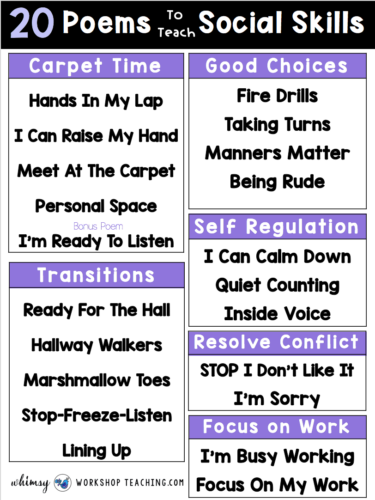 POETRY ACTIVITIES THROUGH THE WEEK
Here's the breakdown of activities organized through the week: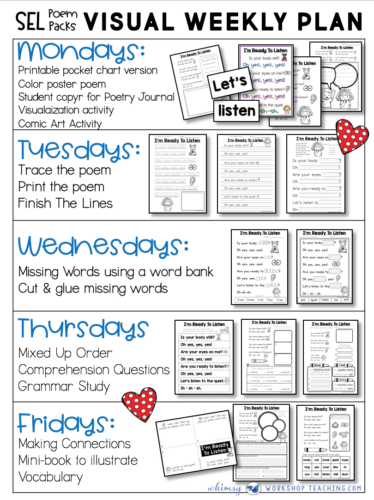 MONDAYS: Introduce the poem with a color poster and a student copy for their Poetry Folder that they can use to track as they read. Also included: larger version of the poem for sorting and ordering on a table or a small pocket chart – just print and laminate! For extra literacy practice, there is a visualization activity (drawing about the poem) and a comic activity (students fill the speech bubbles of characters from the poem). These activities are great for reluctant or emergent writers! (5 activities)
TUESDAYS: Review the poem again, then choose between different printing activity options:
Trace the poem with dotted letters
Print the poem with the poem right on the page for reference
Finish the ending of each line in the poem.
(3 activities altogether)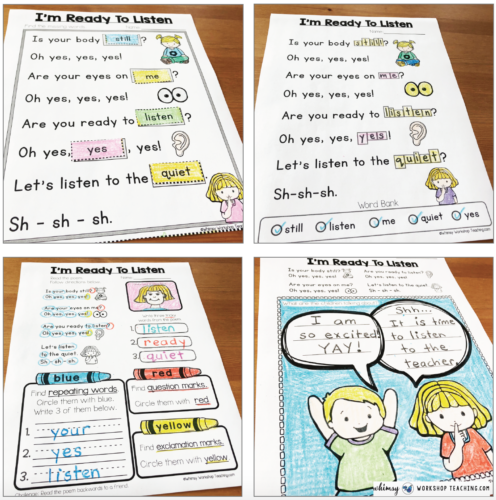 WEDNESDAYS: Use context clues and reference the poster to find missing words in the poem. There are two choices: fill in missing words using a word bank, or cut and glue the missing words. (2 activities)
THURSDAYS: Cut the poem apart, mix up, and glue back in the correct order.
Activities with comprehension questions.
Activities to study the grammar and vocabulary used in the poem. (3 activities)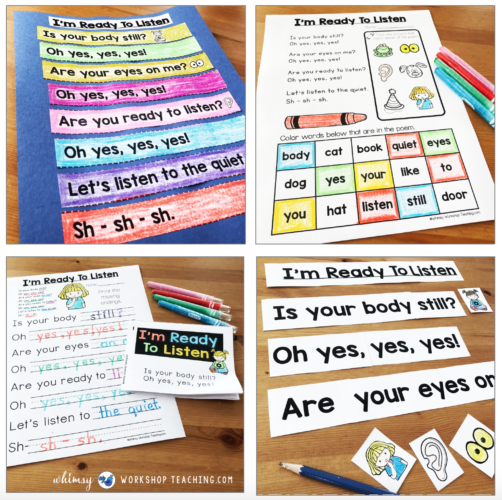 FRIDAYS:
Writing activities that involve making personal connections to the poem.
Activity to review vocabulary and meaning in the poem.
1-page Mini-Book to demonstrate understanding of the poem by illustrating the words on each page. (3 activities)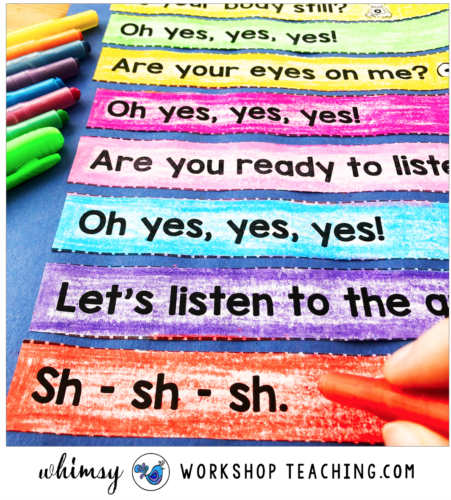 Posters of each poem are posted in our class for reference whenever we need to talk about a particular social skill. We refer to them often!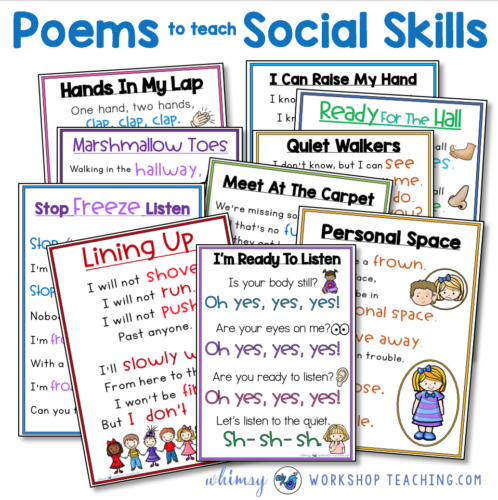 If you'd like to see more details, you can see the bundle of 20 by clicking HERE, and check out the preview video below!
There are 20 Social Skills Poem Packs, and each poem has 20+ pages of printable activities to explore through the week! The whole pack is 400+ pages of poetry plus social skills!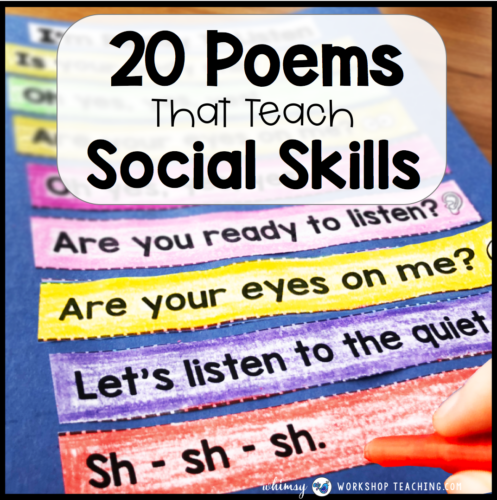 Would you like to try some Social Skills Poems with your students?
You can download an ENTIRE 20-page poetry pack by clicking the blue box below! 
It contains all of the poetry activities pictured on this page, plus some extras.
I hope you love it!
Pin for later:

Thanks for taking a look!
Continue exploring with any of the links below: