Elementary teachers have so much to handle. From teaching lessons to data meetings, there is limited time to plan anything during the day. Honestly, teachers have to spend many conference periods in meetings and picking up snow gear from recess. So, they have to do much planning and grading outside the school day. Thankfully, the 1st Grade Math Mega Bundle will help change this! Teachers will have an incredible curriculum over one of the most challenging subjects for students to grasp!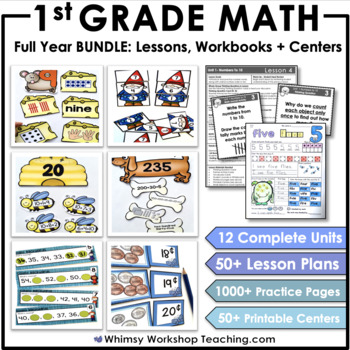 This comprehensive first-grade math curriculum will ensure lessons are engaging, enriching, differentiated, and hands-on! Best of all, this curriculum lasts the entire year! So, teachers will know that one purchase will have everything they need to ensure students show much growth over Common Core math standards. 
Math Units
Specifically, there are 12 complete math units to last the entire year. This includes:
Unit 1: Numbers to 10
Unit 2: Addition to 10
Unit 3: Subtraction to 10
Unit 4: Geometry, Fractions, Patterns 
Unit 5: Addition and Subtraction to 20
Unit 6: Addition Strategies for Adding 3 Numbers
Unit 7: Math Sense to 120
Unit 8: Addition and Subtraction of Double Digits to 100
Unit 9: Place Value: Ones, Tens, Hundreds 
Unit 10: Measurement, Time, Money, and Data
Unit 11: Word Problems Strategies to 10
Unit 12: Money and Graphing
Honestly, first-grade students learn so many essential math concepts! Thankfully, the 1st Grade Math Mega Bundle breaks the material into manageable units to make learning fun and exciting!
Lesson Plans
The lessons have many activities, centers, and worksheets to ensure students learn in multiple formats. Each unit contains detailed and specific lesson plans for teaching the material. This is a great way to ensure teachers do not miss anything. Plus, it lets students learn the material in clear, supportive ways.
Learning Activities with Differentiation
Each unit has 4-7 lessons. Teaching strategies include engaging activities, such as thinking questions for a whole group lesson, partner activity cards, and math journals. Additionally, there is a workbook with up to 150 pages for each unit.  In each workbook, concepts are introduced in a simple way and become more complex as the unit progresses. There are even cut-and-sort pages for interactive learning!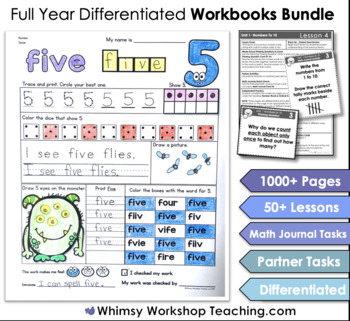 Additionally, there are centers, games, and lesson suggestions to ensure all students will show growth and understanding. Since students learn at all different speeds, there are up to 3 levels of differentiated worksheets. This allows all students to feel supported in their learning process.
Centers
Centers are a great way to reinforce concepts! So, there are 5-10 printable math centers per unit. A mixture of familiar and new activities keeps things engaging for students. Examples of centers include sorting, matching question and answer, and multiple choice activities. Additionally, there are true and false questions and write and wipe with dry-erase markers. Students will have so much fun practicing math skills!
Visual Aids
Students learn so much during 1st-grade math! So, there are 12 sets of posters for students to reference. For example, there are posters to explain math facts and ones that explain math rules and strategies visually. Students will love having these aids while working on the activities within each unit!
Assessments
Teachers want to be sure each student understands 1st-grade math concepts. So, there are 2-4 pages of assessments at the end of the unit. The number of options allows teachers to decide which ones they want to use! 
No Prep Resource
Teachers are so busy! Thankfully, the 1st Grade Math Mega Bundle is all no prep! While the entire collection emphasizes a hands-on approach to math, all activities are ready to go with the click of a button.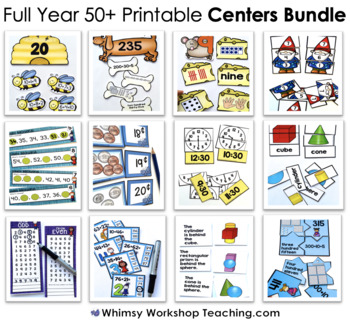 Math can be a challenging subject to teach and learn! However, students must know how to apply math concepts in life. This is why the 1st Grade Math Mega Bundle includes many engaging and hands-on activities for the entire year. Students will love independent practice and collaborative learning to solidify their understanding of each math concept. 
If you do not want to miss any of the upcoming lessons, join my email list to be notified of all the interactive lessons coming up! By joining the email list, you will also receive freebies for blog exclusive subscribers!