This post is all about daily math when you only have a few minutes to spare.
It's really amazing how much learning you can fit into those few extra minute each day, and they add up!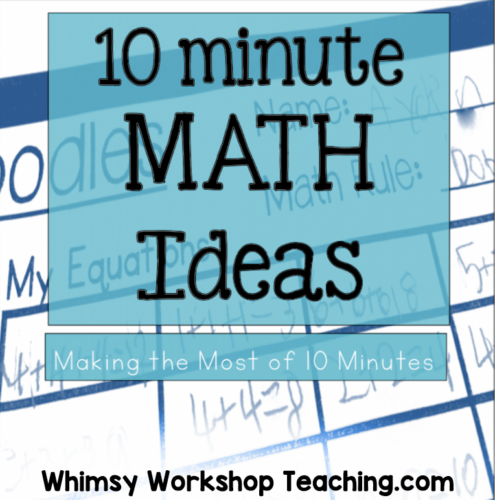 10 Minute Graphing Activity
Use your morning attendance as a math lesson. While waiting for everyone to settle, students read the daily question and add their name to a spot on the graph. This accomplishes two things: I can immediately see who is absent, and we also have a graph to talk about that is relevant to them because they helped create it!
Students will become experts in no time, and you can start to independently work out extension questions such as those seen below. When it's time to teach graphing and word problems, they are already experts !
---
10 Minute Number Line
To practice quick addition and subtraction, we use out attendance again to make word problems:
*If we have 25 students in class, but 2 are absent, how many are present? Choose a strategy.
*If 23 students are here today, and 10 of them are girls, how many are boys? Guess, and then have boys stand up to check the answer.
Our magnetic frog helps to check answers on the number line.
Grab some sticky notes and cover any numbers on the 100's Chart. Its easy to generate lots of differentiated questions. Or why not ask students to generate the questions?
*Which number is covered?
*Add the two covered numbers together.
*Subtract one from the other. 
*Use the class spinner to add or subtract with the number, depending on where the arrow lands. (See below).
---
10 Minute Student Numbers
Each student has a number assigned to them at the start of the year so we can all line up in order with no fuss. We also use those numbers for math when we have an extra 10 minutes!

-Stand up if your number is even/odd.
-Arrange yourselves from largest number to smallest
-Arrange numbers counting by 2, 5 or 10
-Make groups of three that show equations such as 2+3=5 or number families, etc. 
Finally, take a that few extra minutes and watch a quick math video on youtube. There are songs, strategies, cartoons… the list is endless.
A quick tip on organization here – these videos can get really out of hand if you're not organized!
To keep them all handy and organized, I use
Symbaloo
, which is like an online visual bookmark.
Just save all the videos to your board and click the one you want to watch. Quick and easy!
I hope you can use some of these ideas!
 If you are looking for more math ideas and resources, click HERE to see EVERYTHING  on one page!
or, click the image below to see more about paperless math instruction and intervention binder: