Honestly, looking at all of the phonics skills to learn can seem stressful for teachers! Therefore, this means understanding the skills can be incredibly overwhelming for students. Since teachers know how important hands-on activities with phonics are, they work hard to create engaging lessons. This is a great way to ensure students learn skills without becoming frustrated. For instance, phonics centers are an incredible way to support students while ensuring they truly understand the material. Luckily, the Phonics Centers: Bundle 1 and Phonics Centers: Bundle 2 are here to provide so many amazing activities!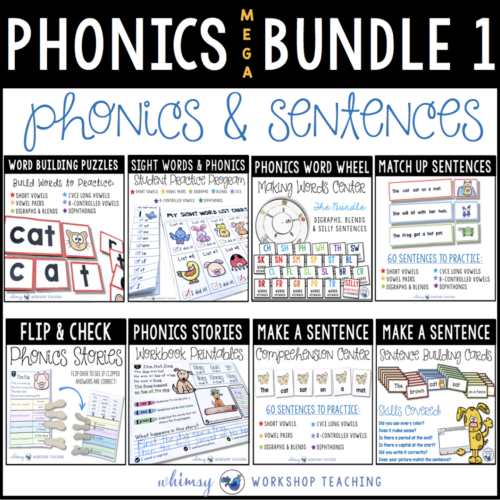 Since there are so many phonics skills to learn, it is helpful to break them down. This allows students to focus on one element or aspect at a time. So, these 8 centers containing activities with phonics, sight words, and comprehension are here to help!
This bundle includes amazing year-long activities for literary centers. This includes worksheets, printables, sight word lists, and fun games. For instance, students will use phonics stories to answer multiple-choice questions. They will clip their guess and flip the card to see if they are correct. Phonics skills include R-Controlled vowels, vowel teams, and digraphs. Additionally, students will work on phonics stories that focus on one spelling pattern at a time. As students gain confidence, they can even work on color-coded sentence cards where they create silly sentences.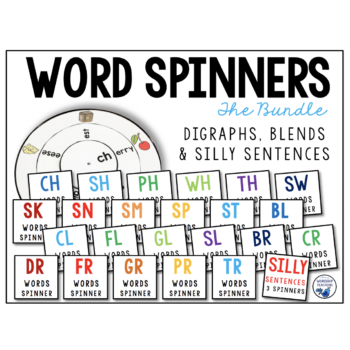 Another activity allows students to spin a wheel to match up beginning blends and digraph sounds with the rest of the word. Then, they match up the picture to show comprehension. There are also many games and activities that help students build knowledge over word families, CVCE, short vowels, and long vowels.
Since teachers often need to manage multiple centers at once, every activity has that in mind. So, they focus on creating independence and confidence in reading and writing with a phonics emphasis!
Since teachers are so busy, all activities with phonics are very low prep!
For more phonics practice, check out Phonics Strategies and Ideas!
Honestly, it will feel amazing to look at your kindergarten and first-grade students while working in phonics centers. They are going to be so focused, driven, and engaged. Luckily, there is another bundle that includes even more activities with phonics!
In this phonics center bundle, students will work on using letters to build and print two alliterative sentences for each letter. Additionally, there are phonics riddle booklets focusing on blends and CVC words and building flowers using word families on petals. There is even a center to help students who have difficulty isolating sounds or spelling patterns!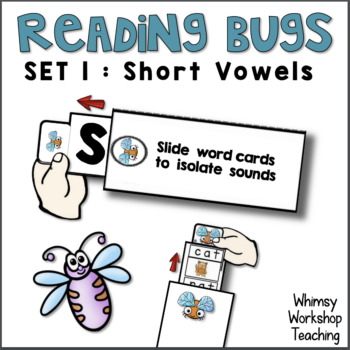 In addition to these centers, there is also a highly popular seasonal sentence-building kit. This involves building, printing, self-editing, peer-editing, and illustrating sentences. There are also differentiated tasks for literary skills, which is a great way to have automatic differentiation. There are also centers for students to work on word family spinners and simple sentences with color and number words!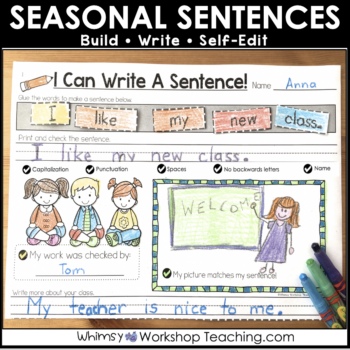 Ultimately, the Phonics Centers: Bundle 1 and Phonics Centers: Bundle 2 provide incredible year-long activities! All of the activities with phonics are ideal for literary centers, worksheets, printables, word lists, and fun games. Kindergarten and first-grade students will show much phonics growth with these hands-on centers!
If you do not want to miss any of the upcoming lessons, join my email list to be notified of all the interactive lessons coming up! By joining the email list, you will also receive freebies for blog exclusive subscribers!