Do your students love animal research projects?
It's a great way to introduce non-fiction writing, and it can be a source of pride for students who feel very "grown up" because they are doing research! However, this enthusiasm can be dampened if emergent writers are not supported with reading materials at their level, and so long as the information sources are not too overwhelming.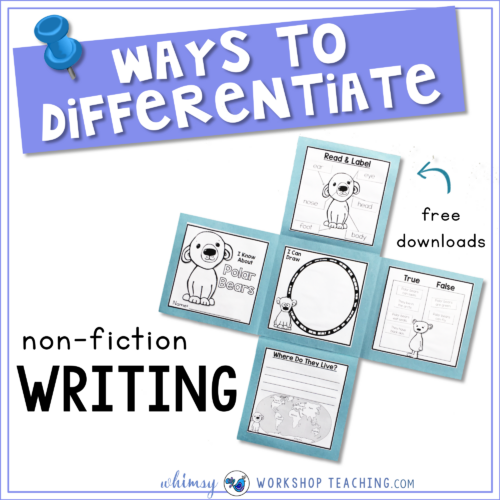 This is why differentiating your non-fiction materials for emergent writers is so important.
Here are some tips for implementing your non-fiction projects in a way that is differentiated, hands on, and interactive: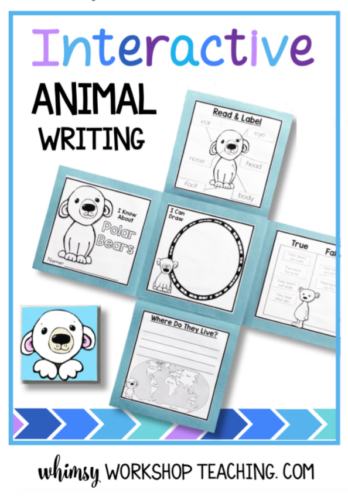 BEGIN BY WORKING TOGETHER FOR SUPPORT
Emergent writers need a LOT of support and encouragement! We always complete the first few animal projects all together as a class, so that students can work in pairs or small groups, and feel confident being able to reference specific teacher examples on the board. As the year begins, we choose seasonal animals to match our themes: bats for Halloween and reindeer or polar bears for December.
Once students feel confident, they can choose their own animals to explore. Allowing choice gives students a sense of ownership over their projects and adds enthusiasm.

USE A CONSISTENT FORMAT
While student can choose their own animal to research, I continue to support them by keeping the format consistent with previous animal projects. My more anxious students find comfort in this, and it builds confidence in my emergent writers because they are familiar with the process.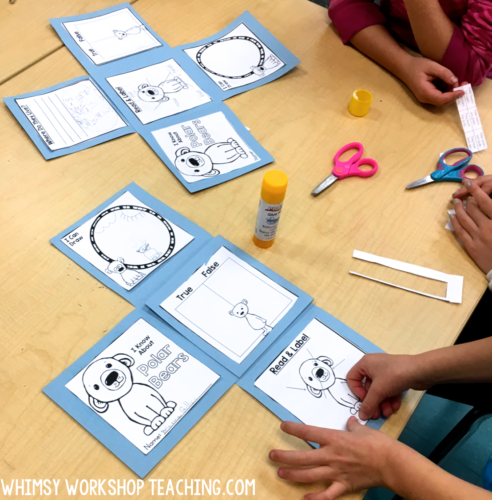 DIFFERENTIATE THE AMOUNT OF WRITING
Within each classroom there will be a wide range of ability. All of my writing projects therefor have several levels of difficulty. For my lowest readers and writers, I give them a simple tri-fold format to display the work. (This is made by cutting an 12 x 18 colored construction paper in half long ways. It gives me two long, thin 6 x 18 pieces, and I fold them into thirds).

For more advanced students, there is a easy way to double the workload and challenge. Make a more complex expanding booklet by adding more pages.
Simply use the other half of the colored paper that was cut in half, fold it into another tri-fold, and glue it to the first piece in the center vertically, creating a T-shape. They still fold together neatly, so the finished result of both formats looks the same.
When it's done, it all folds up neatly on top of the middle square. Students keep their books in a portfolio and add to it through the year. It's wonderful for portfolio assessments!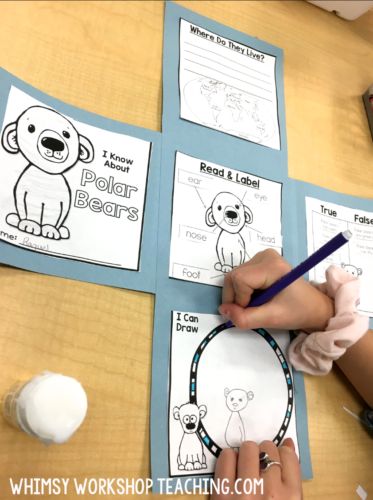 DIFFERENTIATE WRITING FORMATS
After choosing the appropriate amount of writing for each student, we can also differentiate by choosing the appropriate writing templates.
Some students work with very supportive templates (fill in the blank or labeling), while others work on more advanced or open ended templates.
You can create anything that works for your classroom as long as the pages are the same size.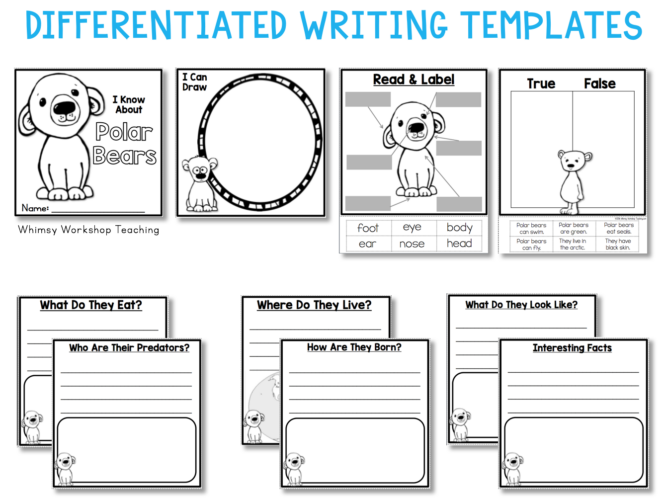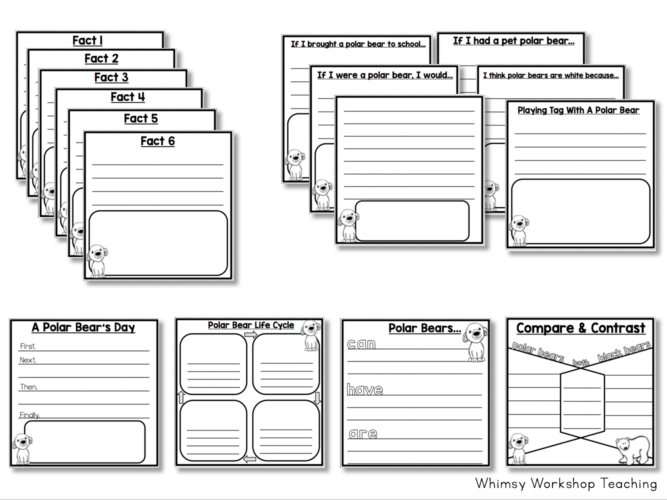 DIFFERENTIATE REFERENCE MATERIAL
This part is very important so that emergent writers don't become overwhelmed.
Here are some ideas from our classroom:
-Watch online videos about the animal and generate a list of facts TOGETHER on chart paper.
-Read a fact book together, and write ONE FACT only onto index cards. This works well for students who can only work with one fact at a time. Students can trade cards to write multiple facts!
-More advanced writers can use non-fiction animal books to gather facts. This is a time to draw attention to text features such as captions under photos.
-Use pre-made fact posters for students to choose their own facts. I like to project these with a document camera so we can all read through them and even add our own facts.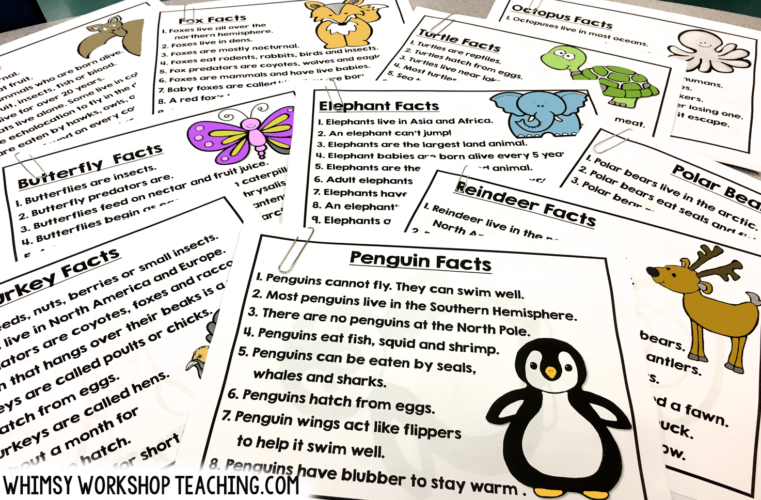 I hope this helps you get started with non-fiction writing in your classroom!
If you'd like to see the pre-made flap book materials pictured in this post, you can see more about them by clicking HERE.
The bundle includes 10 complete animal sets, and each one contains everything you need: Animal fact sheet, 30 differentiated square templates, and even a template to make a cute animal to put on the cover of each flap book!
You can see ALL the animal sets and more details descriptions by clicking HERE.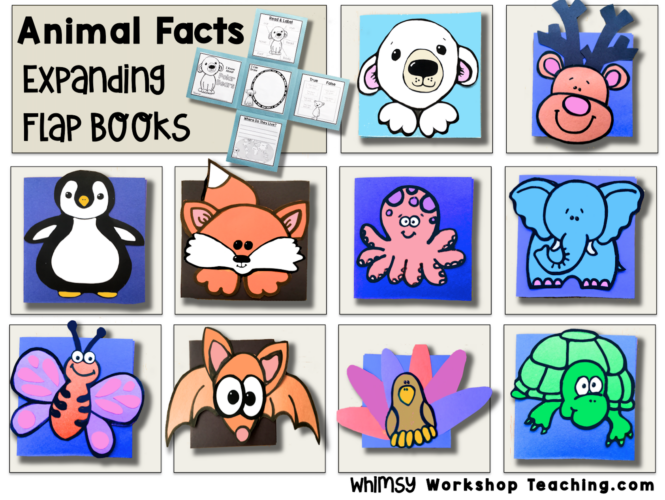 EDITABLE VERSION
Due to many requests, I have updated this bundle with EDITABLE content so that you can add your own text. This allows you to further differentiate the pages, and also allows students to choose different animals!
You can download a few of the pages (Fact 1 through Fact 6) for free! The rest of the editable pages are accessible in the bundle of ten animals seen above.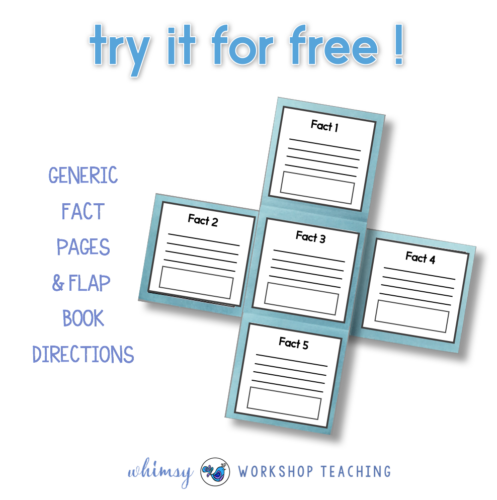 Pin for later!