Honestly, it is shocking to think about all students learn at young ages. For instance, they enter kindergarten possibly knowing letters and numbers. Then, they leave reading and writing sentences. It is incredible to think about all the growth students show each year. Thankfully, all this learning is so much fun due to creative teachers. Whether planning back to school writing or math activities, teachers work tirelessly to make learning exciting. Luckily, there are tons of fun writing activities to help students every step of the way!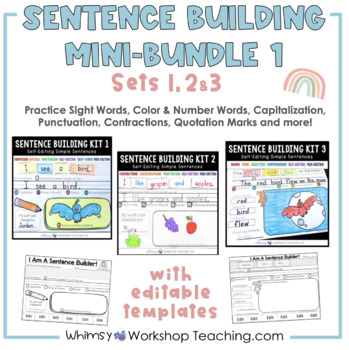 Learning to compose sentences is tough! There are many aspects to remember, which can be frustrating for students. Luckily, this writing bundle creates the perfect way to practice essential skills.
There are so many aspects built into one writing resource. Specifically, there are over 80 no-prep worksheets for daily practice on writing complete, simple sentences. Students will cut and arrange words to build each sentence. Then, they will write, illustrate, self-edit, and peer-edit the sentence.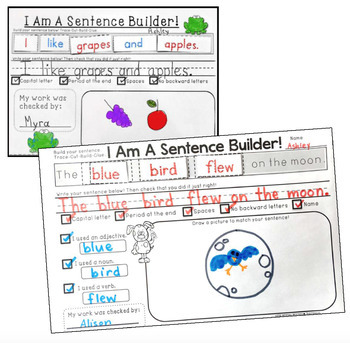 As students build sentences, the writing worksheets allow them to gain proficiency in capitalization, punctuation, and parts of speech. Additionally, students will work on sight words, color words, number words, contractions, and quotation marks. They will even work on letter formation, random capitals, and space between words!
Since students gain more confidence throughout the year, the sentence build kits increase with difficulty. This is a great way to ensure differentiation and enrichment meet students' needs. Students will love building sentences! 
Honestly, story writing can be daunting for emergent readers. Students can be quickly overwhelmed when it comes time for back-to-school writing. So, this differentiated resource is ready to help all students build their writing skills!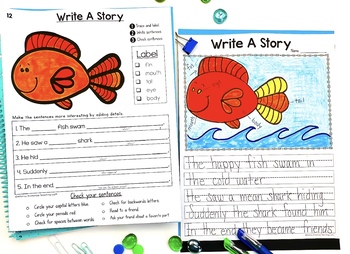 While all students can complete the same story template for the basis of their sentences and story, there is so much differentiation. However, it is discrete to ensure students are not embarrassed.
Specifically, there are 50 different animal story writing prompts at five levels. Level 1 includes a word bank to label the picture, while level 2 has students "fill in the blank." So, they will use sentence frames to create simple sentences about the animal in the picture. Level 3 allows students to develop more complex and detailed sentences. Students will focus on descriptive vocabulary and longer sentences.  Level 4 allows students to make one final sentence to complete their story, while level 5 includes a self-editing checklist. This is a great way to help students identify their errors and ensure they have a complete story.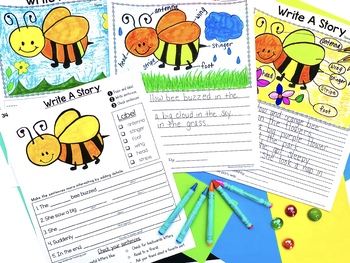 Students will have so much fun writing their animal stories!
Activities need to be fun and engaging when working on back to school writing. Otherwise, students will be bored and not show their true understanding. Thankfully, this fun activity allows students to focus on numbers, colors, and sight words in an engaging format! 
Specifically, there are 3 versions using the same 30 sentences. This provides excellent variety for the needs of each learner! In each version, students will use phonics codes to decode the sentence. This means that students will identify the first letter sounds of small pictures to decode a secret sentence. After decoding the sentence, they will print the sentence neatly and self-edit. Lastly, they will draw a picture to show their comprehension. Students will have so much fun writing sentences!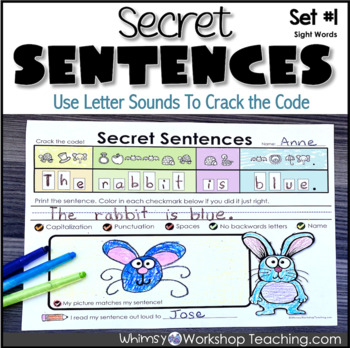 Writing is a skill students will use throughout their entire lives! So, it should be fun, exciting, and hands-on. Thankfully, the fantastic back to school writing activities above will help support, challenge, and guide students on their writing journey.