There is so much Christmas excitement that students have difficulty focusing. With Santa and the reindeer coming soon, it is understandable that they are so excited as each day passes! While December might be a shorter month due to Christmas break, it doesn't always feel that way! Luckily, there are fun December crafts for school to help students focus. Best of all, the Seasonal Crafts & Writing Prompts and Tin Foil Ornament make every day of school fun and enjoyable!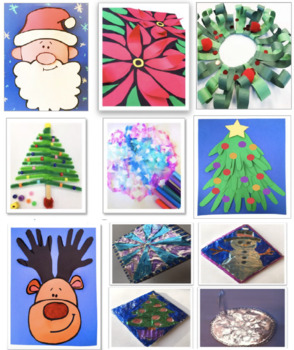 The 9 crafts in this resource create simple yet beautiful art projects for elementary students! For instance, students will use their hands to design a Christmas tree, make a pop-up Santa, and create 3-D poinsettias. Additionally, students will make a curly wreath, pastel snowflake, and smiling reindeer with hand-print antlers. There is even a craft for a pipe cleaner tree and tin foil ornaments. Since students love directed drawings, there is a craft to design Santa. As a bonus, there is a calendar parent gift for students to take home before break. Honestly, students will love the whole month of December with these amazing crafts.
Since teachers are so busy, every craft has step-by-step photos and descriptions. This will greatly help walk students through the process. Furthermore, all the December crafts for school do not require much planning or extra supplies. Teachers will have the needed materials around their classroom, so there is no need to rush around to find what is required.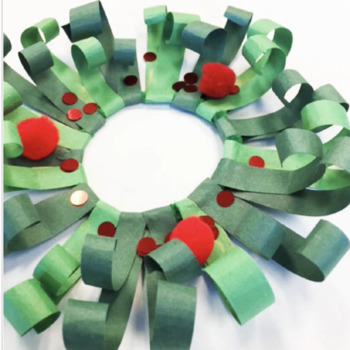 As a bonus, there are seasonal writing templates ready. These are perfect to have for early finishers, group writing projects, or to have in writing centers.
Check out Christmas Trees and Wreath Tutorials for more tips on these crafts!
Implementation
Since the projects are simple and low-prep, they work great in many situations. For example, they are perfect for whole-class activities. However, they also work great in a weekly art center, as sub plans, or in art bins for early finishers.
One of the best parts of Christmas is decorating a tree! Honestly, students are always so excited to tell their classmates about how they got to help their parents hang up ornaments. Now, this craft allows students to design their own ornament!
The tin foil ornament involves simple materials, such as cardboard and markers. As the name implies, tin foil is also essential. There are even simple step-by-step instructions with pictures to guide students. After putting the ornament together, students can add their festive designs. For example, some will draw a snowman while others will draw a tree. No matter what students design, they will love this craft!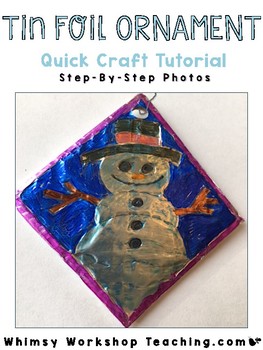 Honestly, students often look forward to art all week long. They love using their hands and being able to design something. Luckily, the Seasonal Crafts & Writing Prompts and Tin Foil Ornament bring some art to the classroom! While the projects are simple, students will love being able to work on these fun, festive crafts!
If you do not want to miss any of the upcoming lessons, join my email list to be notified of all the interactive lessons coming up! By joining the email list, you will also receive a craft tutorial for a little Christmas tree for blog exclusive subscribers!