When you are teaching graphemes from the sound wall, the more interactive the better! This post is about using songs and chanting to help reinforce the relationship between graphemes and phonemes on the sound wall.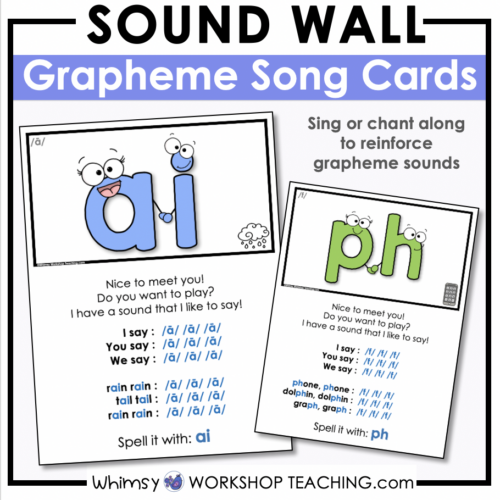 Cute Sound Wall Grapheme Letters
I use these cute grapheme song cards to help introduce graphemes from the sound wall in a fun and engaging way. The personified letters in each grapheme are holding hands to represent letters working together to create one phoneme or sound. The cards also feature an anchor picture that uses the grapheme in its spelling.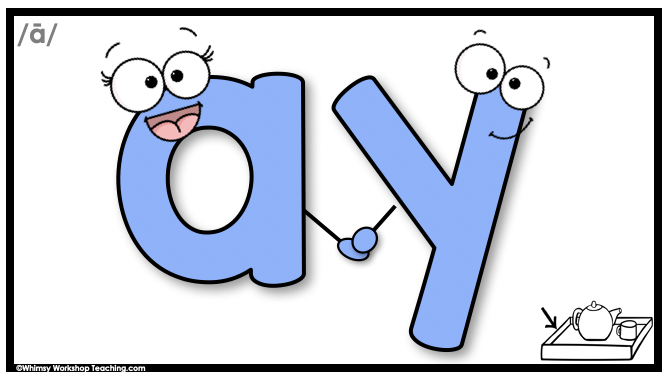 The Tune
The first part of the chant can be sung to the tune of "Baa Baa Blacksheep", or simply chanted as a "rap". Both ways work well, so choose whichever feels most comfortable to you.
Click on the sound files to hear examples of how the song for "ai" can be sung. Follow along with the picture below.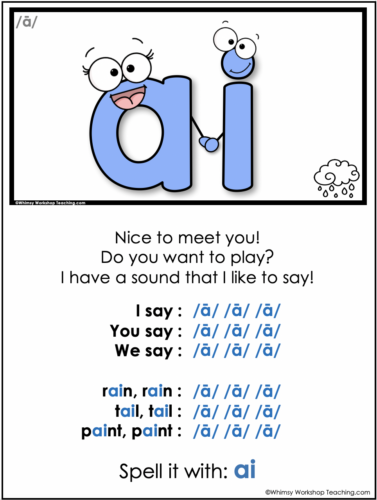 Reinforcing the Phoneme in Song Chants
Learning graphemes with a song allows your students to practice multiple times in a fun and engaging way. Each time students chant the phoneme while looking at the grapheme, the relationship between the two is reinforced.

Using Example Words
Showing examples of words that contain the grapheme while chanting the words aloud will reinforce the relationship between the sounds and letters. The grapheme is highlighted within each word for clarity. This also allows students to notice that the grapheme may appear in different parts of a word: the beginning, middle or end.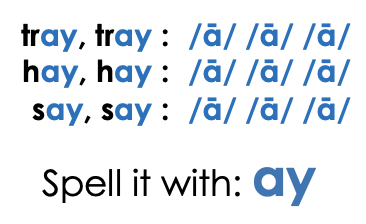 More Ideas For Using Song Chants
There are more ways to use grapheme songs:
After directly teaching a grapheme, add the related card to your phonics centers for reinforcement.
Students can use the cards to sing to themselves or with a partner.
Students may also enjoy making their own version of each poster for personal reference. Simply provide blank poster paper and let students copy all the information from each poster.
Send the cards home for extra practice with parents!
The Grapheme Song Chants Collection
You can create your own grapheme cards, or if you are short on time, you can see the collection I've created by clicking HERE.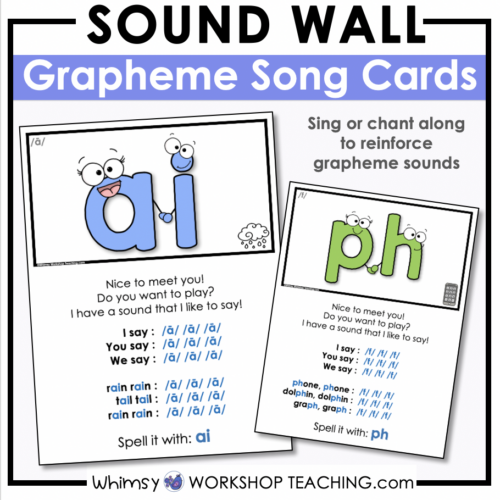 More Sound Wall Ideas and Information
Sound Wall: Arranging Consonants
Quick Daily Activities For Your Sound Wall
Quick Tips For Teaching With A Sound Wall
Pin this post for later!