During the winter, students can become anxious, sad, and agitated. This is because they do not get to spend much time running around outside due to the snow. Additionally, there is limited sunlight, so much of the day includes a dark, gloomy sky. Since teachers work so hard to support students through the cold, snowy winter, they often create seasonal lessons. For instance, classrooms often transform into winter wonderlands! While the days may be cold, January Crafts & Writing Prompts help students feel warm and eager to learn!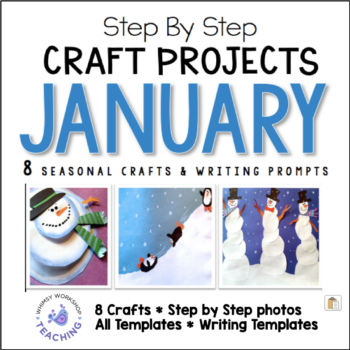 Students love working on crafts! While they view them as fun activities, teachers know students are working on many skills. For example, they improve fine motor skills through cutting, coloring, and gluing. Additionally, they are working on following directions, asking for help, and using their creativity. On top of this, crafts can include essential academic skills, such as writing.
Luckily, the January crafts bundle includes 8 seasonal crafts and writing prompts. Every craft includes step-by-step photos and descriptions to walk students through the craft. The writing templates are great ways to include enrichment for early finishers, to use in writing centers, or as group writing projects.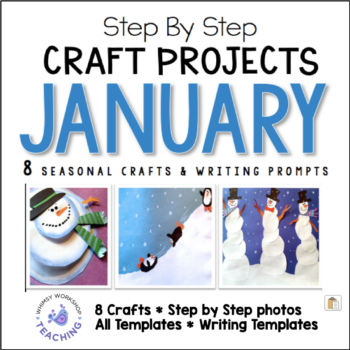 Project Ideas
The January crafts create the perfect way to celebrate winter fun in the classroom. For instance, there is a polar bear craft if you talk about arctic animals in lessons or during a read-aloud. Additionally, there is a sliding penguin craft since animals are always a student-favorite topic to learn about.
Since January is snowy, there are crafts for students to build snowmen and make mittens and salty snowflakes.
Students will even make a New Year goal hat. Since setting goals can be tricky for elementary students, there are FREE Writing Templates for the New Year! Students will love using this guide as they set goals. Furthermore, there is an MLK Jr. dream craft as students learn about this heroic person. 
Implementation of January Crafts
While crafts are so much fun, they can take a lot of prep work. Luckily, that won't be the case with January crafts. All of the crafts do not require a ton of planning or extra supplies.
The seasonal crafts also fit into various lessons. For instance, they are perfect to fit into seasonal units. However, they also work great as sub plans or in art bins. Students can even make craft cards with them. Honestly, the options are endless.
Math doodles are a great way to integrate core math skills, writing, and art fun into one activity! Additionally, doodles are ideal for including multiple math skills and differentiated levels with the same template.
Specifically, there are 8 unique seasonal art designs and 16 math rule cards. There is even a blank card for teachers to create their own. Additionally, there are 8 differentiated writing templates, alternate spinners with higher numbers, and teacher and student instructions.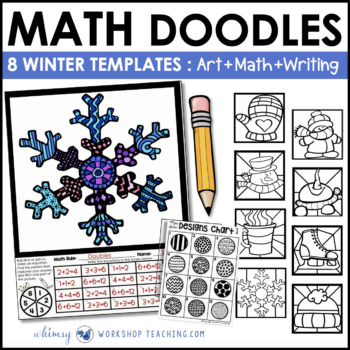 Implementation
Teachers will first select a math rule to practice. All students can work on the same math rule, or teachers may hand out different ones for differentiation. Then, students will spin or roll to make equations. For instance, if the rule is doubles and students roll a 4, they will practice 4+4. Each grid holds 20 equations for plenty of practice!
After students focus on the math skill, it is time to doodle! They will match their answer for each question to the corresponding doodle on the chart. For instance, these may be dots or swirls. After they finish, students will cut off the bottom of the math section for assessment while hanging up the top part. Everyone will love to see each other's pictures!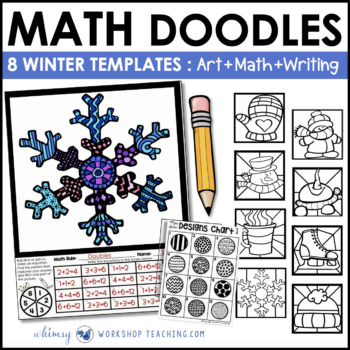 There are even writing templates to add to this skill! Students will love working on so many skills in one activity.
While January is such a cold month, the classroom can be warm and exciting! The January Crafts & Writing Prompts will ensure students focus on academics while having the biggest smiles on their faces!
If you do not want to miss any of the upcoming lessons, join my email list to be notified of all the interactive lessons coming up! By joining the email list, you will also receive freebies for blog exclusive subscribers!