Does the cold and snowy weather make you tired? How about it becoming dark even before many people eat dinner? Honestly, all of these aspects make January a LONG month! While December flies by, January crawls at a snail's pace. So, this often means students seem more tired and agitated than usual. Luckily, these lessons to keep them busy for January are a fantastic way to liven up the classroom! Students will love that the classroom is full of positivity even when it is so dreary outside.
This collection of spiral worksheets is the perfect way for students to review core math skills! Specifically, there are 20 pages, and each page includes 4 math tasks. Students will practice so many skills! Examples include addition, number order, missing numbers, equations, and shapes.
Every task is within a square to help students focus on one problem at a time. This also means the problems work great as interactive notebook activities or laminated as task cards.
Students will love this independent practice! They will know exactly what to do whenever using this resource. Best of all, the number of pages allows students to have a consistent activity to work on.
This seasonal collection of creative and engaging activities contains amazing lessons to keep them busy for January! For instance, students will work on writing, color-by-number sheets, and creating kindness cards. Additionally, they will work on puzzles, math games, and mystery messages. Every workbook includes so many fun lessons!
Honestly, you will never have to scramble to find extra activities for early finishers, for easy sub plans, or when you need a quick filler. These activities even work great in seasonal literacy centers! Students will love it when it is time to pull out their workbooks.
For more fun writing activities, check out Writing Templates for the New Year! This is the perfect way for students to set goals.
Students love puzzles! So, these no-prep, hands-on differentiated math, and writing puzzles are perfect for January!
Students will work on self-checking math puzzles. Specifically, this includes 4 puzzles with 6 differentiated versions. Students will begin by solving problems based on various math skills, such as addition, subtraction, and mixed equations. Then, they will self-check by placing the piece to solve the puzzle. If the numbers do not match, students know it is an incorrect answer.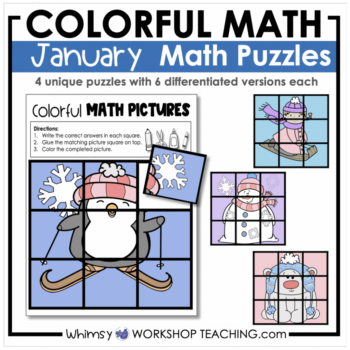 In addition to the puzzles, there are journal writing pages. Students will be amazed to see math and writing come together. Additionally, there is 2 Color by Number pictures for early finishers.
Students are going to LOVE these puzzles! Luckily, there are Math Puzzles for the Full Year! It will be so nice to have a consistent activity that allows students to have fun while working on essential skills! Best of all, this is a quick way always to have seasonal and themed activities ready.
Students always need lessons to keep them busy for January! The month is cold and dreary, but there is so much learning to get through in the next few months. Luckily, these fun activities will keep students energized, focused, and learning!
If you do not want to miss any of the upcoming lessons, join my email list to be notified of all the interactive lessons coming up! By joining the email list, you will also receive freebies for blog exclusive subscribers!