Let's face it- students love to doodle! So, they will doodle even when they should be paying attention, working on assignments, or collaborating with classmates. However, doodling also helps some students pay attention. This means teachers work to find the perfect blend of incorporating something students love with something that can help them. Since math is often stressful for students, incorporating math doodling is the perfect combination! Thankfully, the Math Doodles Bundle has everything you need to blend learning and fun!
This huge collection of over 72 math doodles will transform how kindergarten and first-grade students feel about math! Instead of feeling nervous or scared, they will be excited and ask for more math practice! Essentially, math doodles allow students to practice any math skill with provided templates for doodling on their pictures. Math will be fun and exciting as students bring their pictures to life!
Implementation
Using math doodling in the classroom is easy! Teachers will begin by assigning a math rule to practice. There are 18 included rule cards. However, there are also blank cards for teachers to make their own rules based on their curriculum.
After students receive their math rule and picture, they spin or roll to make equations. Students create and write these on the grid. Specifically, the grid holds 20 equations for lots of practice! 
After answering the problem, it is now time to doodle! Students will match their answers for each equation to the corresponding doodle on the chart! Students will use this design to fill in ANY section of their picture. They will repeat this process until they fully decorate their image.
Math Doodling Assessment 
The math doodling sheets provide great formative assessments. Students will cut off the bottom math section of their picture. So, teachers can look at the equations and answers to see how students did. This allows students to hang up their beautiful artwork without others seeing any potential errors!
Differentiation
Every student progresses at their own pace. Since math doodles should be fun and exciting, students should not feel overwhelmed. So, differentiation is essential! Luckily, it is easy to do with the Math Doodles Bundle.
Teachers can assign one math rule for the whole class or discreetly differentiate by giving different rule cards. While some students work on doubling their numbers, others may work on subtraction. However, everyone can have the same picture! No students will know who is working on which skill.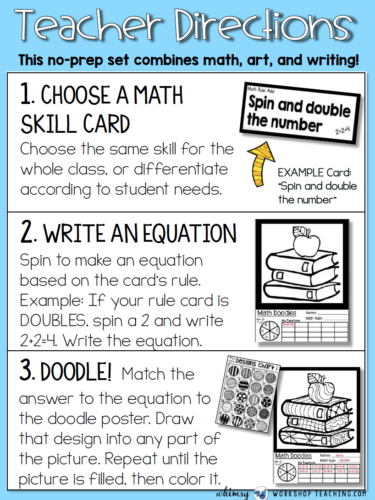 Writing
Similar to math, writing is often stressful for students. There is so much to remember between sentence formation and grammar skills. Luckily, math doodling also brings excitement to writing! There are multiple writing templates for students to write about their pictures. Honestly, they will love working on the Math Doodles Bundle so much that it will be easy to compose excellent sentences based on their picture!
No Prep Resource
There is so much to prepare in kindergarten and first-grade lessons. So, the math doodles are no prep! Everything is ready to go! Teachers just need to click print and pick the rule card.
Math Doodling Topics 
Themes activities are always exciting! So, the bundle includes tons of topics. This includes fall, Christmas, polar animals, spring, Easter, summer, and much more!
Students will absolutely love the Math Doodles Bundle! They will have so much fun working on math, art, and writing. Thankfully, there are enough templates to last the entire year!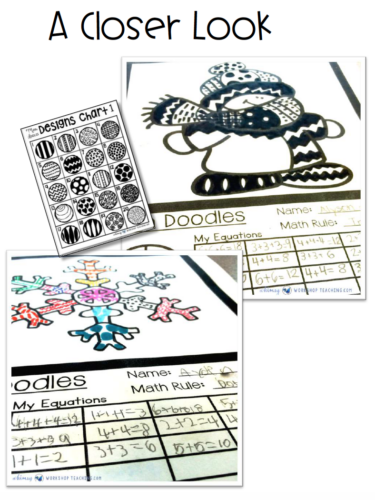 If you do not want to miss any of the upcoming lessons, join my email list to be notified of all the interactive lessons coming up! By joining the email list, you will receive freebies for blog exclusive subscribers!