A look at practical solutions for a primary math program.
Today I'm sharing a list of simple but effective changes I made in my classroom to make my math program more successful. Hopefully they will help you, too!
THE PROBLEM…
Does this sound familiar to you?
I'd finish a math lesson, and then before students went off to work, I'd ask if there were any questions. All the little heads would shake no, and everyone seemed happy and confident skipping off to their desks.
HOWEVER…
Soon enough, those early finishers would start hovering around, wanting me to check their work and wondering what they should do next. I'd think: How did they finish so quickly? Did I underestimate the time it would take to complete this work?
No, I didn't. When I DO look at their work, I realize that there are a lot of little errors, and they've rushed through it, leaving ME with a bunch of correcting and scrambling for early finisher work.
That's when I realized I've spent all this time creating, teaching, and marking something that took them 10 minutes and is filled with careless answers.
How did this become okay!? It's NOT okay!
THE SOLUTIONS…
The students themselves should be more involved in:
*correcting their own work
*thinking about their work
*being engaged in discussions about their work
Students should be self-checking, peer checking, and doing their best possible work BEFORE handing it to me.
With this in mind, I started making answer sheets available to them. This did help a bit, but it didn't actually offer a way to understand why they made mistakes or help them form habits of self-checking before marking.
They had no way to understand why they had the wrong answers, or engage in discussions about multiple strategies with peers.
I decided my math block needed a complete overhaul.
STEP 1: SELF CHECKING PAGE FORMATS
My first step was to reformat my math pages to integrate the answers into the page itself.
This made the pages self-checking because although I wrote the answers on the bottom of the page, but didn't identify which answers belonged to which question. They had to search for it. However, if their answer was not in the list, they'd better check their answer again. This alone saved a ton of my marking time.
My students were intrigued! "You mean the teacher is giving us ALL the answers right there on the page?!" they asked. This seemed just too good to be true!
Yes, the answers are right there – you just have to find them.
NEW PAGE DESIGNS
The success of this led to some variations in how I designed math pages:
*Find My Partner Format: Color the question and answer the same color. There should not be any circles without a partner by the end.
*Bubble Answers Format: The answers are in the "bubbles" at the bottom of each page. Students found and colored each of their answers as they went along. This gave students much more skill at problem solving and self-correcting when they didn't see their answer in a bubble! Students also have a friend check their work before handing it in, so there's lots of great peer-discussion going on.
*Cut and Paste Sorting Format where each answer has to fit within a category, so they are self-checking in that way.
*Border Answers Format: The answers are around the edges of the page to make a colorful border once we're done. In the picture below, students have to simply color their question and answer with the same color.
The peer-checking component was a real game-changer and so popular. Students found a friend who was also finished to check over their work. Students take this very seriously because they are marking work and signing their name, and essentially that means they are PRACTICALLY the teacher (for that few moments, anyway!)
STEP 2 – DIFFERENTIATION
I teach a multi-age class, so the next step was to find a way to engage everyone.
I am always aware that my younger students can be easily overwhelmed by too much information on the page. At the same time, my older students need a solid challenge to keep them engaged.
The solution was to make three different version of each task; this made everyone happy and I only had to explain one task. Moreover, I used this same format for many different math skills through the year so I didn't have to re-create the page – just the content!
STEP 3: REFERENCE POSTERS
We generally make anchor charts when introducing new concepts.
We add to them and refer to them through the entire few weeks of study.
They are NOT pretty, and can get a bit messy, but they are AUTHENTIC and created together.
Rather than lose all of that learning, I started turning our anchor charts into quick reference posters I could use each year. These posters are added to our math wall, and we refer back to them throughout the entire year.
STEP 4: Hands-On MATH CENTERS
My first and easiest idea was to turn our math reference posters wall into a math center. Students use a pointer and take turns being the "teacher". They go through each poster and explain to their "students" what the chart is about. So simple, yet, students love it, and what an amazing review of all math concepts! It keeps concepts fresh even months later. I would highly recommend trying this!
The majority of our math time is spent exploring concepts with hands-on math centers.
Some have been purchased by our school, but I've also created my own printable centers for all math topics.
These are simple tasks involving sorting and matching – easy to print out and store in an envelope. I leave these out all year so students can choose their favorites. We have over 80 different printable centers now!
STEP 5 : BOARD GAMES
My students also love board games, so I created some basic board games to practice core skills that could be played independently as a review.
ORGANIZATION
With so many resources, there must be a good system of organization involved. I put all of my math workbook pages in one binder, separated into ten first grade units.
Since the centers I use are mostly printable, flat sorting and matching activity, I can keep them in a binder as well. I just put all the pieces in a ziplock bag with binder holes along the side. I can pull each one out as needed.
It keeps us organized and efficient!
PUTTING IT ALL INTO ACTION!
I hope these ideas inspire you to create some new math ideas for your math lessons! If you prefer to use the math curriculum that I've created for my students, you can purchase the entire year of workbooks and centers.
Choose JUST THE WORKBOOKS HERE
Choose JUST THE PRINTABLE CENTERS HERE
Check out the PREVIEW for the full year math curriculum!
A full year math set is meant to save you the time spend creating hundreds of new math lessons and centers through the year. However, it's a big investment, so I've created an extensive preview for you to see everything included. You can see the preview by clicking the blue button below, and you'll find these two math strategy posters at the end of the preview as well!
NEED SINGLE POSTERS INSTEAD?
Looking for individual posters instead? You may like this set of single strategy posters available over at Teachers Pay Teachers. It includes over 20 poster to explain each strategy in more detail, plus compilation posters as well. Click HERE. (See pictured below)
BONUS IDEA: Number of the Day
A great way to warm up each day – pick a new number and think about it! Here's the blank Number of the Day template we use in our classroom. We use it for a daily warm up, a quick math center with differentiated numbers, and even as homework to do with parents.
I'm happy to share it! You can have it sent to your email inbox by clicking the blue button below!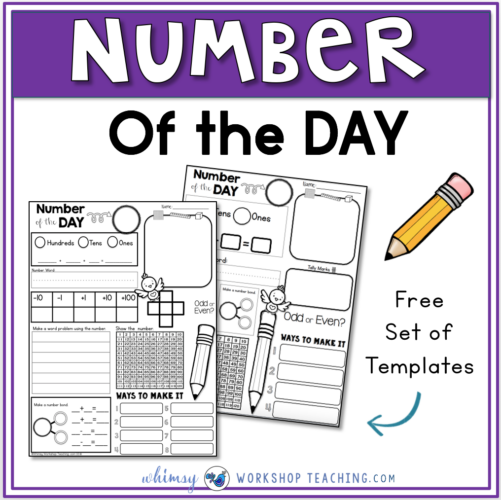 Pin this freebie for later!
Thanks for taking a look!
Continue exploring with any of the links below: