Teacher Problem #4
How to deal with all those dried up markers!
Students love to use dry erase markers during literacy and math centers, and it saves me time and money avoiding photocopying. However, it's hard to keep track of all the lids in those bins, and often I'll find that a whole set of dry erase markers have dried up!
 Solutions
Here's an idea I had in my classroom to deal with this. First, I attached all the marker lids in a row, so students have a place to put their markers when they are done. Then, I assign a group "inspector" at cleanup time to check each bin to make sure the lids are on TIGHT!
Here's what it looks like:

The markers will eventually run out, but the new replacements will fit in the same lids.

It's also very easy to grab the board quickly if you need to use the felts with another activity.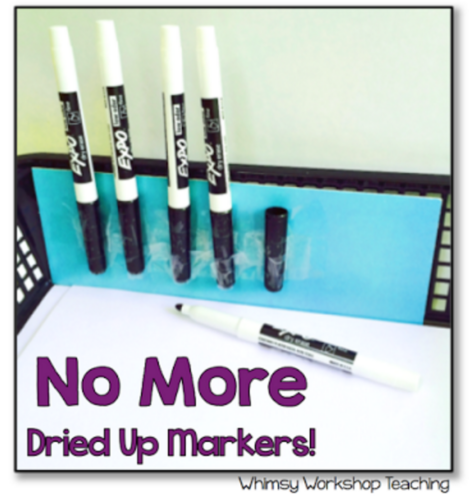 I started using this method for my large white board felts as well, and they've lasted all year! 
If you're having trouble finding what you need for math, literacy or clip art, you can grab this handy Clickable Catalogue for everything available in my TPT store – a big time saver! Tuck it away for when you need it!