When I taught Kindergarten, we always took time to do our daily math board as part of our Calendar routine. This was a way to practice so many essential math skills every day. We covered how a calendar worked, place value, basic addition and a lot of work with a 100's board.
When I moved to teach grade 2, I created a Daily Math Board for our class to use for older students.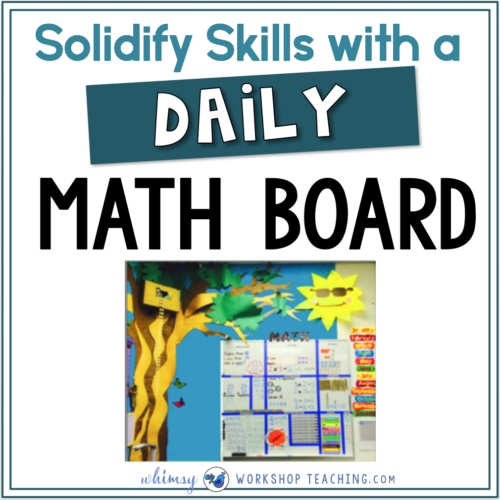 The idea of a daily routine is the same, but the work is more advanced and is done on a dedicated white board. We reviewed 9 concepts daily, and changed them slightly as the year went on.
By the end of the year, all concepts were still fresh and more deeply understood. The daily exposure makes all the difference! Incorporating our Daily Math Board had a significant impact on my students' overall math sense and skills.
I would highly recommend trying this with your class, even if you only have 10 or 15 minutes each day. Simply adapt your Daily Math Board to the outcomes for your grade level, and squeeze in 10 minutes a day to practice. I use a white board as pictured above, but any space will do.
We also use a written component. After our Daily Math Board meeting, students work on a page from their Math Board Workbook. The single page each day is a review of what we have just discussed together as a group. Other times, we use this written record of their understanding as a warm up.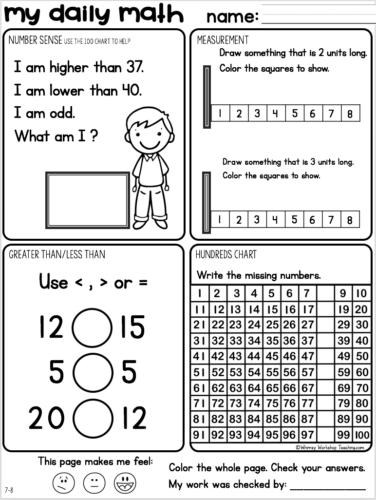 Finally, I moved down to teach Grade One, so I needed something a bit more simple, but still practicing core skills. I created a math practice page that had only 4 skills per page, and the SAME concepts practiced for 10 days in a row This meant that I didn't have to teach the new concepts every day – just once or twice every 10 days.
Another idea: Each page has 4 questions contained within a rectangle. These can be laminated and cut out to create 4 task cards! Use in your math centers with dry erase markers all year long.

Daily Math Sets
The first board (with 9 questions per page) are available within my Word Problems math unit. The whole set is a free bonus when you buy the Word Problems Kit (Unit 10 of the yearly program)
You can take a closer look HERE.
The easier version of My Daily Math Practice pictured above is also available in monthly sets, or in the full year bundle. There are 16 sets of 10 page formats, with the following concepts covered:
100 Chart to 50 and 100
equations to 12
tally marks
patterning
number order
subtract with ten frames
2D shapes
Place Value to 10
Odd/Even
Skip Counting by 10, 5, and 2
Missing numbers in sequence
Add or subtract 1 and 10
Time to the half hour
True/False Equations
Friends of ten
word problems
ways to make a number
mystery number
doubles to 10 and 20
addition with ten frames
Greater Than / Less Than
Making equal groups
Ordinal Numbers
Linear Measurement
3D Shapes
Days of the Week
Number Bonds
Addition with Pictures
Subtraction (Vertical)
Add 3 Numbers:pictures
time to the hour
addition with dice
missing addends
commutative property
Number Words
Place Value 1 /10 /100
Money / Coins
Using a number line
Add 3 numbers with doubles
Number Bonds- 4 Equations
Click HERE to take a look at the preview.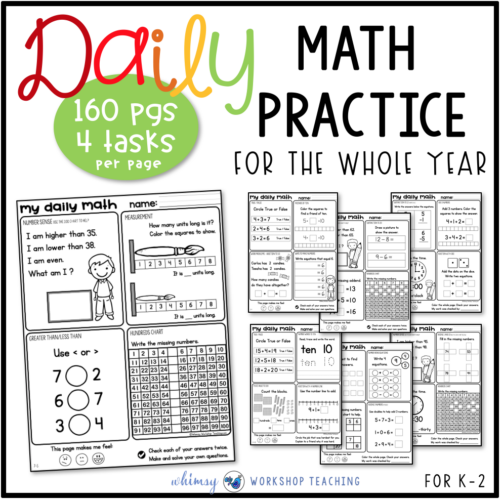 You can try a few pages with your class! There are several pages for free, plus an advanced page for differentiation.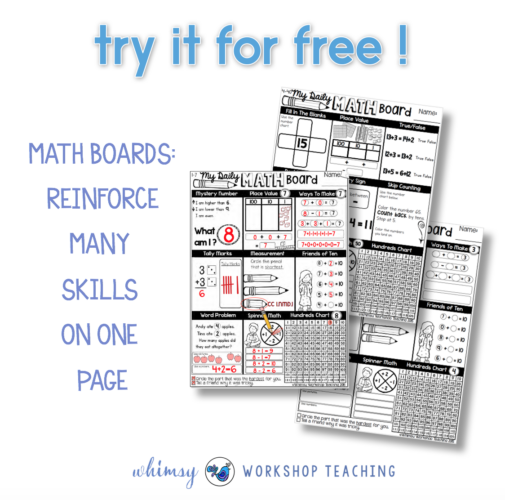 Related Articles:
Teaching Social Skills for a Peaceful Classroom
Pin this post for later!