Students love working on crafts in the classroom! They are a fun, hands-on way for students to use their creativity and design something spectacular. Since the next few weeks will fly by, it will be so helpful to start planning Thanksgiving crafts in the classroom now. This will help ensure there is plenty of time to get everything set up and have students take them home before break. So, let's explore some fantastic Thanksgiving craft ideas that your students and families will love! 
Drawing is always a student-favorite activity! So, this bundle includes 10 differentiated templates and writing prompts all with a Thanksgiving theme.
Each directed drawing includes steps embedded onto the page for easy organization. Plus, this greatly helps students follow along. Then, there are different writing prompts to ensure that all students can participate in the same drawing lessons at the same time.
Students will show so much growth in their writing skills with these activities! 
Students always love this project! Best of all, it helps them focus on what they appreciate during the holiday season.
This freebie includes multiple versions of turkeys to pick from. Additionally, there is a lower section where students write about what they are thankful for.
Students can even work on this craft at the beginning of November and hang them on a bulletin board. Then, they can take them home before break to share with their families. 
When looking for Thanksgiving craft ideas, this one offers tons of options! There are 8 easy art ideas, all with the theme of fall and Thanksgiving. Every project is easy to prepare without spending hours setting up.
All 8 projects include step-by-step photos and descriptions. Teachers can even print the page for students to reference while working.
After completing the craft, there are seasonal writing templates. These are perfect for early finishers, group writing projects, or to add to a writing center.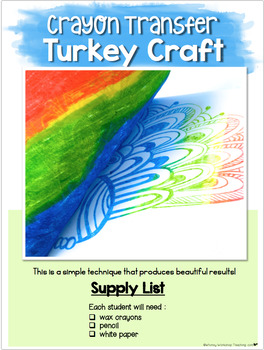 Students love to doodle! So, incorporating this skill with core math skills brings so much excitement to learning. Luckily, this set features math doodles focusing on Halloween and Thanksgiving for fun seasonal activities.
Specifically, there are 8 unique seasonal art designs and differentiated writing templates. On top of this, there are 16 math rule cards and the ability to create your own.
To get started, teachers will assign a math rule to practice and hand out the rule card to guide students. Then, students will spin or roll to make equations. In total, they will answer 20 questions. After they complete the problem, they will match their answer to the doodle chart. This will show them how to design their craft. Honestly, using this resource for Thanksgiving craft ideas is an amazing way to incorporate essential math practice with hands-on activities! 
For more great Thanksgiving craft ideas, check out Thanksgiving Art and Writing!
Fall is such a special time in the classroom! So, doing Thanksgiving crafts in the classroom is the perfect way to incorporate this excitement with learning. Students will love celebrating the season with their classmates. 
If you do not want to miss any of the upcoming lessons, join my email list to be notified of all the interactive lessons coming up! By joining the email list, you will receive freebies for blog exclusive subscribers!