Welcome to the Social Skills Ideas Bank!
The Social Skills Idea Bank is a series of related posts, each dedicated to sharing strategies for teaching a particular social skill.
As teachers, our strength lies in sharing our ideas, experiences and strategies!
This is a growing list, and you are invited to contribute in the comments section. We hope you will, because there's nothing like a good idea shared between teachers to make our jobs easier.
In this post you will find lots of simple ways to encourage students to be RESPONSIBLE.
Let's get started!
There are so many effective ways to integrate the concept of responsibility into your classroom!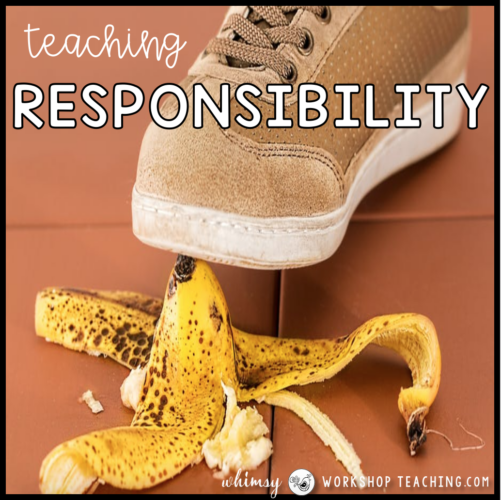 ---
WHY TEACH RESPONSIBILITY DIRECTLY?
This question is easily answered by imagining a classroom lacking responsible students. Imagine supplies left everywhere, games and materials broken on the ground!
Responsible behaviours are not only important in the classroom – we are equipping our students to have a productive and successful life beyond the classroom as well.
Being a responsible citizen of the world is a key ingredient.
---
BOOKS AND VIDEOS
Most students will have an idea about what responsibility looks like, even if they don't know the word. I have found that the easiest way to introduce the concept is through stories and videos. Here are a few of our favorites to try with your class:
Howard Wigglebottom
These sweet stories are all about social skills. To address the ideas of responsibility specifically, I would recommend Howard Wigglebottom and the Monkey On His Back. Howard learns the importance of being responsible and honest, even when nobody is watching.
You can also watch the video of this story on youtube!
Each story also has a fun song to sing with your students after watching the story:
There are also teacher notes to help you with discussion ideas:
---
MORE RESPONSIBILITY BOOKS AND VIDEOS
WHAT IF EVERYBODY DID THAT?
What if everyone threw their garbage on the ground? This story explores what would happen if nobody took responsibility for actions. It offers great perspective and encourages students to see the impact of their actions.
IT'S NOT MY FAULT
The story shows explores the idea of personal responsibilities and specifically not blaming others around you for choices and results. This one may sound familiar to many of your students!
ROSA RABBIT TAKES RESPONSIBILITY
THE BERENSTAIN BEARS
In this cute bear family story explores how we should work together, with everyone's help – at home and in the classroom. Another good one is The Blame Game that explores taking responsibility for your actions.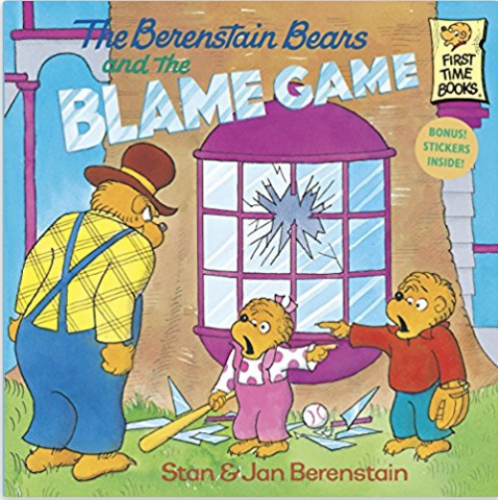 CLASSROOM JOBS VIDEO
The classroom video below shows students explaining what they do in the classroom to be responsible and work together. Everyone has their own job to make the classroom run efficiently. This is a perfect video to watch before generating a jobs and responsibilities list in your own classroom.
MR. RESPONSIBLE SONG / VIDEO
My students get a kick out of this classroom made video that features a sock puppet called Mr. Responsible. It illustrates all the ways you can be responsible in the classroom and community, and your students can sing along. This might even inspire you to make your own class video!
---
RESPONSIBILITY LESSONS & ACTIVITY IDEAS
CHOICE SORTING: One simple idea is to generate a list of good and poor choices with your class. Write each one on a card for sorting on a pocket chart after lots of discussion. These can become part of an SEL sorting center. Use visuals on each card if your students are not yet reading. After lots of practice, you can create sorting pages for students to complete, as shown below.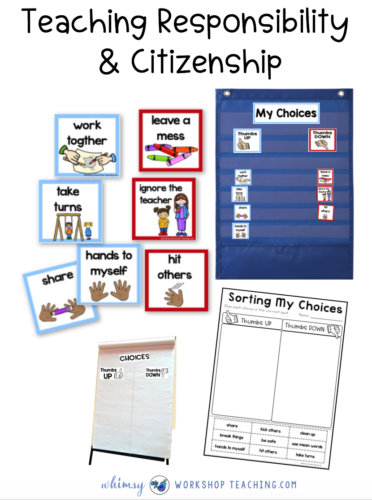 ANCHOR CHARTS: What is a good citizen? Make a class anchor chart with the help of students as you brainstorm ideas.
ART PROJECTS: You can also integrate art to your exploration, such as the example below. It was created by each student tracing and coloring their hands, and then gluing it around the edge of a poster board. Write your class pledge in the middle and hang in your class as reinforcement.
VOCABULARY: Using common language is important when discussion SEL topics. Write key words on cards to reinforce vocabulary.
PARTNER PLAYS: Partner plays are also a fun way to explore personal responsibility. For example, make a short play about a person who is very responsible trying to teach a younger sibling about how to make good choices. If your students are old enough, they can write their onw partner plays!
DISCUSSION PICTURES: Gather images from magazines or online to use as discussion topics. Show students the picture and simply ask: What is happening in the picture?
TEACH OTHERS: Sometimes the best way to learn is to teach others. Buddy up with a younger class with the express purpose of teaching them to be responsible. You may be surprised in the change of perspective when they are the teachers!
FULL YEAR LESSON PLANS: Many of the activities above are from the SEL curriculum The Kindness Classroom. You can see the individual unit (includes 25+ lessons and activities), or the full year curriculum (includes hundreds of other social emotional lesson for the whole year, including conflict resolution, growth mindset, anger management, and kindness.)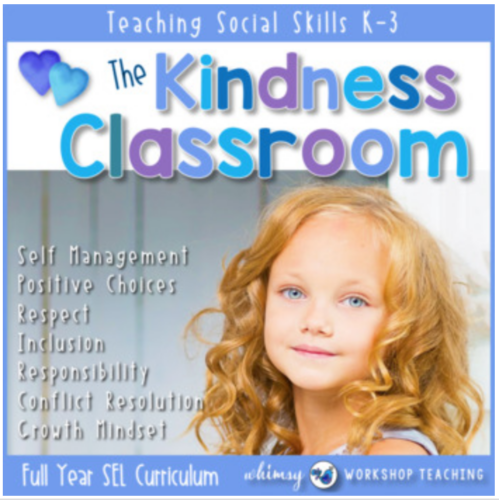 Pin this post for later so you don't lose it!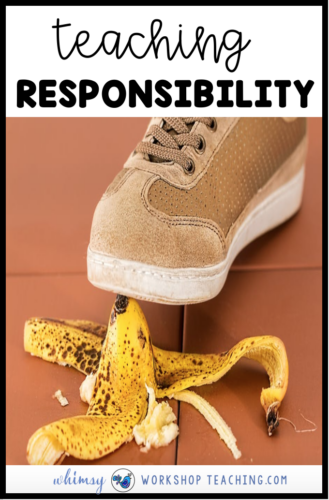 ---
Do you have ideas to add to this list? Add them in the comments!
 Do you need more SEL Resources?