I am always collecting and sharing word work ideas for my classroom, and if it's no prep, then even better! Today I'm sharing a simple, inexpensive way to practice hands-on literacy with little ones.
All you need is dried pasta!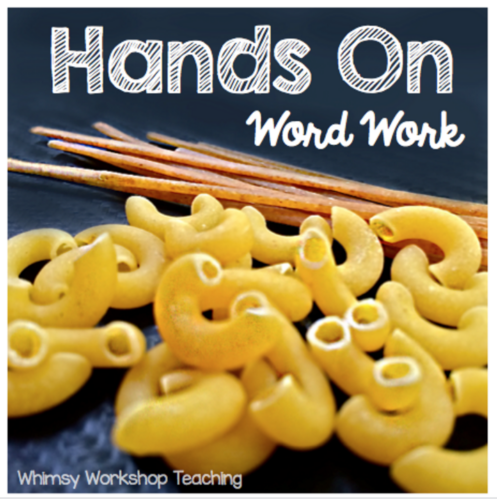 Have you ever tried using pasta in your literacy centers?
This is an old idea that I've been using for  20 years, and here's what I use:
dried spaghetti

curved macaroni

dried ABC pasta
With younger students, we simply build capital letters with spaghetti, identify them with partners, and copy them onto paper. Students also love making their names!
TIP: Make colorful "word mats" out of facecloths so the pasta won't roll.  
Next, we add curved macaroni to use in conjunction with the straight spaghetti to make lower case letters.  The kinaesthetic nature of the task is excellent for developing fine motor control and for drawing attention to the formation of letters. There is a great deal of decision making when choosing the pieces involved in each letter.  
We also use Alphabet Pasta to practice our words. I keep the pasta in plastic bins and they last for years!
Here are some of the activities we do in class:
1. Copy letters from an alphabet chart, or practice our names.
2. Use the pasta to build daily or weekly sight words.
3. Practice words that contain b, d, p and q for students having problems with reversing letters. Many times having to physically build the letter and decide which side of the "stick" the round part goes on can really help with reversals.
4. Build short "pasta sentences", complete with punctuation, and then copy them into journals. Try ABC pasta for this if you can find some. Dried legumes (like split peas) are perfect for periods that won't roll away.
5. Create a word on lined paper as shown above, then ask a partner to "edit" the word by pointing out formation problems, such as letter not being on the line properly. They can then "fix" the problem when they write the word themselves. Again, it draws attention to proper letter formation in a unique way, which then transfers to their writing in other tasks.
Students love working with the small pieces, and if they lose a few along the way it's not a big deal. Best of all, there's very little prep for the teacher to do and the pasta can be used for years. Sometimes I dye the vowels, blends or digraphs a different color, or use different shaped pasta just to keep it interesting!
To see pictures of my complete sight word program
and read about more word work ideas,
If you are looking for help teaching letter sounds and phonics?
You can browse my entire collection of literacy, math and clip art by downloading this clickable resource list! Just click on any topic and see an updated list of everything in that category.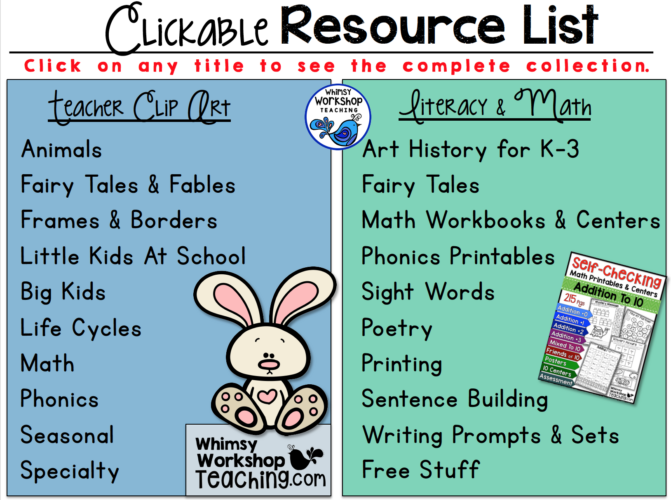 Thanks for taking a look!
Continue exploring with any of the links below: