Students love to draw! No matter the paper or writing utensils they have, they are always excited to hear they have some doodle time. Then, they love showing off their work to classmates. So, incorporating drawing into academic lessons is the perfect way to combine student interest and learning. For example, winter directed drawings allow students to show their creative side while working on following directions. Luckily, the Winter Theme Directed Drawings provide students with many fun options! They will always be excited when they find out they get to work on directed drawings.
Every student has a different level of confidence as an artist. Thankfully, there are 10 differentiated templates to ensure all students can participate in the same drawing regardless of ability. Students will love being able to work on the same drawing at the same time!
Since winter directed drawings will be so popular with students, there are plenty of offered options. This includes snowmen, reindeer, and trees! There is even a polar bear and a penguin directed drawing.
Each drawing includes independent directed drawing steps embedded onto the page. This will help save time and allow everyone to stay organized. Additionally, there are writing templates when using the winter directed drawings in literacy and writing centers. Teachers can even begin with the easier templates and progress to the more challenging templates as the year progresses. There are also sentence starters to help students develop their thoughts.
For more great craft ideas, check out January crafts. Students will love showing their artistic side.
Directed Drawing Supports
Let's face it- not all teachers are great artists! So, following directed drawing steps may be helpful, but the picture may still appear a bit off. Luckily, there are drawing videos to help! Best of all, these videos mean teachers can walk around and assist students while the video plays. Honestly, this is much more relaxing than trying to draw and assist at the same time!
Since directed drawings are perfect all year long, there are videos for reindeer, zebras, unicorns, crabs, and submarines!
There are even fun activities and videos for Father's Day. This includes a directed drawing, writing about memories, and making a card.
Whimsical Clip Art
Honestly, how an assignment or activity looks often impacts students' opinions. For example, if the resource appears overwhelming, students are often hesitant to try it. However, students are often eager to jump in and work if it is decorated and organized.
Luckily, there are fantastic clip art options in the classroom! For instance, the Peek Over Winter Clip Art has so many adorable characters to "peek over" student work. These are perfect for adding to classroom displays or bulletin boards. Characters include dogs, snowmen, and gingerbread.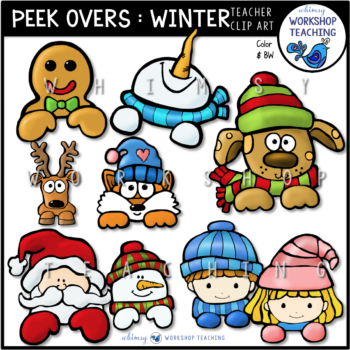 Additionally, there is festive Penguin Clip Art with fun positions. This includes penguins sledding and ice skating. Likewise, there is Snowmen Clip Art. This includes snowmen bundled up for winter in pretty coats or braving the cold weather. Students will love all the exciting clip art in the classroom!
Since it can be hard to keep students engaged in the winter, be sure to explore Lessons That Keep Them Busy for January. Students will love all the whimsical designs and fun activities in the classroom.
While the winter is cold, lessons do not have to be! The Winter Directed Drawings will help ensure students work on so many skills in hands-on ways. They will always be excited to learn with these fun activities!
If you do not want to miss any of the upcoming lessons, join my email list to be notified of all the interactive lessons coming up! By joining the email list, you will also receive freebies for blog exclusive subscribers!
and directed drawing writing prompt