10 Apps for Encouraging Reluctant Writers
Do you have ipads in your classroom this year? Are you looking for ways to encourage your reluctant writers? I am always on the lookout for fun new activities for my young writers.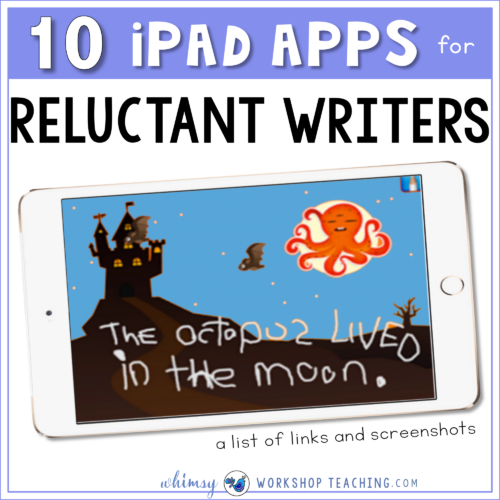 Each year, I have students in my class who just LOVE to write. When I ask them to write one sentence, they write five. If I give them a few scraps of paper, they'll staple it and create their own fully illustrated stories. These young writers are so easy to motivate! 
One the flip side, I always have students who will do ANYTHING to avoid writing. They will mysteriously lose their pencils, fidget at their desks, visit the bathroom several times, draw faces on their erasers, and a million other very creative avoidance techniques! They don't think of themselves as writers, and avoid every opportunity to change that self-concept. 
Motivation
So, how could I motivate these reluctant writers? 
Make my writing tasks both more engaging – and less overwhelming – to students who shut down at writing time. 
Luckily, I was able to use what they already loved – technology. 
I discovered that the most effective apps to use with my students were the ones that used writing in the form of comics. This became a whole new way for me to engage those reluctant writers! 
Just like with other writing tasks, they are still required to come up with logical dialogue, edit their spelling, create a storyline, or communicate their ideas in writing. 
Comic Format
The difference seemed to be that using the comics format ensured that the writing would not be too overwhelming; they wrote primarily in small speech bubbles; bite-sized chunks that felt "doable". And as far as providing engaging material, the comics format was instantly accepted and caused a great deal of excitement in my class.
Here are a few examples of the apps that I've used to incorporate this kind of writing. I downloaded the free versions when possible to try out before upgrading any of them.
This app is so fun  and easy to use! Click HERE to see a short youtube video that shows you how to use it. I showed this video to my class before we got started and they were so excited to get going!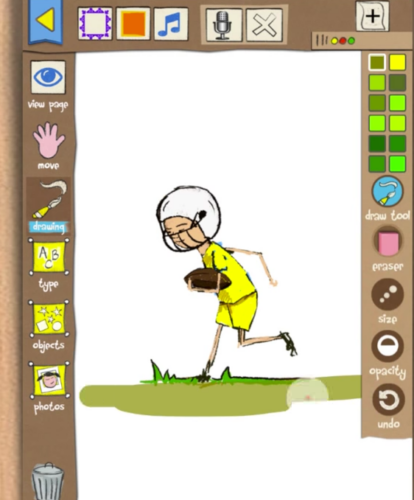 My students are young, so they need an app that is very simple. This one is simple enough for them to figure out on their own with a bit of exploration time. 
Students first had to choose a comic book template, and then they click on one frame to add a photo.
I was amazed at the creativity my students showed! 
First, with no prompting from me, they thought of using the iPad's camera to take pictures of each other as characters in their comic. They also used pictures of the playground and our classroom as background images in a story about our school.
One student even took a photo of his own drawings, instantly making usable digital copies of his own characters to drag into a frame! 
Once the picture is selected, they can simply drag a speech bubble where they want it and enter text. They were all very eager to write!
 To cover all the required writing goals for our grade, we also used comic-style apps to explore non-fiction. With this app, students were given a picture and simply used the tools to write captions for different aspects of the picture. Here is one of a picture I took while visiting the farm with the class. The task was to write five different sentences about it. 
We also used this app for labelling the pictures we drew after taking a photo of them and importing them to the app. On another day, we took pictures of the playground, labeled it, and collaboratively wrote a list of rules to follow. Then we printed it out and hung it on the wall.
This app simply adds speech bubbles to any picture. Its simple enough for grade one students who are just starting. Once the students got used to it, we took photos of students on the playground and also of students dressed up in costume!  All students were very eager for a chance to write dialogue for those pictures. They quickly learned to take a snapshot of each picture they made to save it.
This is a fun app that actually has many more features than I've used so far. I  asked my students to simply choose one of the scenes, and then choose a character or two to drag into the scene. 

Once that is done, I asked them to choose a crayon tool to write some text (with their finger) right on to the screen. This can be as simple as starting a story, labelling the picture, or drawing their own characters (you can differentiate as needed).
In the example below, the student chose the Halloween background, dragged an octopus onto the moon, and then used a white pencil tool to write a sentence about the picture. I could then take a screen shot to use for assessment!





 The next app I have to show you is called Toontastic. This interactive app walks students through the creation of a story: Introduction, Conflict, Challenge, Climax and Resolution. Students choose a setting and drag in some characters from below for each part of the story.
The next part is amazingly engaging: students move the characters around with their fingers and verbally narrate what is happening. The app records the action and the students' voice as a small video clip! This becomes the first "scene" in the story. 


Once all of the elements of the story are completed, you can add music and play it as a short movie! For the writing task, we watch the clip and then retell that part of the story in writing. Because it's in small parts, it wasn't too overwhelming. Because each student made their own unique story, we were able to repeat this writing task many times without students getting tired of it.
This is a great choice for more advanced students who need a little bit of help coming up with ideas. It begins with a group of words, or selected words, stickers and pictures, and the end result can be stories or poems.
There are many options and features to explore, and students have the ability to create, save and print their stories or poems.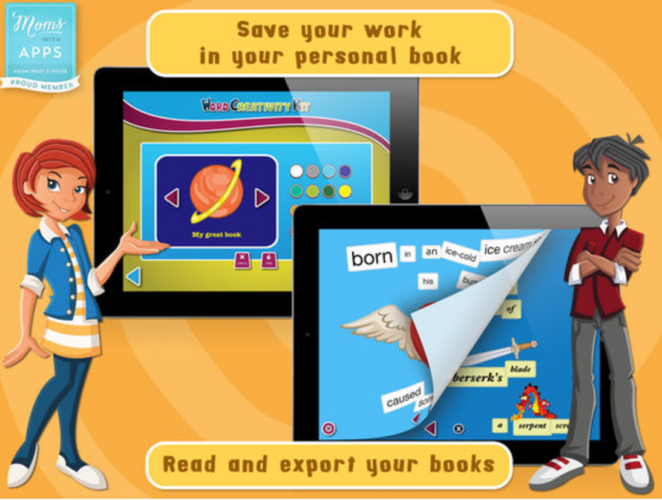 This app is meant to spark imagination while practicing writing skills. The story is mapped out first, and then details are added along the way!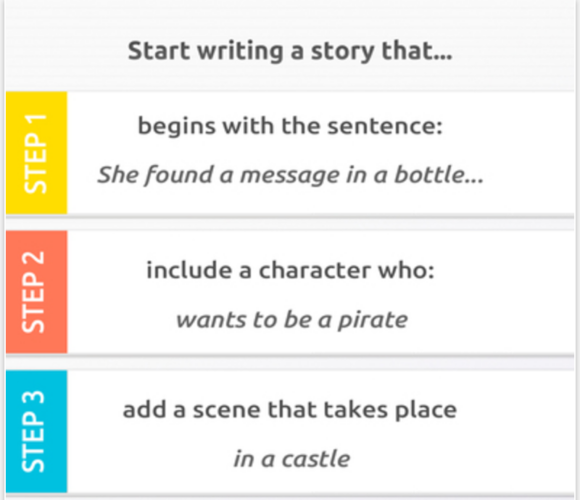 This is very similar to the previous, but has some features that some students may prefer.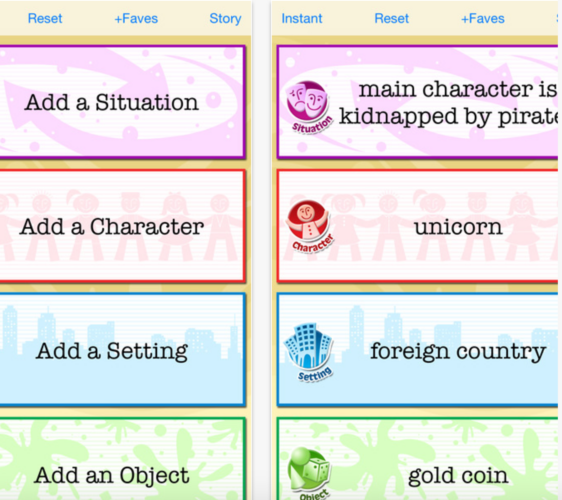 This writing app for has three levels to choose from. Students are guided through the writing process by choosing details along the way, and even add photos!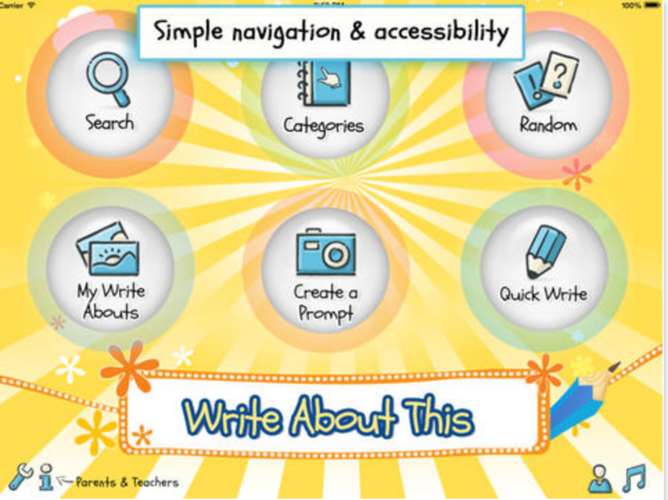 Pin this list for later!

If you're having trouble finding what you need for math, literacy or clip art, you can grab this handy Clickable Catalogue for everything available in my TPT store – a big time saver! Tuck it away for when you need it!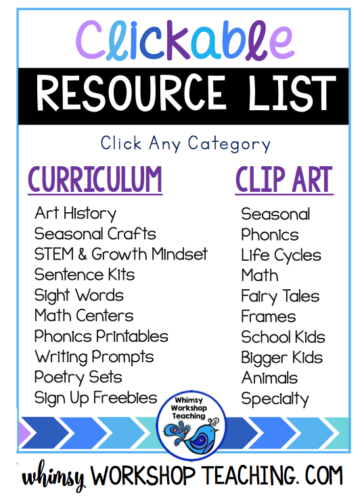 Click here to download the clickable resource list to keep for later.