Most teachers I know use brain breaks of some sort.
There is a lot of great research behind the idea of taking a few minutes out of your work block to refresh and move, before starting back again.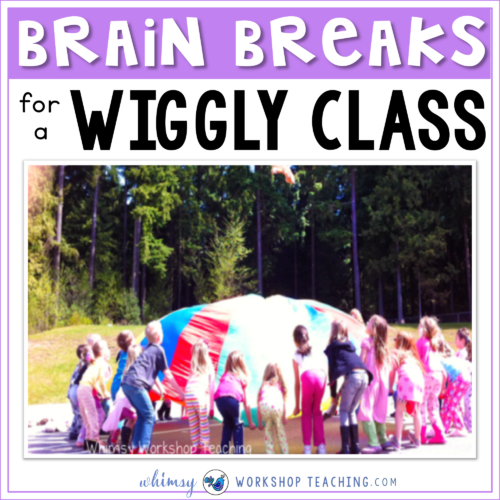 To me,  brain breaks are like resetting your computer so it's much more efficient when starting up again on the next task!
There's a lot of fascinating research around how movement affects student learning.
 Here are a few things I use the most through the year to keep my students active for short periods during work time:
Go Noodle

GoNoodle: Fantastic videos to get that energy out, or to cool down with some yoga. Everyone has "their own spot" in the room when we spread out, so there are no management issues. 




Just Dance

Just Dance: Just like GoNoodle, it's a collection of videos using popular music and awesome dance moves that the kids learn really quickly! Everyone has their favorite, so I let them choose as a reward for making smart choices!


The Learning Station
The Learning Station: Great songs to sing and dance along with for younger students.


Cosmic Kids

Cosmic Kids Yoga Adventures: I love how this lady guides students through different yoga poses by making them into an imaginative story for them to imagine and act out.


Dr. Jean

Dr. Jean: Lovely learning songs for little ones. My husband teaches elementary music, and uses many of these with Kindergarteners.
Dino Stomp

KooKoo Kangaroo: I learned about the Dino Stomp song when one of my students performed it for the school talent show! This little guy had the entire school stomping along with him – adorable!
Adapting For All Students
Special Needs: This list of activities and adaptations recommended by physical therapists may help if you have students who are in wheelchairs or cannot jump around. They can still take part in the fun!


Quiet Music
Speaking of music, another aspect of improving work completion, besides getting active, is to build stamina for focus time.
We use quiet music for silent reading every day after lunch – the SAME song always starts first. I don't have to say a word to them; when the first few notes of the music starts, students know that talking is over, and they are supposed to get their levelled books or sight word rings (kept in their desk folders) out to read.
We start with one minute of silent reading, and build up to 30 minutes of sustained silent reading. Students use personal offices (shown below) to minimize distraction. 


Partner Dance

Partner Dance: This is simple game you can play in class that originated from reading about Math In Your Feet; students pair up and create simple routines within their square for their partner to copy. So simple! Fantastic for math vocabulary, collaborations, coordination, creative movement and mental stimulation. We do this outside using sidewalk chalk!


Follow the Leader
Follow the Leader:  The special helper of the day leads the class like a long train through a series of actions and areas around the school. For example, up the ladder and down the slide, around the playground on one foot, 10 jumping jacks, all through the forest skipping, etc. Students have to watch closely and imitate (any silly business means they have to sit out and watch – sorry!)  After 1 minute, the leader runs to the end of the line and we have a new leader! It's even better if you can break into two short lines!
Fresh Air

Five Minutes of Freedom – I am very lucky because my classroom is right beside the playground and a huge forest. We can take a five minute break and be back inside very quickly, feeling energized from the fresh air. It's also a great incentive; let's all get finished on time so we can go outside!
Pin this post for later!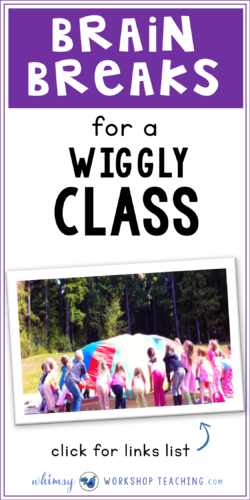 If you're having trouble finding what you need for math, literacy or clip art, you can grab this handy Clickable Catalogue for everything available in my TPT store – a big time saver! Tuck it away for when you need it!