Welcome to the Social Skills Ideas Bank!
The Social Skills Idea Bank is a series of related posts, each dedicated to sharing strategies for teaching a particular social skill.
As teachers, our strength lies in sharing our ideas, experiences and strategies!
This is a growing list, and you are invited to contribute in the comments section. We hope you will, because there's nothing like a good idea shared between teachers to make our jobs easier.
This post is about simple ways to teach about kindness in the classroom, and why it's so important.
Let's get started!
Let's talk about kindness. Why is it important?
How do you promote a culture of kindness in your classroom?
If you need some ideas, read on!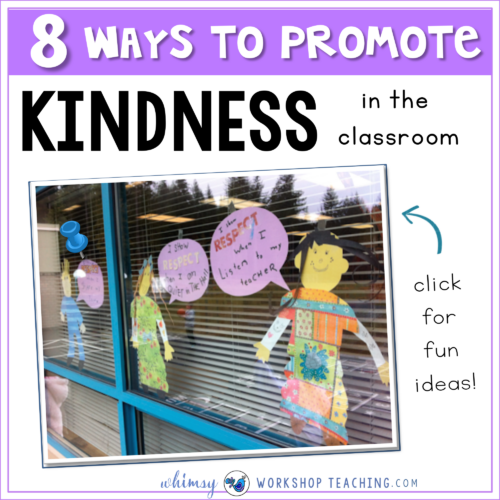 Of course we hope that our students will be kind in general, but why does it really matter?
What impact does it have on learning? Turns out, quite a lot!
In my 20+ years of teaching in primary, I have found that if students don't yet have a capacity for kindness and empathy, they may have difficulty navigating the complex social situations that arise every day in the classroom. They may lack conflict resolution strategies, and you'll likely spend much of your teaching day mediating disagreements.
You'll have less time to actually teach effectively, and you might find yourself drained of all the energy and enthusiasm you had at the beginning of the day. Students may have trouble completing work because they are too busy arguing, crying, tattling or worrying. It's hard to focus on work when interactions with peers are so upsetting.
Here are some specific ideas I have implemented in my own classroom to improve my classroom environment and create a kind, peaceful atmosphere:
---

READ STORIES TO PROMOTE KINDNESS
We love Ordinary Mary's Extraordinary Deed by Emily Pearson. It's about a little girl's act of kindness, and how this inspired others to be kind as well. Here's a link to part of the story on YouTube.
We start the year by reading Have You Filled A Bucket Today by Carol McCloud. After reading this, and doing several projects around it, the term "bucket filling" becomes common language in our classroom that we all understand. There's even a song about filling buckets on YouTube.
Two more favorites in my classroom: Somebody Loves You, Mr. Hatch and Rainbow Fish.
We spend a few weeks exploring these two book using the materials in book companion sets.
You can click on the pictures below to see more detail about our book companion sets for these wonderful stories!
By the way, you do NOT have to buy these two books – they are available online! Click HERE to see the online version of Somebody Loves You Mr. Hatch.  You can also click on either story picture below to see a preview for a 70-page printable book companion for each story.
---
WRITING : KINDNESS NOTES
During writing time in your class, create opportunities to make "kindness notes" with your students. For example, students make kindness notes for our Special Helper of the day. It isn't happy or complicated; pass out blank pieces of paper and students write/draw kind things about that person and drop it in the "happy bucket". At the end of the day, the Special Helper gets to take them all home, and they are cherished! It's also a meaningful way to practice writing! I took some pictures of our notes below so you can see what I mean: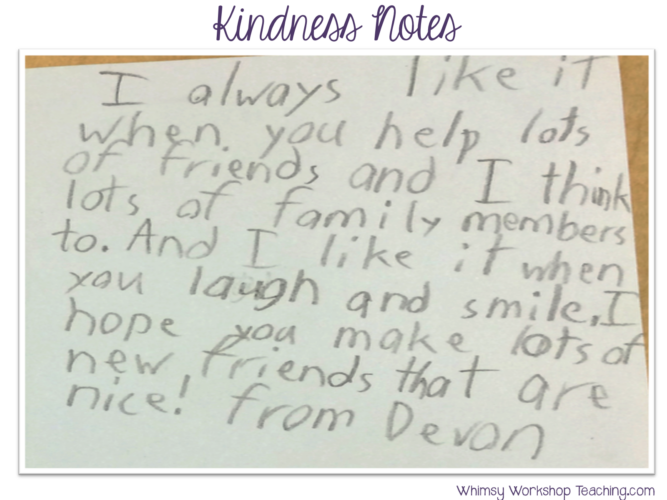 ---
FRIENDSHIP CIRCLE
Begin each morning with a Friendship Circle, where students sit in a circle and give a compliment to the person sitting to the right, and that person says "Thank you" until you've gone all the way around. The last person gets to say something nice to the teacher!
One of my favorite memories of this routine was when the last student in the circle looked up at me, trying to think of a compliment. Finally he said "I like how your hair smells like strawberry jam." So cute!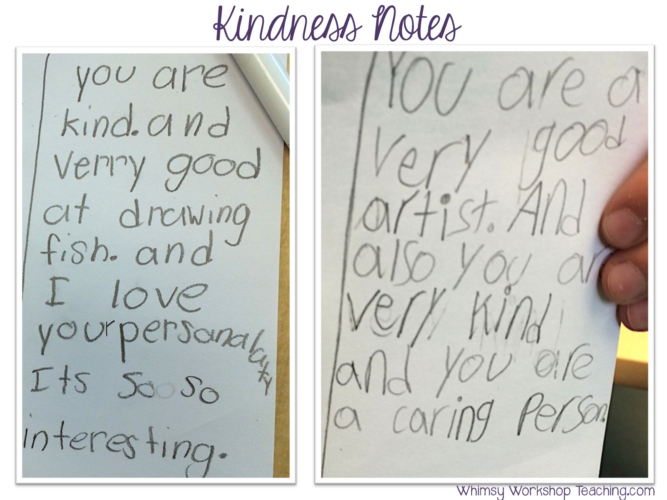 ---
KINDNESS OUTSIDE OF THE CLASSROOM
When your special helper takes notes or attendance to the office, let them deliver some happiness to the office! First, decide as a class on a compliment to deliver to the secretary or staff. Practice speaking directly with a smile.We say things like: "You look beautiful today." or "I like your personality." or " I appreciate you."  Once they leave, the rest of the class waits to hear all about the Kindness Adventure to the office!
One favorite memory was when a little boy told the secretary "I just love how your hair is all gray and puffy and white and just very….puffy on the sides!"  We asked about her reaction, and he said, "She just said thank you and then turned around and her shoulders were shaking, so I guess she really liked it!"
---
ART PROJECTS THAT PROMOTE KINDNESS
This is a cute craft to encourage random acts of kindness. Students add a new heart to their project each time they complete the act of kindness written on it. Or, you can glue all the hearts together, and color each one as you go along.
Click the blue button BELOW to download a copy of this craft to print. There are blank hearts so you can create your own specific kindness goals, too!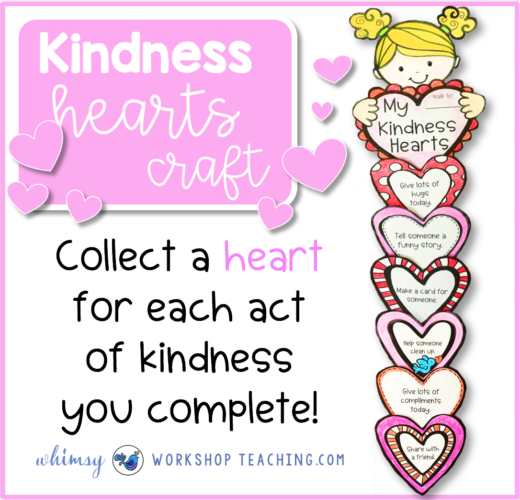 Pin this free craft for later!
 
WRITING ABOUT KINDNESS
Here's another twist on Kindness Cards and writing templates.  Pair students together (secretly) so that everyone is sure to get a card, and ask students to write a compliment about their partner. Deliver the cards when everyone is present, and ask students to hand their card to the recipient, make eye contact, and exchange thanks.
You are welcome to use my free set of Kindness Cards shown below. The set includes cards for friendship as well as Valentine's Day. There are also templates to write about friendship in general.
 Click below to get your free set of Kindness Cards!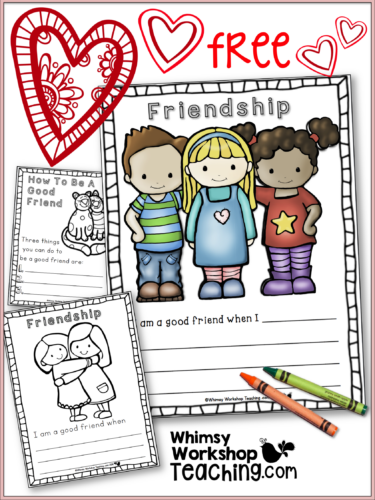 REINFORCE KINDNESS WITH DECOR
Above all, I strive to make my classroom a place where students feel safe, appreciated and respected just as they are. My classroom banner says simply: "Be Kind. Work Hard."
I also have this poster on my wall, and we use it as a writing prompt and discussion point. You can download it by clicking the image:
CLASS BOOKS
Each year we take the month of December to really focus on Random Acts of Kindness and caring for each other. If possible, I enjoy getting families involved. A few years ago we began making class books about random acts of kindness.
Each student takes home a one page template to fill out with a family member. They can write about kindness they've seen or a personal story. Sometimes families have purposely gone out to commit an act of kindness just so they could write about it!
Hopefully this will encourage discussion of kindness at home, which will deepen the understanding and meaning for my students.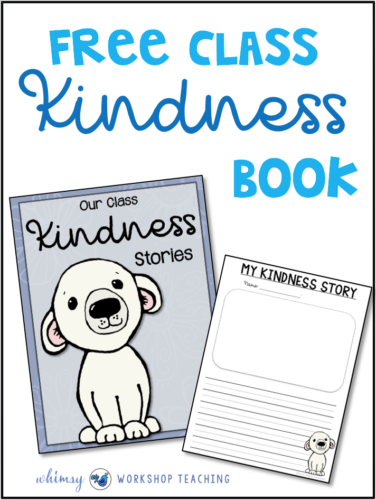 Once completed, I ask students to bring their finished papers back to share with the class. It's a very powerful conversation as students share their stories. Afterwards, we display them in the hallway, and eventually put them all together to make a class book.
I hope you can use some of these ideas to help promote kindness in your classroom!
Pin for later!
 Pin this post for later!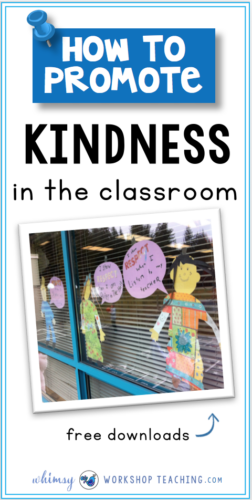 Thanks for taking a look!
Continue exploring with any of the links below: