Do your students love directed drawing? Mine do!
Read all about how I use directed drawing and writing prompts, and even directed drawing VIDEOS with my class!

DIRECTED DRAWING VIDEOS
Using Directed Drawing videos is a fun new way to practice drawing with your students! It saves a lot of teacher time by being no-prep – just give students some paper and pencils, press PLAY, and students draw along with the video! You can pause whenever you like, and replay the video at the end. It also makes a fun independent activity if you have access to smaller devices during center time or for early finishers. As with all of my art activities, the finished drawing becomes a great vehicle for writing as well!
WHY DO DIRECTED DRAWING?
There are lots of reasons to try directed drawing with your students!
♥ excellent for fine motor development
♥ a good way to practice following directions
♥ reading for direction using the simple reading under each picture
♥ need a quick lesson with no prep? Grab any template for a whole class lesson
♥ always have a seasonal writing center, and lots for any time of year
♥ a great way to build confidence as students work independently
♥ perfect for your sub plans!
♥ a fun way to send home writing practice – homework students and parents will love!
Here's what we use in our classroom: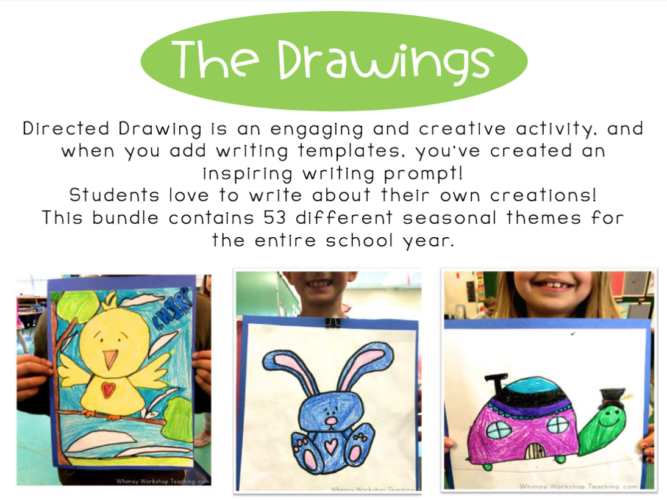 DRAWING IDEAS THROUGH THE YEAR
Autumn – scarecrow, apple with worm, sunflower, schoolhouse, squirrel
Halloween – carved pumpkin, bat, witch, black cat, spider and web
Thanksgiving – turkey, cornucopia, pilgrim, native girl, Mayflower
Winter and Christmas – snowmen, Santa, reindeer
Spring – ladybug on grass, rainbow frog, baby bird in nest, Easter bunny, butterfly
Patriotic Symbols – eagle, American Flag, Statue of Liberty, Liberty Bell, White House
Insects – butterfly, dragonfly, bee, ladybug, spider
On the Farm – sheep, cow, pig, rooster, duck
African Animals– cheetah, elephant, giraffe, lion, zebra
My Pets – bunny, bird, cat, mouse, turtle
Sea CreaturesSea Creatures – crab, fish, jellyfish, octopus, shark
Mother's Day – a picture of mom and me hugging
Father's Day -a picture of dad and me
My Pet Puppy – a cute puppy!
---
NEXT STEP : WRITING PROMPTS!
The results are always unique and lovely, and my students are so proud of their work.
But that's not the end of our lessons – we use our drawings as writing prompts!
Because I teach a multi-age class, I have differentiated prompts to meet the needs of all students. You can see them all below.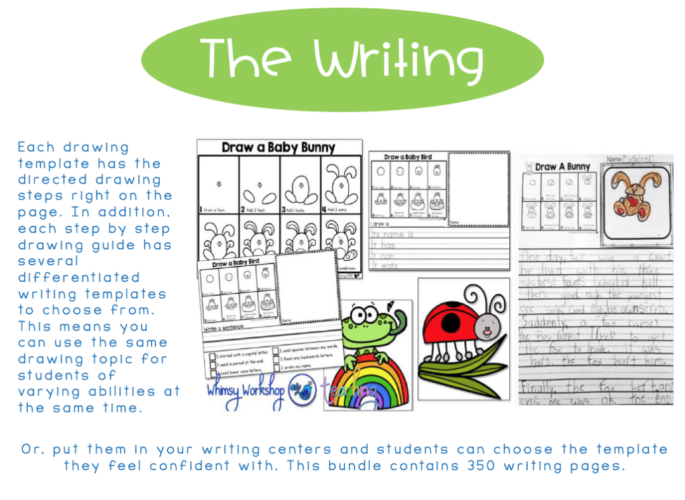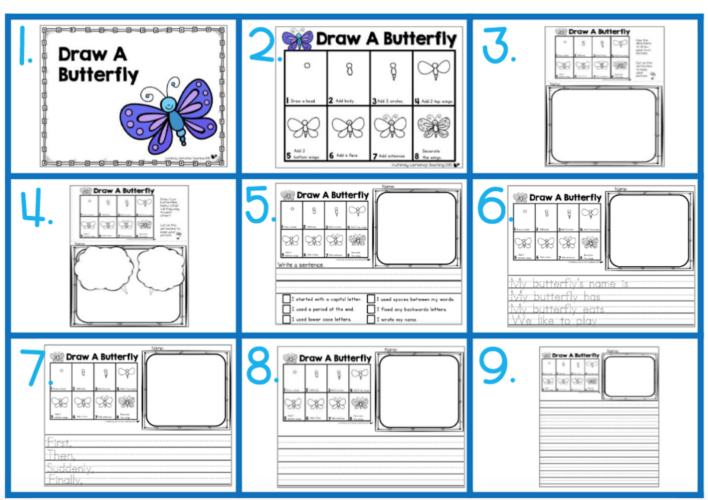 You can see more details about our Directed Drawing and Writing resources by clicking HERE.
You can also read about how other teachers have been using these in their classrooms!
---
DIRECTED DRAWING VIDEOS
Another fun way to incorporate directed drawing is to show drawing videos. I use a screen capture of the drawing process and place a pause between each step. This way, I can pause the video and walk around the class to ensure that everyone is ready for the next part. It also allows me to replay the video at the end for students who missed steps or want to watch it again! These videos can also be played on a device for a small group of students at the art or writing center.
Here's an example of the videos we use. You are welcome to play this for your class and draw along!
The music will begin as the drawing starts (or you can mute the sound). Click the Full Screen option if you choose.
---
LOOKING FOR MORE DRAWING VIDEOS?
Click below to see them!
Silly Reindeer
---
Pin this post for later!