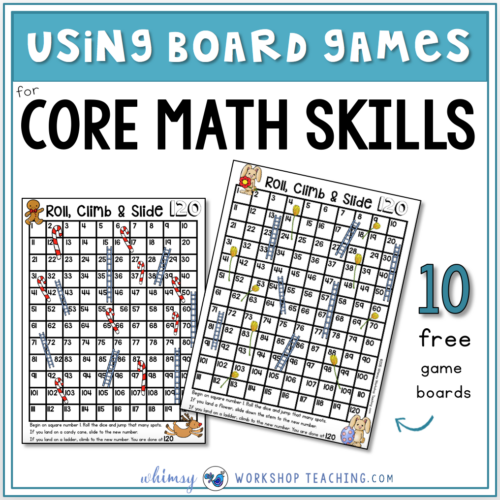 Using games and game boards for phonics instruction is now an integral part of my teaching.
It's old school, it's not original, but it's just so reliable and engaging that I keep going back to it year after year. If you're not using game boards like these ones, for phonics and math, consider it a no-prep present to yourself!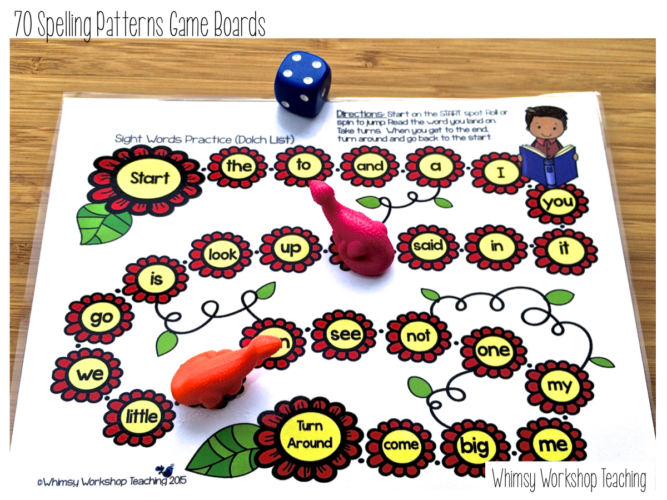 Board games are one of the very best ways to practice math every day in a fun way. My students quickly become independent workers with various board games – my job is to keep things interesting and make sure I am maximizing the learning going on.
Keep it seasonal. Keep it simple.
Here are some ideas to keep in mind as you introduce board games specifically for reinforcing math and phonics:
I often change up the theme of a game, but keep the basic rules the same. Once the skills are learned, I can change the rules a bit to make things slightly harder; however I want this to be an independent math center, so I don't make too many demands that require explaining.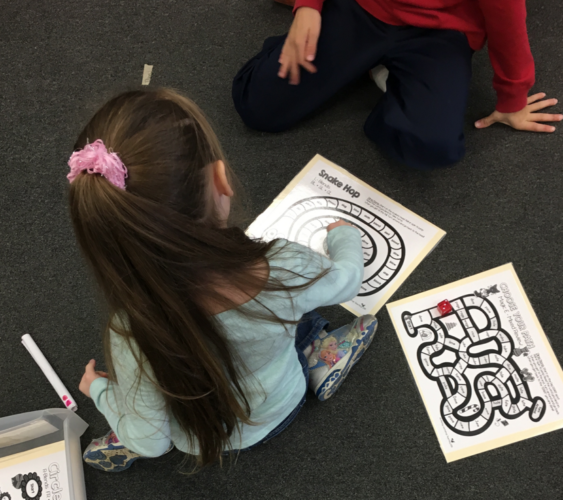 Pre-Teach Sportsmanship.
Teach skills for sportsmanship, fair play, and conflict resolution strategies. Model and role play different ways to resolve conflict that will most definitely arise while students play. While the focus is math, there is also a LOT of work being put into getting along, dealing with conflict or different ideas, and different personalities.
Another important part of the success will be making sure the rules are simple and clear so there is less arguing over how to play. Demonstrate each new game with the class to ensure that everyone knows the rules.
Same Game, Different Theme
Once I find a game format that my students enjoy, I will often make variations on the theme of the board, while keeping the format consistent. Students feel like it's a "new" game, and at the same time enjoy the familiarity.
One of our favorite games is Snakes and Ladders, so we made some seasonal board games using that idea. Since we work with numbers up to 120, we added to the usual 100 chart, and made the "snakes" more seasonal. You can download our set of 10 games at the end of this post!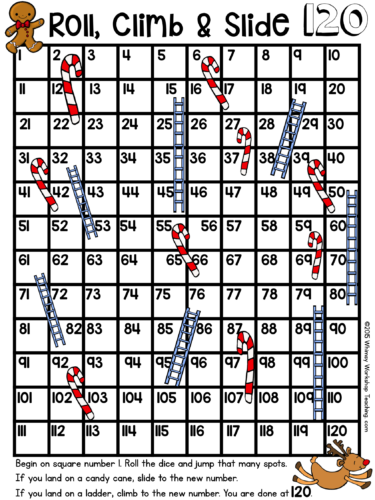 Using dice, students jump, climb and slide along these "snakes and ladders" type of boards.
They record the equations as they go on the differentiated recording sheets. I always have a recording option for that bit of extra practice and for my own assessment as I walk by the games.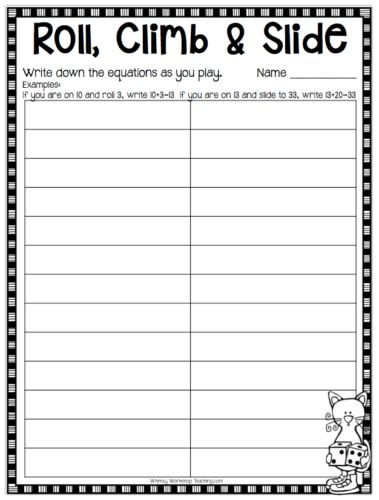 Differentiated Levels of Play
There are usually many ways to differentiate board games to meet the needs of each student. For example, when playing the games above, students could:
*Roll 2 dice. Write and solve the equation before jumping.
*Roll 3 dice, or use 8 sided dice.
*Keep a running total in their equations. Example: Start on 10. Roll 5. Write 10+5=15
*Missing Addends: Land on 15. Climb the ladder to 8. Count to solve 15-?=8. Write 15-7=8
Phonics Board Games
We also use board games to support phonics and sight words. This is essential to my phonics program because students are highly engaged, practicing with motivation, and completely independent. I always include recording sheets for some extra thinking and writing practice, and so I can walk by and instantly assess how well they are learning.
The fact that I can print and laminate a year's worth of literacy centers in one shot is nice as well!
Phonics Game Boards Bundle
You can see all 70 of the phonics game boards in one bundle by clicking HERE.
Seasonal Math Games
If you'd like to try our set of seasonal board games in your class, you can download the whole set. They're free!