When students learn to read and write, they focus on individual letters and their sounds. However, this can be overwhelming as there are 26 uppercase and lowercase letters to know. So, the Science of Reading transformed how students learn individual sounds and phonemes with sound walls. By using sound walls in the classroom, teachers begin with teaching the sound and then move to print. This is such a helpful way to focus on the 44 sounds in the English language. Sound walls help connect phonemes to graphemes while strengthening reading, spelling, writing, and fluency! Since these skills are essential for students to learn, the Ultimate Sound Wall Bundle has everything teachers need! Students will love learning about sounds with their sound wall!
What is a Sound Wall in the Classroom?
Essentially, a sound wall displays one poster for each of the 44 sounds in the English language. It is divided into vowels and consonants to help students understand the differences. Additionally, each sound poster includes all the letter combinations that might make a particular sound. For instance, for the /k/ sound, you might use c (cat), k (kits), ch (chameleon), qu (unique), or ck (duck).
Since students learn sounds and phonics skills one at a time, teachers can keep some sounds covered. When students receive direct instruction on them, teachers can hang up the card. Honestly, there is so much power behind sound walls in the classroom!
If you're planning a sound wall based on the Science of Reading, this has everything you need! Specifically, there are over 500 pages of materials to ensure students have a strong knowledge of sounds!
Sound Wall Guide
Starting a sound wall does appear daunting at first. So, there is a quick guide to help teachers get started. This explains how to set it up, the best ways to introduce it to students, and what to do with sight words. It even provides a scope and sequence and daily activity ideas.
Mouth Shape Articulation Posters
There is a complete set of articulation mouth formation posters organized by phoneme! This is so helpful as students learn correct pronunciation.
Mini Sound Walls for the Classroom
This includes a set of 15 differentiated mini-sound wall posters for student reference! Additionally, there is one to add sight words under the appropriate phonemes and editable versions. Honestly, this resource is so helpful as students learn about sounds!
There are also editable cards to add your own words and images!
Sound Wall Phoneme Poster Sets
Specifically, this includes 5 complete and differentiated sets of sound wall phoneme posters. Additionally, teachers can print them in a smaller version to place in a writing center. There are multiple options to ensure teachers have styles that fit their classrooms.
The posters are color-coded on their borders according to phoneme category, such as vowels, glides, and fricatives. Everything is incredibly organized to ensure students always have access to sound walls.
There are even colorful lock posters to cover the phoneme posters not taught yet! This helps ensure sound walls are not overwhelming and keeps students engaged in the current focus.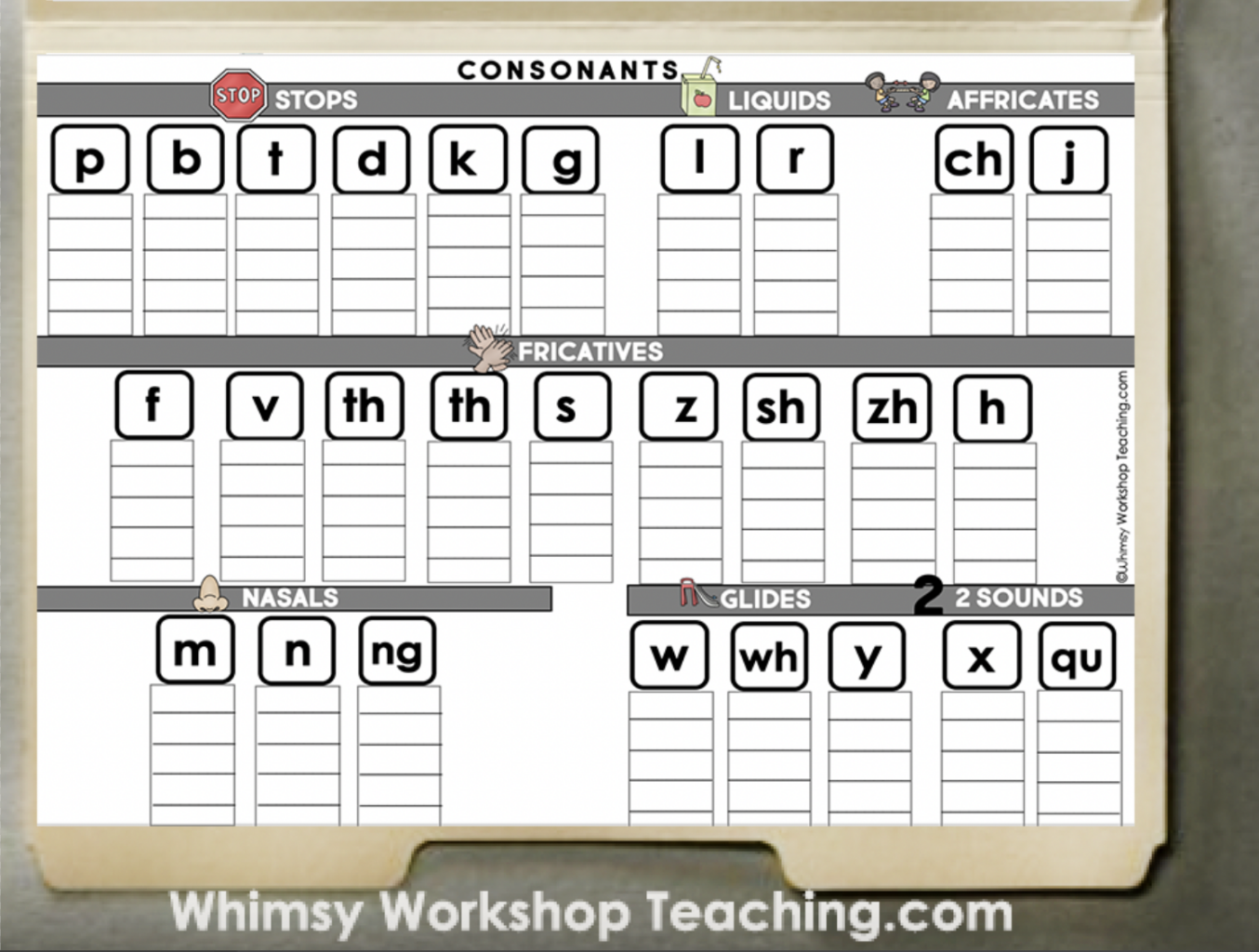 Phoneme Words Cards
A double set of 250 cards matches each phoneme and grapheme on the sound wall! One set focuses on the word, and one focuses on the phoneme.
Sound Wall Headers
When using sound walls in the classroom, correct vocabulary is vital. So, there are all the category cards you'll need to set up sound walls in the classroom. This includes fricatives, affricates, glides, stops, vowel valley, and more!
Sound Wall Activities in the Classroom
Honestly, there are so many ways to incorporate sound walls in the classroom! So, I will share a few suggestions that my students love each year. Best of all, they all reinforce phonemes through fun, enjoyable activities.
Phoneme Detectives: Students become detectives while hunting for focus phonemes in short books! If possible, students can work with a partner.
Personal Mini Sound Wall Folders: Teachers can make personal folders for students to have their own sound wall reference when working in another room.
Literacy Centers with Phoneme Sorting Activities: When doing this, include activities that contain nonsense words. This ensures students are not memorizing words as pictures but fully grasping the phoneme/grapheme correspondences.
Personal Sound Walls with Blank Spots: Students can either create their word lists or copy from the class word lists.
Honestly, there is so much power behind using sound walls in the classroom! Students learn phoneme/grapheme correspondences while learning all about sounds. Ultimately, a sound wall allows students to gain so much confidence in their reading, writing, and spelling abilities! 
If you do not want to miss any of the upcoming lessons, join my email list to be notified of all the interactive lessons coming up! By joining the email list, you will receive freebies for blog exclusive subscribers!