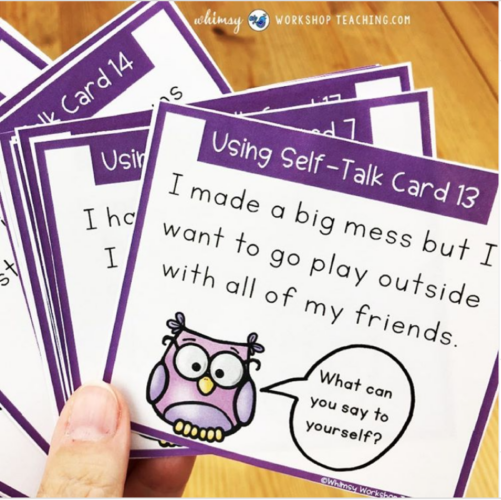 SOCIAL EMOTIONAL LEARNING
Years ago I would get some disapproving looks when I mentioned how much classroom time I dedicate to social emotional learning. "What about the curriculum! You'll never get through it all if you don't start right away!"
But I did get through it all, sometimes with time to spare. Why? I found that if we solidified expectations for kindness, inclusion and self-management early, and spent a LOT less time on disruptions through the year. Plus, we were shaping future citizens; it's not just about getting through this year – it's about skills students will need for success throughout their lives.
That's not to say that it was smooth-sailing every day. We still revisited and reinforced social skills daily. However, the overall atmosphere of peace and happiness allowed us to get through a lot more curriculum than we would have otherwise.
I feel strongly that as teachers we are responsible for teaching the whole child. My goal is not just to teach academics, but to teach skills that help students recognize and manage their own emotions, foster a growth mindset and treat others with compassion and respect. I want these things for my own children, so why not for my students?
My main goal as I begin each year is to directly teach concepts like self-management, anti-bullying, respect, inclusion, conflict resolution, and gratitude. 

SEL PROGRAMS
So where to start? I've used a number of programs over the years:
The first program I tried over 25 years ago was called the Second Step Program.  It uses specific puppets that you can purchase within the program to act out scenarios with very young students.
The How Does Your Engine Run (within the Alert Program) was helpful in teaching students to become aware of their own energy levels (ie. too excited to focus), and the The Zones of Regulation also helped my students become aware of which energy zone they were in at any given time.
We were lucky to have the trainers from the Mind Up program come to our school and educate us on how to teach mindfulness to our students. I would highly recommend investigating any of the programs I've listed above to see if they are a good fit for your students.
The year-long program I currently use is called The Kindness Classroom, and I've given some examples for the first few units below. I print and laminate the materials to use year after year. The class across the hall from me also uses this program, so many of our primary students are familiar with the same language and social skills being explored.
The full year curriculum is divided into 8 different units:
Exploring Emotions
Growth Mindset
Self-Regulation & Management
Kindness & Friendship
Conflict Resolution Strategies
Respect & Inclusion
Personal Responsibility & Citizenship
Gratitude

---
---
---
---
SOCIAL STORIES
One of the reasons I feel this program is so engaging is that each unit contains a read-aloud story based on a the same central characters.These 14-page books can be printed, or used as e-books, and they provide context for discussion of the new topic. The characters explore a number of social emotional concepts together, and I often hear students referring back to the stories when they make connections.
Even if you don't use a specific SEL program, there are many wonderful books with social/emotional topics to explore. You can see a list of them on a separate blog post by clicking here.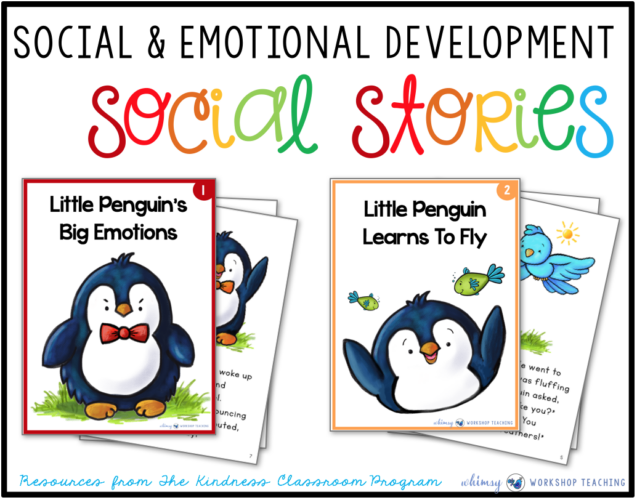 PARTNER PLAYS
The Kindness Classroom also contains 9 different partner plays based on the characters from the books, which are fun to perform with the class. If your students are able to write, students can create and perform their own partner plays for the class, based on events that are relevant to them.
 ROLE PLAY
Even if your students are too young to read and write, role playing can be a valuable way to explore SEL topics that arise in your classroom. Through the day, there are many situations that can become the topic of role playing. Perhaps there was an argument about sharing materials, or something happened out on the playground – these are perfect for discussion.
Role playing has the advantage of giving specific examples of what may have been said, and specific examples of responses. The best part is that the examples are relevant to your classroom, and can be done with only 10 extra minutes. The Kindness Classroom includes several opportunities to role play, and encourages students to discuss and common issues in the primary classroom.
JOURNAL REFLECTION
Journaling is an open-ended way to explore personal ideas about SEL topics. You can begin with a prompt, or give students the freedom to write about anything they like. The Kindness Classroom program has approximately 40 different journal prompt pages to choose from, ranging from topics like big emotions, growth mindset ideas, bullying, conflict resolution, making good choices and citizenship. These kinds of personal writing are often very revealing and provide me with a unique understanding of my students.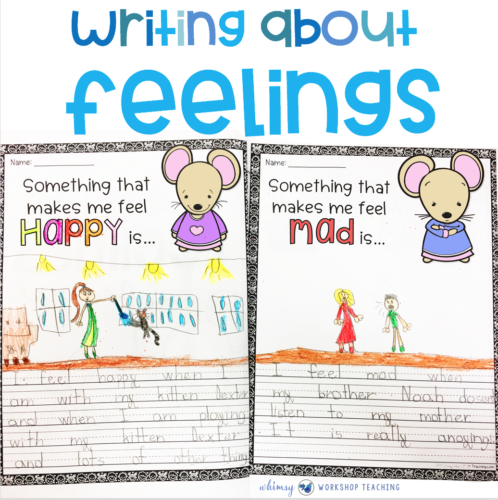 TEACHER SCRIPTS
One of the biggest frustrations I hear from teachers is the increased problems with behaviour and self-regulation. Even though giving time for SEL lessons is sure to help, it can be hard to know where to start, and HOW to start! What I love about using the Kindness Classroom is that the teacher scripts are included in the lessons plans so I don't have to remember what to say. I use the scripts as a guide to get started, and then let the conversation lead us. Having said that, the scripts also keep me focused on the main idea, and often introduce the next activity we will be using to explore the concepts. It's a real time saver!
SEL TOPICS TO EXPLORE
So what are the main topics to explore in SEL? Each classroom is different, but to begin I have to ask myself "What sorts of conflicts am I dealing with most often in my classroom?" Often I am helping students navigate a lack of understanding of other people's feelings. Other times, they are unable to recognize and deal with their own big emotions. So in my classroom, exploring emotions is the place to begin.
UNIT 1 OVERVIEW: Exploring Emotions
I have noticed that many students have never thought about their own emotions, and need explicit direction to recognize and label them. I have taught several children over the years who had great difficulty in reading emotions and body language in their peers. They also had trouble connecting specific emotions to the events that caused them. Because of these observations, we begin by looking at emotion cards and labeling not just the emotion, but possible situations that might cause someone to have that facial expression.
Also, students do not always realize that people may feel completely differently than they do about the same event or situation.We talk about how some people may find a roller coaster exciting, while others may find it terrifying. Another key concept: emotions are temporary, and this is an important thing to realize, even for adults!
Unit 1 of the Kindness Classroom program is broken down into 28 different activities exploring the concepts discussed above, including reading and discussing the story, journal writing, whole group games, and partner plays.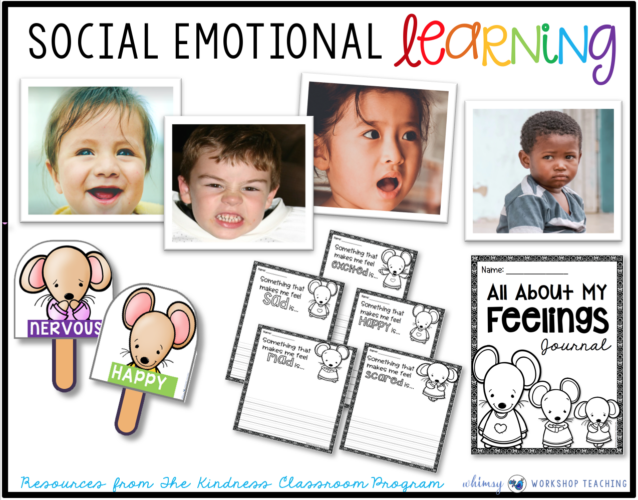 UNIT 2 OVERVIEW: Growth Mindset
Once students have an awareness of emotions, I want to make sure they are also aware of their thoughts! The Growth Mindset unit makes students more aware of their inner words, and how that affects their actions. It also reinforces a classroom environment where mistakes are perfectly okay, and just a vehicle for improvement rather than judgement. The story Little Penguin Learns To Fly explores these concepts, as do the partner plays, role play cards, flip books, journals, games, poems and art projects included.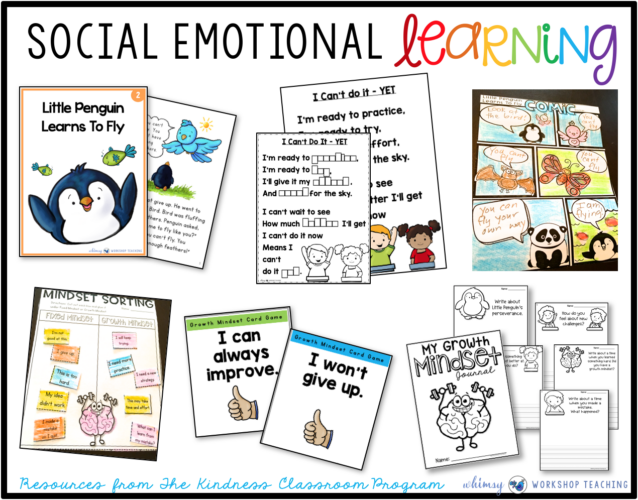 We also explore the "power of YET" in our positive thinking, create our own comics, and play board games to reinforce concepts.
After four lessons learning about perseverance and learning from mistakes, we put our learning to the test with a STEM challenge! Students are encouraged to embrace challenges. They are prompted to look forward to learning from their mistakes. They know to expect that they will have to change ideas that don't work out as they wanted.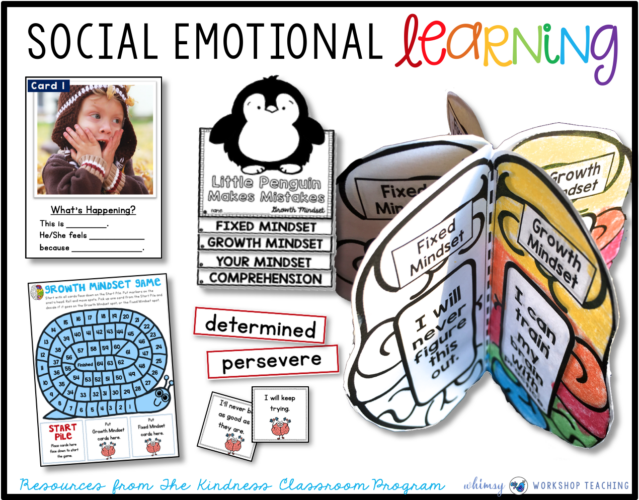 It's very powerful to watch students recognize their feelings of disappointment and discouragement, and then use their new skills to turn it into something positive. These are skills they will lean on throughout their whole lives.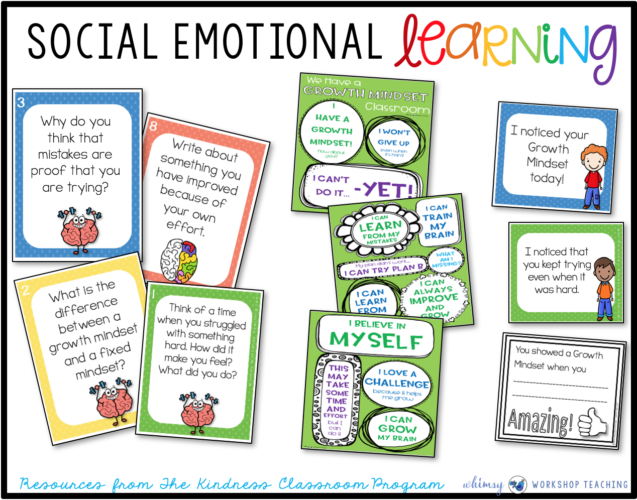 Take a Look Inside!
If you'd like to see more details about all 8 units in The Kindness Classroom, keep reading!
Take a look at some examples below, or click on any image to see a more extensive preview.
---
I've compiled a snapshot of each unit below, with visual images from each unit so you can see what's inside.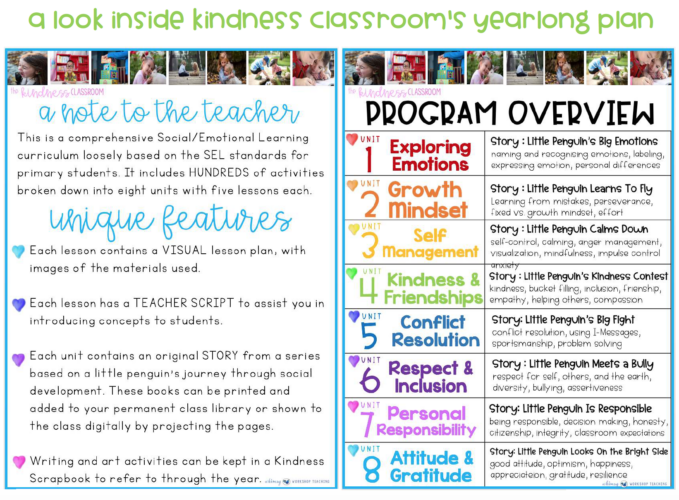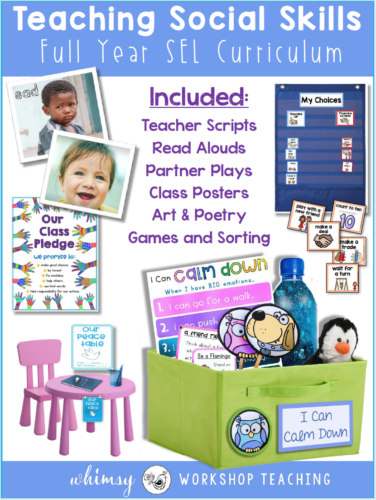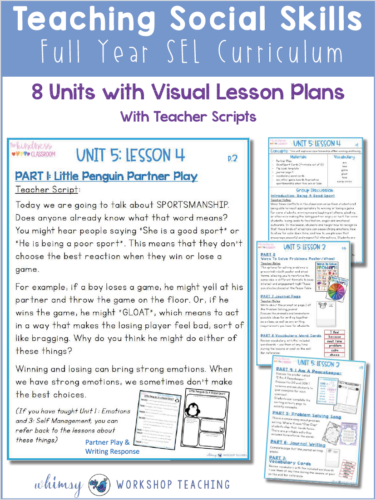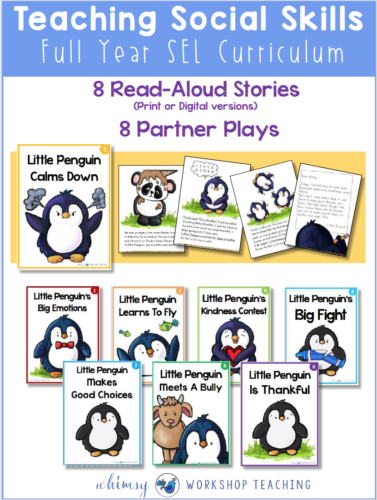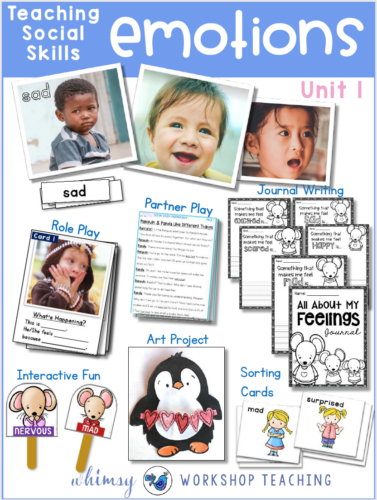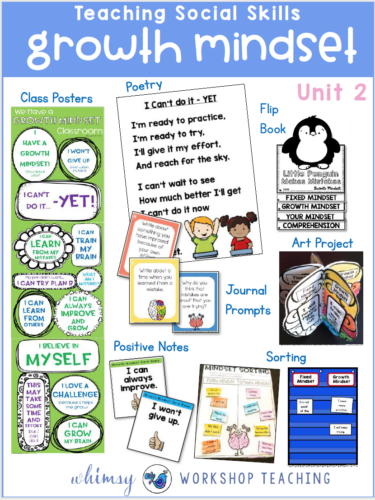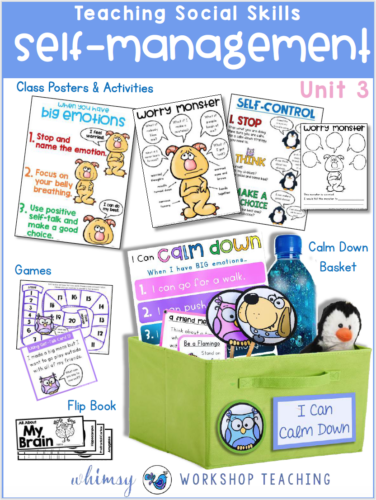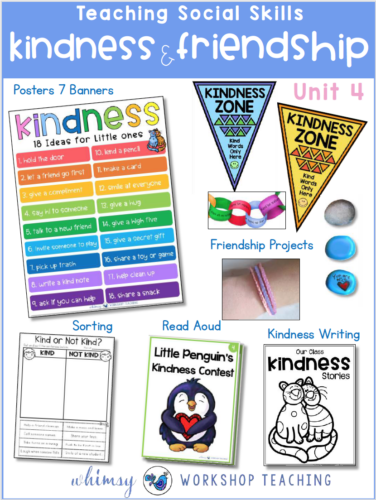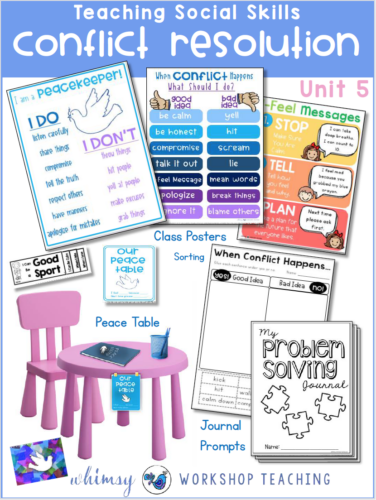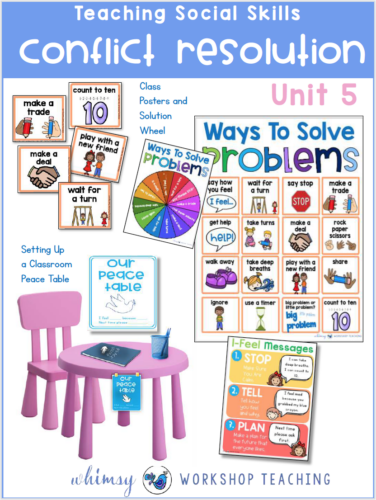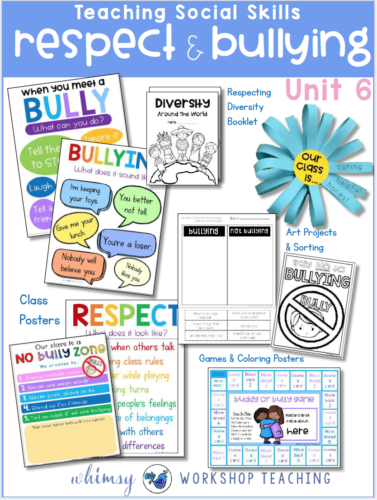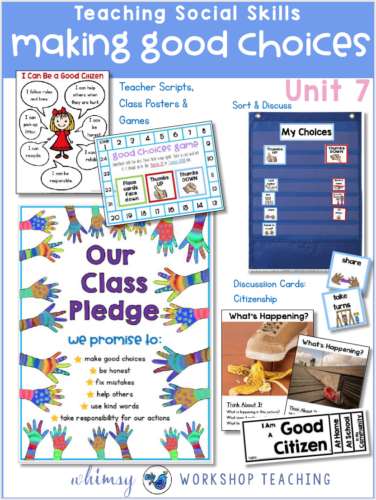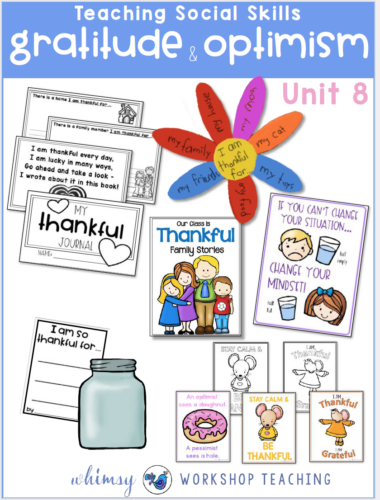 Click HERE  to see LOTS of pictures and sample lessons in the preview!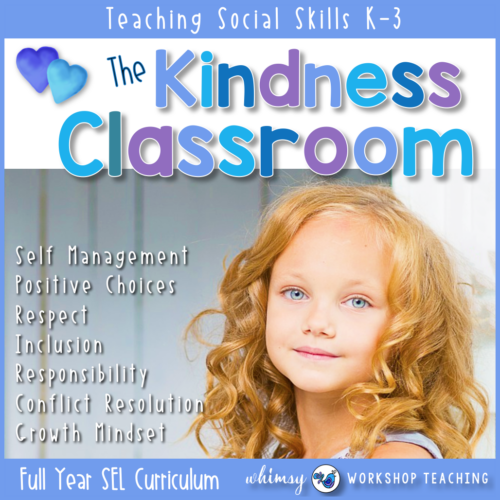 ---
SOCIAL STORIES
Do you use social stories in your classroom? These are simple social skills that are taught directly in ways that students can relate to and practice. These are game changers in my room  – take a look at the set that I use below. It includes an entire week of lessons for each topic!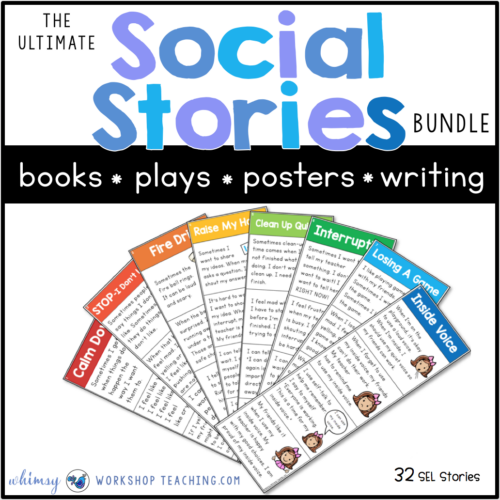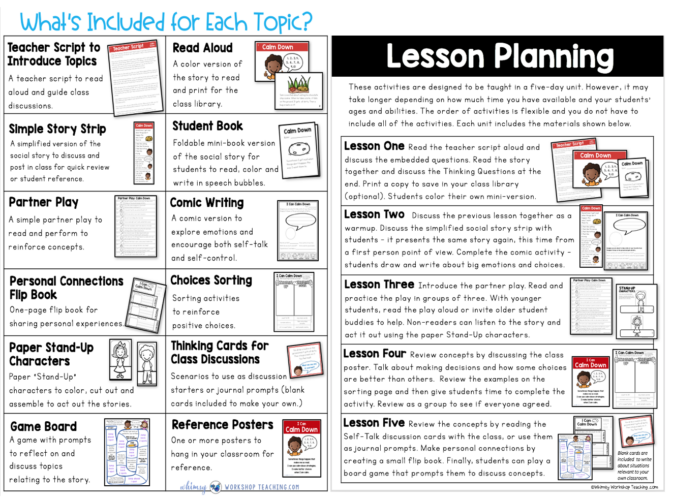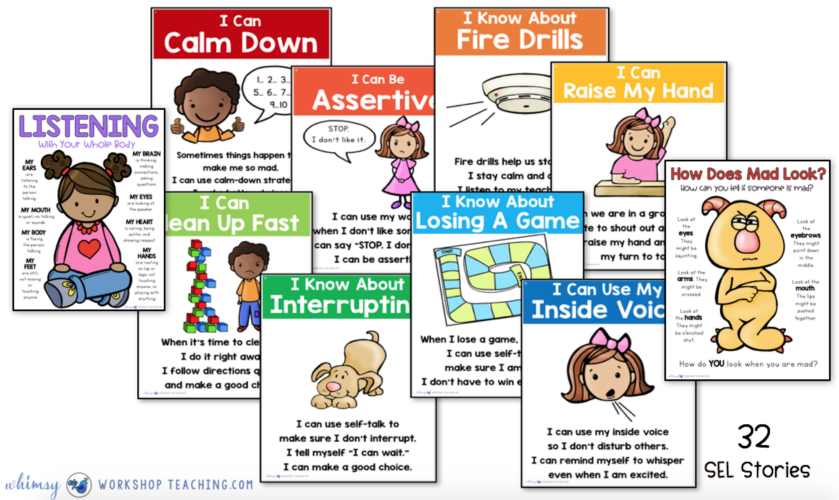 Pin for later!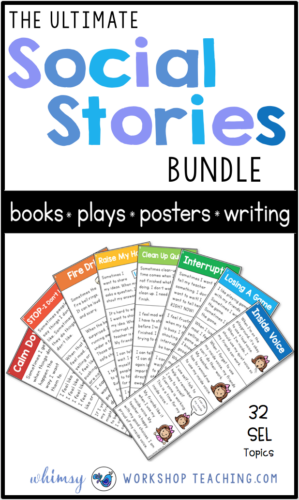 Pin for later!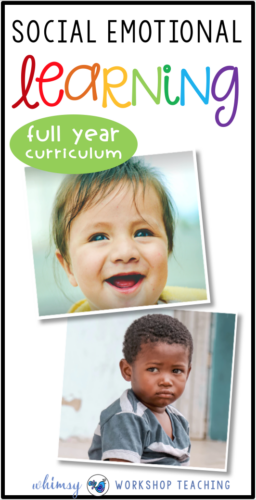 Pin for later!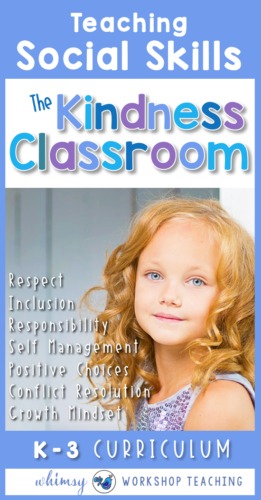 Here's a free download sample from Unit 1 – Exploring Emotions!
Students use any sort of clay or dough to make parts of the face. If students can read, they make facial features that match the sentence at the top, and check off the circles below using a ball of dough. Just print and laminate – they can be used with dry erase markers as well! Click below to grab them!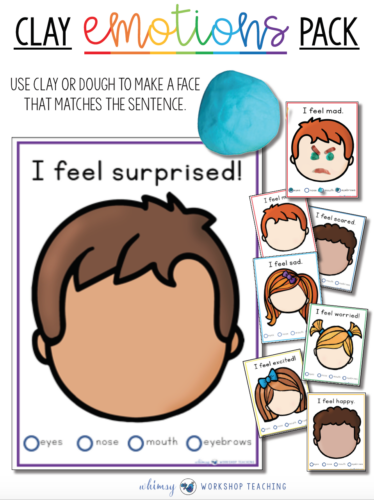 SOCIAL SKILLS – PAPERLESS TEACHING
What if you're in a rush, or your curriculum doesn't allow for a lot of extra time to address social skills? One idea is to use Paperless Social Skills Lessons – they project onto your white board so you have a new topic to explore each day for the whole year. PS: I use a similar activity each day for projectable MATH lessons (click HERE) and READING lessons (click HERE). I like to have the whole year planned out to make sure I don't miss anything (and it's much easier to use if you job-share with another teacher through the week!)
Here's how it looks: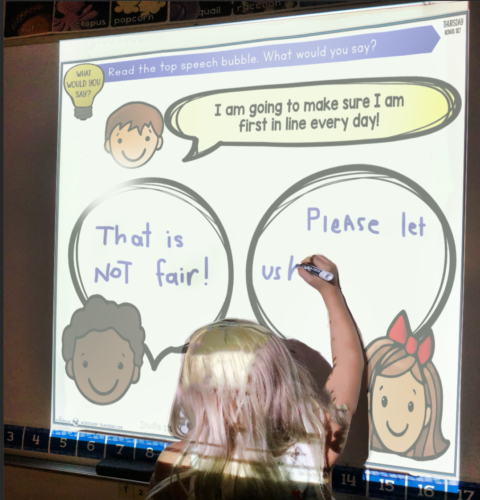 And here's the full year collection of topics: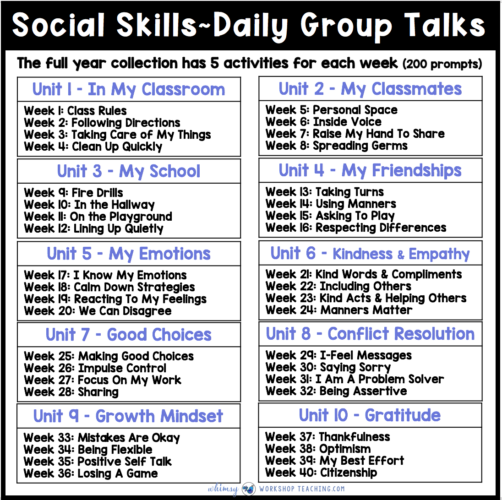 Click HERE to take a look at the full-year bundle of over 200 conversation prompts which are similar to the free sample above.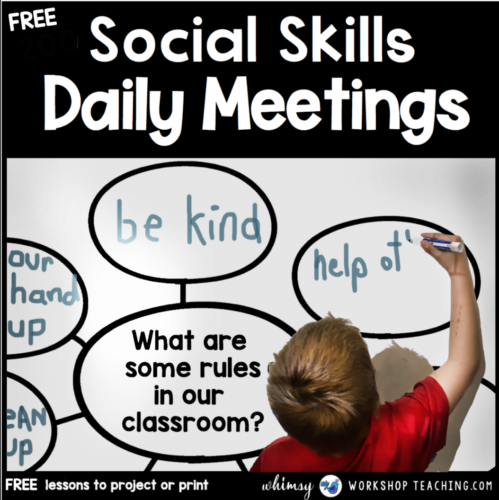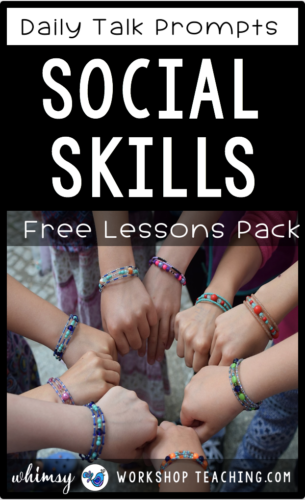 Thanks for taking a look!
Continue exploring with any of the links below: