Teaching about kindness and acceptance seems more important than ever, especially at Christmas.
Here's a fun and FREE activity to share with your class or children.
It's very easy: just cut out and assemble the two pieces of Santa's loooooong beard.
Students give Santa a trim each day – after completing the act of kindness written in each section.
Choose the version you want: PDF or  EDITABLE PowerPoint file (add your own acts of kindness to each section).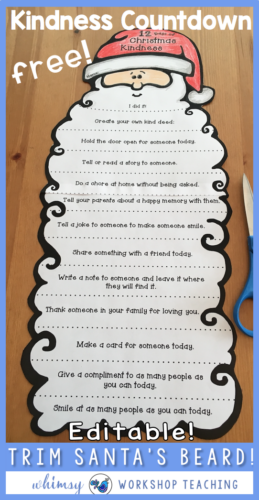 Some ideas for use:
 *Print the black and white version for students to assemble and color.
*Print the color version to hang on a bulletin or house display.
*Use the editable version to create your own personalized kindness ideas.
*Send home the blank version as "holiday homework" ; students use each space to record kind things they did over the holiday, and SHARE the ideas in January. This keeps the idea alive even when Christmas is over.
*Use the blank editable version to create your own projects or Christmas lists!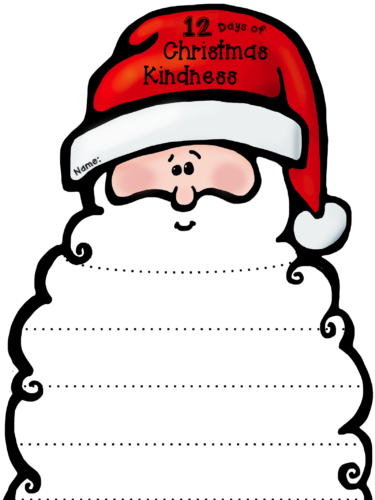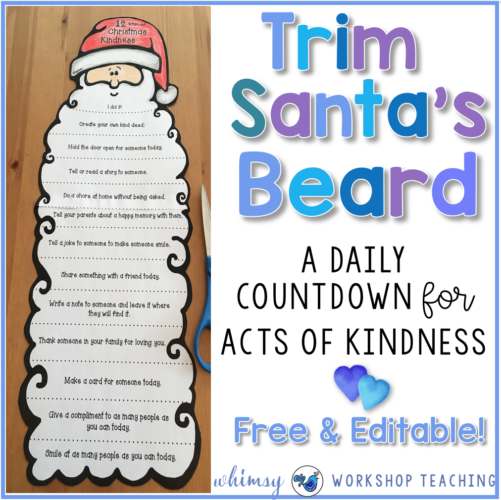 ---
Need More Ideas For Christmas?
 You can explore Christmas and Winter Celebrations Around The World, with lots of literacy and adorable art projects by clicking 
HERE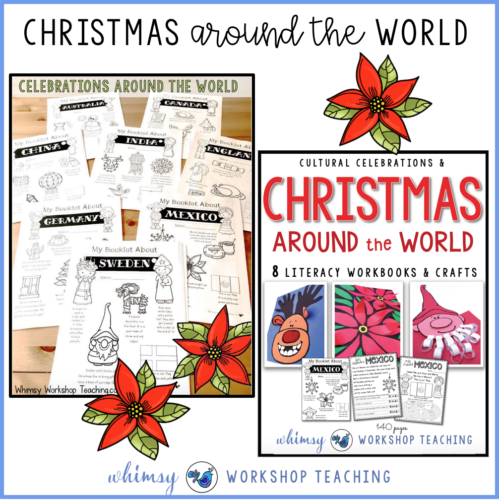 ---
Need More Idea for Teaching Kindness?
Check out an entire year of Social Emotional Learning lessons, stories and activities that will help to create a peaceful and productive classroom through essential social skills!
Click HERE  to see LOTS of pictures and sample lessons in the preview!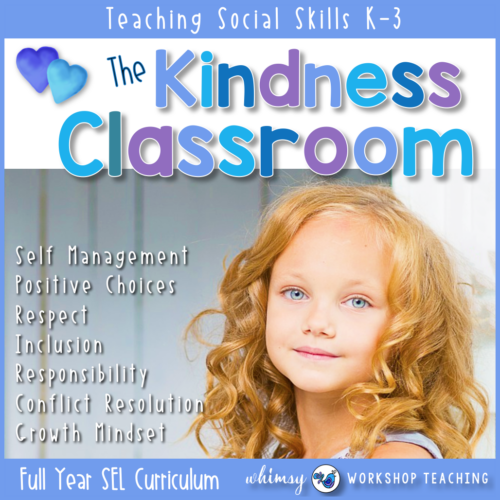 Pin these ideas for later!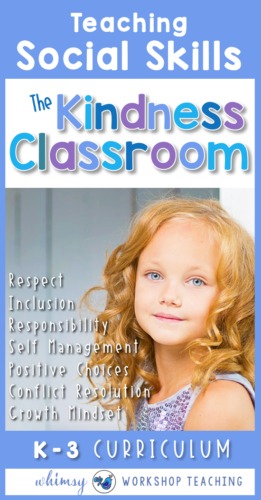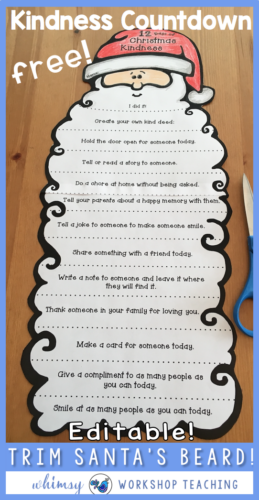 ---
 Need More Ideas for Seasonal Art?
If you'd like to see more step-by-step photo tutorials, you can choose from these huge collections of art lessons for elementary classrooms. Each has lots of photos, a teacher script to read aloud to students, and literacy components to deepen thinking and expression through writing.
Seasonal Art Ideas: 8 easy crafts for busy teachers for each month! CLICK HERE to see the collection from September to December.
Art History and Art Around The World: Easy art lessons and literacy components with photos and read-aloud scripts for teachers! This way you can teach art effectively without a background in art history.
CLICK HERE to take a peek!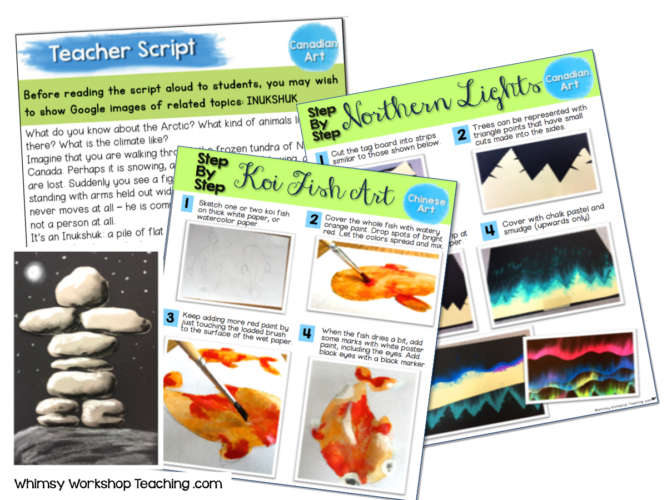 MORE FREE DOWNLOADS
You can access over 50+ free downloads by joining our VIP mailing list: CLICK HERE
You may also be interested in our other FREE downloads listed below!
These are informational blog posts with free downloads at the end of each post.
I hope you find some helpful resources!
Free Downloads: First Grade Writing
Free Downloads: Simple Art Templates
Free Directed Drawing Videos: Students Draw Along
Free Letter Sounds Song Posters
Free Educational FUN Math Videos To Play In Class
Free Poetry Collection (20 pages)
Free Online Stories Collection
Free Directed Drawing and Writing Templates
Free STEM Partner Play and Resources
Free Supported Story Writing Templates (Super Popular Downloads!)
FREE Simple Photo Directed Art Lessons
FREE Colorful Phonics Charts Downloads
Thanks for taking a look!
Continue exploring with any of the links below: