I strive to make my classroom a place where students feel safe, appreciated and respected just as they are.
My classroom banner says simply: "Be Kind. Work Hard."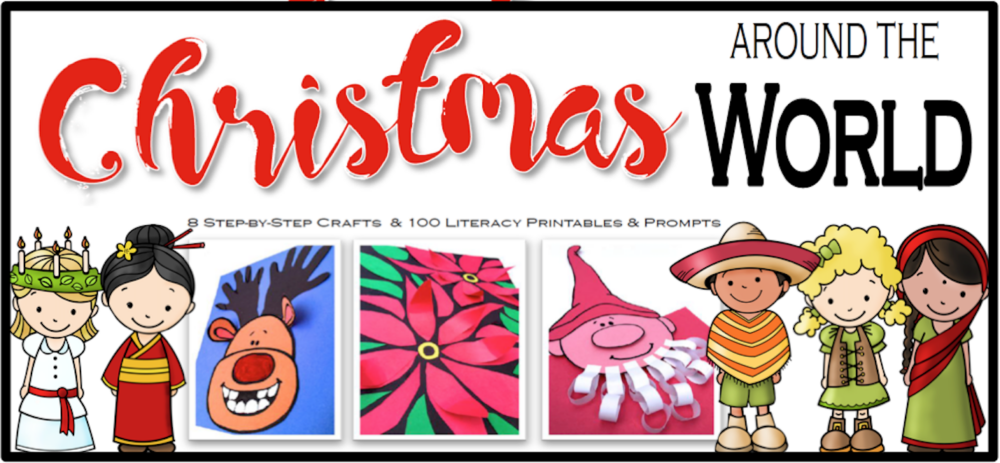 These ideas are reinforced all year long, but there are some special ways that we spread kindness in December for Christmas.
RANDOM ACTS OF KINDNESS
Each year we take the month of December to really focus on Random Acts of Kindness and caring for each other. If possible, I enjoy getting families involved. A few years ago we began making class books about random acts of kindness.
It's easy! Each student takes home a one page template to fill out with a family member. They can write about kindness they've seen or a personal story. Sometimes families have purposely gone out to commit an act of kindness just so they could write about it!
Hopefully this will encourage discussion of kindness at home, which will deepen the understanding and meaning for my students.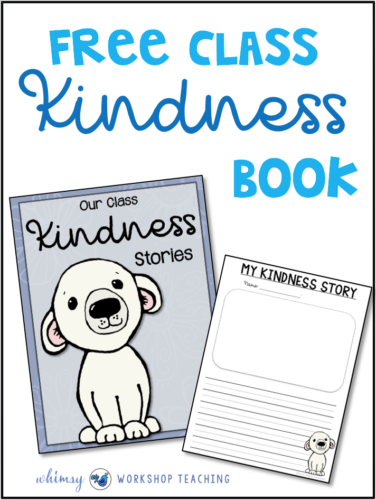 Once completed, I ask students to bring their finished papers back to share with the class. It's a very powerful conversation as students share their stories. Afterwards, we display them in the hallway, and eventually put them all together to make a class book.
Many students come by to visit many years later and love to read through their page again. Or, younger siblings who are in my class a few years later will say "I remember when my older brother brought this page home and we all talked about it!"
---

CELEBRATING CULTURAL DIVERSITY
My classroom is a diverse learning environment and it's important that we learn to embrace each other's different heritages and beliefs. A large part of this theme in my classroom is learning about other cultures and traditions. We strive to be open-minded, inclusive, accepting and embracing about people who may be different than us.
My students are always fascinated to learn about children from other cultures! We begin by fostering an enthusiasm and curiosity for other cultures.
Cultural Study: What Does It Include?
*Popular cultural symbols
*Cultural Dress and flags
*Two levels of close reading texts
*Sentence reading and writing
*Matching and missing words comprehension
*Compare and contract writing
*Mini-books for each country
*An assortment of supported writing prompts
*Cultural art
The Cultural Writing Booklets – in detail
Explore popular symbols of the country and celebrations, along with simple text information. Students read and color to create the cover of their booklet.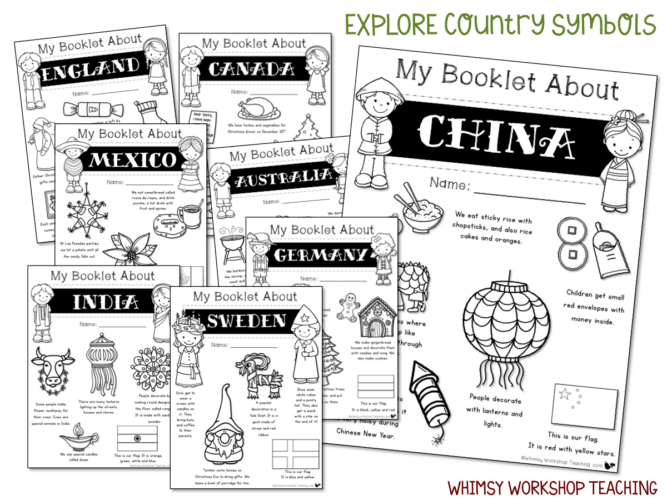 2. Explore the cultural dress, flag and location on the world map for each country.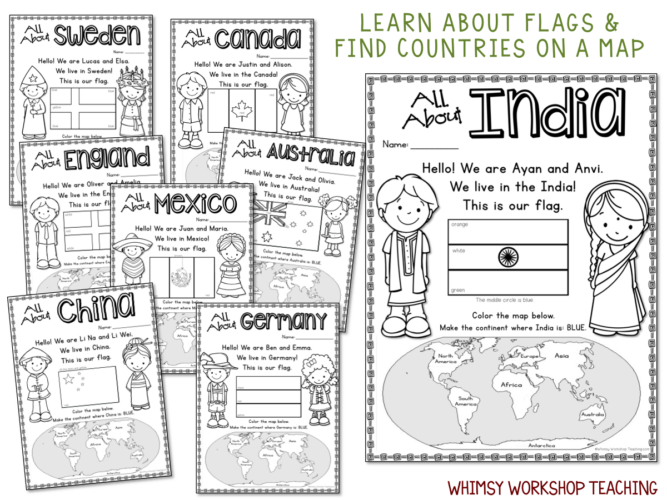 3. Choose from two levels of close reading text for each country.
Students identify answers with colored crayons and write the answer in a full sentence.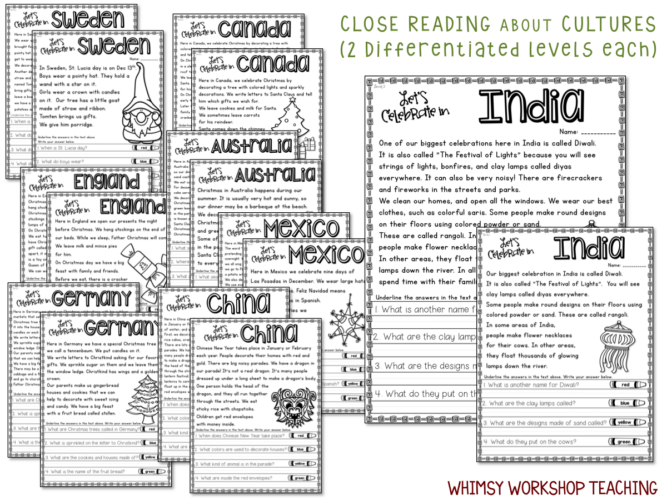 4. Read each description and glue the matching picture beside it.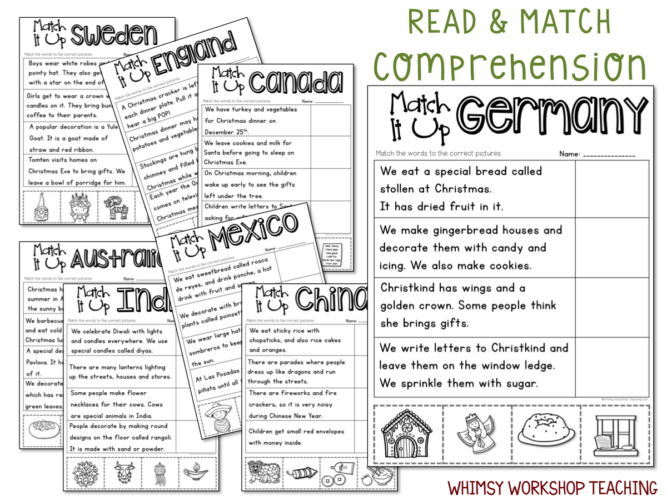 5. Use letter-shape boxes and a word bank at the bottom to find the missing words in the text.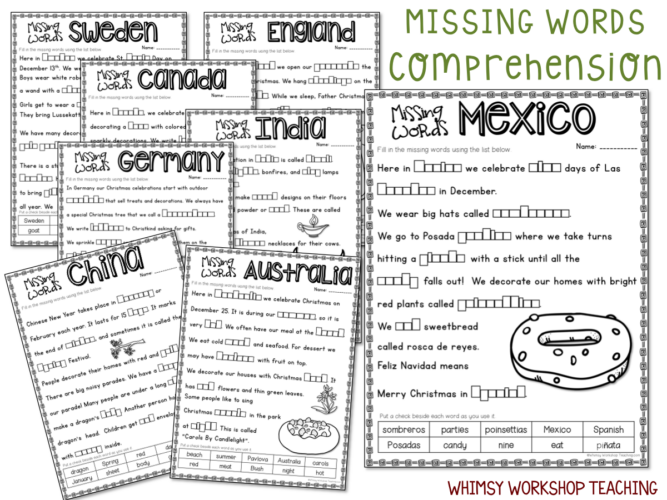 6. Cut and glue the missing words in each sentence for further comprehension practice.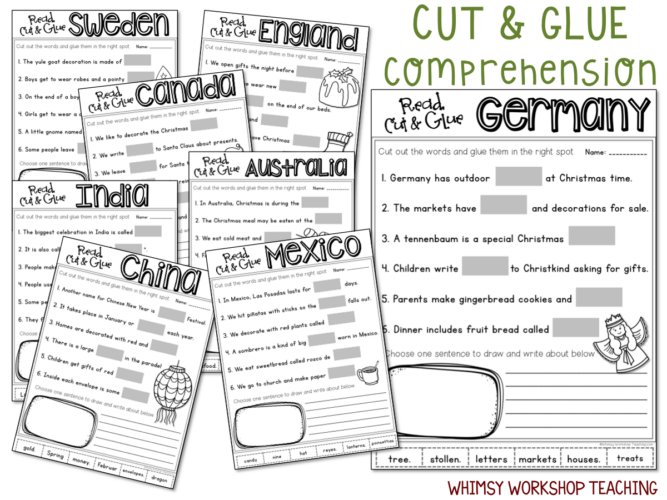 7. Writing Prompts: 8 sets of venn diagrams, foldable mini-booklets, and differentiated writing prompts for each country.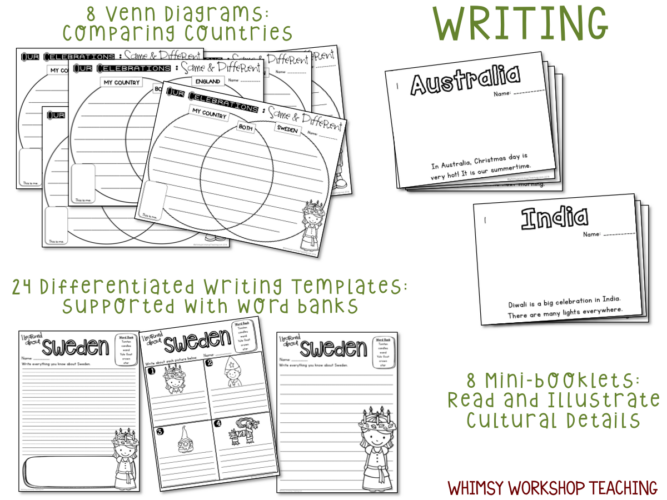 ---
The Art Projects
8. And now for the art! There are 8 Christmas art projects, one for each country to represent art in that culture.
Each project has step by step pictures, as well as templates for photocopying.
They are all colorful, simple, and make stunning bulletin board displays. Many of them can be used alone, even if you are not studying different cultures specifically.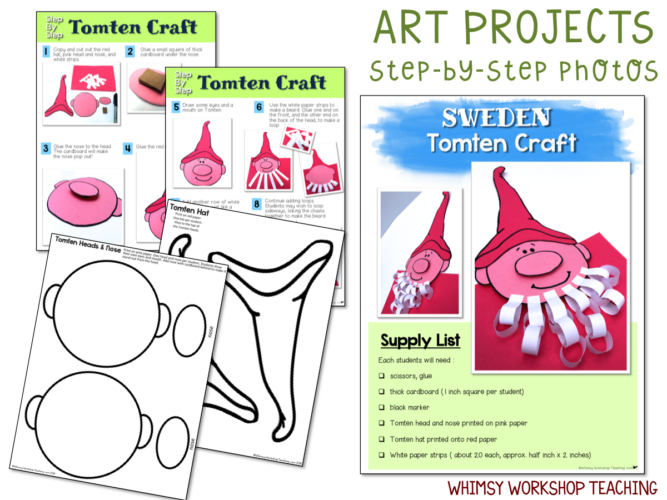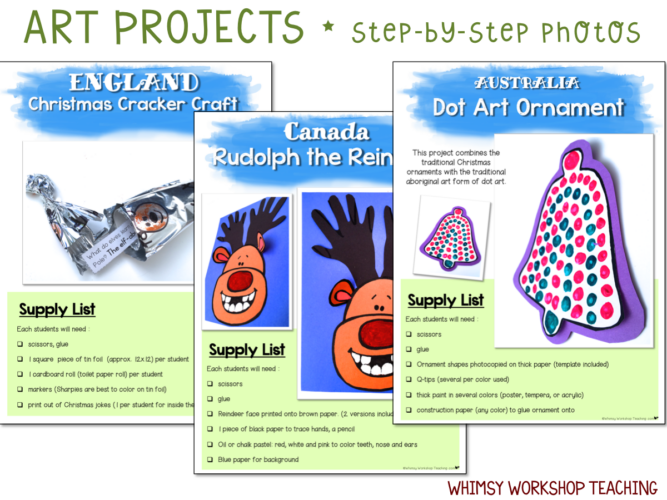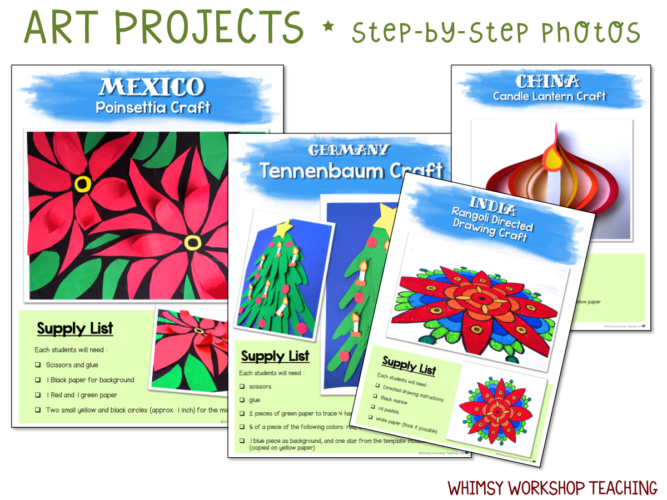 You can try several pages from the Mexico set described above by clicking the blue button below.
Pin this freebie for later!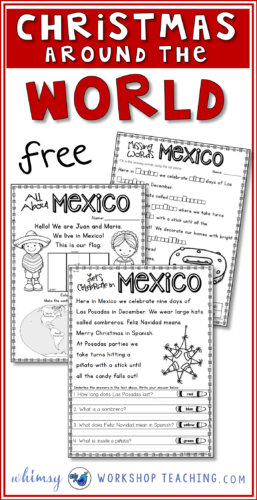 ---
FREE Christmas Flip Books
I have been adding more and more content to the Christmas Around The World Bundle! My latest addition is a set of 8 flip books – one for each country – that only take one piece of paper to make! Students can assemble them independently, so you can even throw them into your literacy center!
And yes, you can grab them for FREE by clicking HERE!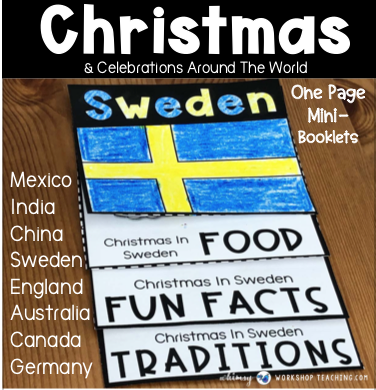 ---
Multicultural Christmas Tree Art Project
One of our favorite art projects to represent and celebrate our respect for the cultures we have learned is pictured below. It's a 3-D Christmas three with flags of different countries decorating it.
If you'd like to try it with your students, you can download the templates for free!
Just print on green paper, fold each tree in half, and glue as directed.
All the flag decorations and star templates are also included, or your students could decorate it any way they like!
Everything is in the downloadable preview for the unit described above.
Click HERE and enjoy!
---
…and one of my favorite projects EVERY year – for years now, is a random acts of kindness project.
Through completing this Christmas tree activity, my students start to experience first hand the importance of kindness, and the huge impact kindness can have on others.
Students trim Santa's beard a little bit each day as they complete acts of kindness written in that spot!
(Editable version included to create a personalized list!)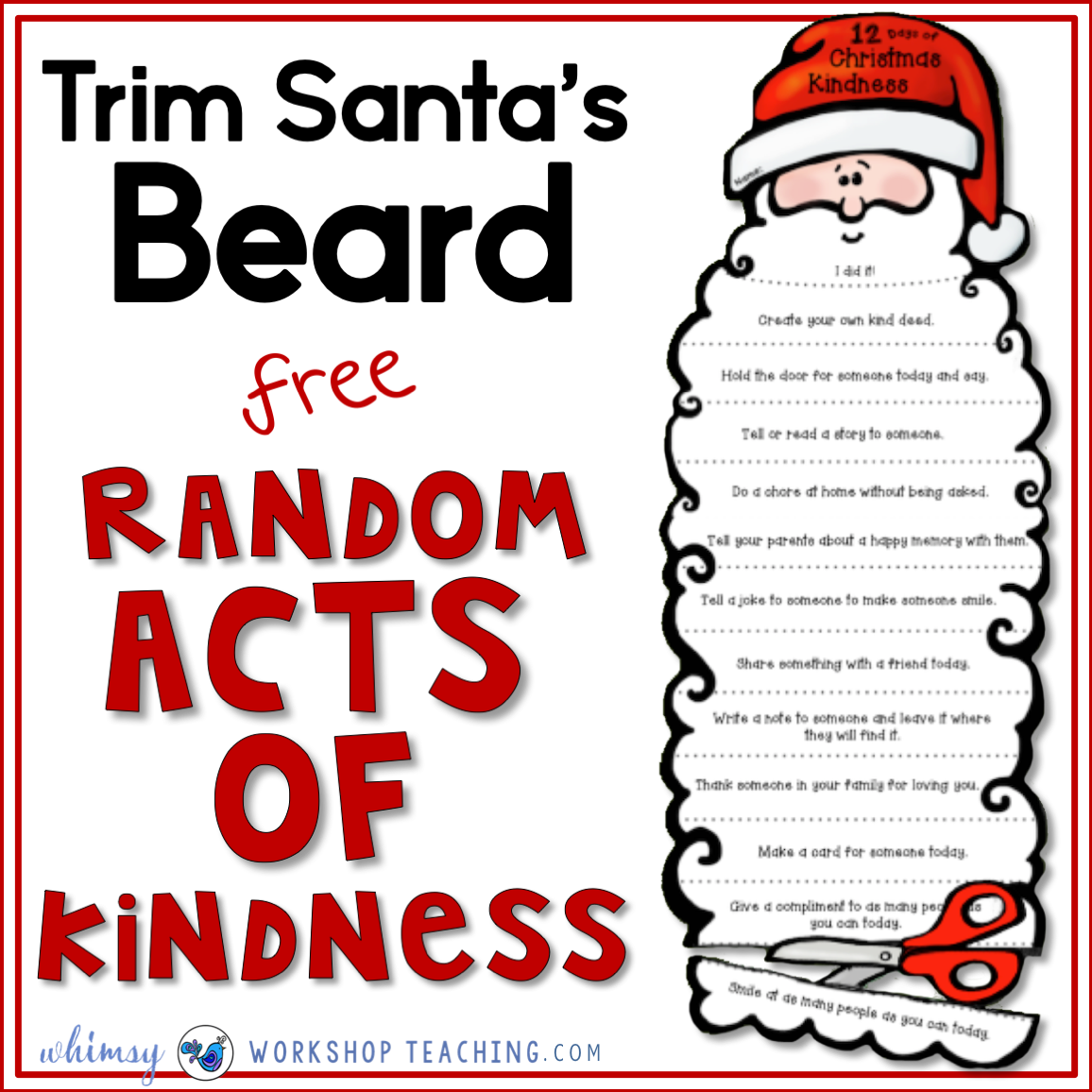 Click HERE to read more about this!
Pin this freebie for later!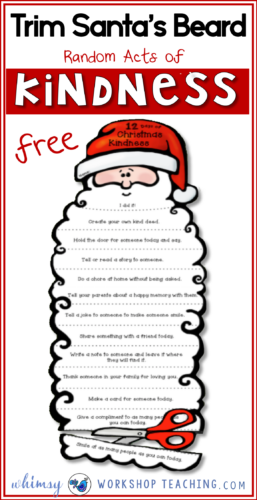 ---
SANTA LETTERS TEMPLATES
UPDATE! While I'm sharing my Christmas freebies, I've added one more to the list!
This time I'm happy to share the templates I use for writing to Santa in my classroom.
Because I teach a multi-age class, there are several differentiated versions. I've also included one template for winter writing.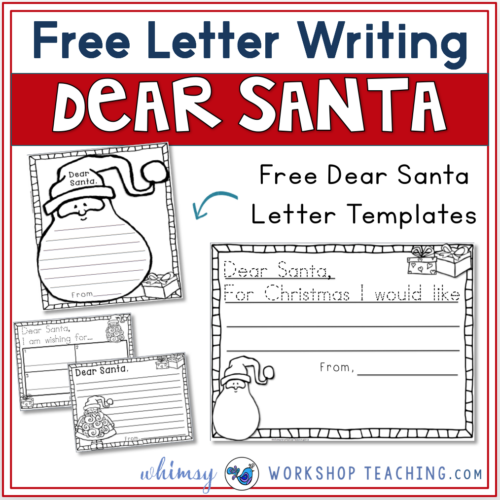 Pin this freebie pack for later!

---
KINDNESS POSTER
Surround your students with messages of kindness!
You can get started with this free printable poster – click the blue button below!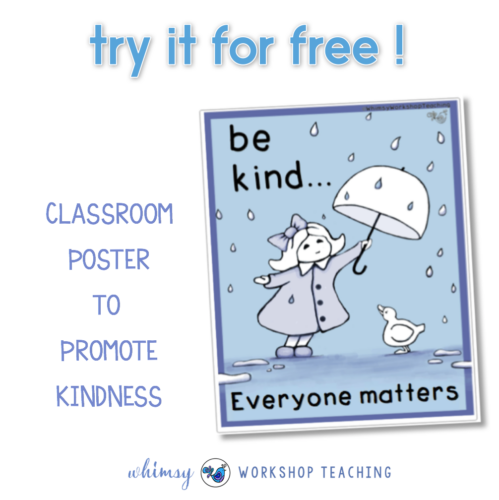 Pin this post for later!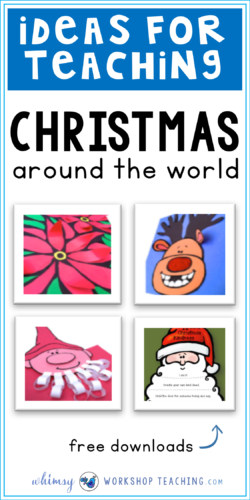 Need more simple free craft ideas for winter? Click HERE to see a BUNCH more!!
---
KINDNESS NOTES
Another one of my favorite activities is Kindness Notes.
By December we are very good at giving compliments to each other, and we've written kind notes to our Special Helper of the day a few times.
For this activity, I partner students secretly and they make a little note for their partner. It is folded up and taped inside one of our Stand Up characters. We have used reindeer, Santas and this year: Elves!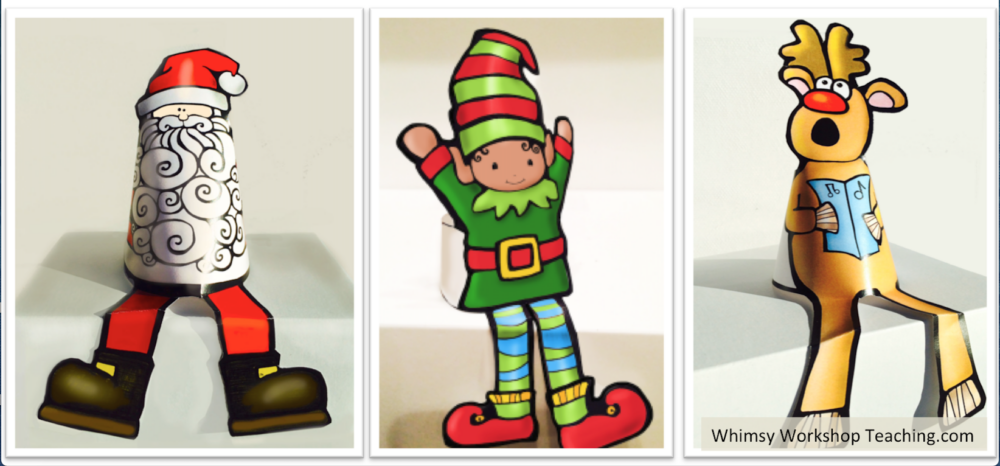 The ones pictured above are the printable color versions that we use for class decor. Students use the black and white versions to color, cut out and assemble.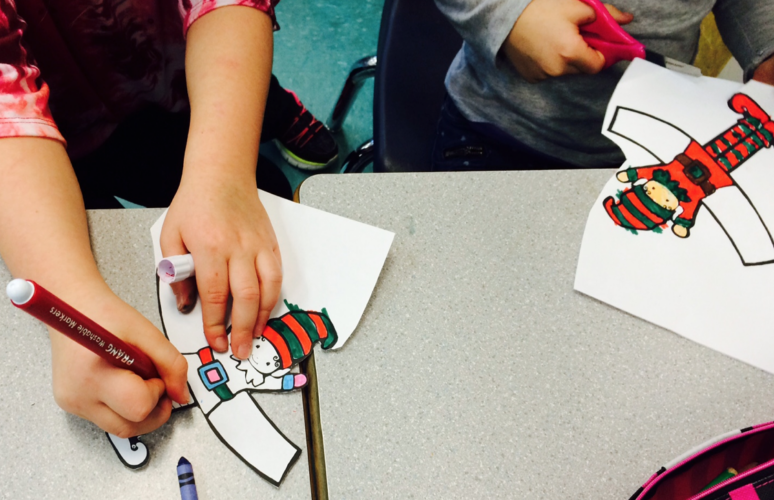 Once everyone had made their stand up elves, we tape the kindness notes inside and deliver them -all at once – to the desk of the recipient.
Students return to their desks to find a cute elf and look inside to get their note! This is so sweet to watch, and lots of reading and writing practice!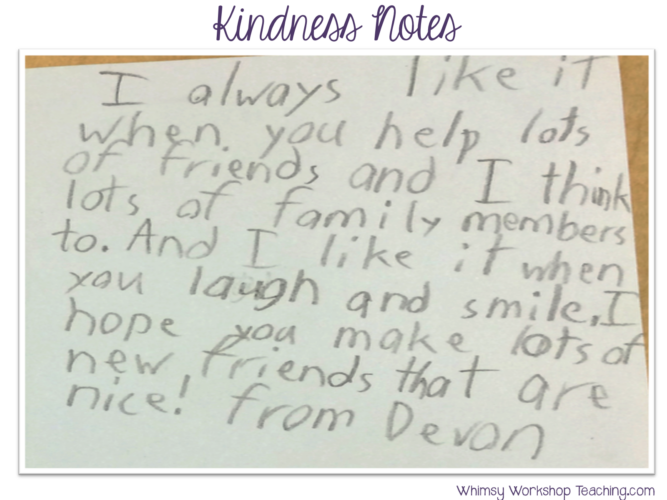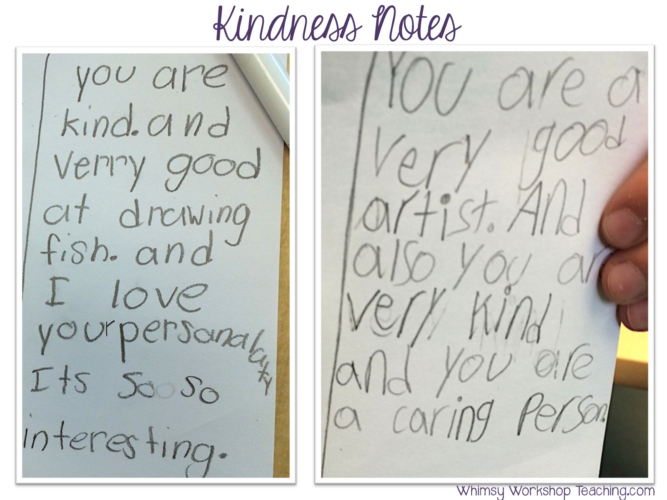 You can read more about these Stand-Ups for Christmas (and fairy tale characters!) by clicking HERE.