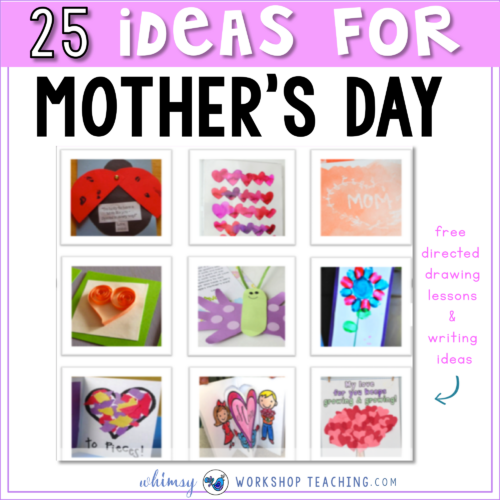 This will be my 25th year searching for cute new Mother's and Father's Day ideas! Because I often have siblings of my students from previous years, I don't want to repeat those ideas too often.
I've collected a big list of ideas, most of which I've tried in my classroom to see how well they work out in real life!
The first one is super simple: a bouquet of paper flowers with a twist! Each flower stem has a coupon that mom's can cash in for a favor such as a free hug, a clean bedroom, clean dishes, etc! See the step-by-step directions below: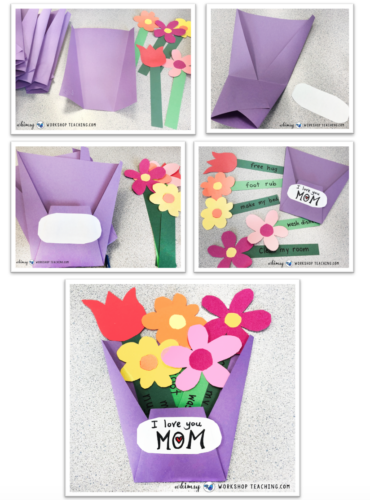 Step 1: Cut green stems and write a promise on each one. Glue to flowers.
Step 2: Fold a purple paper as shown above. Glue on a white oval that says "I love you Mom!"
Keep reading for more ideas!
The links to the original posts are included so you can find more information.
Circle Flowers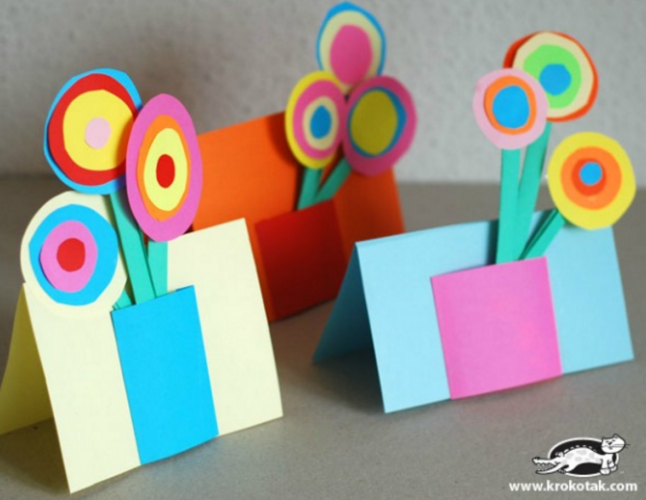 We tried it and they were so cute! Below is our version, which made a lovely bulletin board display and would be beautiful any time of year.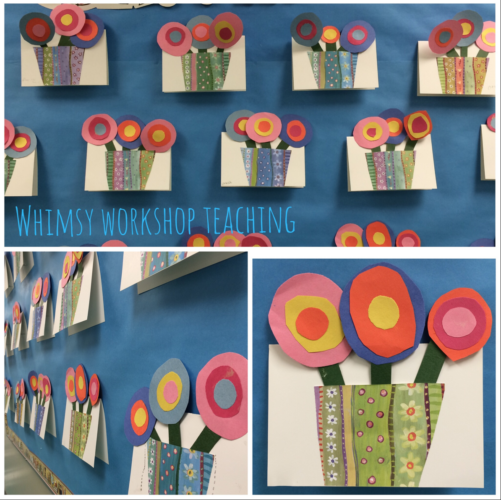 ---
Heart Tree
I had this one originally in my Valentine's Day collection, but I think it works well as a Mother's Day card too! It's perfect for younger students, especially with the tree and writing already printed out for them.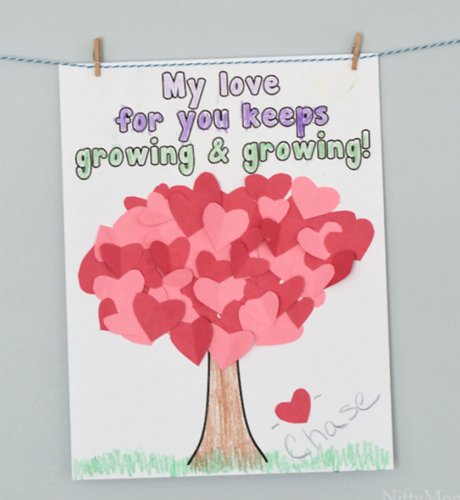 ---
Curly Hearts
Students love to curl the paper around pencils – this is easier than it looks!
Click the pictures to see the source.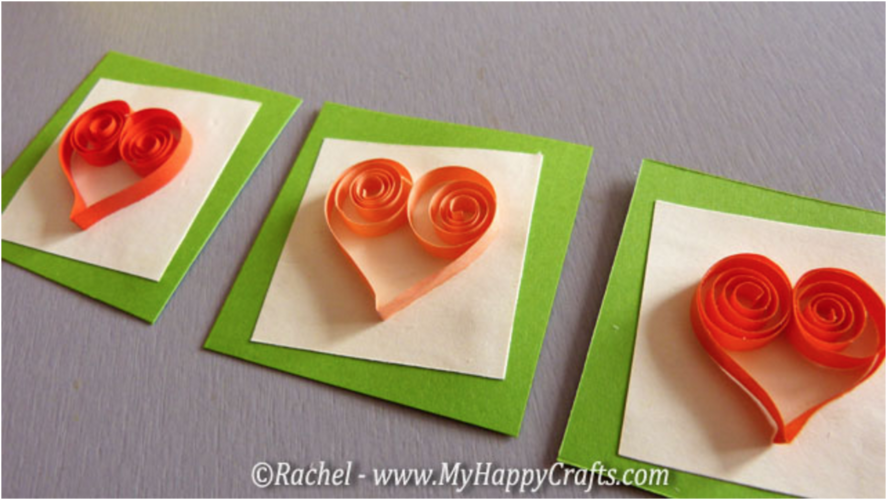 ---
Butterfly Hands
Super cute and simple idea. We something very similar with Kindergarten students many years ago and it was just right in terms of difficulty and prep. Look at the sweet little poem that goes along with it.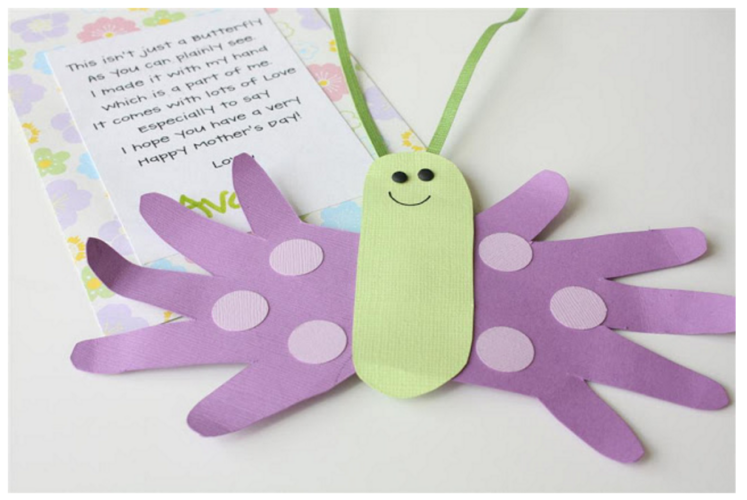 ---
POP-UP CARDS
Do your students like Pop-Up cards? Have you tried making them?
We did – and it was a huge hit!
Here is a free download of the Mother's Day cards we made. It was simple – just two folds and a small cut on the dotted line. My students thought it was MAGIC.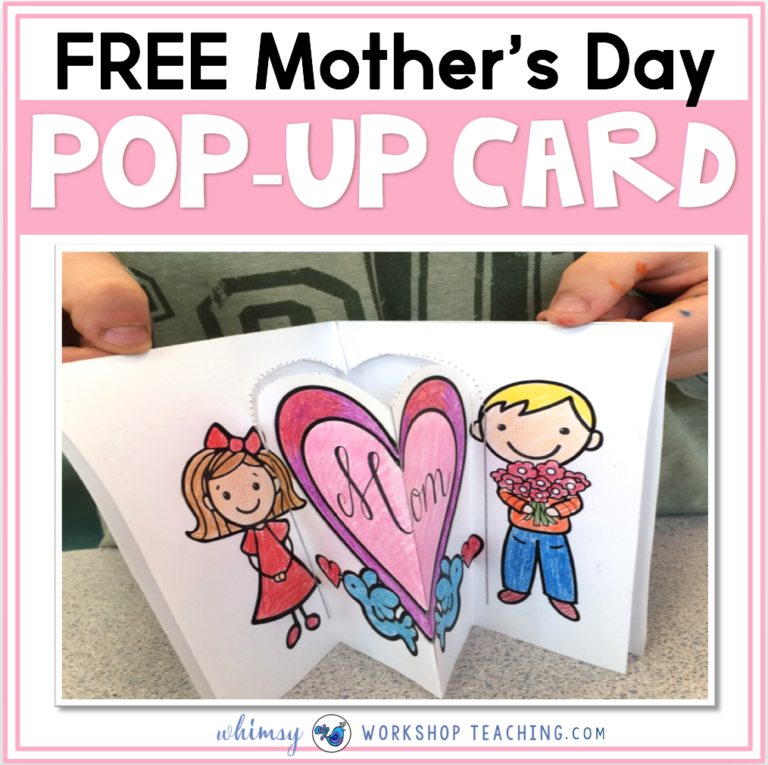 ---
More sweet ideas…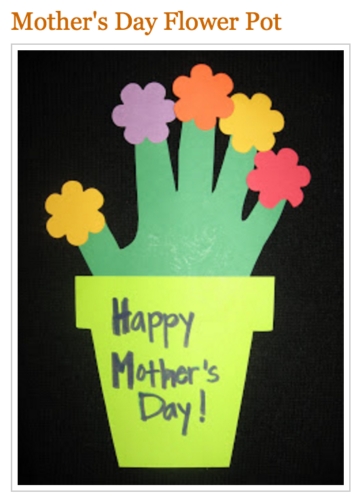 ---
Newspaper Headlines
Looks like Mom made the front page of the newspaper! Kids love filling this out for Mom.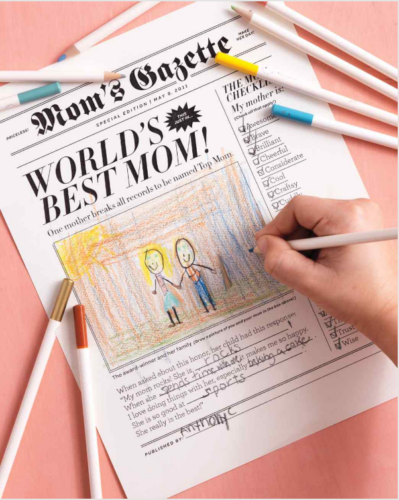 ---
Love You *This* Much
When we tried this one a few years ago, it was lovely, but definitely didn't look this perfect!
Students traced their hands, cut them out themselves, and did all their own printing. I'm pretty sure some of them were missing fingers! But it was cute, and the parents didn't seem to mind.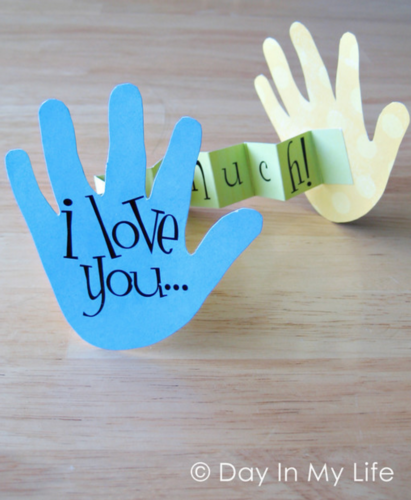 ---
All About Mom
If you've got a good sense of humor, these are really funny. The parents from my class got a huge kick out of the answers the students came up with. These templates are a free download HERE.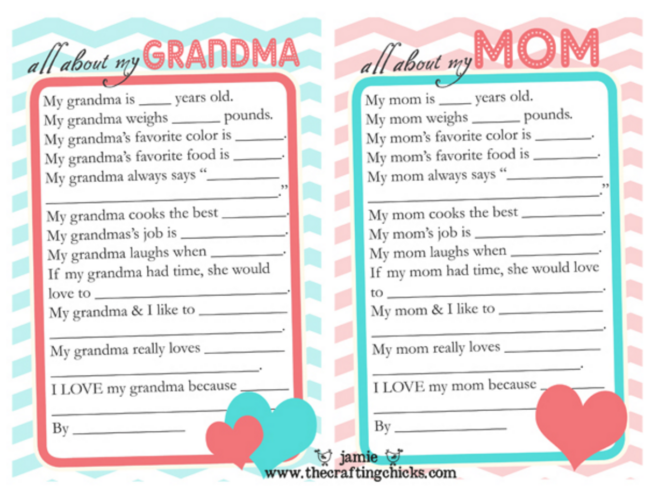 ---
Handful of Flowers
We used paper for the stems and made our own flowers, so it didn't look quite so fancy! But the idea was so cute, and moms loved it.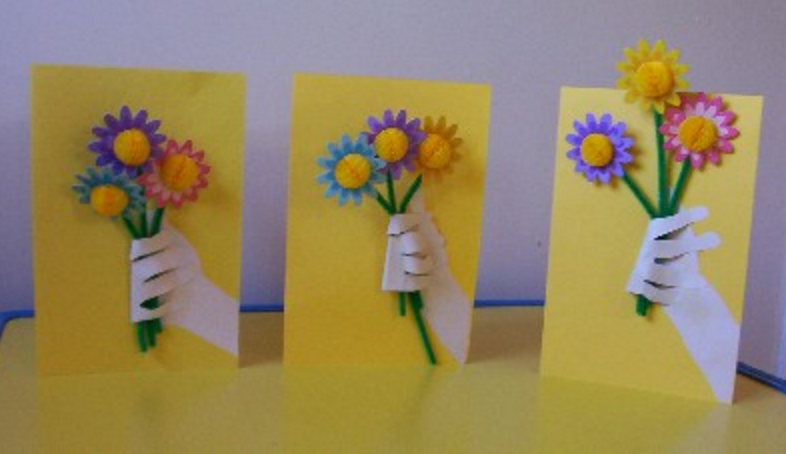 ---
Love You To Pieces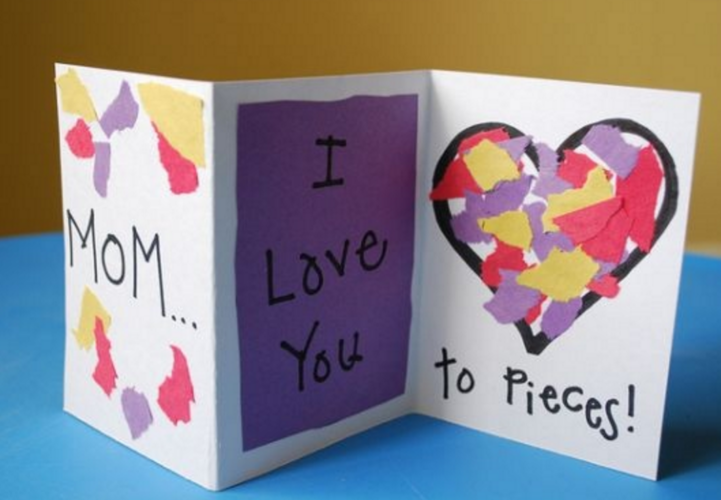 ---
Student Bookmarks
When we made this kind of bookmark, we didn't cut out the shape of the bodies, but left it on a rectangular paper. This allowed students to do some writing on the back to make them more involved in making the present. Either way, parents love it and it's nice to give them something so practical too! So adorable!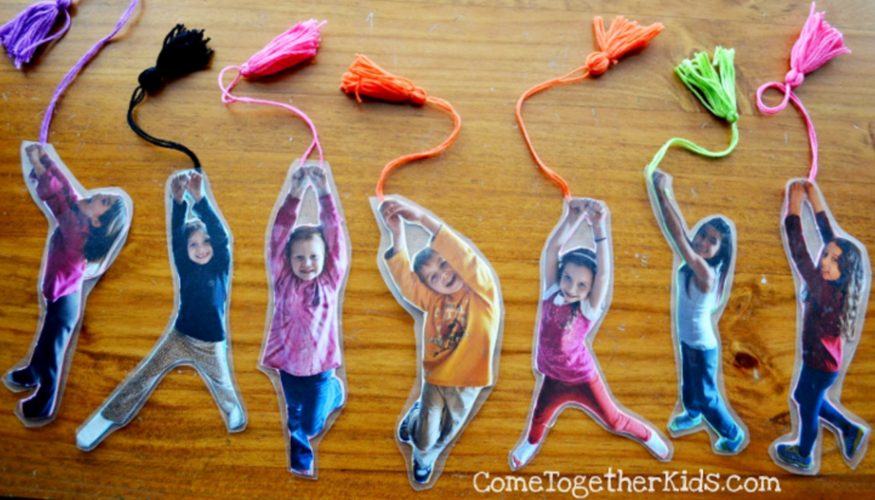 ---
Fingerprint Flowers
So cute and simple! Love the little poem at the bottom.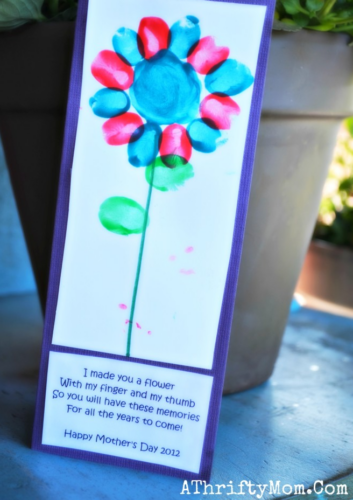 ---
Wax Resist
Love this one! Just draw with white crayon and paint over top. Use thick paper or watercolor paper if you have it. This is a nice one for older students.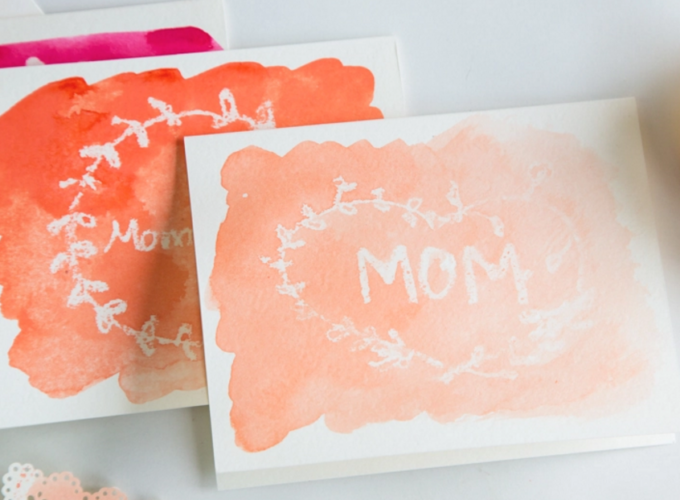 ---
Two Peas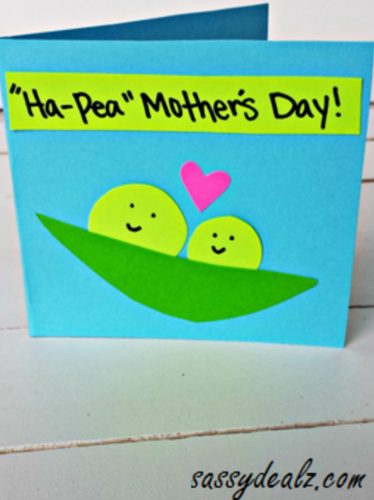 ---
Mom's Necklace
What about a simple necklace for Mom? I've done this one many times, and I've spent a little extra for some pretty glass beads (or even charms) from Michael's craft store. I've also used Borax to grow crystals over a pipe cleaner, which is then attached to a chain.
With younger students, we make it a bracelet using stretchy string, and even invite our big buddies (grade 5) to help us make them. It's nice to see Moms wearing them the next day!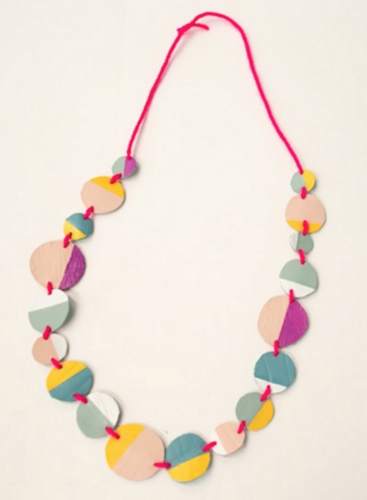 ---
Watercolor Hearts
This one is a favorite of mine to do with students Grade 2 and higher. It's just ordinary watercolor paints, but students need to have to control to work with watery brushes.
It's so simple in that they just keep painting hearts, but I think it would make a stunning framed picture. I would highly recommend thick paper, or even watercolor paper for this one.
---
MOM is WOW
We've done similar cards to this, and every time students flip up the card to see that MOM upside down spells WOW – it kinda blows their minds. I like to let them discover this fact on their own and the news of this discovery spreads through the classroom with much excitement! I did this project with younger students and we decided not to cut out the middle of the "O", but just color it in since that cutting was tricky.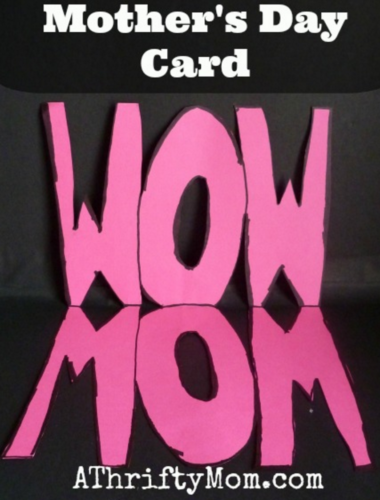 ---
Flower Bookmarks
These cute flower bookmarks are adorable, and although I have not tested these ones, it reminded me of a similar project my class did one year.
Rather than attaching the flowers to a popsicle stick, we attached them to a pen. I got the idea from our school secretary who has several "flower pens" in a mason jar by her desk. This is because people kept walking off with her pens, and this way she would know right away if the pen was hers!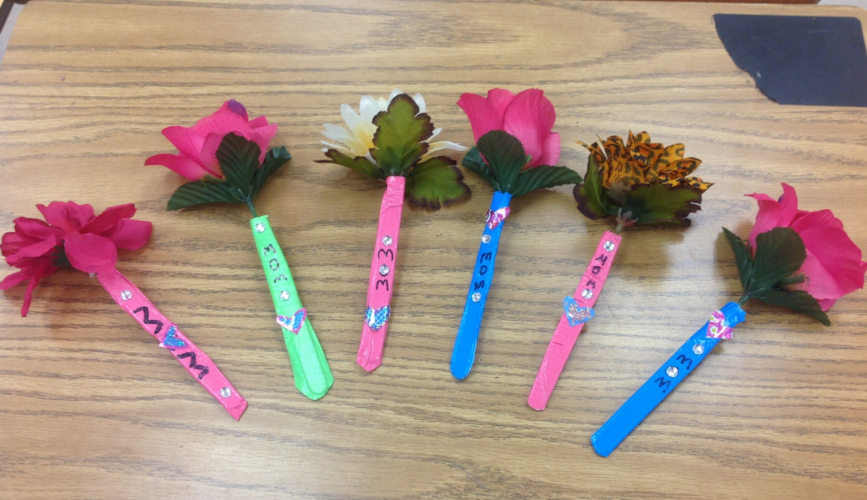 ---
Ladybug Love
Here's a simple ladybug project with a cute poem to match.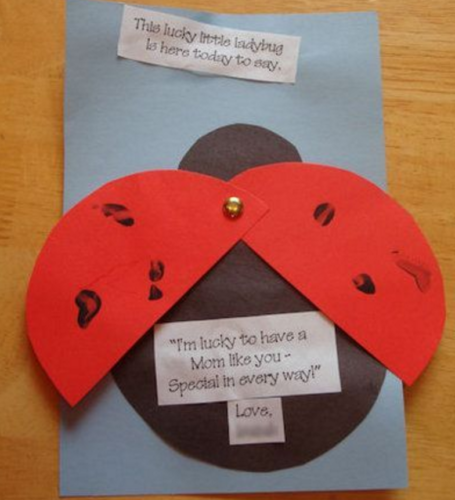 ---
For Dad, But Mom would like it, too!
And here's are a few more ideas to tuck away for DAD…. although I think MOM can be a super-hero as well!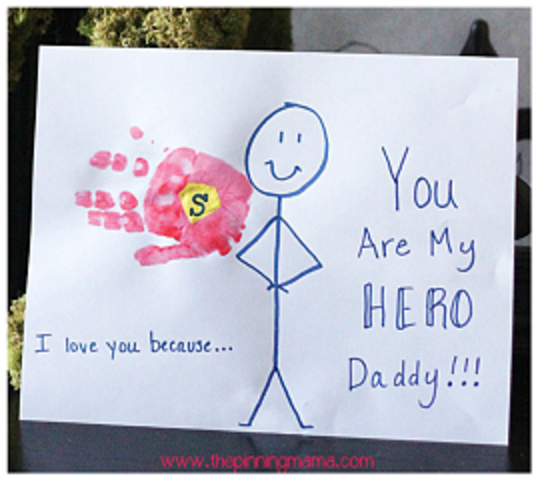 I bet Dad's would get a chuckle out of this Google search! And moms too…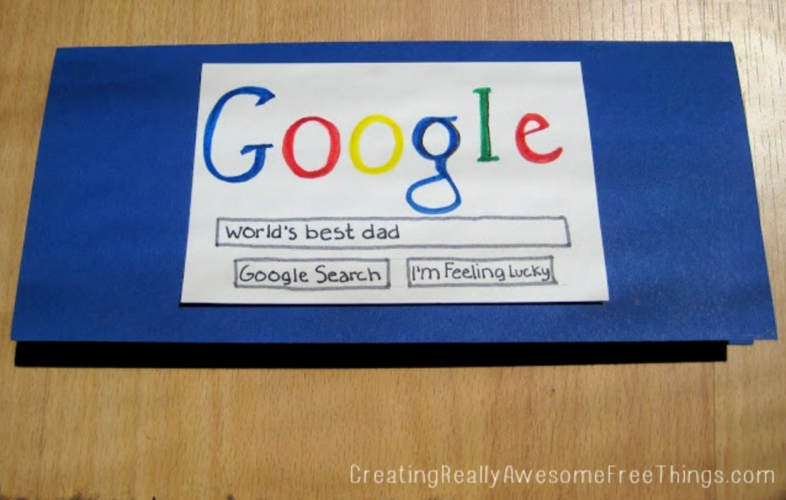 ---
MOTHER'S DAY BROCHURE
Try this fun and FREE download! Click the link below.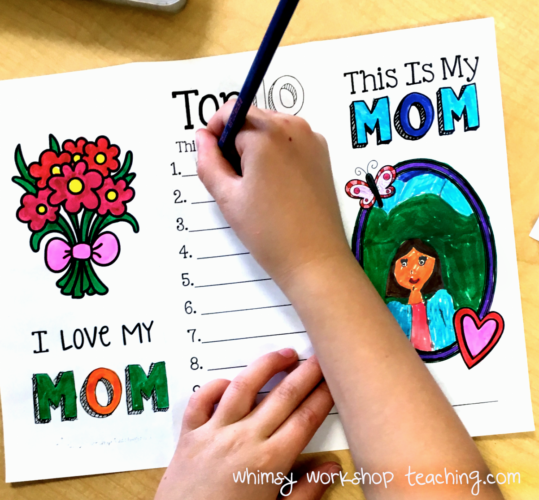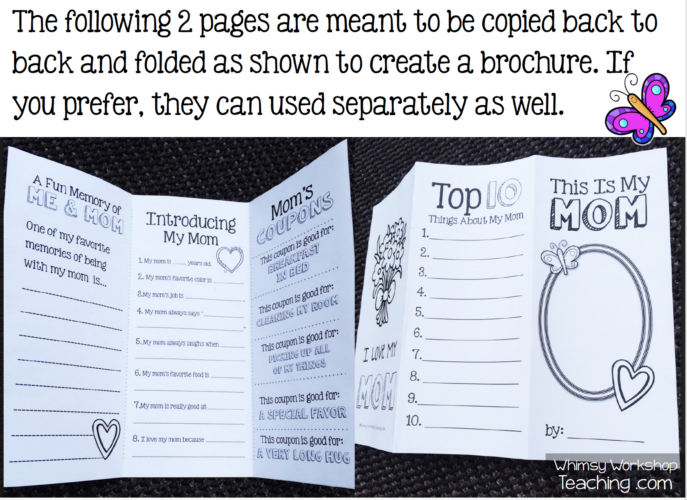 ---
DIRECTED DRAWING AND WRITING
This is a directed drawing project for Mother's Day AND Father's Day – both FREE – with a bunch of differentiated writing prompts to use as well!
Here are the results from our class. Our moms just LOVED them! So many of them commented to me that they'll treasure the pictures forever. We glued the writing on the back and laminated them.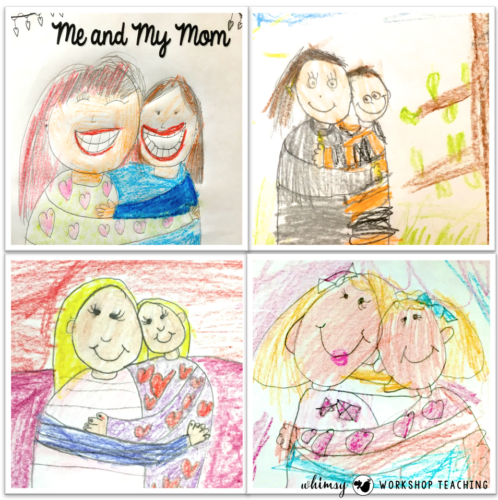 Click below to try it with your class!

---
What are your favorite Mother's Day crafts?
Pin this post for later!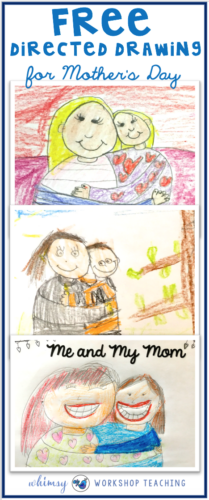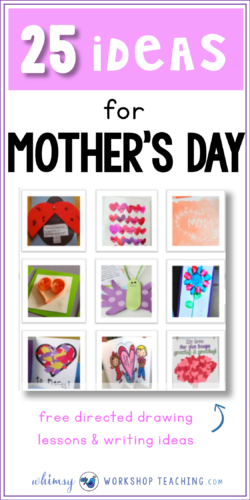 MORE MOTHERS DAY RESOURCES: SEASONAL POETRY

MORE SEASONAL ART RESOURCES
If you need more seasonal art ideas, take a peek at this set that has 8 art projects for each month! It includes step-by-step photo tutorials.

If you're having trouble finding what you need for math, literacy or clip art, you can grab this handy Clickable Catalogue for everything available in my TPT store – a big time saver! Tuck it away for when you need it!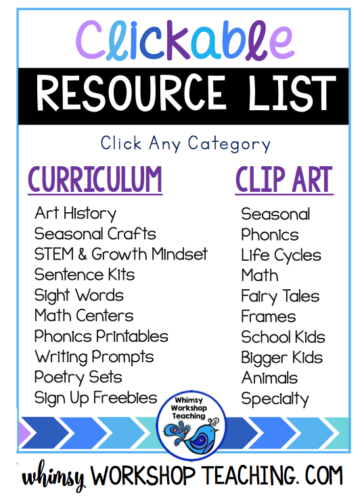 Thanks for taking a look!
Continue exploring with any of the links below: