Teaching phonics can become a bit monotonous day after day, but there are lots of ways to keep it engaging!
Here are a few examples of the ways I've tried to keep phonics lessons interactive, hands on, and FUN!
Phonics instruction can also be differentiated with a little creativity.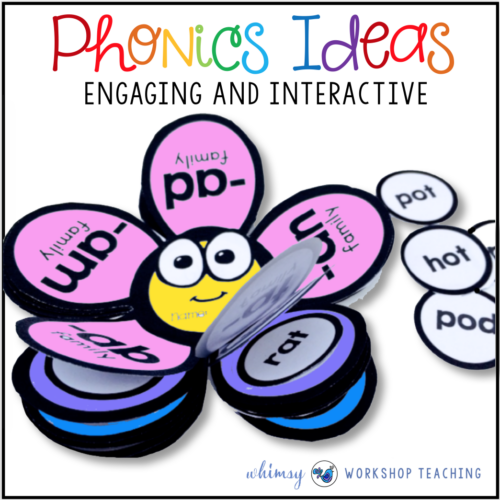 BUILDING WORDS & SENTENCES
This activity allows for differentiation because the tasks get more complex as you work down the page. Some students will only be required to print the letters and build the sentences. Others will draw a picture according to directions. My most advanced students will cut off the letters and record words they can make with them. The last task is really never ending – it keeps them busy until time is up!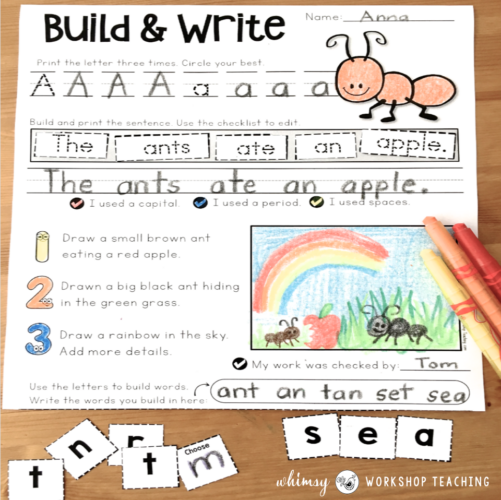 ALPHABET BOOKLETS
Isn't it funny that when tasks are presented in the form of a little booklet, they become instantly more fun for students? With this task, students assemble their own booklet made with just one copied page each. Then they cut the letters off the edge of pages 2 and 3 and place them in the missing spots, being careful to note that capitals go at the start of the sentence. In the end, they've made an alliterative sentence booklet – and they love to read the silly sentences!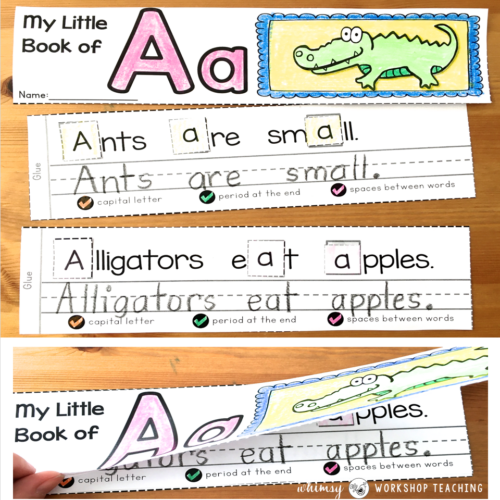 FUN WITH PHONICS RIDDLES
Riddles are always a big hit in my classroom, and it's such an organic and fun way for students to read with each other. With this activity, students create their own interactive riddle books! They just fold the paper once and glue at the bottom, then fold again like a book. This creates pouches for the answer cards! Students have to figure out which answer cards match each riddle and insert the card the correct way. Then the fun begins! They can walk around the classroom asking riddles to their friends, and then pulling out the answer card to see if they are correct!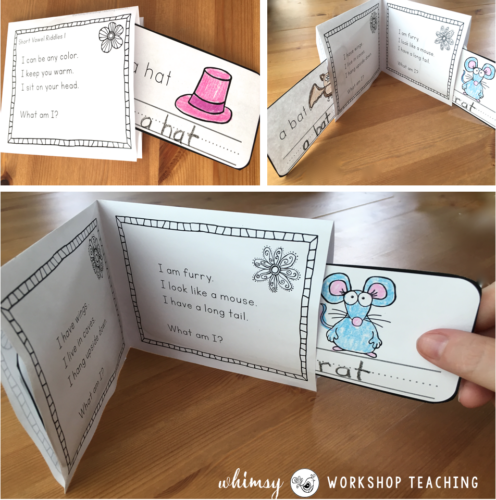 FLOWER BOOKLETS for WORD FAMILIES
These are fun little booklets to make, and they're so good for practicing later, or taking home to practice with parents.
Students cut out several of the flowers, making sure that the word families line up (all the "-at" petals are under each other). Then students cut out and glue each word circle in the right spot. When they are done, they have a cute little flower booklet to practice with. They are so proud when they can read all of their flowers!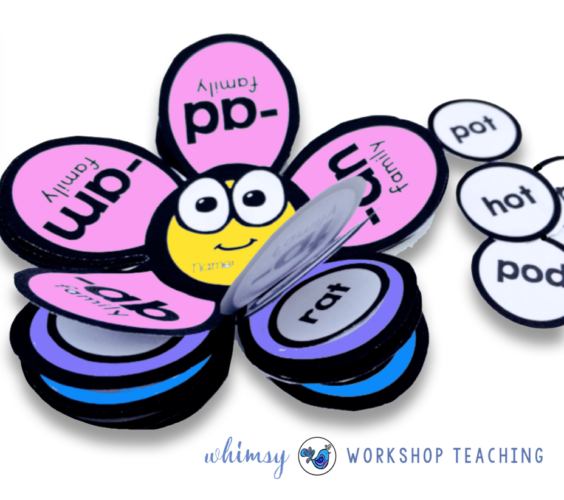 ISOLATING LETTER SOUNDS
Some of my students have difficulty isolating their letter sounds. These fun little sliding words are perfect for drawing attention to each letter sound and discussing how they work well together.
Students just pull the word card out of the envelope slowly enough to say each sound. So effective when teaching spelling patterns! They learn quickly that when there's an H after C, they have to change their sound!
When I used this during our guided reading lessons, we say the new sound, and review the chunk of the word we have so far. So if we have F-R-O, students stay "fro….", and most times they will guess the ending to be G because it sounds like a word they know. This is a huge skill to use when reading on their own!
I use this as a reading program to work through CVC words, blends, digraphs and even sentences! Students earn cute bug stickers for a certificate when they're done, and they really love it!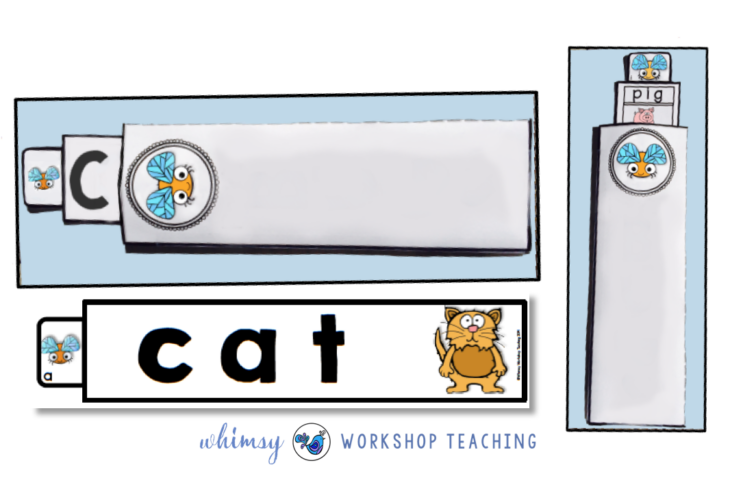 SENTENCE BUILDING
We do a lot of sentence building in our classroom. Most of the time it's phonics based, but it's also fun to make sentences that are seasonal. I like to keep these in a student portfolio so I can see the progression through the year as we go through all the seasons and holidays. Here's the format we use: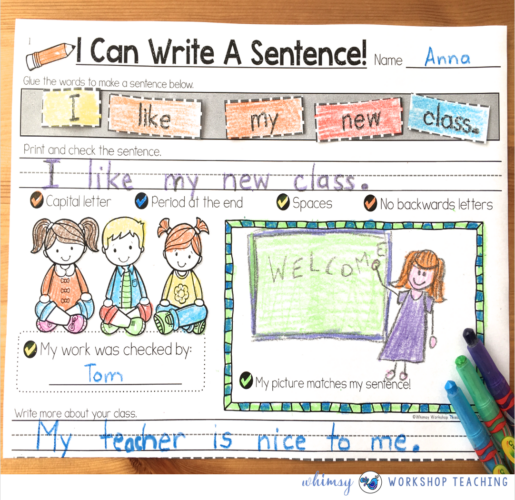 SIMPLE MATCH UP SENTENCES CENTERS
Sometimes the simplest ideas are among the best! I've been using easy match-up centers for years, and it's always an activity that is chosen by students. There's nothing complicated to explain – just read the sentence, or even a few key words, and find the picture that matches. This particular set practices color words, number words and some sight words as well as animal words. For more advanced students, they can record each sentence to keep them accountable and for me to use for assessment. Just toss them all in a bin and it's done!
For writing practice, I use the same cards with missing words, so students can write in the letters with a dry erase marker. Students use picture clues, context clues and the shape of the letter boxes to help them spell. I use these over and over again every year, and they are always popular!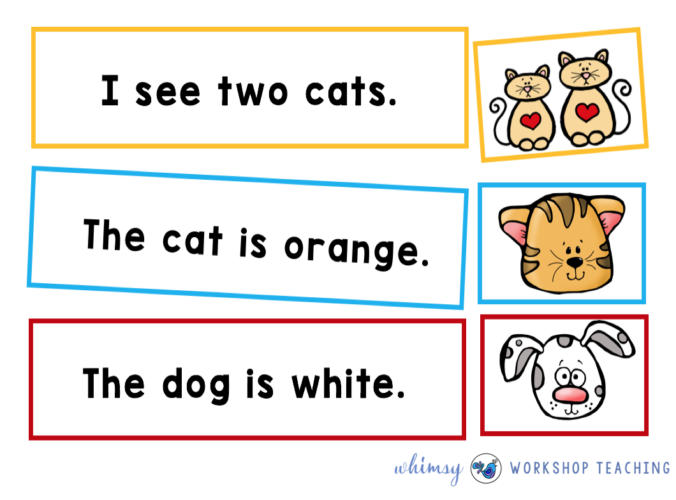 INTEGRATE SUBJECTS
If you are familiar with my website, you'll know that I adore the idea of integration. Most of my products integrate at least two subjects, and some integrate 4 or 5! In this case, we're mixing a bit of math (counting, graphing and patterning) with our reading. I use word families because I know I will cover most of the spelling patterns. These are great to use as morning work or in my literacy centers.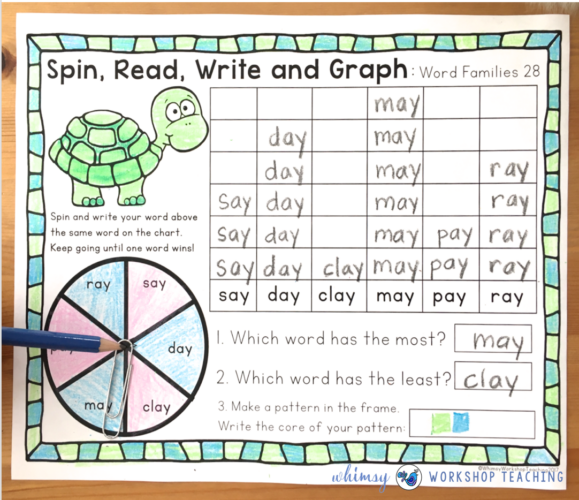 I hope you've been able to get some new ideas to keep your phonics instruction engaging and fun! Most of these ideas are simple to make, but if you'd prefer to get them already done for you, you can see everything mentioned above bundled together in the Phonics Mega Bundle #2 by clicking HERE.
There are more Phonics Bundles available!
You can see the other PHONICS BUNDLES by clicking links below: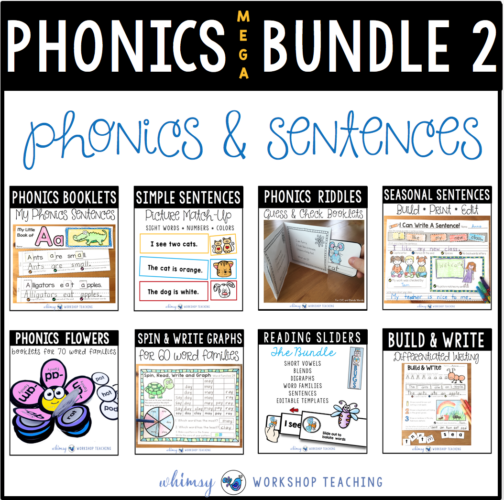 Would you like to try a few sample pages to try in your classroom?
Click below to download some pages from the Build & Write set.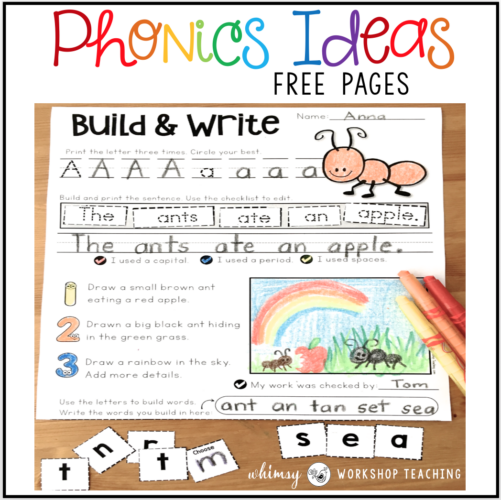 Pin these ideas for later!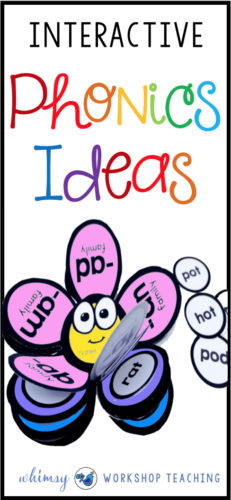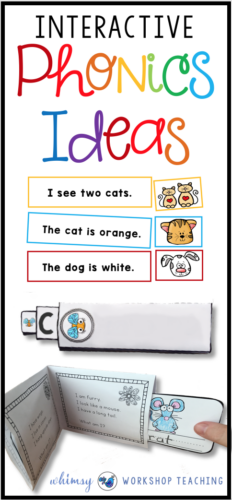 Pin this freebie for later!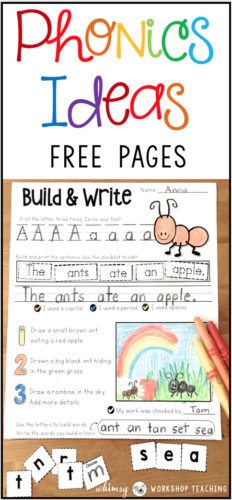 Thanks for taking a look!
Continue exploring with any of the links below: