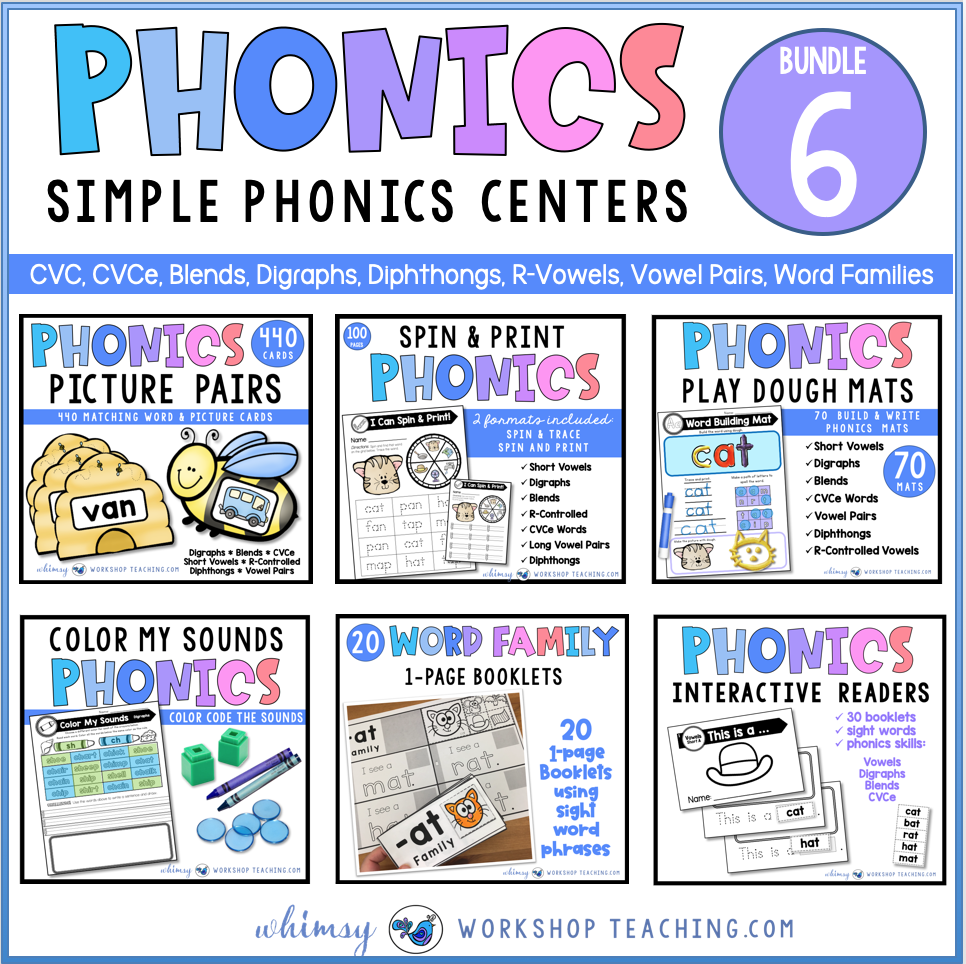 How do you manage the rest of the class while you're doing small group lessons? There are many ways to organize this situation, and I've tried them all! The most important part for my students is to make sure the centers are both engaging and easy to manage (so I don't have to stop and explain directions over and over!)
---
FAMILIAR TASKS
When I find a task my students enjoy, I like to make different versions of that task for all of our phonics rules. For example, if they are really enjoying Write the Room, then I make sure I have that activity for short vowels, long vowels, digraphs, and so on. This saves me SO much time because I don't have to explain the task – only the words change through the year! I've outlined some more specific examples below so you can see what I mean.
---
SOME SIMPLE CENTERS
This is one of my favorite centers throughout the year because it's so simple. It's self-explanatory, and all of my students can feel confident, whether working alone or with a partner. Just match the word to the picture and, to add a writing component, we use a recording sheet. There are several different themes through the year to keep things interesting (which also helps me organize which phonics skill we are working on). Click HERE to see a preview.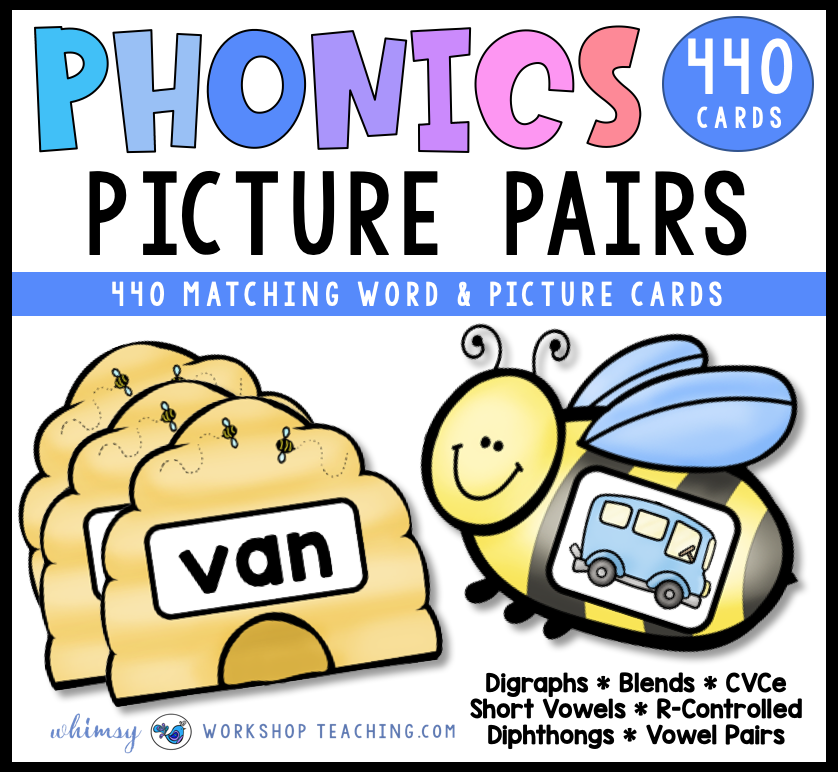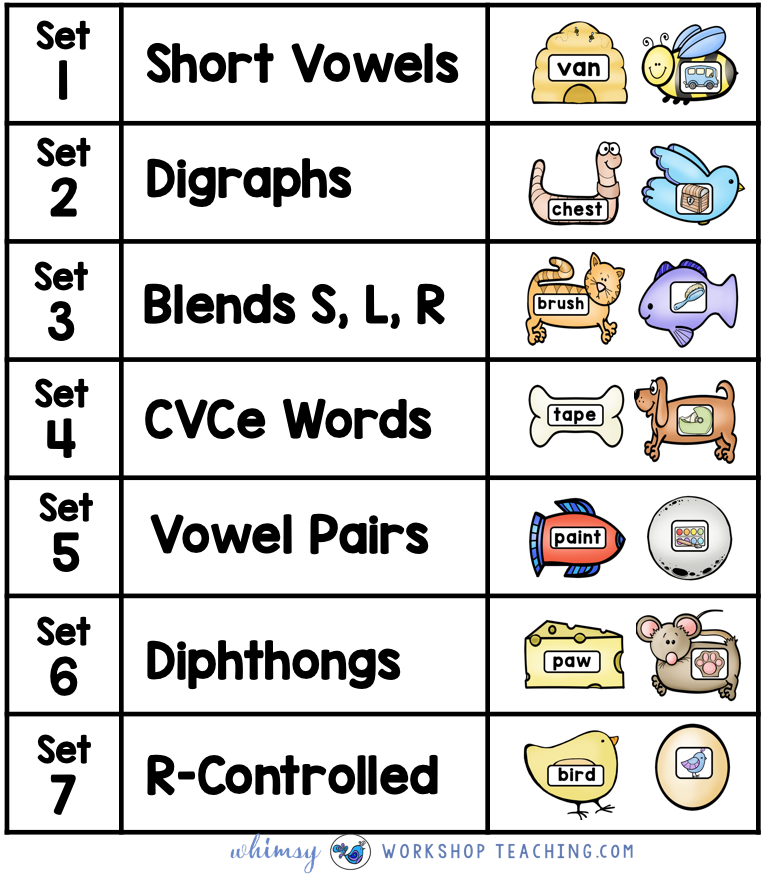 ---
COLOR MY SOUNDS CENTER
This center prompts students to really study the letters and sounds in each word to distinguish the differences between them. In this center, students use different colors to identify spelling patterns. For example, blue indicates CH words and green indicates SH words (see picture below). The great thing about this format is that I can put these pages in plastic sleeves and use colored blocks or bingo chips. Sometimes I send them home, in which case students can color the boxes with crayon. Click HERE to see a preview of this center.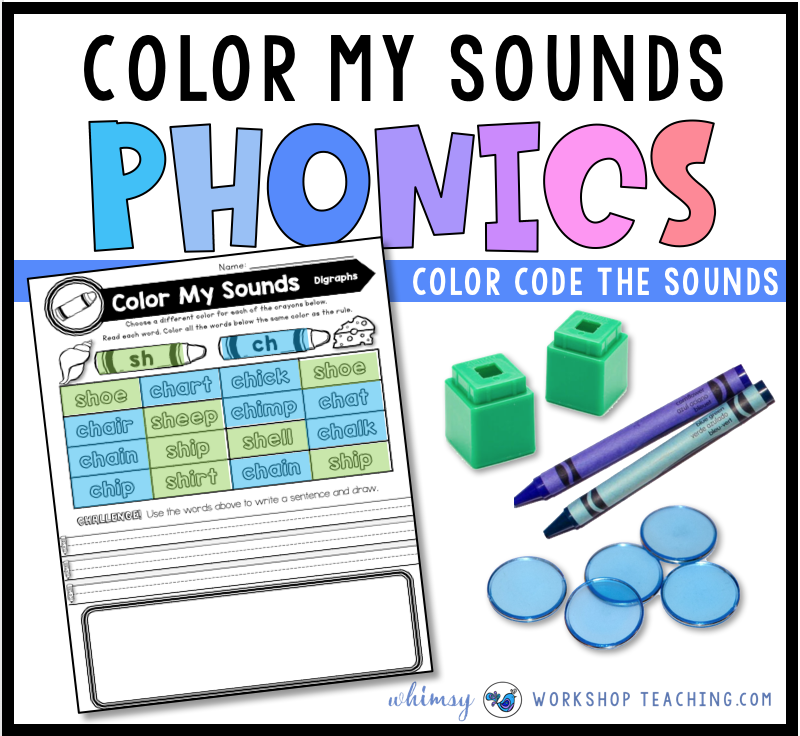 ---
PHONICS DOUGH MATS
These playdough mats have several different jobs to keep little hands busy. First, students build the words with dough. Next, they trace and print the words with a dry erase marker. Next, they follow the path to spell the word (in the purple boxes). Since I laminate these pages, I like to use bingo chips to show the path of letters, as shown below. At the bottom of the page, students get to build the picture. Click HERE to see a preview of this center.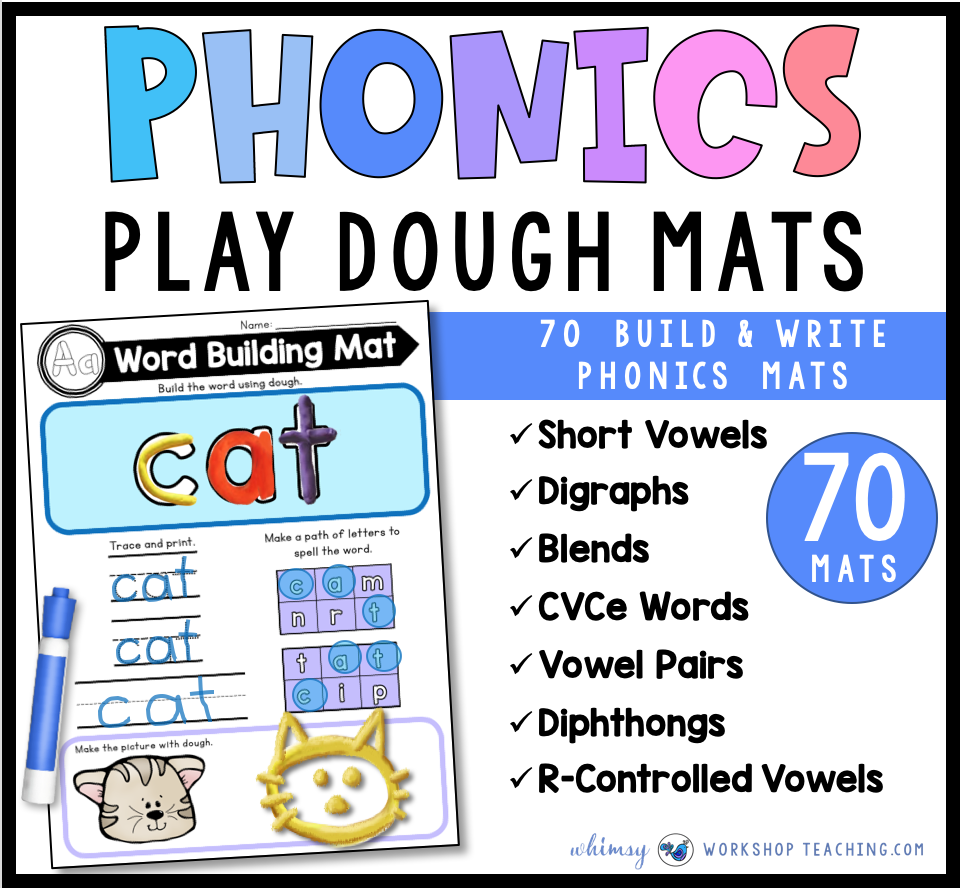 ---
WORD FAMILY BOOKLETS
These are cute little booklets that are made with only one piece of paper! Students cut the four pages apart, along with the cover page and the five pictures. The large picture goes on the cover, and then students have to figure out where to put the other pictures after reading the sentence shown below on the page. For the individual pages, students trace the word and read the sentences before gluing the pictures on. My students love keeping their little books in their reading bags to read over and over again. They are getting great practice with the word families, as well as with the sentence starters, which are made with sight words. Click HERE to see a preview of this center.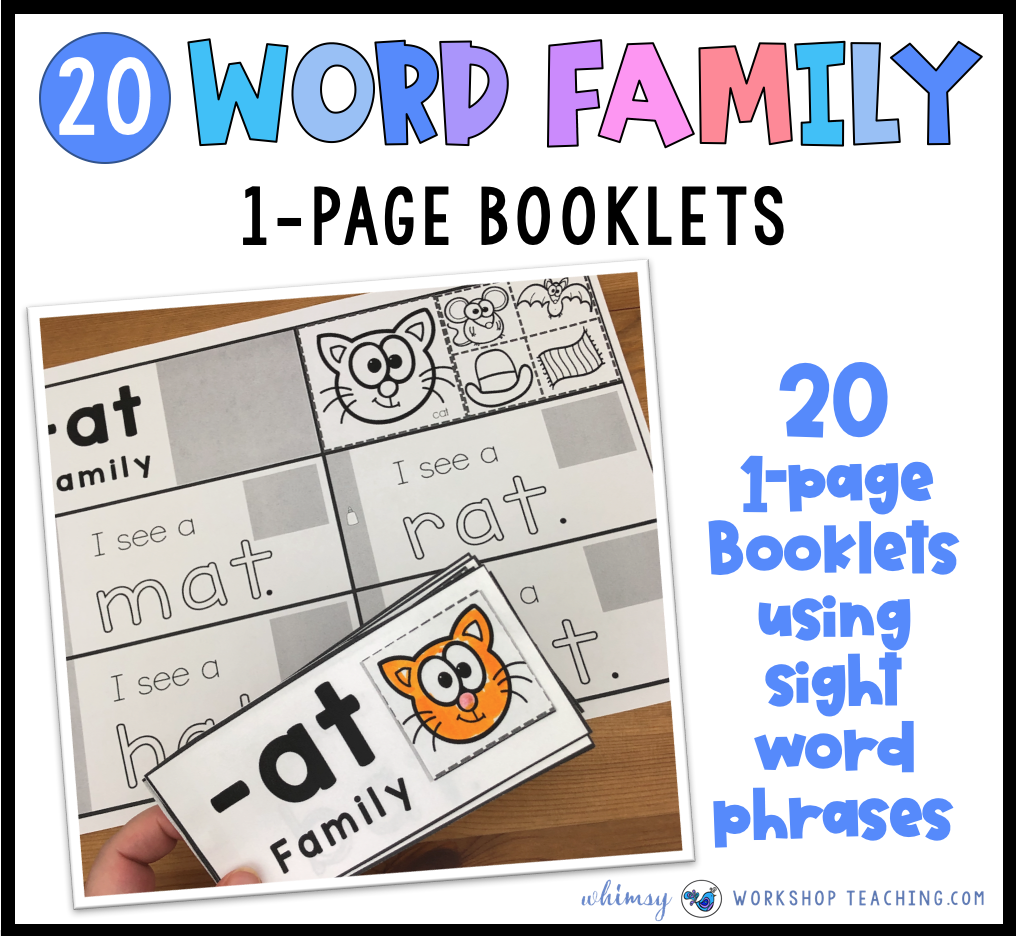 ---
SPIN AND PRINT PHONICS
This is a simple job that practices a lot of essential skills! Students spin with a paperclip or clear spinner on top. After saying the word, they find the word on the grid and trace it carefully. For another option, use format #2 in which students simply print the word by themselves. Click HERE to see a preview of this center.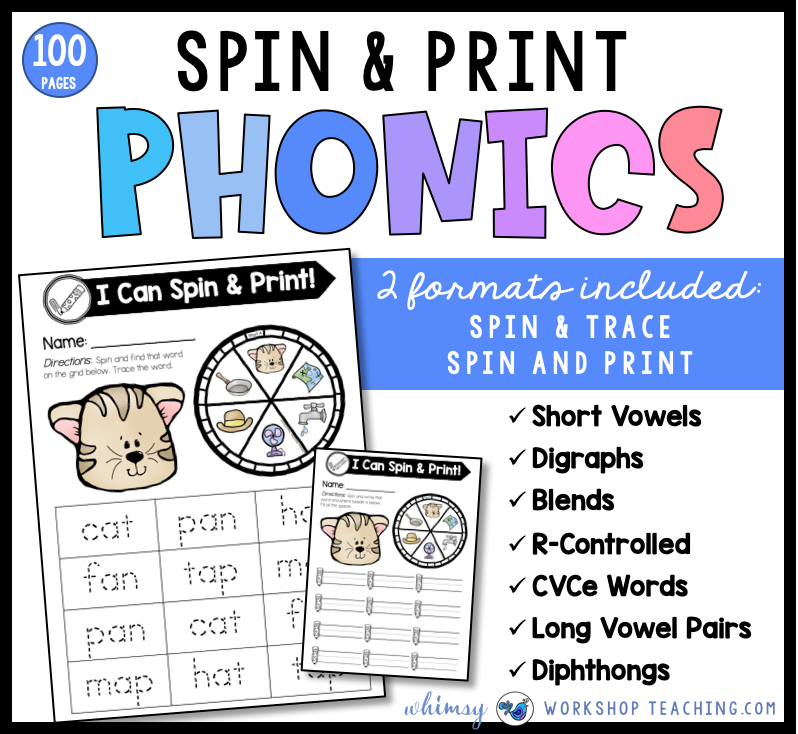 ---
INTERACTIVE PHONICS READERS
These little half-page books are interactive because students help to write and illustrate them! Students choose one of the word strips and glue it in the blank space to finish the sentence. They will have to read the sentence in order to know how to illustrate it. Each book focuses on a different sentence phrase using common sight words, as well as the word family. These are great to add to student book bags or to send home to reinforce reading with parents! Click HERE to see a preview of this center.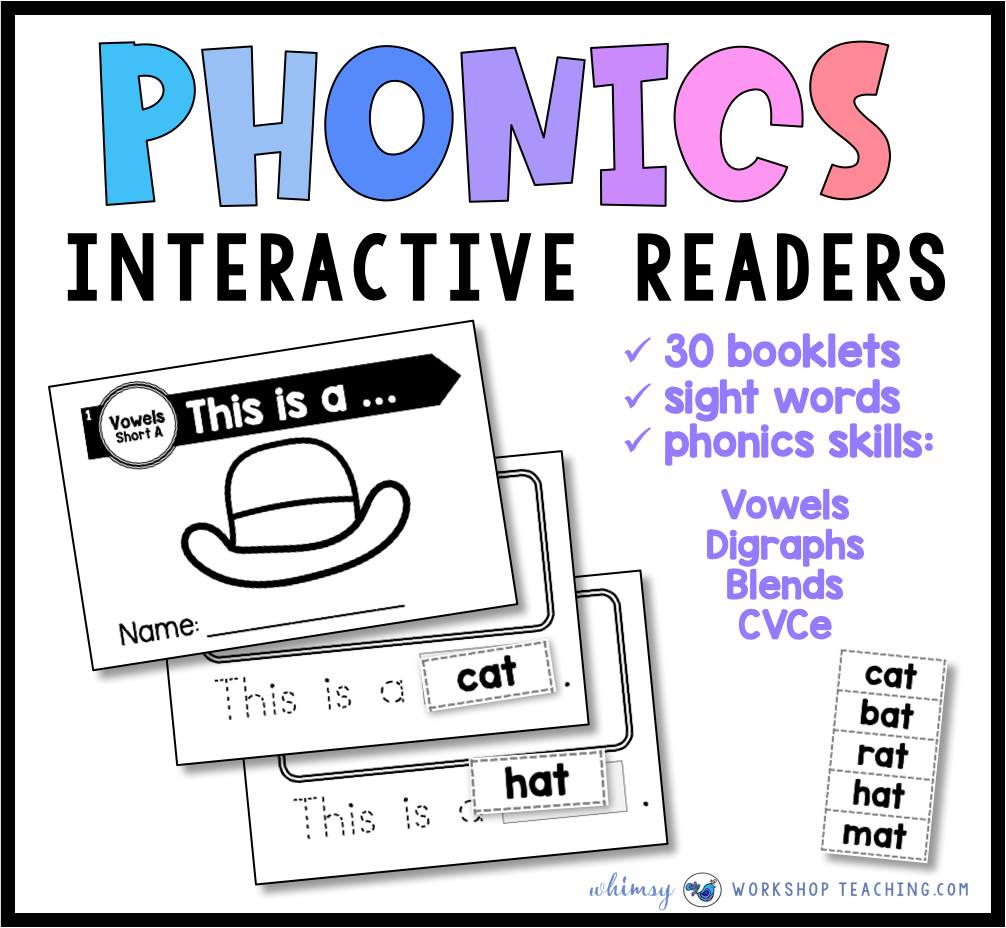 ---
PHONICS BUNDLE 6
All of the phonics packs viewed above can be seen in a big bundle together, or they can be viewed individually as well. Click HERE to take a closer look at Phonics Bundle 6. You can also see more bundles below.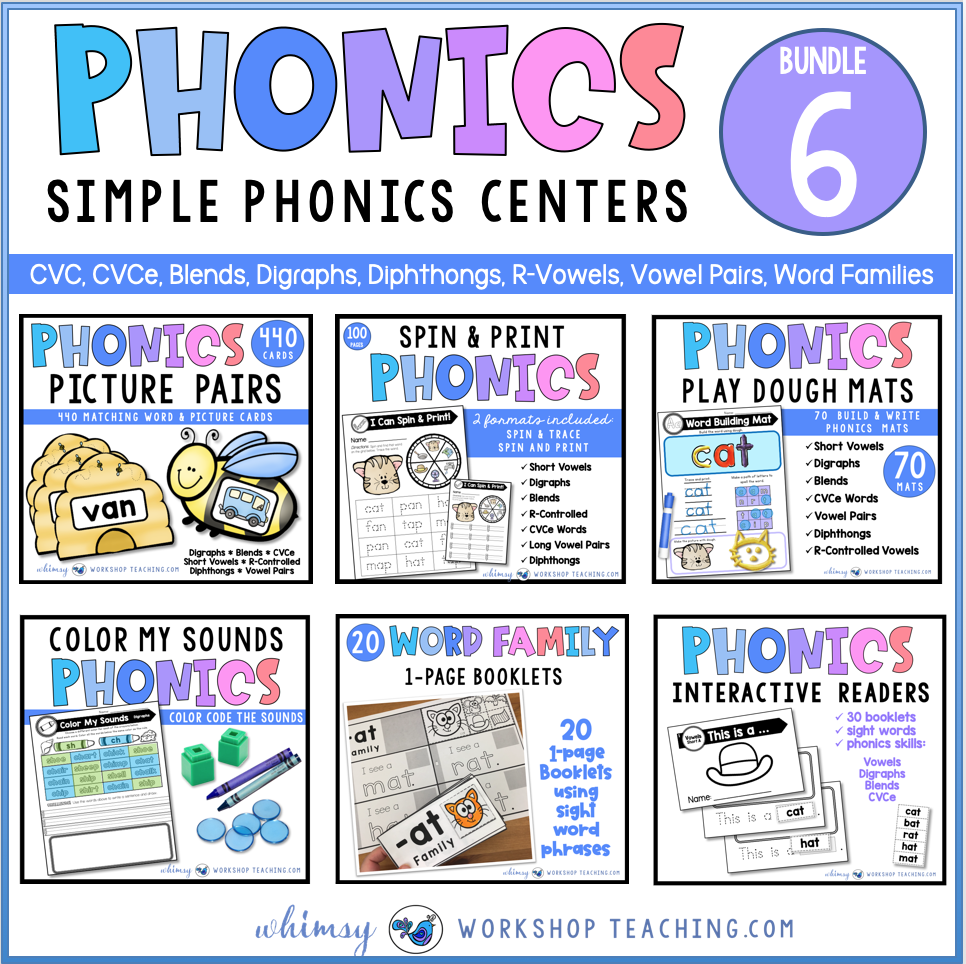 ---
NEED MORE PHONICS BUNDLES?
There are 44 more printable phonics activity packs divided into the bundles listed below. Click on each one to see how you can fill up your literacy centers for the whole year in a snap!
Click HERE to see PHONICS BUNDLE 1
Click HERE to see PHONICS BUNDLE 2
Click HERE to see PHONICS BUNDLE 3
Click HERE to see PHONICS BUNDLE 4
Click HERE to see PHONICS BUNDLE 5
---
Continue exploring with any of the links below: