We reserve time each day for story writing!
There are so many ways to encourage students to write, even when they are just at the emergent level.
Two priorities that I focus on the most in my primary classroom are:
Making students feel confident in their ability to express ideas through writing.
Allowing students to have opportunities to share their written ideas in a supportive environment.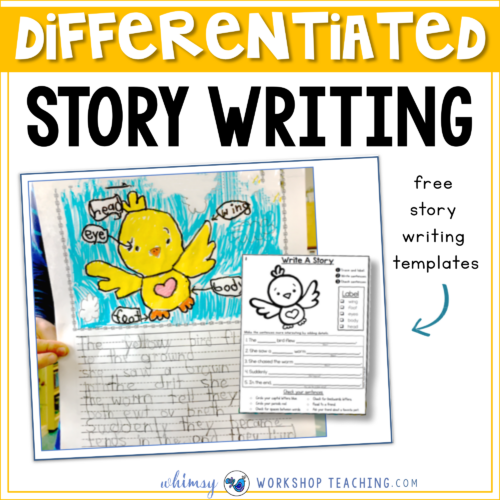 Explore Different Kinds of Writing
Many students have no strategies for thinking of a writing topic, so we spend a lot of time discussing different forms of writing and exploring examples during read-alouds.
For example :
Write about a

familiar story

: give a summary, make a new ending, write a letter to someone
Describe a

personal event

: write about something you've experienced

Imagine

a story: use writing prompts to create a story about a character

Model A Growth Mindset
A blank page can be quite intimidating!
One of the most important life skills we can offer our students is the freedom to start writing ideas down without worrying about spelling or general perfection.
Setting the tone in class for a growth mindset means repeatedly showing students that mistakes are part of learning, and nothing to be anxious about. Let them see you make mistakes and fix them later.
In our class, we practice the following guidelines in learning about the writing process:
We can brainstorm ideas, draw pictures, or make diagrams before writing.
If we don't know how to spell a word, we can check the word wall or

just guess and move on

!
We know that editing and elaborating on ideas can come later if needed.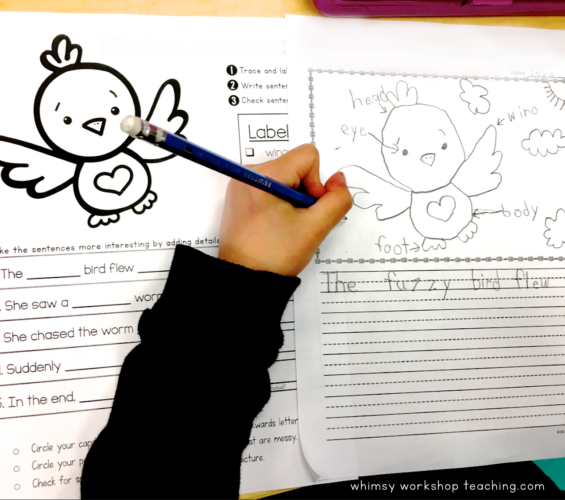 Sharing Stories
This is the very purpose of writing: communicating ideas!
Students are invited to read their own stories (or ask the teacher to read them). The magic is in the audience response, so I always encourage students to be generous in their reactions and feedback.
So many times over the years, I've seen students watch the audience react positively to their writing, and those same students rush back to write more! They have discovered the joy of communicating this way!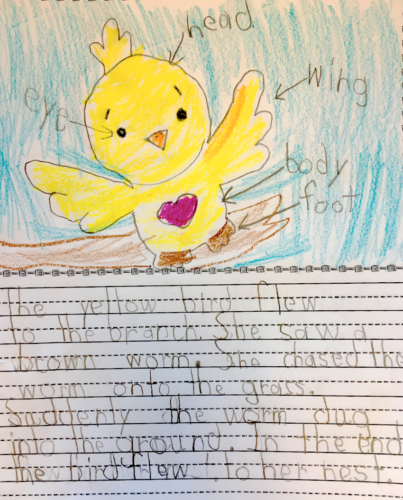 Publishing Student Writing
Each year we work together to make a class book.
We use money from our bake sale to have the class book professionally published. It's a very simple project, and I would highly recommend it!
I've never seen anything motivate students to be writers more than seeing their own work in a printed format. I love to hand their printed work out during parent-teacher conferences so students will have their parents' undivided attention and praise.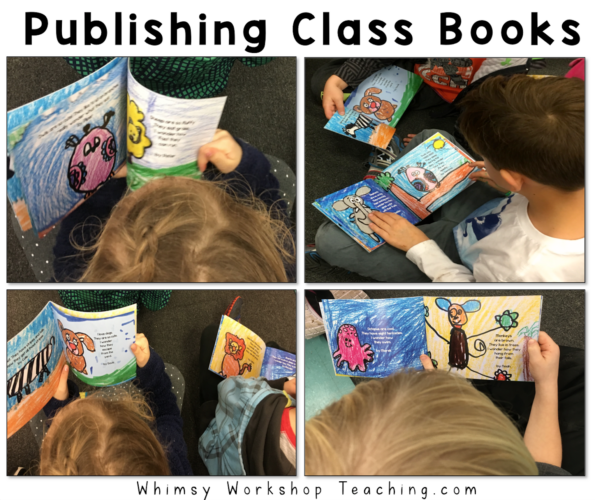 There's even more positive reinforcement when students each get a copy of the book to bring home and share with family members. Here are some pictures of the books we made last year!
The day the box of books arrives in the mail is a day to remember!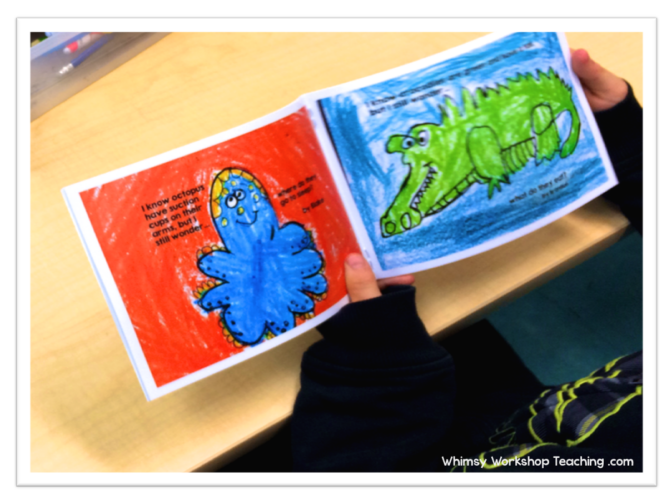 Story Writing Templates
Another idea for successful story writing, and writers' workshop, is to use writing templates.
These are simply laminated pages with starter sentences in place and room for students to add supporting detail. This is excellent tool for teaching about writing detailed sentences vs. simple, boring sentences.
The templates I use are completely differentiated. This means that the same template format is used for all students, but each student does different things with it!
Differentiation is discreet – my expectations are different for each student.
Here's an example of the templates I use: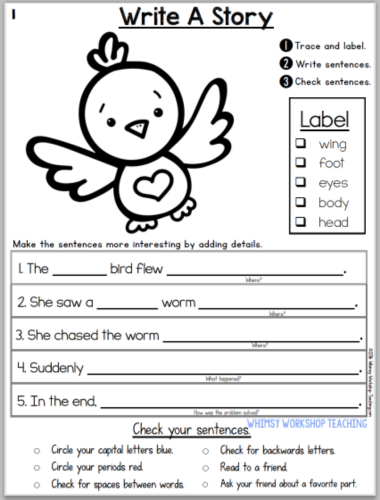 Depending on students' ability, the templates are used in different ways.
LEVEL 1. Trace or draw the picture onto their own paper (differentiated writing pages provided). Students who don't know letter sounds yet can simply write freely, or with an adult to scribe if desired.
LEVEL 2. After Level 1, also label the picture with words from the word bank
LEVEL 3. After Level 2, stretch each simple sentence by adding descriptive words in the spaces provided.
LEVEL 4. The first three sentences together will create the beginning of a story. Sentence 4 introduces conflict to the story. Sentence 5 prompts students to resolve the conflict and end the story.
LEVEL 5. Self-editing prompts are shown at the bottom of the page. Students identify their use of basic capitalization and punctuation.
LEVEL 6. There is also a prompt for students to read their story aloud to a peer, to ask the peer for feedback regarding their favorite part of the story, or for peer editing.
Differentiate Within One Template
Depending on student ability, the stories can be as long and complex as needed.
Emergent writers may only do the tracing and labeling in Levels 1 and 2.
Students farther along may write a simple story by filling in the blanks.
More advanced students can incorporate more vocabulary, self-editing, peer editing, writers workshop, etc.
Students using this set are often surprised by how much they can write. This feeling gives them, in turn, the confidence to continue writing!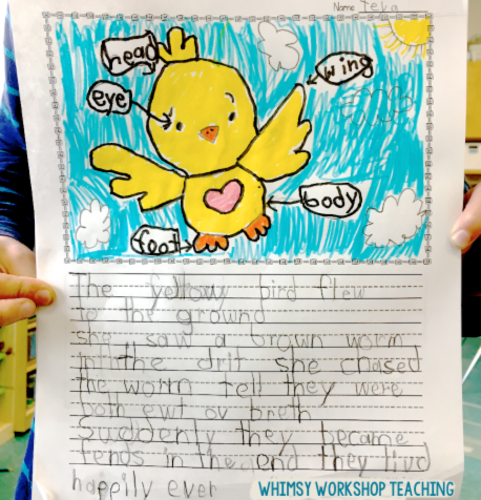 Would you like to try these templates in your classroom?
You can see this set of 50 templates to last the entire year in your writing centers or writer's workshop lessons!
Click HERE to see the whole set.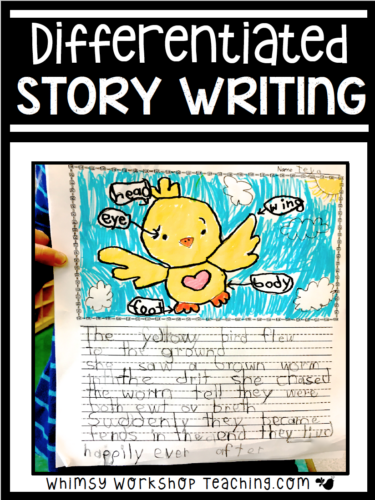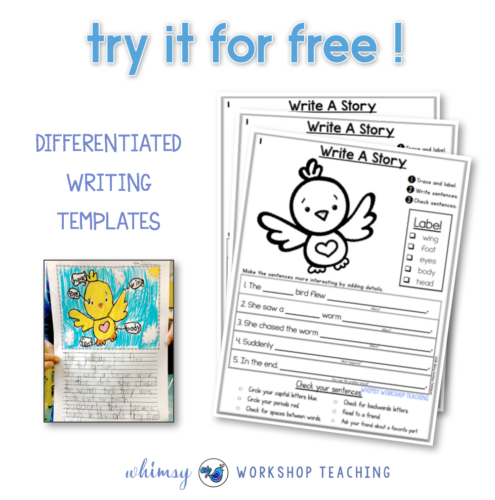 Pin this post to save for later!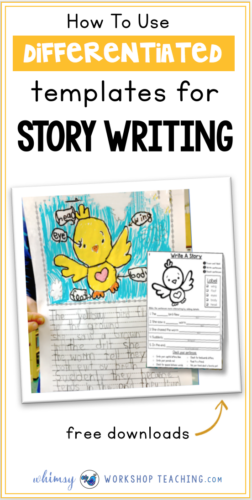 Pin this freebie for later!
Thanks for taking a look!
Continue exploring with any of the links below: