Using Morning Meetings for Teaching Social Skills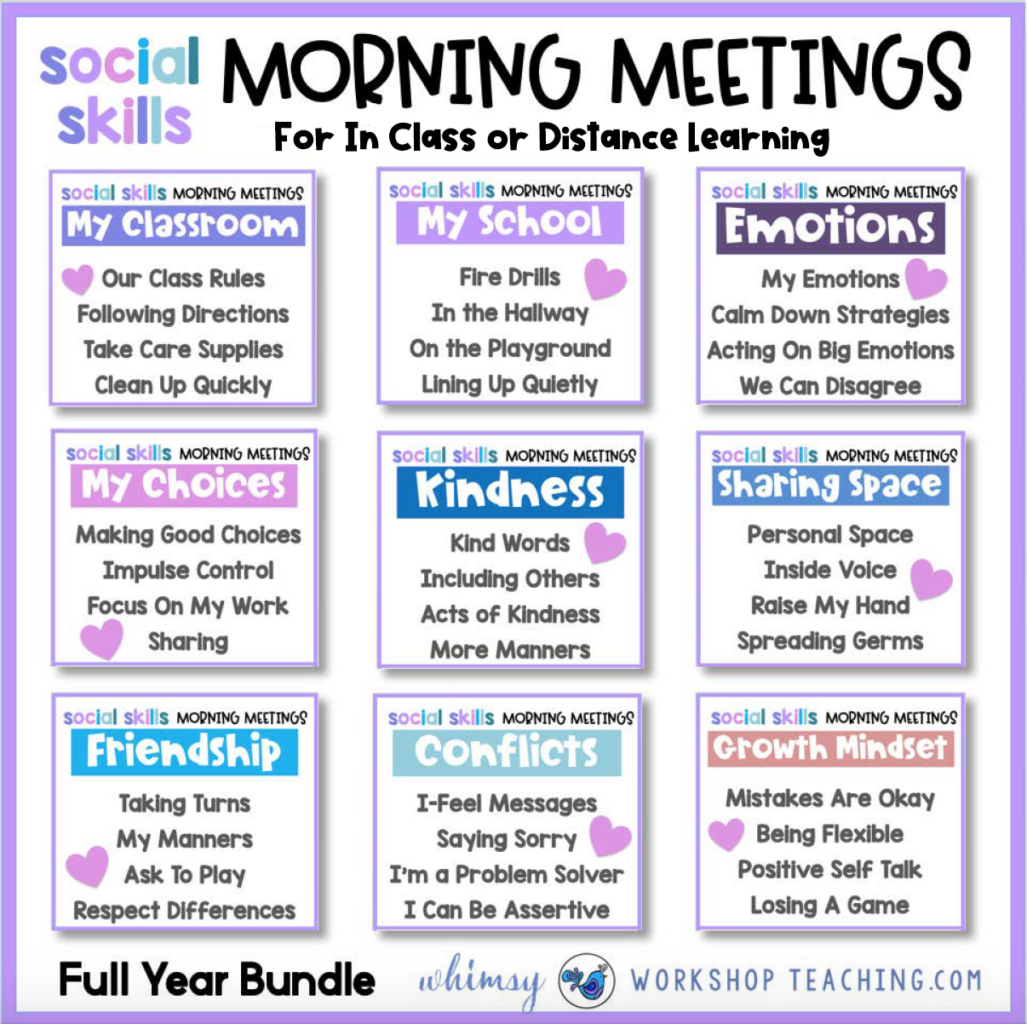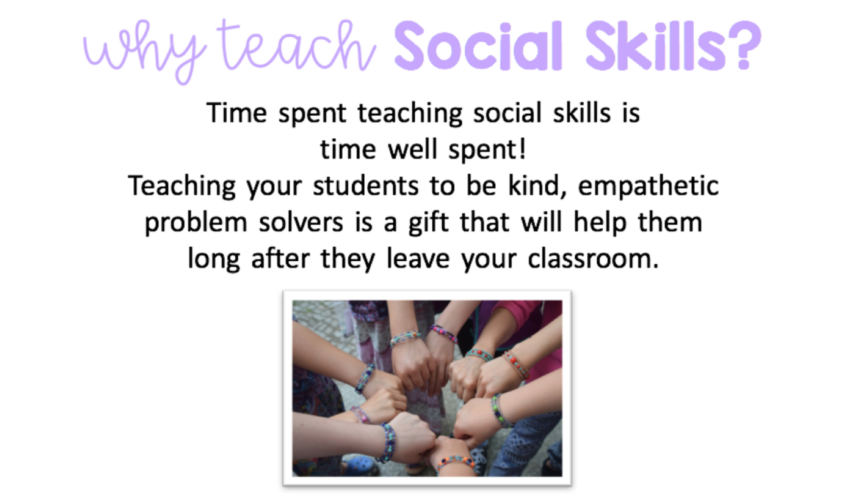 Even though social skills are so important, it's often difficult to fit the lessons in each day. When they do happen, it's often in reaction to a conflict that has occurred, and there's usually not much time to really discuss the topic thoroughly.
Last year, I tried a different approach. I thought, if I could begin each day with a ten-minute talk with my students about class routines and expected behavior, I'd be more likely to see success when addressing the same topics later in the day. It was worth a try!
I created five different templates that could be projected onto my white board (not a smartboard, although that would work, too.) This way, everyone could focus on the image, and students could also come up and write on the template using dry erase marker.
PS: I use a similar activity each day for projectable MATH lessons (click HERE)
and READING lessons (click HERE).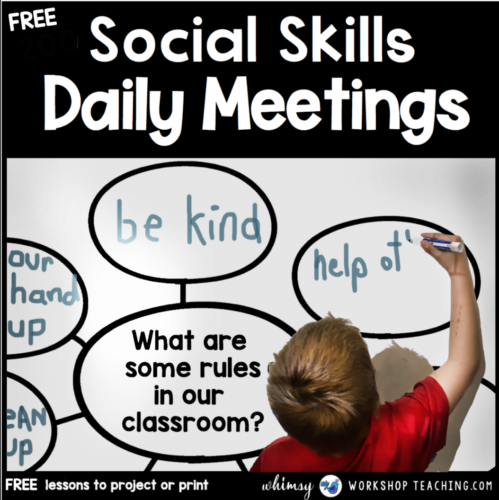 WHERE TO BEGIN?
I decided to break each topic down into five different activities – one for each day of the week. This way, students would not get bored, and it would give them a chance to look at topics from a different perspective each day. I decided on the formats shown below:

A CLOSER LOOK AT THE FORMATS
Here's a closer look at the prompt we use each Monday. Students can come up to write their ideas in the circles. Often, I write the idea for them after they explain it, since time is limited. In the example below (a free download at the bottom of this page!), students brainstorm about the things they would like to learn in school. This lesson is also great when we are setting report card goals for the new term.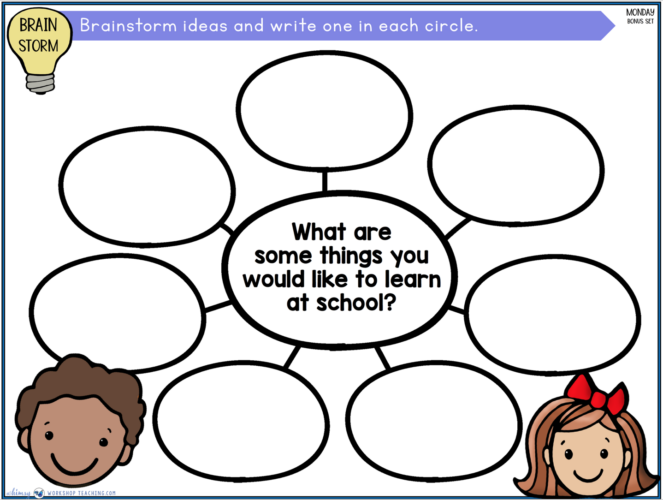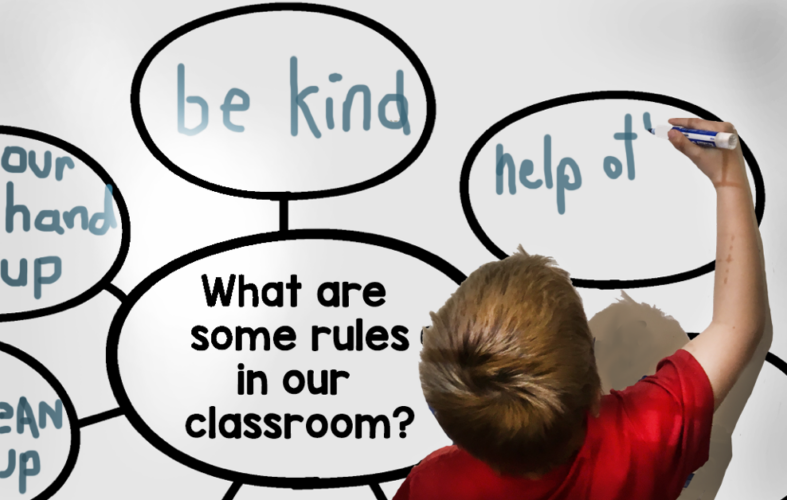 PARTNER TALKS ACTIVITY
My students really LOVE to talk. They are super chatty! I I thought, why not take advantage of this with a lesson that asks them to talk! For this format, which we use every Tuesday, students turn to their partner to discuss the topic. My favorite part is that, when they share ideas afterwards, they are asked to share their partner's idea with the class, not their own! This approach makes them extra good listeners when having that partner talk!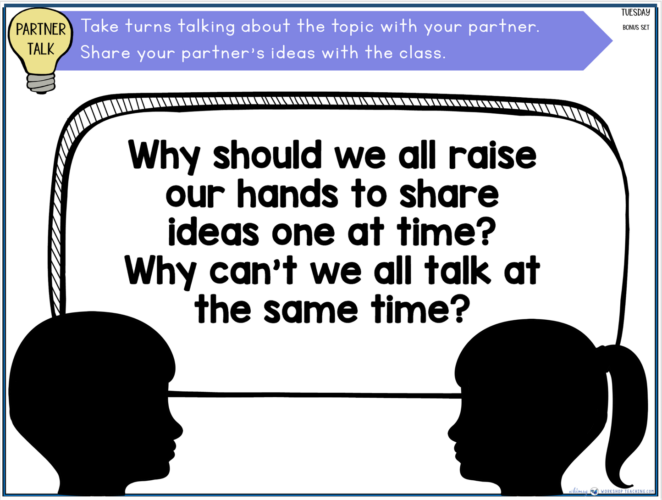 WHAT WOULD YOU DO?
This prompt asks students to imagine a scenario, and to think about what they would do if they were in it. This kind of decision-making is an essential skill if we want students to "stop and think" about the consequences of their actions BEFORE they do things.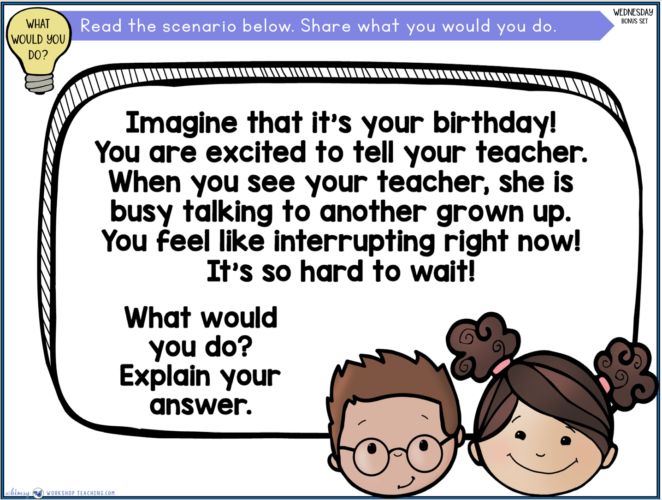 WHAT WOULD YOU SAY?
This prompt presents a scenario in which students each hear a friend make a statement to which they can respond. What would you say to a friend who said this? How would you say it in a kind way? There are two speech bubbles to fill in to illustrate that students may have different ways of handling the situation, and which can show that both choices are appropriate. This format leads to discussions that are both thoughtful and practical.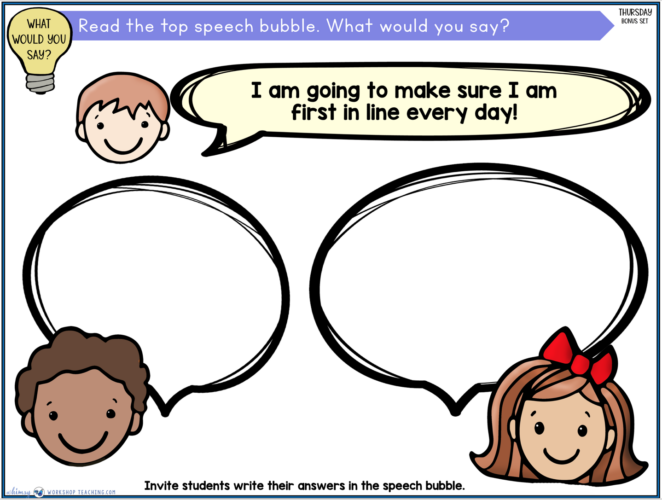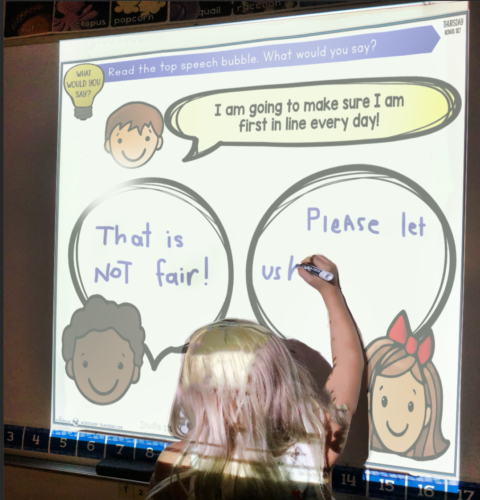 SORTING MY CHOICES
My students love to sort things, and in this format we sort the options into two categories: thumbs up and thumbs down. First, I read all of the options and have students show me their choice silently using just their thumbs. Then, we review the choices again and I drag each choice into the correct category (the pieces are moveable with your computer mouse). This page, like all of the pages, can be printed for students to complete on paper at their desks.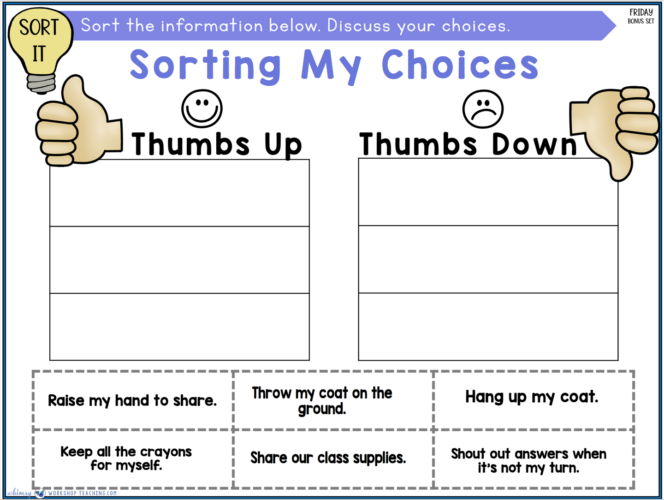 READY TO GET STARTED?
Click
HERE
to take a look at the full-year bundle of over 200 conversation prompts which are similar to the free sample above. You can see all of the topics listed below: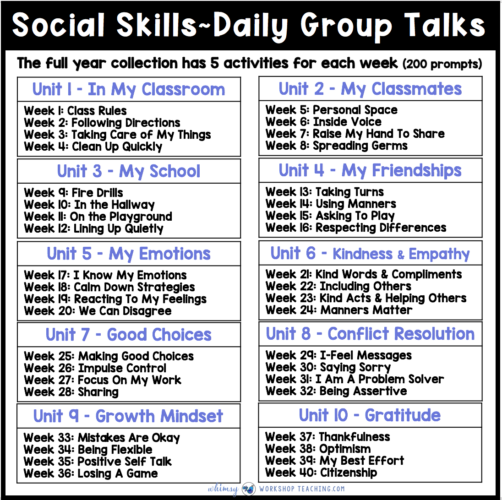 TRY A WEEK FOR FREE
You can download the starter pack resource to give it a try in your classroom by clicking on the blue button below the picture. It includes a sample page of each of the five activity formats. These pages can be projected onto any white board, or printed to use under a document camera. The pages can also be printed for students to write on!
**NOTE: You will have to download the file for the PowerPoint version to work properly.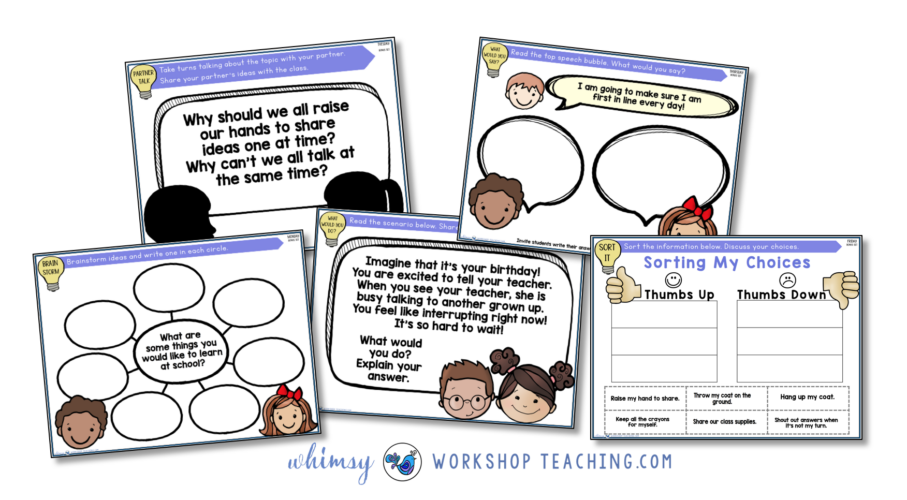 MORE SOCIAL SKILLS RESOURCES
Click HERE to see the Kindness Classroom Curriculum: a full-year curriculum for teaching social skills that includes hundreds of lessons and activities including journal writing, art projects, partner plays, hands-on interactive activities and so much more!

Click HERE to see a huge collection of social stories to reinforce daily routines and expectations in the classroom. This resource includes teacher scripts, partner plays, printable posters, books and more for 32 different topics!

Pin this post for later!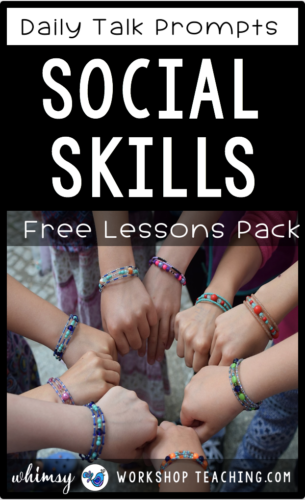 Thanks for taking a look!
RELATED POSTS:
Teaching Social Skills: Getting Started With Growth Mindset
Teaching Social Skills: Calm Down Strategies
Teaching Social Skills : Teaching Kindness in the Classroom
Teaching Social Skills: Teaching Empathy
Teaching Social Skills: Quick Tips for Adding SEL to your Classroom
Teaching Social Skills: Ideas for Teaching RESPONSIBILITY
The Kindness Classroom – Hundreds of Ideas For The Whole Year
Teaching With Social Stories – 32 Topics with Fun Activities
Continue exploring with any of the links below: